| Workable Solutions | Step-by-step Troubleshooting |
| --- | --- |
| Fix 1. Launch Server Migration Software - EaseUS Todo PCTrans | Run EaseUS Todo PCTrans on both PCs >Choose transfer direction - Old or New Computer...Full steps |
| Fix 2. Change a USB port | Back-Up Sage 50 Company File on Old Computer > Install Sage 50 on the New Server Computer...Full steps |
Can You Transfer Sage 50 from One Another Computer
Yes. Sage 50 allows moving this accounting software from one computer to another, including the existing Sage 50 license. We've seen some users submit their needs about installing Sage 50 on another laptop or server computer, like this:
"I originally downloaded Sage onto my laptop. I have now purchased a desktop computer and want to transfer my Sage download onto this. How do I do this?"
Migrating the Sage 50 to a new server is not a challenge by these two solutions - one is related to third-party software, the other is a step-by-step manual path to copy company files and then reinstall the software on the new device.
How Do I Migrate Sage 50 to a New Server
There are two ways to move Sage 50 accounting software - The first method is intelligent data transfer software. The other is a manual solution to back up and restore company files.
#1. Launch Server Migration Software - EaseUS Todo PCTrans
Of course, you can manually move Sage 50 with backup, reinstall the program, restore the backup file on a new computer. But we don't recommend this way that takes a lot of time. Professional data migration software can help you move Sage 50 accounting software to a new server with the company data file to save time and find an effective method. That's why we put EaseUS Todo PCTrans Technician here. It is a powerful server migration software to safely transfer files, applications, and domain user profiles from one Server to another one.
Download software: If you have any questions, please click the free tech support button; we're always here.
EaseUS Todo PCTrans Technician
Your smart Windows Server file transfer software.
 Unlimited file transfer between Servers.
 Transfer programs, apps without reinstallation.
 Transfer account, settings to new Server computer.
 Data rescue, find product key for installed programs.
Step 1. Run EaseUS Todo PCTrans on both PCs
On the source PC, select "PC to PC" on the main screen of EaseUS Todo PCTrans and move on.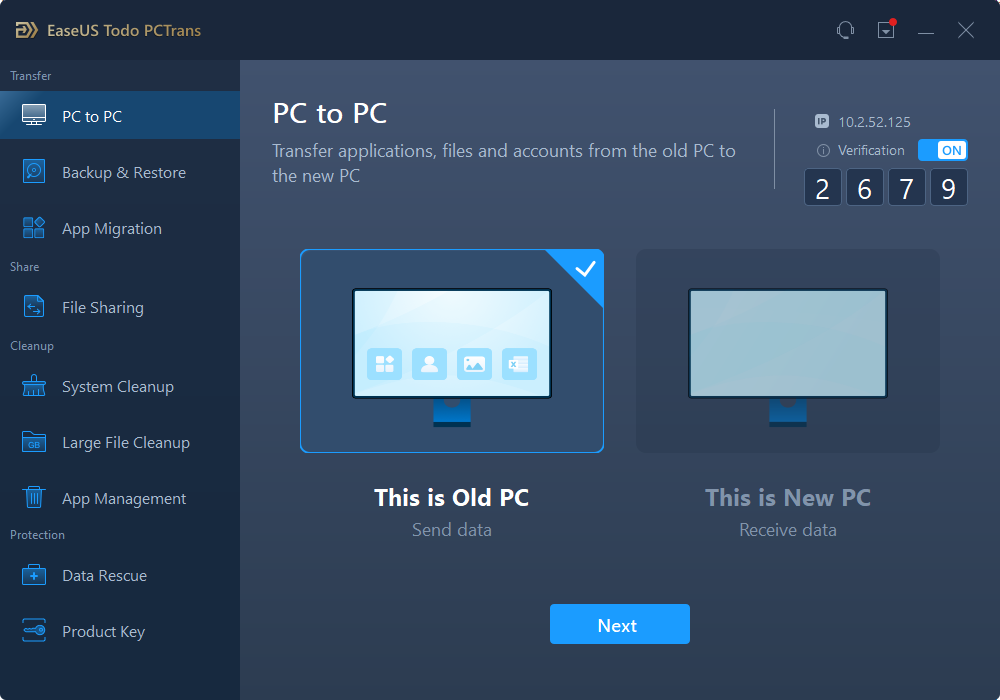 Step 2. Choose transfer direction - Old or New Computer
"New" - Transfer all data from remote old computer to current new computer.
"Old" - Transfer all data from current old device to a new computer.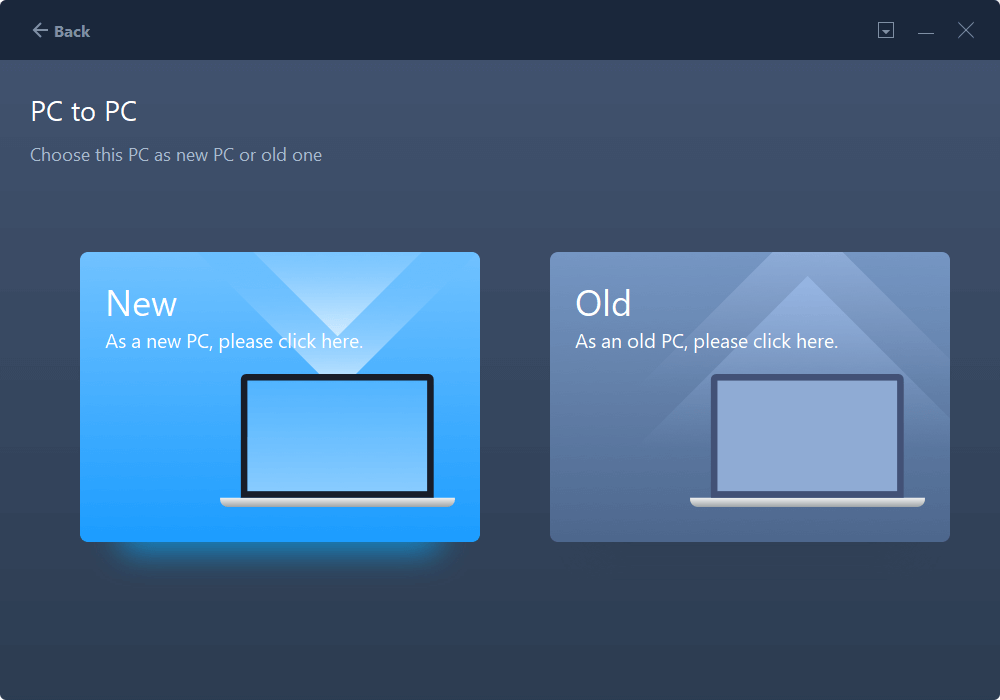 Step 3. Connect two computers
1. Select your target PC to connect via its IP address or device name and click "Connect".
2. Enter the login password of your target PC and click "OK" to confirm.
If you didn't see the target PC in the listed devices, you can also click "Add PC" to manually connect the target PC by inputting its IP address or device name.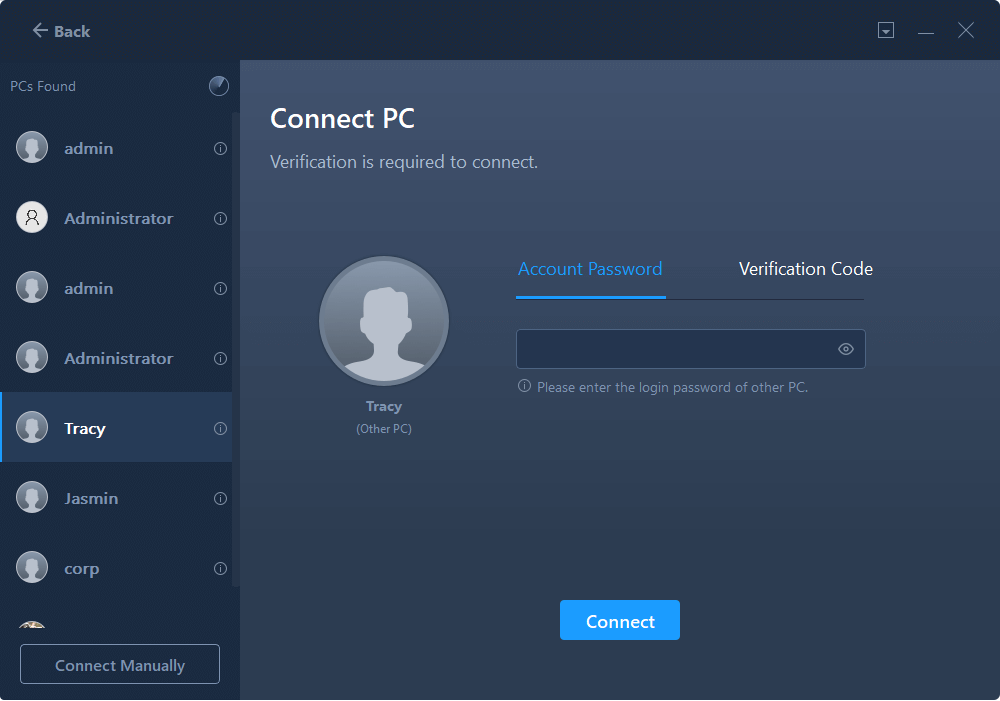 Step 4. Select apps, programs, and software and transfer to the target computer
1. You can select and choose what you want to transfer from the current computer to the target PC.
2. After selecting desired applications and programs, click "Transfer" to start the transferring process.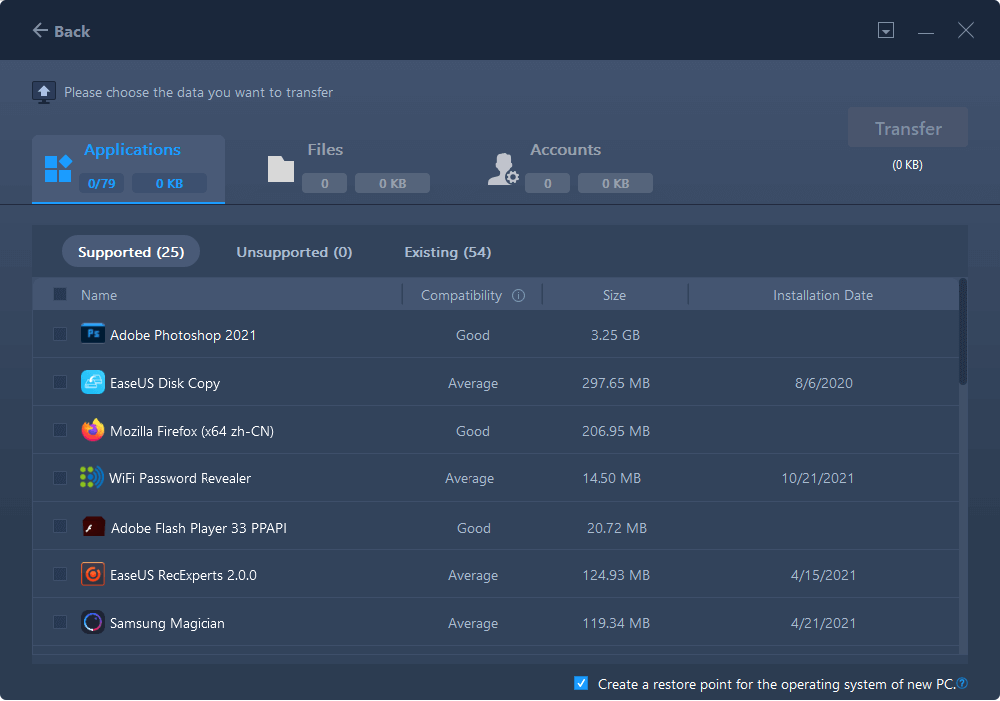 #2. Manually Transfer Sage 50 to New Computer or Server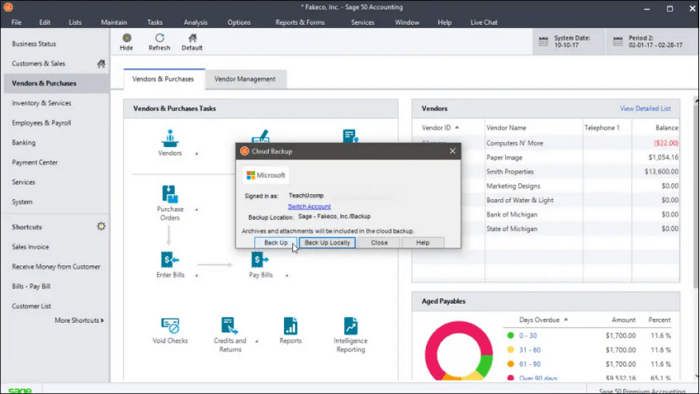 Phrase 1. Back-Up Sage 50 Company File on Old Computer
1. Run the program and open the company.
2. Click on the File tab from the top left side > Select Backup. 
3. Then the "Sage 50 Accounting - Backup" window will pop up, enter your file name and then pick a folder to store it. 
4. Click OK to back up data.
Phase 2. Install Sage 50 on the New Server Computer
Using same directory path: Recommend install path at C drive: C:\Program Files(x86) \Sage\Peachtree. If the sage accounting software stored data at C:\Sage\Peachtree\Company, it is better to use the same path on the server computer. 
How to Find Data and Program Path 
Open File Explorer on the old computer. 
Sage 50 2018 and the previous version - Follow to C:\Program Files (x86)\Common Files\Peach
Sage 50 2019 and higher version - Go to C:\ProgramData\Sage\Peachtree
If your install path is not the same, check to change the data path.
1. Go to the new Server, download and install Sage 50 accounting software. Please download the latest version. Check visit: Sage 50 - U.S. Edition.
2. Once the download is done, launch the installation file.
3. The prompts will ask, "Will this be the only computer running Sage 50?" Click No and click Next.
4. Move to the "Sage 50 company data files storage" window, choose "This computer is the server." Then click "Next."
5. Check the install option and proceed to the share folder. 
Choose the "Share the Folder"> Click Next.
6. Wait for installation complete, then run Sage 50 and activate it.
Tips - How Do I Change Data Path in Sage 50
Step 1. Open Sage 50 and back up your company files. After backup, close the program.
Step 2. Type Control Panel on the search bar. Please open it and click Programs and Features.
Step 3. Browse to find Sage 50. Right-click it and click on the "Uninstall."
Step 4. Reinstall the software and choose the right path. Restore backup on the newly-installed Sage 50.
Phrase 3. Restore Sage 50 Backup Company File
1. Navigate to the File tab and select the "Restore" option.
2. Locate your. PTB file, click Open, and select Next.
3. Select the restore option - Create a new company with the restored file.
4. Click Next > Choose the restore option
Four options: 
Company Data
Customized Forms
Web Transactions
Intelligence Reporting Reports or Business Intelligence Reports.
5. Next > Confirm options and select Finish.
Final Thoughts
The first data migration software is compatible with Windows 11/10/8/7. Apart from transferring the Sage accounting program from one old computer to another new one, you can apply it to free up drive space, rescue data from crashed PC, and find the product key after reinstalling Windows, Office, and Adobe.
It's workable to enjoy the second option. Please remember to restore data on the same path. If you got any questions in the process, you could contact us by clicking the chat button.
We're looking forward to communicating with you!
About the Author

Roxanne is one of the main contributors to EaseUS and has created multiple posts on digital devices like PCs, Mobile phones, tablets, Mac, etc. She loves to share ideas with people of the same interest.
Reviews and Awards
EaseUS Todo PCTrans Free is a useful and and reliable software solution created to serve in computer migration operations, be it from one machine to another or from an earlier version of your OS to a newer one.

 Read More

EaseUS Todo PCTrans is by the folks at EaseUS who make incredible tools that let you manage your backups and recover your dead hard disks. While it is not an official tool, EaseUS has a reputation for being very good with their software and code.

Read More

It offers the ability to move your entire user account from your old computer, meaning everything is quickly migrated. You still get to keep your Windows installation (and the relevant drivers for your new PC), but you also get all your apps, settings, preferences, images, documents and other important data.

 Read More