Are you struggling to move Netflix downloads from PC to PC? Of course, the Netflix account restriction is to blame for that. However, we still have you covered in this situation as we'll provide all the needed methods in this article to move Netflix to a new computer. Find your best way by reading on!
Netflix subscription limits mean that although people love their shows, they can only watch them on certain PCs. In a variety of situations, you might need to transfer Netflix downloads from one PC to another like
You have purchased a new PC and want to move your Netflix account to it.
Moving Netflix and other downloads from your personal computer to your work computer.
You wish to transfer it to your friend's PC to allow him to watch the bizarre show you watched last night.
You no longer have to worry about the situation because we have the best solution for you. Read on to understand how you can easily move Netflix to another computer. 
But first, we must explore why the internet provides a negative response to the question: Can I move Netflix to another computer? Let us take a look at it!
Part 1. Can I Move Netflix to Another Device?
"I recently purchased a new computer, and I'm wondering if I can transfer my Netflix downloads from the old PC to the new computer?" - asked by a user. 
Many people search online for an answer to the above question and typically come up with negative responses.
Netflix has the restriction that you can only watch the downloads on the device on which the videos are downloaded. This is true even if Netflix permits users to download certain movies and TV series to their device using the Netflix app installed on the computer, mobile phone, or tablet.
Transferring Netflix downloads between devices is therefore useless. You can't copy and paste the downloaded content to another device. 
However, we have some good news: if you use EaseUS Todo Trans, you can move downloaded Netflix movies and TV series between devices.
Therefore, three tools are suggested if you want to transfer your Netflix subscription or Netflix downloads to your new computer.
3. TunePat Netflix Video Downloader
Part 2. Move Netflix and Its Downloads to Another Device 
If you want to move Netflix to another computer entirely, you must use a professional tool called EaseUS Todo PCTrans. EaseUS Todo PCTrans is an innovative and powerful tool to transfer all of your Netflix downloads to another computer without any hassle.
It's an excellent tool for transferring enormous files that take up most of disc space without fear of data loss. This PC file transfer software is compatible with the majority of popular apps, including Microsoft Office (Word, Excel, Outlook, and so on), Photoshop, Adobe software, AutoCAD, and Dropbox.
The ability to extract data and files from inoperable or dead computers is another feature of EaseUS Todo PCTrans. On your new computer, you don't even need to reinstall the applications. Your PC will be fully loaded and available for use right away.
In summary, you can smoothly transport Netflix between computers using this software and moving files like documents, music, and videos.
Anyway, let's explore this tool a little more and review its key features.
Safely transfer everything: You can transfer all your applications, files, settings, profile, or even large files between two PCs.  
Auto Transfer feature: You can get all your files and settings downloaded automatically into your new PC with its auto transfer feature.  
Free Transfer Assistance: Get help from EaseUS technical experts whenever you get stuck into something while transferring your files without paying any charges.  
Quickly Migrate programs and settings to a New PC: You can easily migrate all your data and settings from your old pc to a new pc in a few simple steps.   
Simple and Convenient: EaseUS Todo PCTrans makes transfer and recovery easier with its simple and easy-to-use interface.  
Further, this software also allows you to shift the whole Netflix App to another device in a few simple steps:
Step 1. Run EaseUS Todo PCTrans on both PCs
On the source PC, select "PC to PC" on the main screen of EaseUS Todo PCTrans and move on.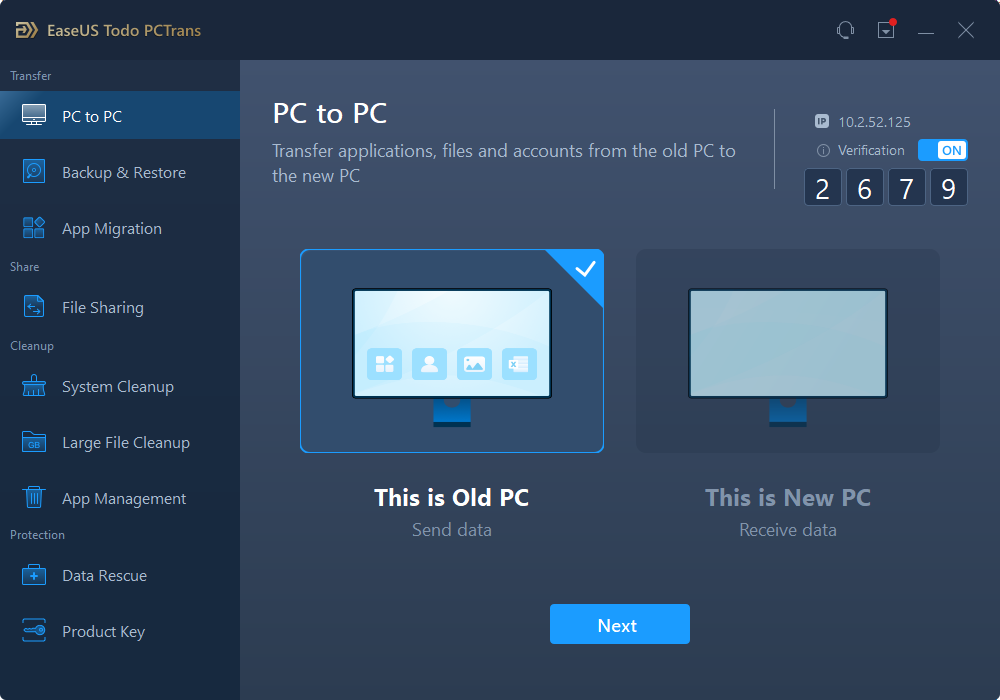 Step 2. Choose transfer direction - Old or New Computer
"New" - Transfer all data from remote old computer to current new computer.
"Old" - Transfer all data from current old device to a new computer.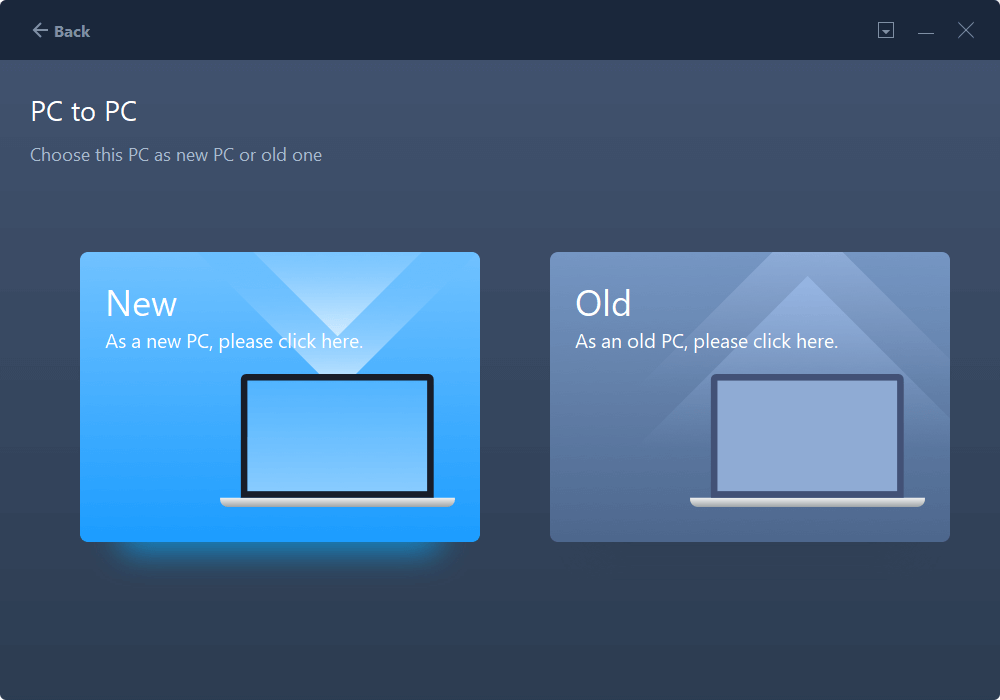 Step 3. Connect two computers
1. Select your target PC to connect via its IP address or device name and click "Connect".
2. Enter the login password of your target PC and click "OK" to confirm.
If you didn't see the target PC in the listed devices, you can also click "Add PC" to manually connect the target PC by inputting its IP address or device name.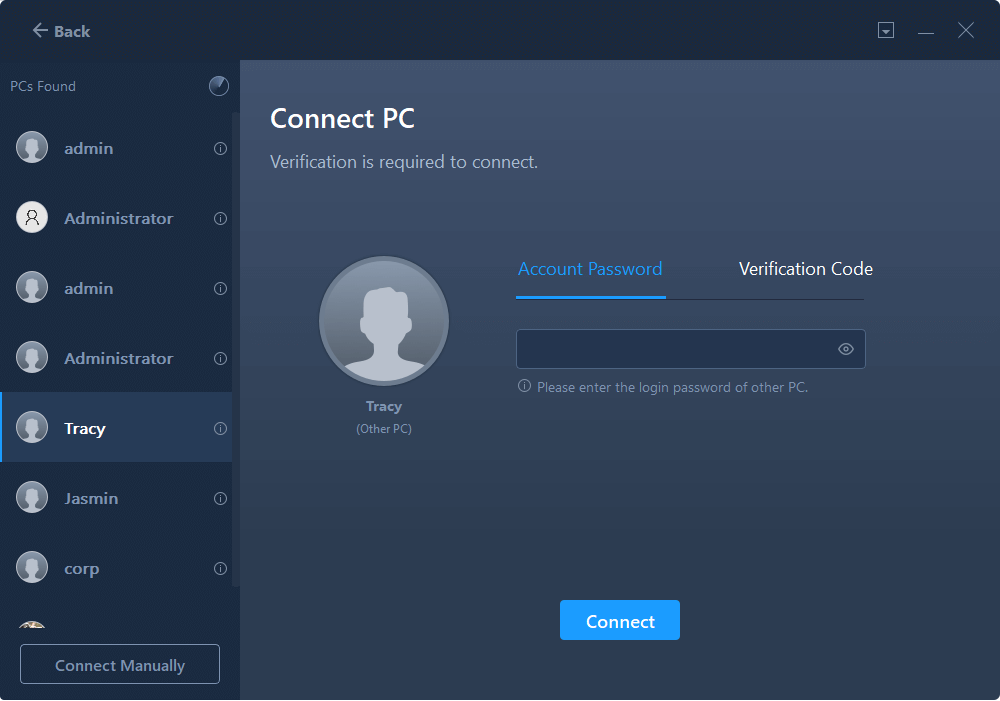 Step 4. Select apps, programs, and software and transfer to the target computer
1. You can select and choose what you want to transfer from the current computer to the target PC.
2. After selecting desired applications and programs, click "Transfer" to start the transferring process.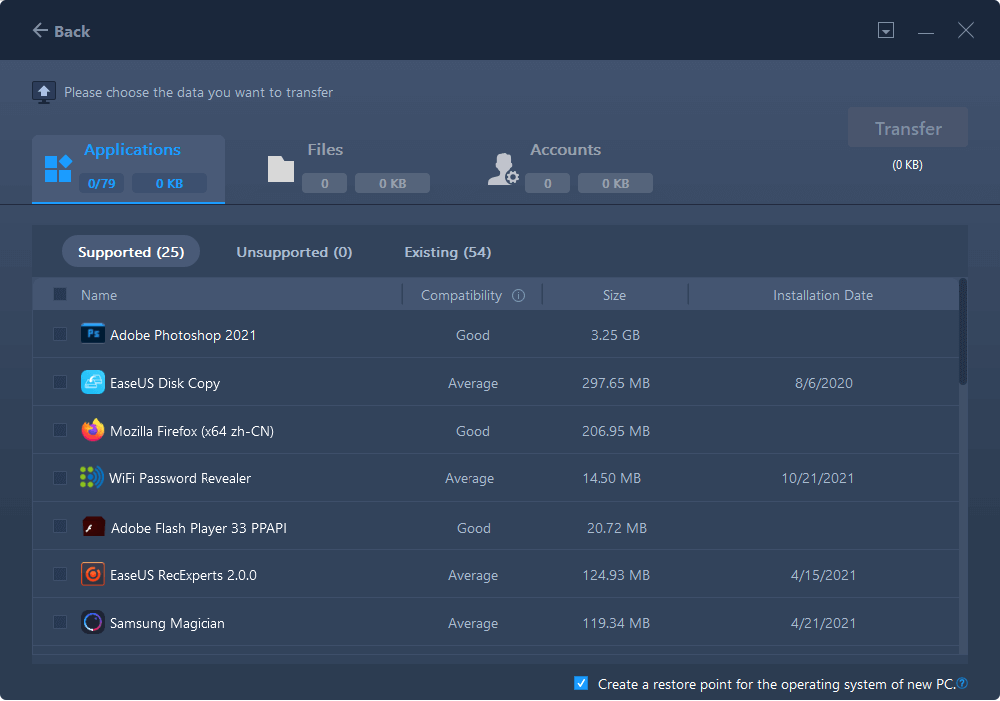 Part 3. Move Only Netflix Downloads Between Two Devices 
In the last section, we discussed how to move Netflix downloads from PC to PC using the perfect tool. But, if you only want to move Netflix downloads, You can use FlixiCam and TunePat Netflix Video Downloader
1. FlixiCam 
All you need is a reliable downloader to move Netflix downloads to a new computer. In this case, FlixiCam is the best choice. Users of Netflix can download any movies from Netflix as local MP4 or MKV files using this excellent video downloader.
Let's now follow the thorough instructions to use FlixiCam to download Netflix videos. Please first download the FlixiCam application before beginning.
Step 1: Launch FlixiCam on your computer and sign in to Netflix.
The first thing to do after starting FlixiCam on Windows is to log into your Netflix account by typing any phrase into the search box to bring up the Netflix login screen.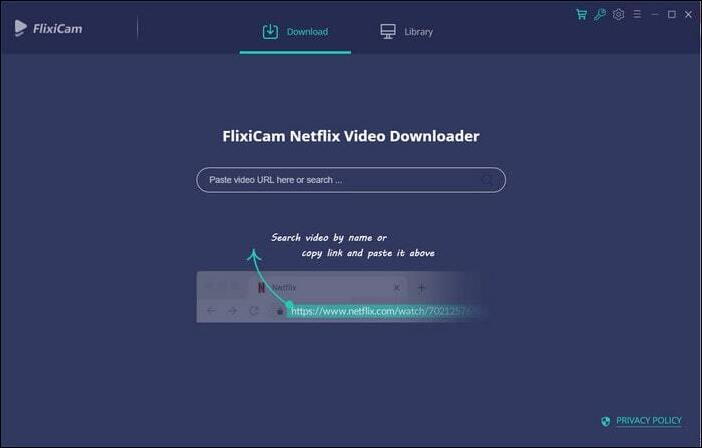 Step 2: Modify the Output Settings
To select the output format tap the Setting icon in the upper right corner.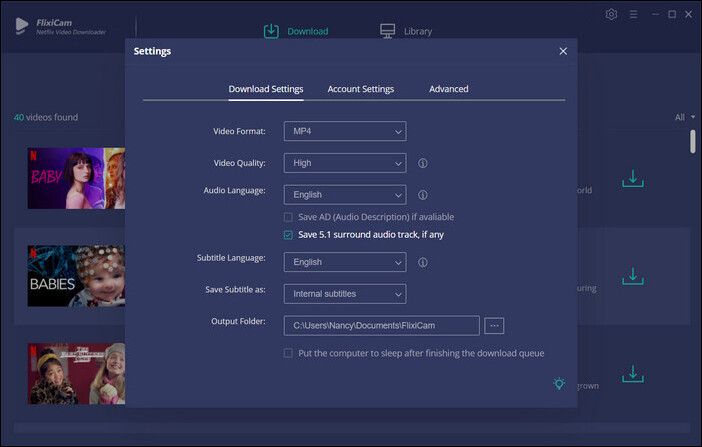 Step 3: FlixiCam video search
Now use Flixicam to search for the appropriate video by typing in movie and TV show names or copying Netflix Web Player video links. Once the name or URL of the video has been entered, press "Enter," and the application will display the video and any related videos.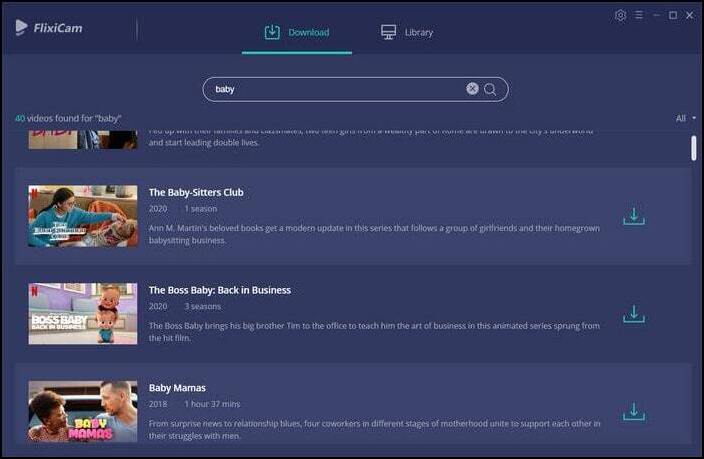 Step 4: Audio Track and Subtitle Selection
By clicking "Advanced Download" in the bottom left corner of FlixiCam, you can choose advanced download options including audio tracks and subtitles.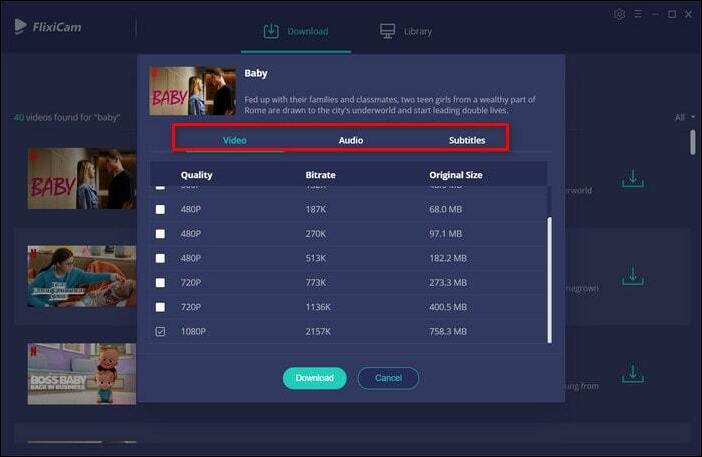 Step 5: Start to Download Netflix Videos
Finally, click "Download," and the program will begin downloading Netflix videos to the output folder. Following that, you may navigate to the Library to locate the well-downloaded Netflix videos on a local disc.
2. TunePat Netflix Video Downloader 
There is another option for you to move Netflix downloads from PC to PC similar to FlixiCam. TunePat Netflix Video Downloader searches for Netflix videos by name and URL and quickly downloads them using a special decoding technique. Here is how to accomplish it:
Step 1: Sign In to Netflix on TunePat
First, you need to log in to Netflix by entering your account and password on TunePat.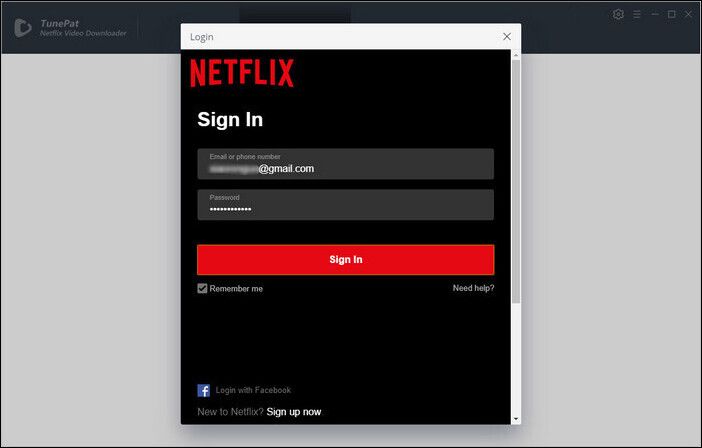 Step 2: Browse for Netflix videos.
You can search for Netflix content by name, or open Netflix.com in Chrome, copy the link to a certain video, then paste it into TunePat to find the video.
Step 3: Set the Output Settings
Set the video quality, audio track, subtitle language, and output path by clicking the Settings icon in the upper right corner.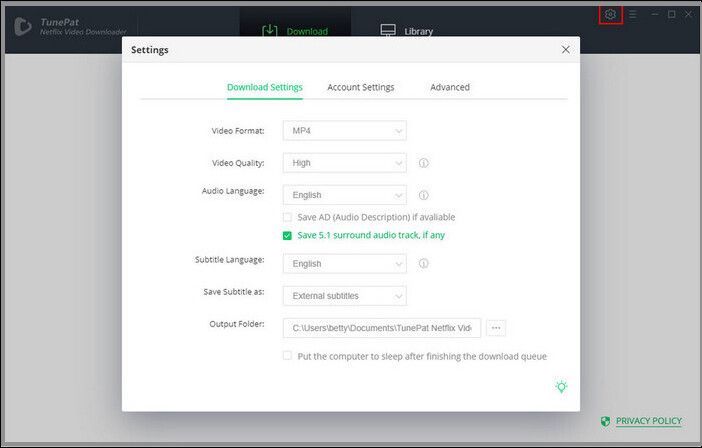 Step 4: Advanced Netflix Video Settings
There are also advanced download settings available. TunePat Netflix Video Downloader now includes an advanced settings option for re-selecting audio tracks and subtitles. You can also select 480P, 720P, or 1080P video quality.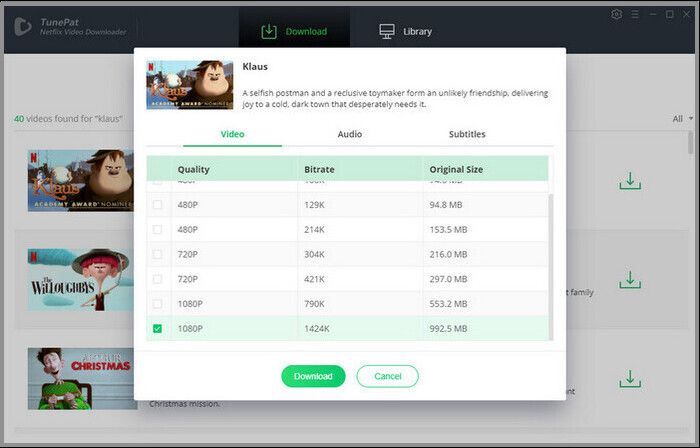 Step 5: Download Netflix Videos
To download a movie, click the Download option. After choosing which episodes to download, click the "Download" option. Your downloaded movies are located in the "Library" section.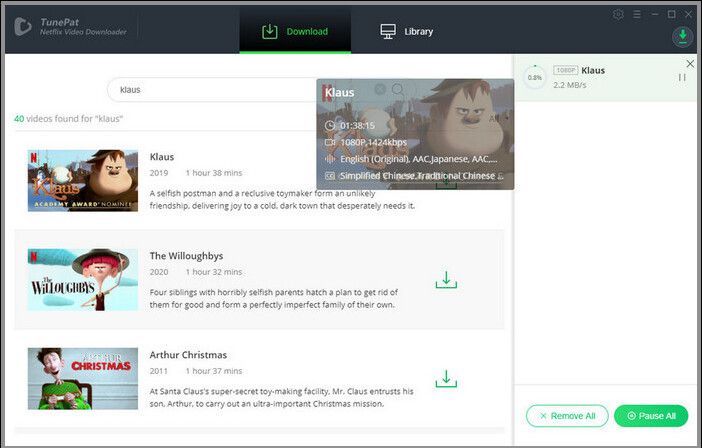 Part 4. Conclusion 
Netflix is like a craze for all of us but when we try to move Netflix downloads from PC to PC, then facing restrictions is obvious. But, you won't face it anymore as we've mentioned three simple methods on how to move Netflix to a new computer. All of these methods are easy to follow and will help you get your movies and TV shows from one device to another with ease.
Out of these three options, we recommend using EaseUS Todo PCTrans compared to two other tools whose features are just limited to moving Netflix. This amazing tool allows you to move Netflix to a new computer, as well as an unlimited number of files from one PC to another, making it your all-in-one transferring solution. Incredible, Right? Download it now!
About the Author
Updated by Tracy King 
Tracy joined in EaseUS in 2013 and has been working with EaseUS content team for over 7 years. Being enthusiastic in computing and technology, she writes tech how-to articles and share technical solutions about Windows & Mac data recovery, file/system backup and recovery, partition management and iOS/Android data recovery.
Reviews and Awards
EaseUS Todo PCTrans Free is a useful and and reliable software solution created to serve in computer migration operations, be it from one machine to another or from an earlier version of your OS to a newer one.

 Read More

EaseUS Todo PCTrans is by the folks at EaseUS who make incredible tools that let you manage your backups and recover your dead hard disks. While it is not an official tool, EaseUS has a reputation for being very good with their software and code.

Read More

It offers the ability to move your entire user account from your old computer, meaning everything is quickly migrated. You still get to keep your Windows installation (and the relevant drivers for your new PC), but you also get all your apps, settings, preferences, images, documents and other important data.

 Read More