Every Windows user is asking one thing today — "Can I easily transfer Windows 11 to Windows 11?"
Well, the answer is yes. You can easily move your Windows 10 system settings, programs, and all personal data to Windows 11. But, you can't use the default Windows Easy Transfer software for that. 
Why? 
Windows Easy Transfer is a specialized transfer program developed by Microsoft. It was first introduced with Windows Vista and included in Windows 7, 8, and 8.1. But unfortunately, Microsoft discontinued the software with Windows 10 as they partnered with Laplink to offer a free PCMover Express for data and settings transfer. 
So, you can't use Windows Easy Transfer to transfer Windows 10 to Windows 11. But no need to worry as you have a better alternative option — EaseUS Todo PCTrans. 
It is a free, easy, and 100% compatible software with Windows 10 and 11. But is it safe and effective? 
Well, it is, but to clarify all your doubts related to EaseUS Todo PCTrans and its data transferring capabilities, let's scroll down to the bottom. 
The Best Easy Transfer Alternative — EaseUS Todo PCTrans
EaseUS Todo PCTrans is a dedicated data transfer software that helps to migrate data to another computer or drive. It can even recover programs and files from a dead computer. On top of all, Todo PCTrans free version can practically help you move everything to the new Windows 11. 
But if you are still not sure and missing Windows Easy Transfer, don't. That's because EaseUS Todo PCTrans is better than Easy Transfer on every ground. Have a look at this tabular comparison for a better understanding.
Comparison
Windows Easy Transfer 
EaseUS Todo PCTrans 
Developers 
Microsoft 
EaseUS 
Compatible OS 
Windows Vista, 7, 8, and 8.1 
Windows 11, 10, 8, 8.1, or even older Windows versions like Windows Server 2003/2016/2019 
Transfer Restrictions 
Doesn't support migration from a 64-bit to a 32-bit system. 

Can't transfer applications from 64-bit to 32-bit Windows OS.

Transfer Modes 

Easy Transfer Cable - Transfer data using cable (not available for Windows 8.1) 
Computer Network - Online data transfer 
CD or DVD recorder - Move data to CDs or DVDs 
External hard disk - Shift data to an external hard disk or a USB flash drive

PC to PC - Online data, application transfer 
Backup & Restore - Transfer data, apps without network
 App Migration - Move programs to another drive 
Data Rescue - Transfer data and apps to another computer when the OS gets stuck or other problems.

Program Transfer 
/

App Migration can effortlessly move programs to your new drive on Windows 11 computer.
Supports many programs such as Adobe CC, AutoCAD, Microsoft Office Suite, web browsers, games, etc. 
How to Use EaseUS Todo PCTrans
Isn't EaseUS Todo PCTrans a great Easy Transfer alternative? Indeed. So, let's learn in-depth how to easily transfer Windows 10 data to Windows 11 using Todo PCTrans:
Video Tutorial: Transfer Everything to Windows 11
Step-by-Step Guide:
Step 1. Launch EaseUS Todo PCTrans on both old and new computers. Click the "PC to PC" on the main screen to continue.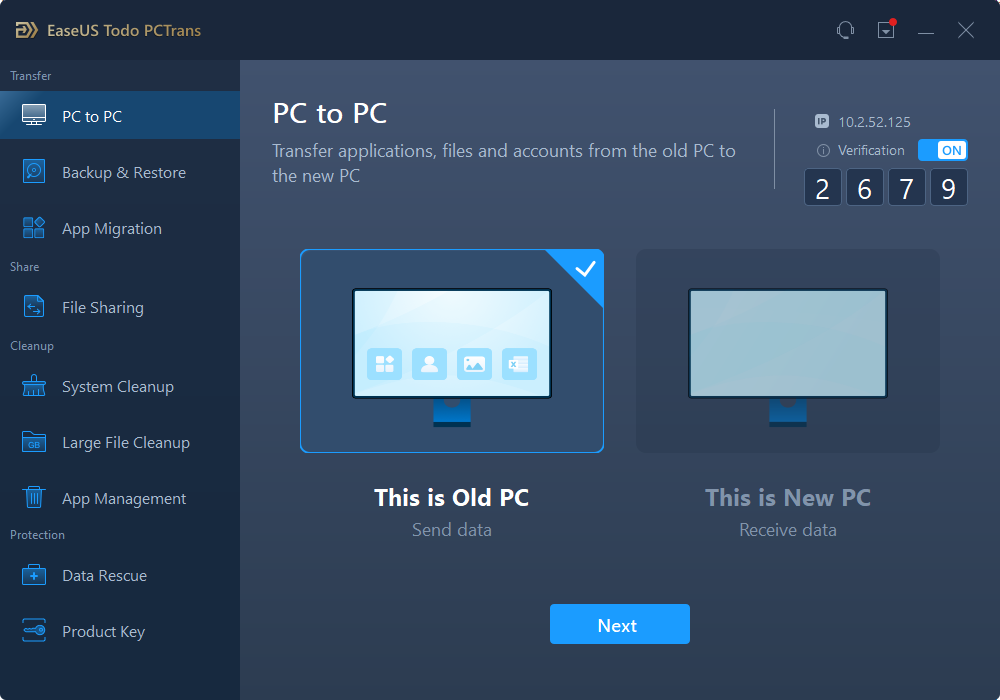 Step 2. Choose the right transfer direction.
"New": Transfer data from old PC to current new PC.
"Old": Transfer data from current old PC to remote PC.
Step 3. Connect the two PCs on the same LAN by entering the password or verification code of the target PC. Choose the right transmission direction and click "Connect" to continue.
The verification code is on the right top of the "PC to PC" main screen on the target computer. Turn on button behind Connection Verification.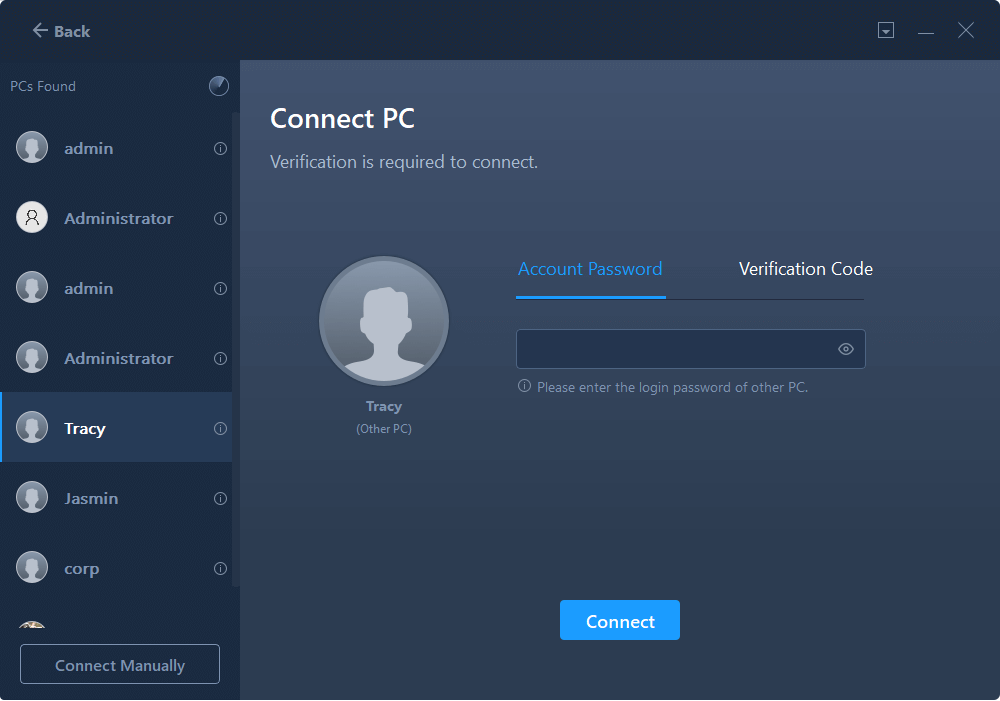 Step 4. Go to "Files" section, select the individual files you need to move.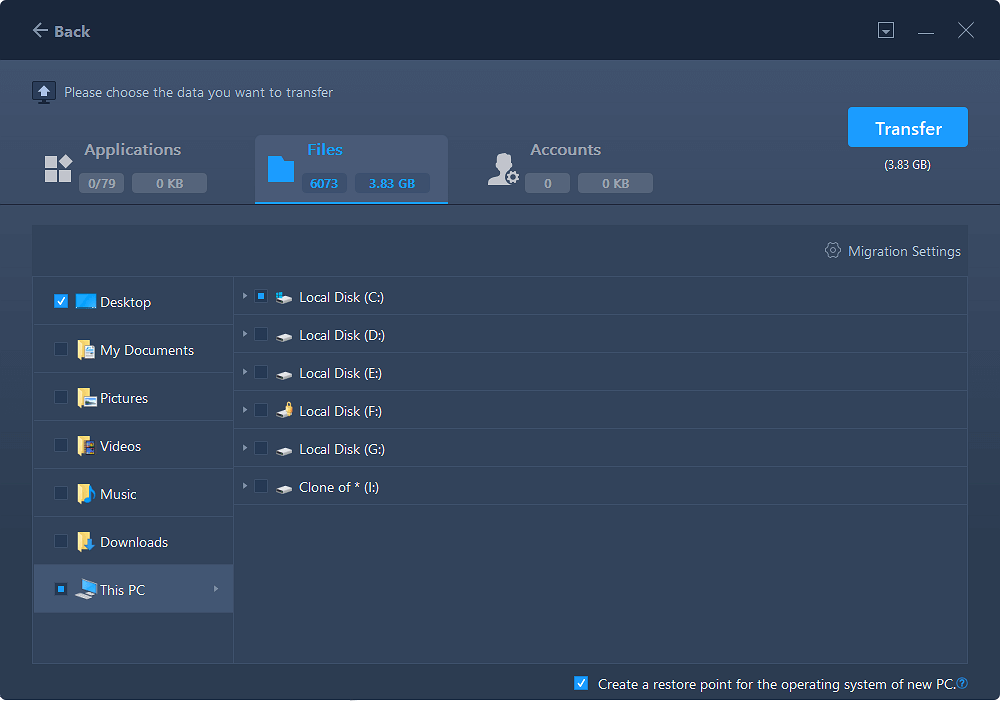 Step 5. And, click the "Transfer" button to begin the data migration. Wait for the transferring finishes. The time of the process varies based on the size of the files.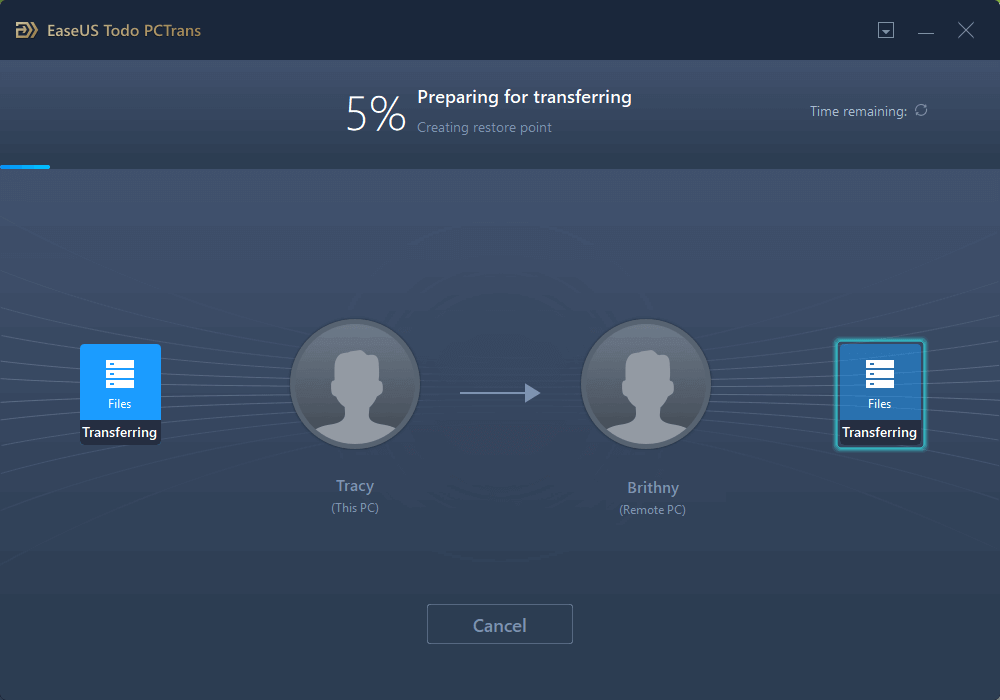 Bonus Tip: Manual Ways to Move Files and Programs to Windows 11
You can also move files and programs to Windows 11 manually. For manual transfer, you have the following options: 
#1. External Storage Devices 
This is the most preferred way where the user first needs to get an external storage device like USB, CD, DVD, etc. Next, simply connect an external storage device with your Windows 10 computer and copy your data to it. After that, insert the device into your Windows 11 computer and paste the data there.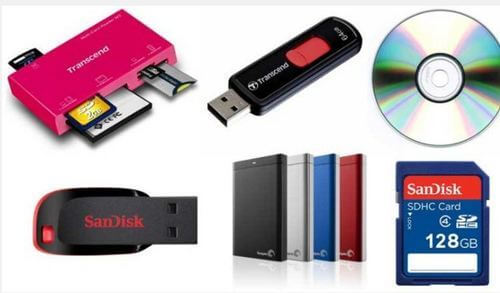 However, if you have to transfer a large amount of data, purchasing a spacious USB device can put a big dent in your pocket. For instance, a 64GB ultra USB flash drive can cost you around $1,000, which is too expensive. 
#2. Cloud Storage 
Besides external storage devices, you can also rely upon cloud servers to store and transfer data from one computer to another. Simply make an account on your preferred cloud services provider like Google Drive or Dropbox and shift your entire data to your account. This way, when you log into your cloud account on your Windows 11 computer, all your data will automatically get transferred. 
Once again, the cloud method is expensive for large data transfers. For example, with Google Drive, you will only get 15GB of free space. However, you can expand space 100GB for $1.99 and 1TB for $9.99. Now, everyone can't afford this much price. 
#3. Sharing a Network Drive 
Using WiFi or LAN connection, you can connect both computers and smoothly transfer data. Although this method isn't expensive, it is an insecure method as data is transferred over the internet, where it can easily get hacked or infected by the virus. Plus, data transfer speed depends upon your network's stability in this method. On slow networks, it might take hours to transfer your heavy data. 
Parting Thoughts 
So, folks, now you have learned the comparison between Easy Transfer and EaseUS Todo PCTrans alongside manual ways to transfer Windows data. By now, you must have gotten an idea of which method is the best for you to transfer data from Windows 10 to Windows 11. 
However, if you want an expert vote, it goes to Todo PCTrans. First, because it is a better and powerful alternative for Windows Easy Transfer. Secondly, it is a 100% free and secure method, unlike manual methods. 
Now, over to you, guys. We know you will make a wise decision. 
About the Author
Updated by Tracy King 
Tracy joined in EaseUS in 2013 and has been working with EaseUS content team for over 7 years. Being enthusiastic in computing and technology, she writes tech how-to articles and share technical solutions about Windows & Mac data recovery, file/system backup and recovery, partition management and iOS/Android data recovery.
Reviews and Awards
EaseUS Todo PCTrans Free is a useful and and reliable software solution created to serve in computer migration operations, be it from one machine to another or from an earlier version of your OS to a newer one.

 Read More

EaseUS Todo PCTrans is by the folks at EaseUS who make incredible tools that let you manage your backups and recover your dead hard disks. While it is not an official tool, EaseUS has a reputation for being very good with their software and code.

Read More

It offers the ability to move your entire user account from your old computer, meaning everything is quickly migrated. You still get to keep your Windows installation (and the relevant drivers for your new PC), but you also get all your apps, settings, preferences, images, documents and other important data.

 Read More