
About the Author
Hot Topics in 2022
How to Merge Partitions by Disk Management and Free Partition Software
Windows Low Disk Space Issue
When we buy a brand new PC, almost everything will be settled by the reseller. All you need is get it and use it. After years' usage, PC will never work like the moment you got it. The longer the computer using time is, the slower it becomes.  Low disk space alert pops up every time you do the Windows update. System break or even system crash happens to you and destroys everything that might be your painstaking effort.
It's not so hard to find the source of all these annoyances: inappropriate disk space distribution. This means you fail to arrange disk partition size properly: some are too large, and some are too small. Usually, enough space should be left for C drive by storing Windows files and updates. All those problems I listed out above are often triggered by System C drive of no extra space for use. A consolatory fact is that disk space can be redistributed again with the partition tool. Here I will mainly introduce a way to extend drive by merging partitions and make full use of disk space.
Free option 1: Windows toolkit
Disk Management enables you to redistribute disk space to a certain degree and using this tool to finish this mission takes a few mouse-clicks.
Suppose your system C drive is out of disk space, D drive is a data partition after C drive with a large amount of free space and the Operating system is Windows 7. Disk Management realizes merging partition in an indirect way. Copy all data in partition D into another safe place or back up all data into the image.
1. Right click "Computer" > choose Manage > Disk Management > right click D drive and choose "Delete Volume".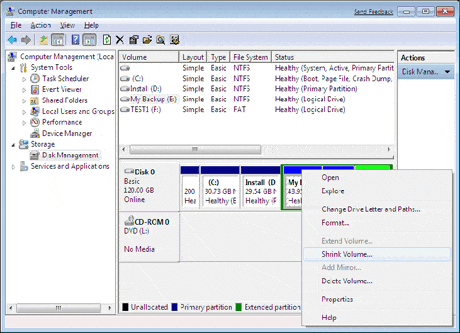 2. Right click C drive > choose " Extend Volume" > claim the unallocated space into C drive.
Now you've merged C drive and E drive successfully. On the one hand, this way is effortless and free; no professional tactics are needed. On the other hand, it has many limitations. The cost of using Windows toolkit is to delete another partition.
Free Option 2: Partition Merge Freeware - EaseUS Partition Master Free
Though Windows provides many functions for our choice, however, many of them are limited to a certain degree. So when you find your case is not applicable with the help of Windows toolkit, you should switch to third party partition software. Do remember to backup your data. Here you can try EaseUS Partition Master Free Edition: a freebie and enjoying great popularity among partition software. This software is applicable no matter the operating system is before or after Windows Vista. It also can be applied as a free Windows 10 partition manager that you can use it to manage your new Windows 10 partition now.
Directly merging two adjacent partitions is available in this freeware, go through the following tutorial of merging partitions.
Step 1: Select the target partition
Right-click on the partition which you want to add space to and keep, and select "Merge".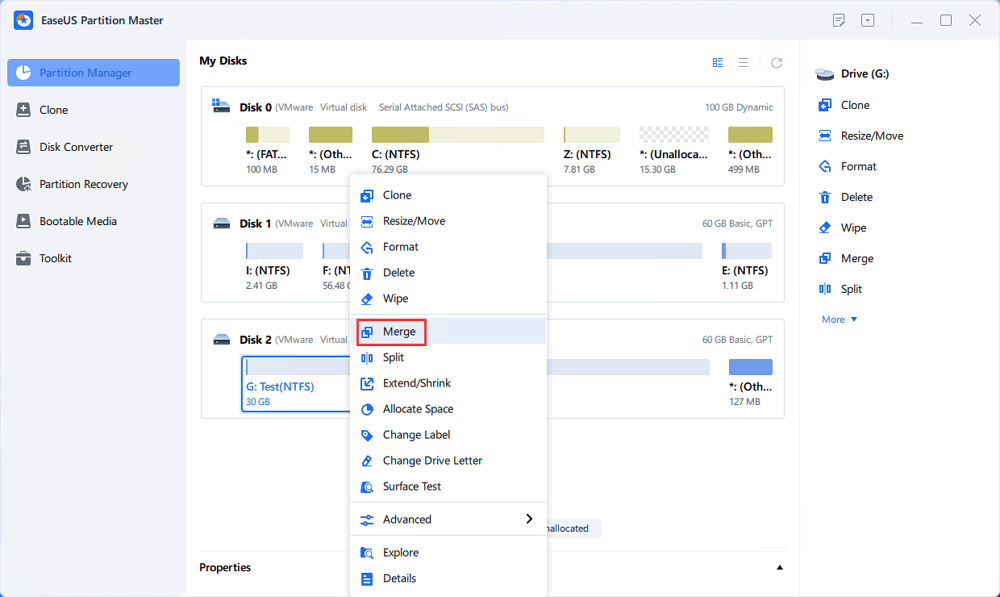 Step 2: Select a neighbor partition to merge
Select one partition next to the former selected partition to merge.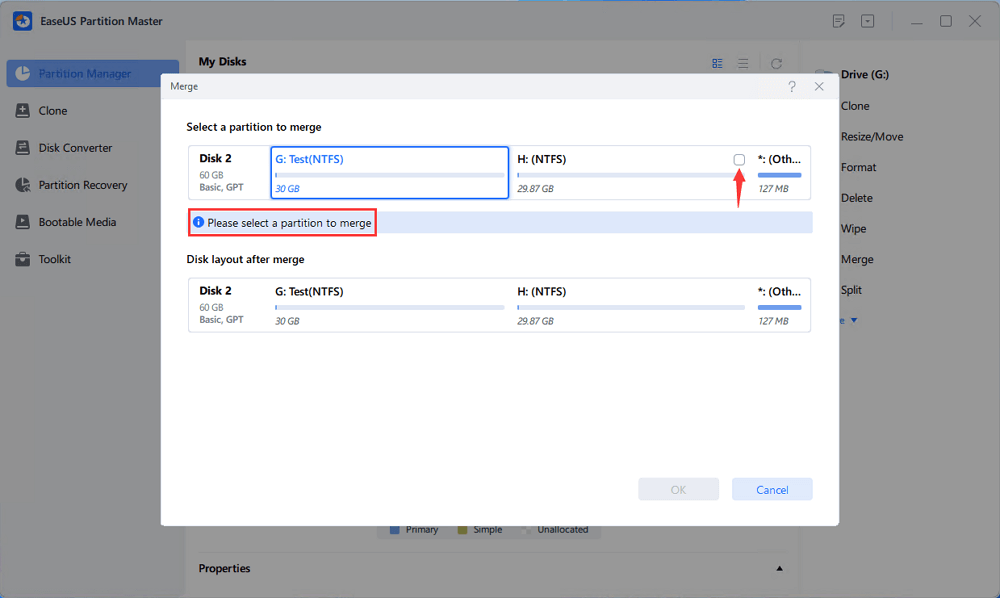 And click "OK" to continue.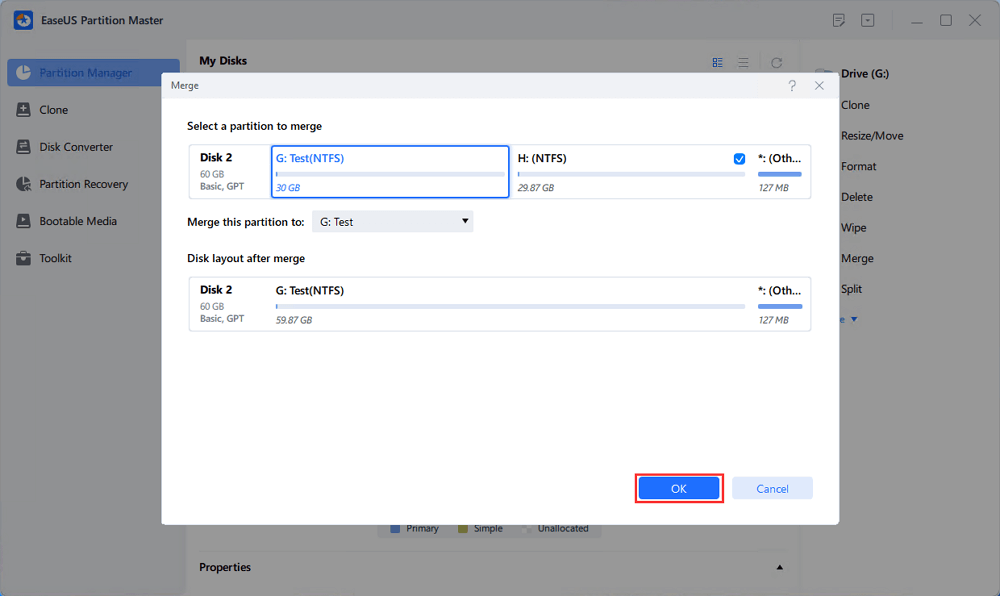 Step 3: Execute operation to merge partitions
1. Click the "Execute Task" button at the top and then click "Apply".
2. The program will merge space and add files from the second partition to the first partition.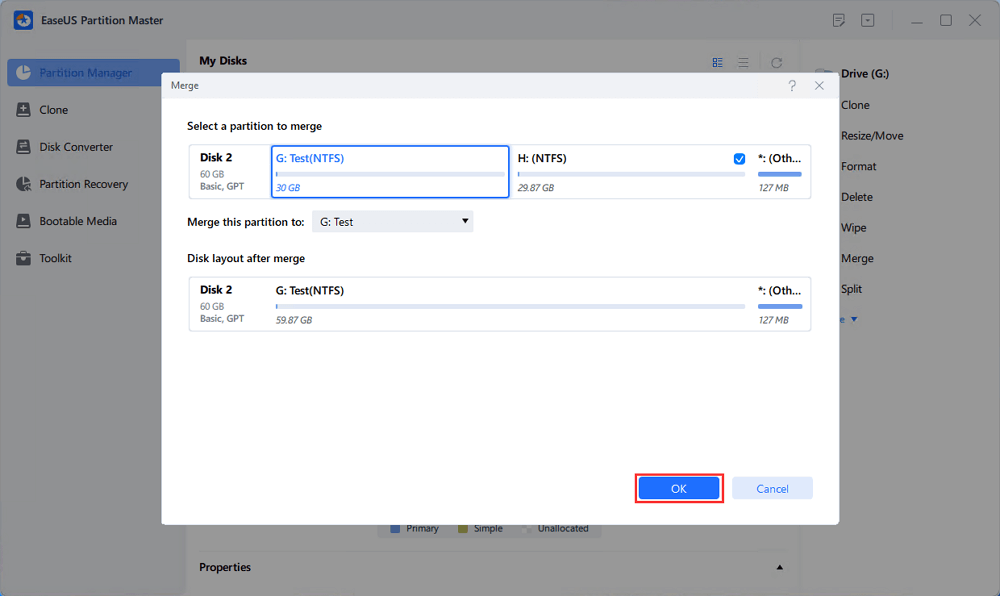 About the Author
Daisy is the Senior editor of the writing team for EaseUS. She has been working in EaseUS for over ten years, starting from a technical writer to a team leader of the content group. As a professional author for over 10 years, she writes a lot to help people overcome their tech troubles.
Product Reviews
I love that the changes you make with EaseUS Partition Master Free aren't immediately applied to the disks. It makes it way easier to play out what will happen after you've made all the changes. I also think the overall look and feel of EaseUS Partition Master Free makes whatever you're doing with your computer's partitions easy.

 Read More

Partition Master Free can Resize, Move, Merge, Migrate, and Copy disks or partitions; convert to local, change label, defragment, check and explore partition; and much more. A premium upgrade adds free tech support and the ability to resize dynamic volumes.

 Read More

It won't hot image your drives or align them, but since it's coupled with a partition manager, it allows you do perform many tasks at once, instead of just cloning drives. You can move partitions around, resize them, defragment, and more, along with the other tools you'd expect from a cloning tool.

 Read More