
About the Author
Hot Topics in 2022
Get EaseUS Partition Master Key (v16.0) in 2022 | No Cracking
What is an EaseUS Partition Master key? How can you get an EaseUS Partition Master license key for unlocking the software and enjoy full features in disk partition management on Windows 11/10/8/7, Vista/XP, and even Windows Server computers?
Here on this official page, you'll learn everything about the EaseUS Partition Master key. In the following, you'll get official access to get license keys of EaseUS Partition Master and a guide to unlocking this software for full features in partitioning hard drives successfully:
EaseUS Partition Master Crack Key, Good or Bad?
Stop cracking EaseUS Partition Master keys! Cracking or getting the cracked key of EaseUS Partition Master is not only a violation of both your own goods and EaseUS Software's image but also putting your storage devices and privacy in danger.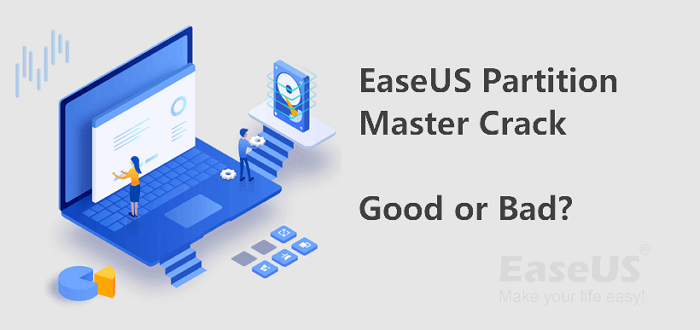 Check the comparison of Goods and Bads in the EaseUS Partition Master crack key, you'll have a better understanding of why you should turn to the official key for help. 
Goods
Bads

Virus, malware infection.
Unstable, the software may crash anytime.
Only partial features may work.
No tech support.
No privacy protection, personal data leaking.
Illegal, copyrights violation.
Damage software providers' image.
Violates software producers' benefits.
Comparing to a crack software key, turning to the official EaseUS Partition Master key will be doing all the goods for you:
Risk-free.
No virus, malware, or trajon infection.
Full features to manage hard drive partitions.
30 days refund, privacy protection.
Instant online tech services.
Regular update with new features.
What Is EaseUS Partition Master Key

EaseUS Partition Master key, also known as EaseUS Partition Master license key, serial key, or license code, is mainly used for activating EaseUS partition manager software - Partition Master. 
Normally, the key is generated by the EaseUS Partition Master key generator from EaseUS software. The key is consists of 25 random characters and numbers with dashes, like this:
3T4YE-E5CW5-PI6ES-CERRJ-C7HEW. (The sample key is unusable.)
When you enter the activation key in EaseUS Partition Master, the background algorithm will detect and recognize if the target number is a legal key. If it's a crack key, the activation will fail or being banned. 
The most important thing is that only with the license key can you activate and enjoy full features in the latest version of EaseUS Partition Master v16.0.
What's New in EaseUS Partition Master 16.0 
The latest version of EaseUS Partition Master is version 16.0, released in August 2022. New features in this edition make EaseUS partition manager software more powerful and comprehensive in disk management.
So what's new in EaseUS Partition Master 16.0? Let's see:
Merge non-adjacent partitions without losing any data.
Resize NTFS partition.
Manage BitLocker partitions, unlock or remove BitLocker protection.
Automatically showdown or sleep after executing operations.
Fix issues on the high-resolution screen.
What else can you get from EaseUS Partition Master? Here is a list of basic and advanced features that you may like:
Basic Features of EaseUS Partiton Master:
Advanced Features of EaseUS Partition Master:

Create, delete, format, wipe partitions.
Extend, shrink, merge partitions.
Check disk or partition errors.
Test and fix soft bad sectors on hard drive partitions.
Change drive letter, assign a drive letter.
Resize, extend, shrink, create dynamic volume.

Recover lost partitions and data.
Clone or copy hard drive, partitions.
Migrate OS to HDD/SSD.
Convert MBR to GPT, GPT to MBR.
Convert the Basic disk to Dynamic or vise versa.
Convert NTFS to FAT32 or FAT32 to NTFS without formatting.
Convert primary to logical, logical to the primary partition.
1-click to partition a new hard drive.
Automatically adjust disk layout and resolve C drive low disk space issue.
Manage hard drive partitions without OS via bootable disk.
4K alignment SSD.
Flexible allocate disk space to any partitions. 
Besides these features, you can also apply this software to change the device file system, initialize a new disk, repair RAID 5 disk, manage disk partitions in Windows Server and latest Windows 11/10/8/7, etc., computers. 
How to Get EaseUS Partition Master Key, License Code 2022 [Official Accesses]
To unlock this software, enjoy full features in EaseUS Partition Master, you'll need to use the software license code. How to get it? 
In this part, we'll be showing you three legal and authorized accesses to get the EaseUS Partition Master license key. 
#1. Get 30% OFF Discount of Official EaseUS Partition Master Key
To fully protect EaseUS Partition Master users' rights, here EaseUS software provides a 30% discount that all of you can get the official EaseUS Partition Master key to unlock partition management features at one time.
How to get it? Just click the button here, you'll be presented with official access to get the discount:
#2. Get Authorized EaseUS Partition Master Key on EaseUS Software Site
The only and authorized access of getting copyrighted EaseUS Partition Master license key is by visiting the EaseUS software site: https://www.easeus.com.
Go and visit the product page of EaseUS Partition Master, you'll be able to purchase an authorized key on your own.
Sometimes, you can also take part in activities on the EaseUS software site and get a reasonable discount for the EaseUS Partition Master activation key.
#3. Fully Upgrade EaseUS Partition Master from Free to Pro Edition
The last option is for EaseUS Partition Master Free edition users. If you are using the EaseUS Partition Master Free edition and need to acquire some advanced features, you can upgrade this software to a Pro edition.
To get the key, you have two accesses for doing so:
1. Upgrade and purchase an activation key from the software.
2. Directly purchase on the product page of EaseUS Partition Master Pro.
How to Activate EaseUS Partition Master with Serial Key
After getting the license key, you can now move on to learn how to use it for activating EaseUS Partition Master here.
#1. Download the Latest EaseUS Partition Master 16.0 
To activate and make use of EaseUS partition manager software on your computer, you need to first download and install this software first.
Click the button to download and install it here now:
#2. Activate EaseUS Partition Master with Serial Key
Step 1. Launch EaseUS Partition Master and click "Activate" on the right top pane.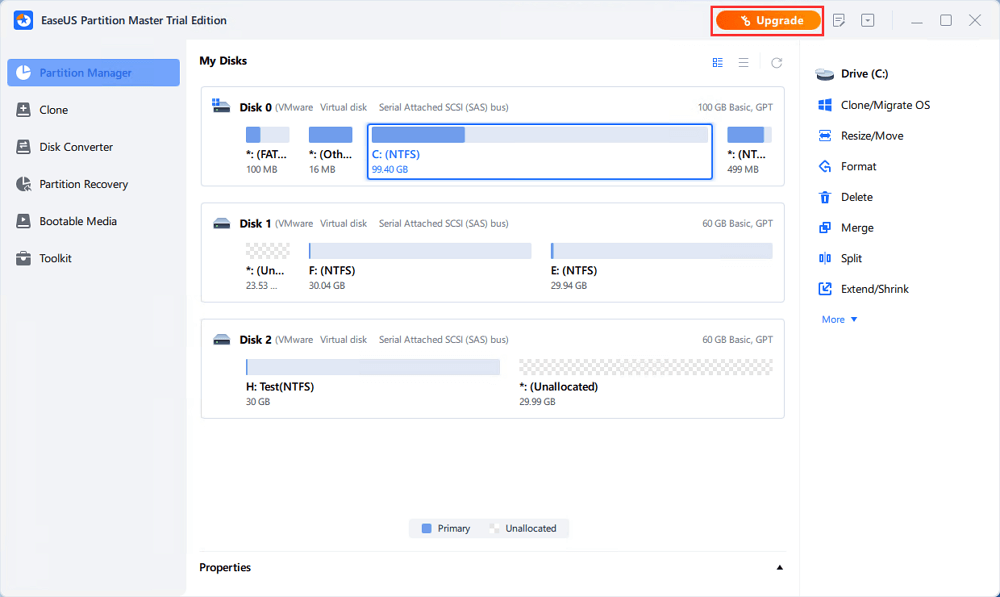 If you are using a Free edition, click the Upgrade button at the same location.
Step 2. Copy the EaseUS Partition Master key and paste it at the License Code column.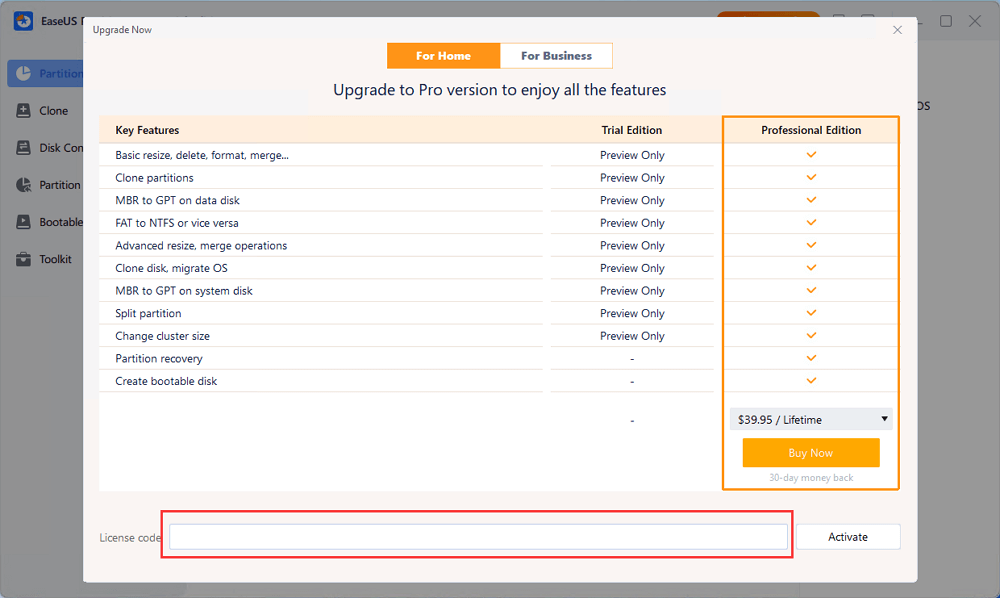 Step 3. Click "Activate" next to the License Code column.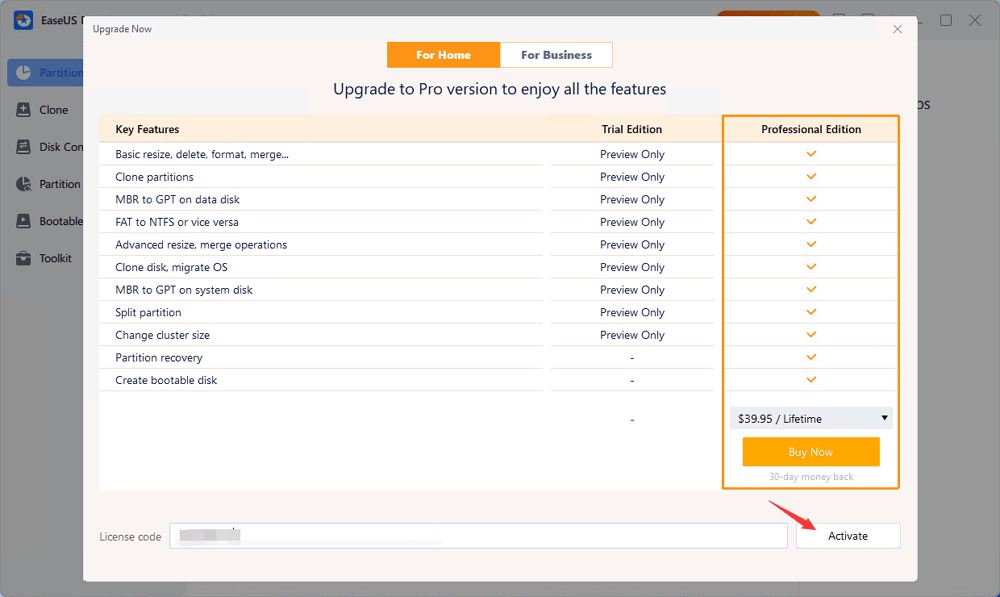 Wait patiently to let EaseUS Partition Master detect the key and activate itself automatically.
How to Use Licensed EaseUS Partition Master 16.0
Now the registration process has been completed, and you can apply EaseUS Partition Master to manage your hard drive or external storage devices now. Let's see how to use it:
#1. Partition Hard Drive
Step 1. Check for free space
To divide a disk partition into multiple ones, you must ensure that there has adequate free space to be allotted.
Step 2. Shrink a disk partition to create unallocated space
By doing so, start with the "Resize/Move" feature. Right-click on a partition with a lot free space and select "Resize/Move".
Drag either end of the partition rightwards or leftwards so you can shrink its size as the red arrow does, in order to get ample unallocated space. You can visually know how much space you've decreased in the "Partition size" area. Click "OK".
At last, you need to click the "Execute xx Operation" on the top menu and then "Apply" to save all the changes. Go back on the main window, there should be unallocated space appearing under the same disk of the shrinked one.
Step 3. Create a new partition on unallocated space
The last step is to turn the unallocated space into a usable partition drive with a recognized file system. Right-click on the unallocated space and choose "Create...".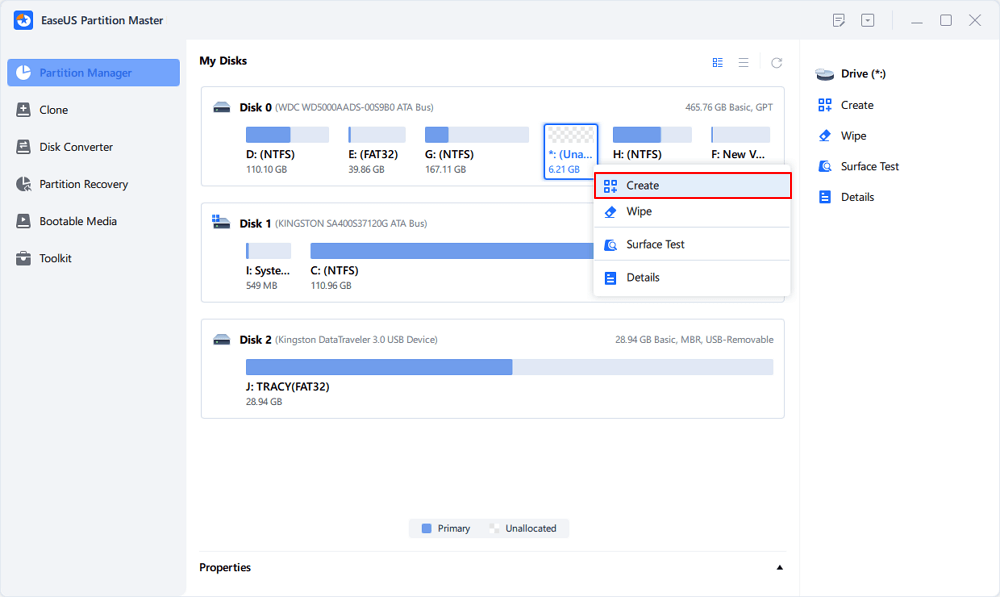 Customize the partition information by choosing a drive letter, partition label, file system (NTFS, FAT32, EXT2/3/4, exFAT) and many more settings in the Advanced Settings. Click "OK".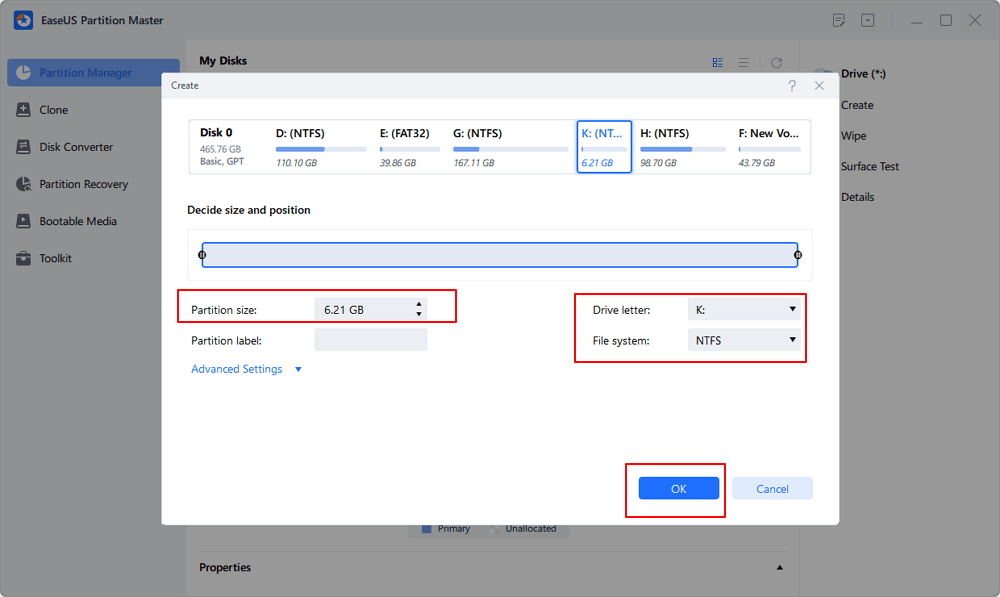 Finally, click "Apply" to confirm that you want to create a partition on the unallocated space. Repeat the whole steps to partition a hard drive in many more partitions.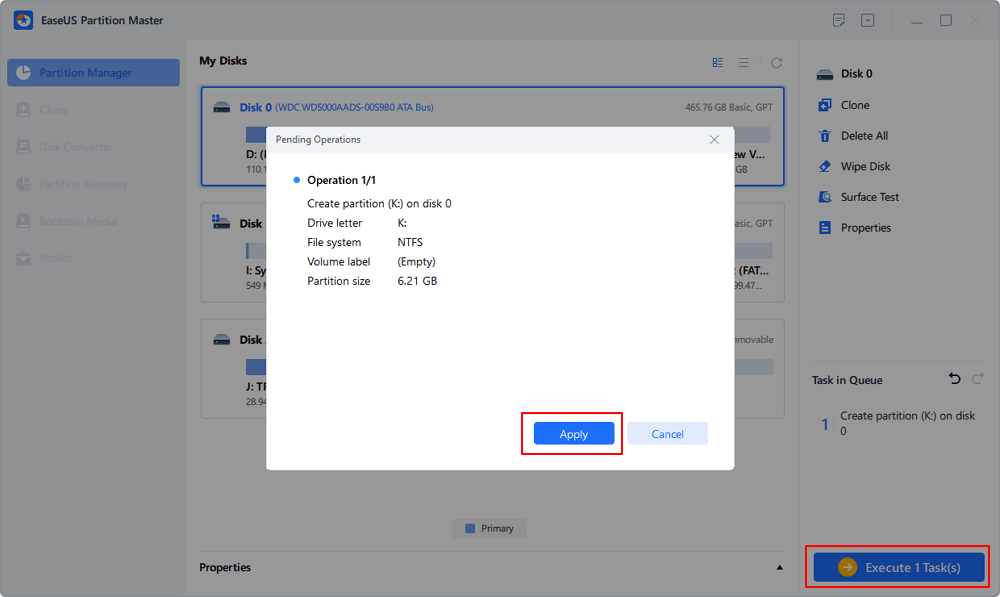 #2. 1-Click to Adjust New Disk Layout
Step 1. Open EaseUS Partition Master, once it detects the new disk, it will pop up a New Disk Guide window, and select "Partition the drive" next to the "I have a new HDD/SSD, I want to" section. 
Step 2. You can continue customize how many partitions you want to create, and set the partition style you want, MBR or GPT.
Or, you can accept the default setting offered by EaseUS Partiton Maste. Once the customization is done, click "Proceed".
Step 3. Click "Execute 1 Operation" on the top menu and then "Apply" to finalize partitioning the new HDD/SSD or external disk.
#3. Migrate OS to HDD/SSD
Steps to migrate OS to HDD/SSD:
Run EaseUS Partition Master, select Migrate OS from the top menu.
Select the SSD or HDD as the destination disk and click Next.
Check Warning: the data and partitions on the target disk will be deleted. Make sure that you've backed up important data in advance. If not, do it now.
Then click Continue.
Preview the layout of your target disk. Then click Proceed to start migrating your OS to a new disk
Note: The operation of migrating OS to SSD or HDD will delete and remove existing partitions and data on your target disk when there is not enough unallocated space on the target disk. If you saved important data there, back up them to an external hard drive in advance.
Besides the above features, you can even do more with EaseUS Partition Master on your hard drives, for example:
For even more tutorial guidelines, please refer to the EaseUS Partition Master tutorial category page for help.
At The End
As an experienced software producer, we suggest that you take serious attention to protecting your privacy and device security. Cracking software or using an unauthorized key is not a wise decision. 
Again, no matter which disk partition management software that you prefer, taking the official one shall always be your first choice. 
For an easy partition manager software, go and follow the above 3 official accesses to get the authorized EaseUS Partition Master key to unlock its full features now.
About the Author
Updated by Tracy King 
Tracy joined in EaseUS in 2013 and has been working with EaseUS content team for over 7 years. Being enthusiastic in computing and technology, she writes tech how-to articles and share technical solutions about Windows & Mac data recovery, file/system backup and recovery, partition management and iOS/Android data recovery.
Product Reviews
I love that the changes you make with EaseUS Partition Master Free aren't immediately applied to the disks. It makes it way easier to play out what will happen after you've made all the changes. I also think the overall look and feel of EaseUS Partition Master Free makes whatever you're doing with your computer's partitions easy.

 Read More

Partition Master Free can Resize, Move, Merge, Migrate, and Copy disks or partitions; convert to local, change label, defragment, check and explore partition; and much more. A premium upgrade adds free tech support and the ability to resize dynamic volumes.

 Read More

It won't hot image your drives or align them, but since it's coupled with a partition manager, it allows you do perform many tasks at once, instead of just cloning drives. You can move partitions around, resize them, defragment, and more, along with the other tools you'd expect from a cloning tool.

 Read More