Help! A Critical Process Died error pops up while I was gaming on my PC.
"Hey guys, do you have any clues about what is Critical Process Died error with error code - 0x000000EF or blue screen? I received such an error code with a blue screen while I was playing a game on my computer, I was totally out of my mind. Can anyone of you offer me a solution to this problem? It would be highly appreciated if you do know how to fix this error."
Overview of Critical Process Died
Critical Process Died indicates to a critical system process died with error code - 0x000000EF or blue screen error. When a critical system process fails to run, the operating system will crash with a Critical Process Died Stop Error 0x000000EF, or Blue Screen displayed on your Windows computer.
Why is that? It happens because the process which was needed to run the Windows operating system such as Windows 10/8/7 ended abruptly for some reasons.
So how to find a solution for Critical Process Died error in Windows 10/8/7 will be a vital question for those users who are having such a problem on their computers. Here the following, EaseUS will provide you with practical solutions for fixing Windows 10/8/7 Critical Process Died error with 0x000000EF code.
Solutions
Solution 1. Check and repair system file error
Use System File Checker to find and fix system file errors
1. Run System File Checker in Windows 10/8/7 and type: cmd in the search box.
Right-click "cmd" and choose "Run As Administrator".
2. At the command prompt, type: sfc /scannow and hit Enter.
The SFC utility will run for a while and if any corruption or error is discovered, replace them on reboot.
Use partition manager tool to check and repair system error
EaseUS recommends you to use professional partition manager software to check and fix system file errors with simple clicks. Here the following, you can try EaseUS Partition Master Free to check and fix errors under Windows 10/8/7 now:
Step 1: Open EaseUS Partition Master on your computer. Then locate the disk, right-click the partition you want to check, and choose "Check File System".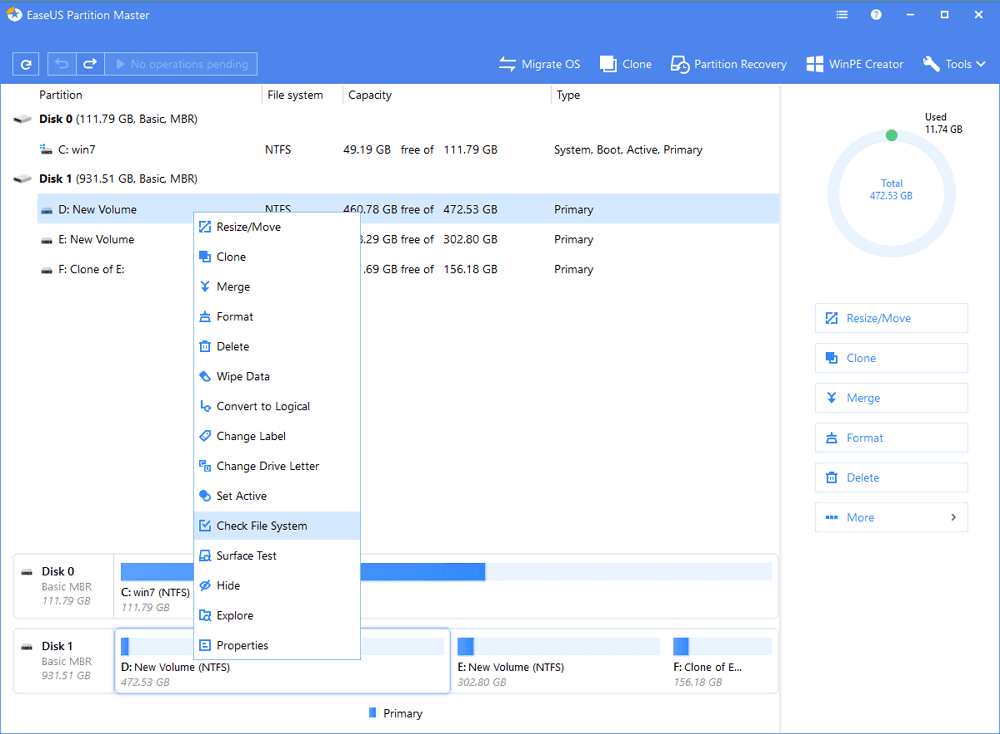 Step 2: In the Check File System window, keep the "Try to fix errors if found" option selected and click "Start".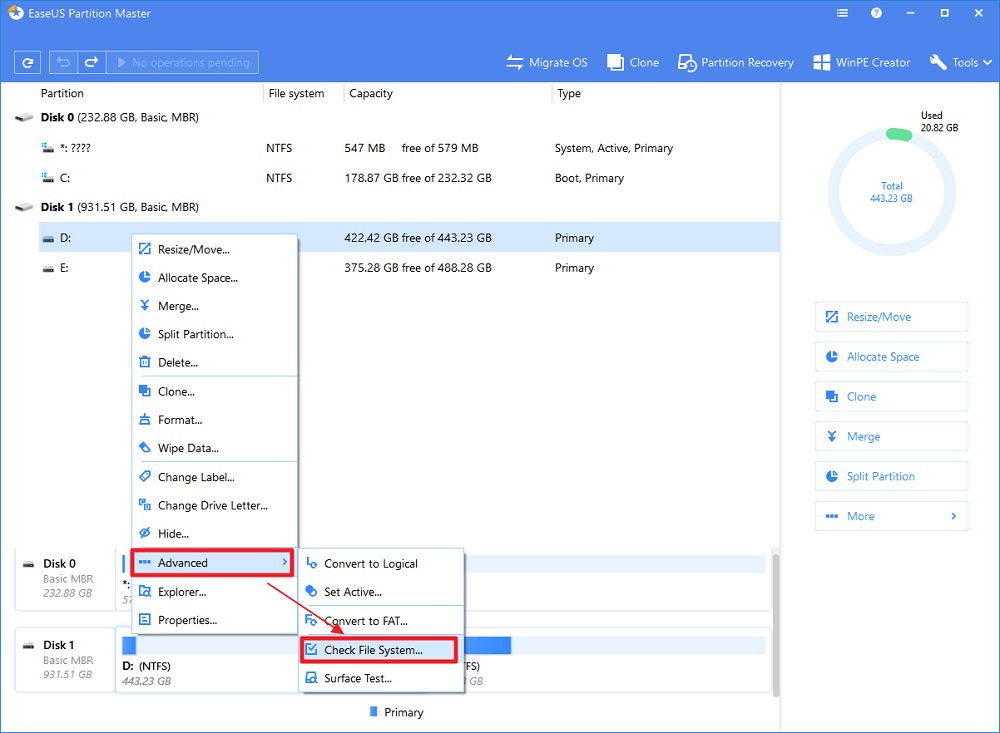 Step 3: The software will begin checking your partition file system on your disk. When it has completed, click "Finish".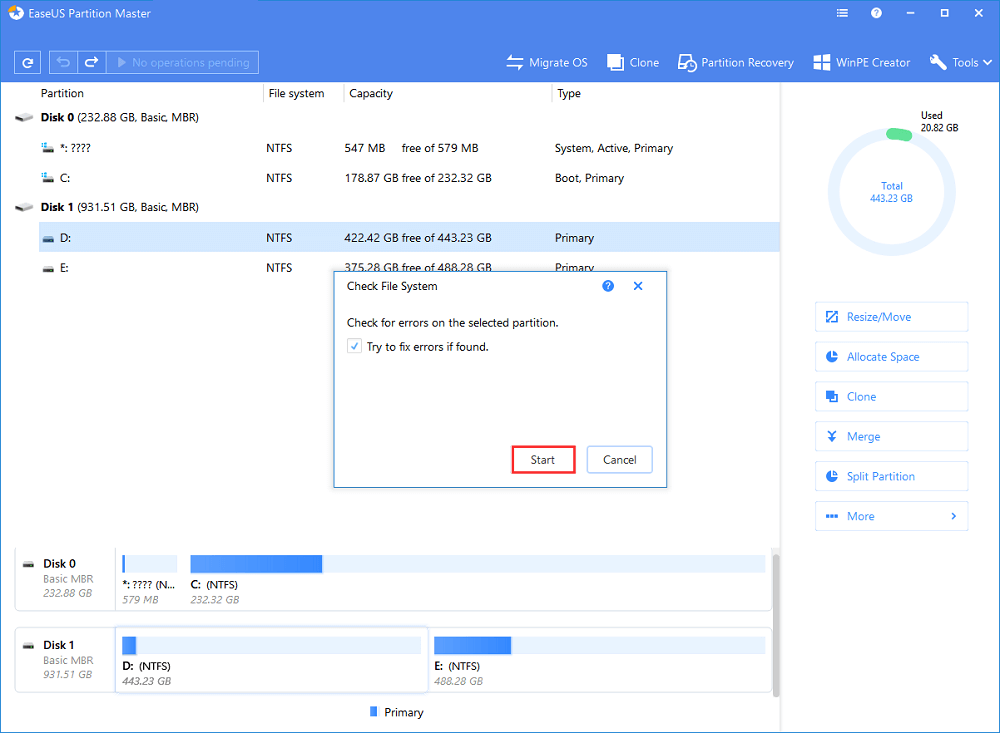 After checking and fixing system errors to fix the Critical Process Died error issue under Windows 10/8/7, you can also use EaseUS Partition Master to extend system drive and system reserved partition so to leave more space for system booting so to thoroughly avoid or solve blue screen issue.
Solution 2. Run DISM to repair a corrupt system image
Solution 3. Update all drivers in Windows to see whether this will solve Critical Process Died issue
Solution 4. Perform a Clean Boot.
Solution 5. Restore system to a previous point or healthy state
If the Critical Process Died error - 0x000000EF popped up recently, you can use a system restore tool to restore the computer to a previous version or point so to fix this issue.
Solution 6. Disable Sleep and Hibernate in your Power Setting
Open Control Panel > "All Control Panel Items" > "Power Options" > "Edit Plan Settings".
100% of people found this article helpful.
Frequently Asked Questions
Why Choose EaseUS Partition Master?

"I've used Partition Master Professional many times to create, delete, format, move, rename, and resize partitions." —PCWorld

"Partitioning tools have come a very long since the days of complicated command line utilities and EASEUS Partition Master is one of the most advanced programs available." —TECH ADVISOR

"I love that the changes you make with EaseUS Partition Master Free aren't immediately applied to the disks. It makes it way easier to play out what will happen after you've made all the changes." —Lifewire
Will the "Migrate OS" feature transfer the Windows system files only or the whole C drive?

To ensure that the migrated system will boot normally, the Migrate OS feature will transfer all the files in the system and the boot partitions. Generally, the boot partition is the C drive so the transfer will include all the files in C.
Does EaseUS Partition Master license apply to multiple computers?

The license of Partition Master Professional and Server editions can be used on 1 computer only, while that for for the Technician and Unlimited editions can be used on multiple machines.
What is the difference between EaseUS Partition Master Trial version and the Free version?

Free is for home users only, with most basic functions available such as partition resize and clone. While trial can help you understand how this product works and test what a full license can do on a business or server OS machine.
Will it cause any data loss after resizing the partition in EaseUS Partition Master?

Generally, it will not cause any data loss or boot issue by resizing a partition. However, in order to protect your data, we suggest that you backup the partition before resizing, in case of any unexpected situations such as power outages, computer hardware failures, etc. You can use EaseUS Todo Backup to backup the partition and its trial version is fully functioned for 30 days.
What should I prepare before resizing the partition?

On the partition that is going to be operated, there might be some files being occupied by other programs. To ensure a successful operation, we suggest that you close all the unnecessary software before resizing that partition. Otherwise, EaseUS Partition Master will detect the partition being locked by the other software and require a reboot to resize the partition under boot mode.
About EaseUS Partition Master
All-round disk & partition management software for personal and commercial use. Let it manage your storage drive: resize, format, delete, clone, convert, etc.