
About the Author
Hot Topics in 2022
Can You Convert Basic to Dynamic in Windows 11? Yes, Here Is The Guide
| Workable Solutions | Step-by-step Troubleshooting |
| --- | --- |
| Fix 1. EaseUS Partition Master | Step 1. Install and open EaseUS Partition Master on your Windows computer; Step 2. Select the disk...Full steps |
| Fix 2. Disk Management | Step 1: To begin, you must open the Run window by pressing the "Windows + R" shortcut keys...Full steps |
| Fix 3. CMD | Step 1: Open the command prompt by looking for it in the Start Menu and clicking on it; Step 2: To begin...Full steps |
| Bonus Tip: Extend Partition without Converting to Dynamic | Step 1. Right-click on the D: partition with enough free space and select "Allocate Space"...Full steps |
Introduction
There are two kinds of computer hard disks: basic and dynamic disks. Basic disks are the most common form of computer hard disk, and basic disks are the most often encountered storage medium while working with Windows. A file system is often used to organize the contents of partitions, such as basic partitions and logical drives. Dynamic disks can generate fault-tolerant volumes that can span many disks — something that Basic disks cannot do.
So, what's all the fuss about? In some instances, upgrading your basic disk to a dynamic disk is a smart idea, depending on how you want to use your Windows computer. You can discover that a basic disk does not provide many of the features you need. This article will provide some primary reasons why and how to Convert Basic to Dynamic in Windows 11.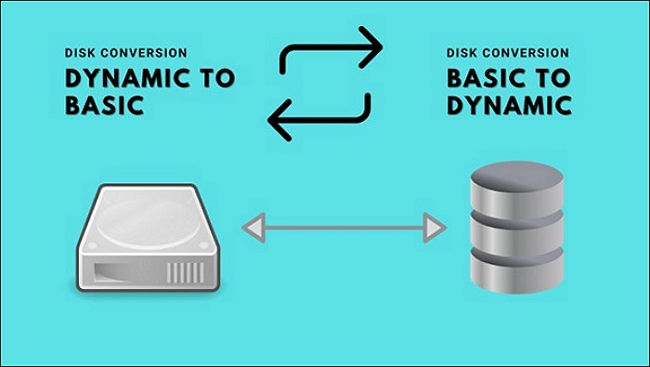 Can I Convert a Basic Disk to Dynamic?
Yes, you can comfortably convert a basic disk to a dynamic disk to enhance the performance of your OS. Some of the significant reasons for doing so are:
A dynamic drive gives you the option to store data to many hard drives simultaneously, creating so-called "stiped volumes." Because they allow more than one disk drive to drive read and write data, they will increase the overall performance of the disk drive.
It will boost the speed of your Windows operating system if you switch from essential to dynamic disk storage.
Dynamic disks can create volumes that span many drives, which is very useful. Due to the ability to merge sections of unallocated space in volumes shared across many drives, you'll be able to make greater use of your available disk space if you use this strategy to maximize your available disk space.
If you're utilizing dynamic disks, the only way to construct fault-tolerant volumes (either RAID-5 or mirrored) is to use RAID-5 or mirrored volumes.
How Do I Convert a Basic Disk to a Dynamic Disk in Windows 11? [3 Ways]
This section will look at the three ways to convert a basic disk to a dynamic disk. However, before going through the steps needed by the different techniques, make a backup of your data to an external hard drive or storage device. Due to the danger of data loss due to this operation, it is necessary to do this step.
#1. Convert Basic Disk to Dynamic in Windows 11 Using Disk Conversion Software
Partitioning your hard drive using EaseUS Partition Master is one of the most effective methods. The software is particularly well suited for many tasks such as disk maintenance, partitioning, cloning, and migration operations that are not currently supported by the default disk management tools.  
Everything is queued and transferred to the "Pending Operations" box at the top of the software, and only when you click Execute will the software perform the tasks in the background. Optionally, the machine can be configured to shut down automatically when the modifications have been applied.
Although resizing a partition can be accomplished using EaseUS simply by moving the slider, you can also manually enter the desired partition size in the box. Partitions on the same drive can be merged, which will transfer the contents of one partition to a folder on the other, resulting in a single partition that does not erase any of the data.
Step 1. Install and open EaseUS Partition Master and go to Disk Converter.
Step 2. Select the disk disk conversion mode that suits your need:
Convert Basic to Dynamic: change a Basic disk to Dynamic.
Convert Dynamic to Basic: change a Dynamic disk to Basic.
Step 3. Select the target disk - Basic or Dynamic, confirm you've select the correct disk and click "Convert" to start.
0:00 - 0:18 Convert Basic to Dynamic Disk; 0:19- 0:36 Convert Dynamic to Basic Disk.
Some Key Features Include:
Support for merging partitions that are not contiguous to one another.
A new, simple-to-use interface has been developed.
Support for resizing partitions using the NTFS file system.
Disk management software that is well-designed and simple to use.
Functionality for partitioning on a large scale (inc. create, split, merge, extend, shrink, etc.).
Tools for cloning disks and migrating systems (including SSD optimization).
Specialist disk layout tool - allows you to make changes to several partitions at the same time.
Media creators can be launched from a bootable media library (Run Partition Master before Windows starts).
Tools for professional cleaning and disk maintenance are included.
#2. Convert Basic Disk to Dynamic Disk in Windows 11 with Disk Management
Disk Management is a built-in feature of the Windows operating system. Free disk conversion from dynamic to basic disk can be achieved using Disk Management. However, it can only convert an empty dynamic disk into a basic disk. As a result, you must remove all the data stored on the dynamic drive.
(Note: if there is any essential data on the dynamic drive, it is recommended that you must back up before erasing it).
Follow the steps below to convert a static disk to a dynamic disk on Windows 11 using Disk Management:
Step 1: To begin, you must open the Run window by pressing the Windows + R shortcut keys simultaneously.
Step 2: After that, enter diskmgmt. msc and press Enter.
Step 3: When the Disk Management window opens, right-click on the basic disk you wish to change and choose Convert to Dynamic Disk. When the Disk Management window closes, repeat the process.
Step 4: A pop-up window opens; choose the basic disk from the drop-down menu and then click OK.
#3. Convert Basic to Dynamic via CMD
Using Windows 11, you can also use the Command Prompt (CMD) to convert Basic Disk to Dynamic Disk. To do so, follow the procedures outlined below:
Step 1: Open the command prompt by looking for it in the Start Menu and clicking on it.
Step 2: To begin, open a command prompt window and enter diskpart followed by the Enter key.
Step 3: Put list disk in the search box and press the Enter key. Write down the disk number you want to modify from Fixed to Dynamic.
Step 4: Select disk from the drop-down menu and press Enter.
Step 5: Type convert dynamic into the search box after choosing your disk and pressing Enter.
Step 6: When you're done converting, put exit into the text box and hit Enter to complete the disk conversion process.
That's all there is to it! Close the Command Prompt window when you are finished. This is also a simple way that does not lose any data.
Bonus Tip: How to Extend Partition without Converting to Dynamic
It would help if you considered changing your basic disk to a dynamic disk, depending on your requirements for using your Windows computer. This will allow you to use a variety of capabilities that are not accessible while using a basic disk.
In this section of our article, we'll go over how EaseUS Partition Master can assist you in extending a partition without having to convert it to a dynamic disk format. We have a comprehensive step-by-step guide on doing this task using the best software available.
First off, let us tell you that you need to download this software on your computer or laptop before beginning the process.
EaseUS Partition Master has two features up its sleeve that make it easier for users to extend a partition. The Allocation Space option allows you to extend a partition within one drive. Further, the Extend C with 2nd Disk feature allows you to extend a system partition across multiple disks. Let's look at the steps on how to do it successfully:
Step 1. Right-click on the D: partition with enough free space and select "Allocate Space".
Step 2. Select the target partition - C: drive and drag the partition panel rightward to add the free space from D: drive to C: drive. Then click "OK" to confirm.
Step 3. Click the "Execute Task" button and click "Apply" to start the process of moving free space from D: drive to C: drive.
Conclusion
Converting from a basic to a dynamic disk can improve the performance of your Windows operating system, and this article demonstrated three different methods for doing so in Windows 11. Transforming the basic drive to dynamic will give more flexibility to the users as it doesn't involve any partition table and uses an LDM or VDS to record information. We hope you find this guide informative and intuitive!
About the Author

Roxanne is one of the main contributors to EaseUS and has created multiple posts on digital devices like PCs, Mobile phones, tablets, Mac, etc. She loves to share ideas with people of the same interest.
Product Reviews
I love that the changes you make with EaseUS Partition Master Free aren't immediately applied to the disks. It makes it way easier to play out what will happen after you've made all the changes. I also think the overall look and feel of EaseUS Partition Master Free makes whatever you're doing with your computer's partitions easy.

 Read More

Partition Master Free can Resize, Move, Merge, Migrate, and Copy disks or partitions; convert to local, change label, defragment, check and explore partition; and much more. A premium upgrade adds free tech support and the ability to resize dynamic volumes.

 Read More

It won't hot image your drives or align them, but since it's coupled with a partition manager, it allows you do perform many tasks at once, instead of just cloning drives. You can move partitions around, resize them, defragment, and more, along with the other tools you'd expect from a cloning tool.

 Read More