Why you need a hard drive erase software?
There are various reasons, for example, hard drive upgrade, removing virus or malware, etc may force you to wipe the partition. The most common one is that you bought a new computer or a new hard drive and you want to use it to replace the old one. At this moment, you need a hard drive erase software to wipe your data on the old device, no matter you plan to give the device to your families, friends or sell it to others. It is the best way protect your personal information or data from being leaking.

Here many people might think that they can clean the data off the old drives by deleting instead of using a third-party hard drive erase software. But is it really a safe way? Of course not. Simply deleting, hard drive formatting and OS reinstalling just hide your data by removing the directory reference to the data other than actually remove its contents. And in most cases, your data is still completely accessible by some data recovery software or skilled computer hackers. That's why we recommend you to use third-party hard drive erase software. Such programs can ensure your data is completely erased and unrecoverable.
Steps to wipe your data with EaseUS free hard drive erase software
EaseUS free partition manager is the best software to erase or wipe hard drive or partition. It allows you to completely erase ALL hard drive or external storage information including your personal data, programs, viruses, and malware. The program uses military-grade, wiping technology that overwrites your data multiple times, ensuring that your data is unrecoverable, even using the most sophisticated tools.
Step 1. Launch EaseUS free hard drive erase software. Select the hard disk you want to wipe, right click and choose "Wipe data".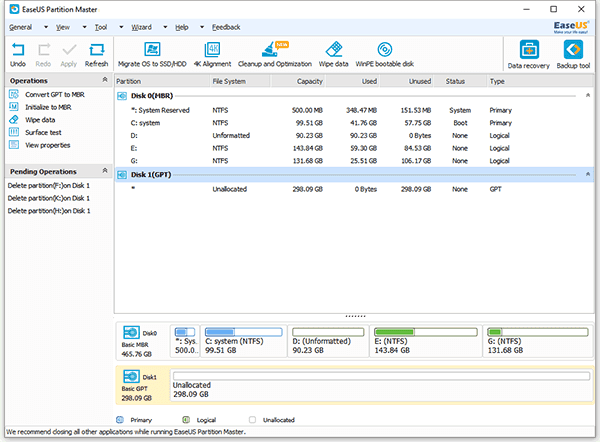 Step 2. Set the number of times to wipe the hard disk (10 times at most) and click "OK". If the hard disk contains system partition, your system will fail to boot after wiping the disk.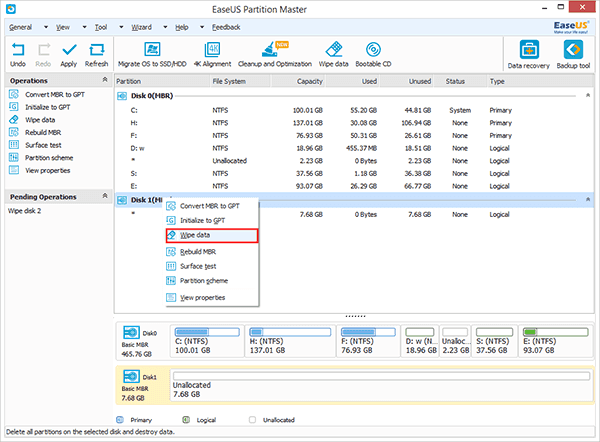 Step 3. A dialog box will pop up as "A computer restart after disk erase is recommended". Click "OK". You will see the wiped hard disk becomes unallocated space on the disk map.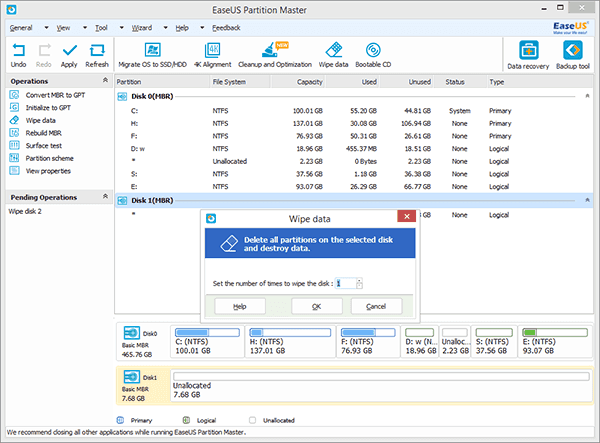 Step 4. Click "Apply" to apply all the changes.
Note: The wipe disk operations cannot be undone after applying the changes. Please be careful that once the operation is carried out by EaseUS free hard drive erase software, the data will not be recovered by any data recovery software!