
About the Author
Hot Topics in 2022
Easy and Step-by-Step Guide to Use SSD for OS Only
The growth of SSD or Solid State Drives has become a prime option for practically all your needs in a faster and quicker functionality. Installing your operating system on SSD can indeed bring you access to really faster performance. Let us find how you can opt for SSD for OS Only scenario and what benefits does that offers you.
Why Use SSD for OS Only
The reason should be quite obvious. The SSDs perform several times faster than HDDs. If you have an older PC, you may end up getting the HDD to deteriorate over time. The best option in such a scenario would be adding an SSD to your system and installing the OS onto the SSD.
A device that runs its OS from the SSD offers you faster boot times and faster performance. You can use the hard drive for the data and content that would include files and folders. Of course, the SSDs are quite expensive, and opting for a device that has a high-capacity SSD may not be the right way to go with it. However, you can invest in a 64 GB SSD to install OS only on the SSD drive.
How to Use SSD for OS Only
The option to use SSD for OS only will involve installing the new SSD onto your computer. There are several ways that the SSD can be connected to your computer.
You can install the SSD on your system just beside the existing hard drive. 
Connect the SSD via the SATA-to-USB cable.
You can even use an external hard drive enclosure for connectivity.
The exact means of how to connect SSD to your computer would be dependent on your computer configuration.
Once that done, the next step would be to migrate the OS from HDD to SSD. It can be a little cumbersome if you do not have a capable Partition manager software. EaseUS Partition Master should double up as one of the excellent choices for the purpose.
The EaseUS Partition Master provides you with a host of features and functions, making it a one-stop solution for practically every need you may have in managing your disks, drives, partitions, and everything else in between.
The support for practically all the file systems right from NTFS to FAT32 should ideally make it one of the most reliable partition management software ever. The support for split partitions would further make it all the more reliable software ever.
The salient features that should make EaseUS Partition Master a great choice would include:
It can be used for HDD, SSD, USB, memory card, SD card.
EaseUS Partition Master also lets you merge different partitions more effectively.
Support for a hard disk capacity of up to 8 TB should be yet another plus point that you would find quite impressive.
You can either opt for the free version of the EaseUS Partition Master or go with the Pro version based on your individual preferences. Check out the following steps to migrate OS to SSD. 
Note: The operation of migrating OS to SSD or HDD will delete and remove existing partitions and data on your target disk when there is not enough unallocated space on the target disk. If you saved important data there, back up them to an external hard drive in advance.
Step 1. Select "Clone" from the left menu. Select the "Migrate OS" and click "Next" to continue..
Step 2.  Select the target disk you want to clone. Click "Next".
Step 3. Click "Yes" after checking the warning message. The data and partitions on the target disk will be deleted. Make sure that you've backed up important data in advance. If not, do it now.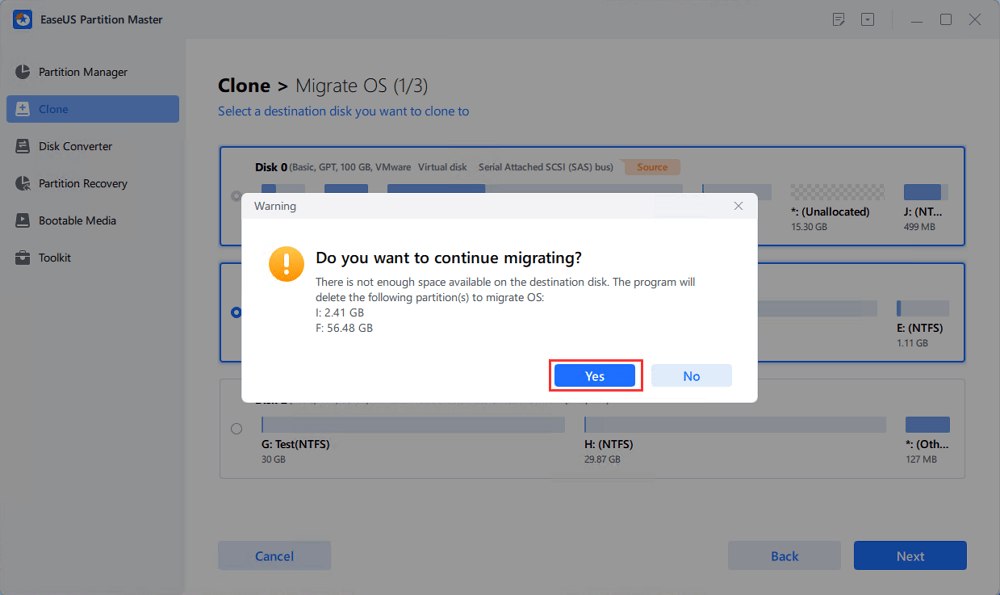 Step 4. Preview the layout of your target disk. You can also click the disk layout options to customize the layout of your target disk as you want. Then click "Start" to start migrating your OS to a new disk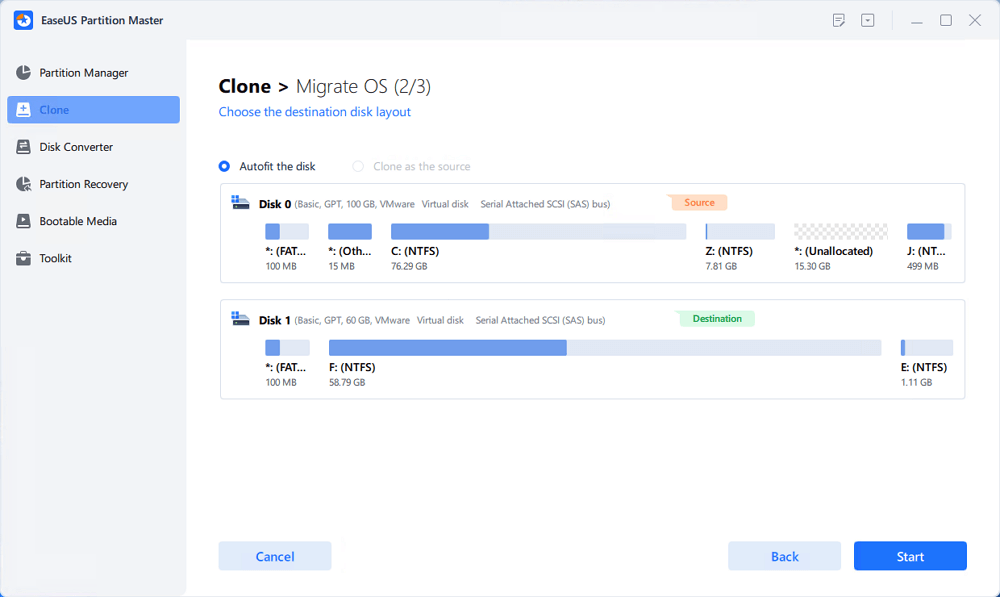 How to Boot from SSD
The fact that you have migrated the OS to SSD will not let you launch your operating system right away. You will need to instruct your computer to boot from the SSD every time it restarts. This process will ensure that your device will easily boot into your OS whenever it is powered on.
Once the operating system has been migrated to the SSD, you can set the SSD as the primary boot drive. It can be done in a couple of ways.
Remove Old Hdd and Let the SSD Work as the Boot Drive
This can perhaps be the easier option. Once the operating system has been migrated, remove the old HDD and leave the SSD as the only boot drive. This method can work if your SSD has a larger size and thus can handle both the operating system and other data.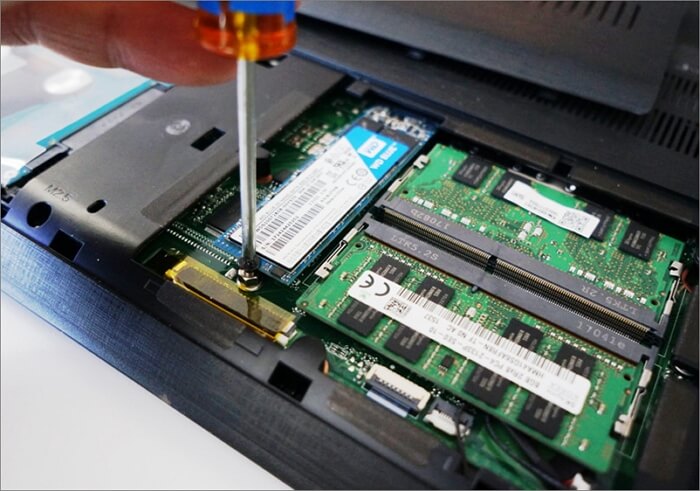 Configure SSD as Boot Drive
The next best option is to use SSD as the boot drive. This can be done by going into the BIOS settings of your computer. To do this, follow the steps here below: 
Step 1. Go into the BIOS settings for your computer.
Step 2. Go to the BOOT section.
Step 3. Assign the new SSD as the boot drive.
Step 4. Save the changes and restart your PC.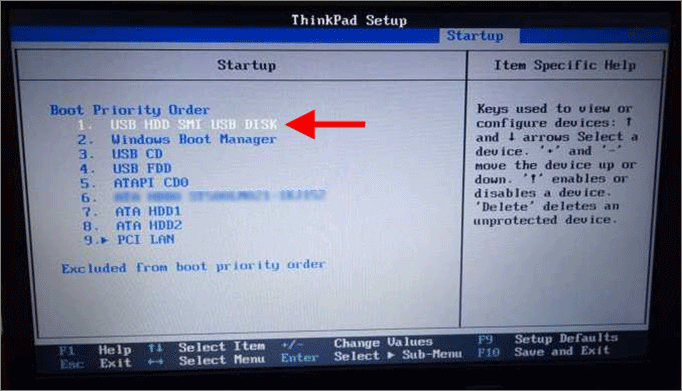 The Closing Thoughts 
Well, an SSD is bound to improve your experience to a considerable extent. Booting into your OS from an SSD can prove to be a great feature, and that is exactly why we recommend opting for SSD if your device does not have one.
The steps explained in the above discussion should ideally help you make a learned decision on how to migrate OS from HDD to SSD with EaseUS Partition Master and how to use SSD for OS only rather efficiently. 
About the Author

Roxanne is one of the main contributors to EaseUS and has created multiple posts on digital devices like PCs, Mobile phones, tablets, Mac, etc. She loves to share ideas with people of the same interest.

Cedric Grantham is one of the senior editors of EaseUS who lives and works in Chengdu, China. He mainly writes articles about data recovery tutorials on PC and Mac and how-to tips for partition management. He always keeps an eye on new releases and likes various electronic products.
Product Reviews
I love that the changes you make with EaseUS Partition Master Free aren't immediately applied to the disks. It makes it way easier to play out what will happen after you've made all the changes. I also think the overall look and feel of EaseUS Partition Master Free makes whatever you're doing with your computer's partitions easy.

 Read More

Partition Master Free can Resize, Move, Merge, Migrate, and Copy disks or partitions; convert to local, change label, defragment, check and explore partition; and much more. A premium upgrade adds free tech support and the ability to resize dynamic volumes.

 Read More

It won't hot image your drives or align them, but since it's coupled with a partition manager, it allows you do perform many tasks at once, instead of just cloning drives. You can move partitions around, resize them, defragment, and more, along with the other tools you'd expect from a cloning tool.

 Read More