
About the Author
Hot Topics in 2022
Mini SD Card | What Is Mini SD Card, How to Format It
PAGE CONTENT:
What Is a Mini SD Card 
Mini SD card, short for Mini Secure Digital Memory Card, is derived from the SD card, and its performance is not much different from the traditional SD card. Mini SD card, like the SD card, has a data transfer speed of 2MB per second and a hardware data write protection switch, which can avoid the risk of accidental deletion of stored content.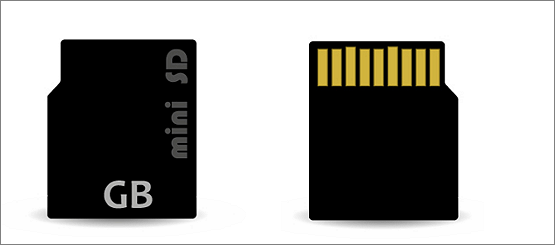 The features of the Mini SD card are: 
Small size. The volume of Mini SD card volume is only 21.5×20x1.4mm, only 37% the size of an SD card.
Stable performance. Mini SD card can be used with a dedicated adapter card, fully compatible with a standard SD card slot. 
Low power consumption design. It is more suitable for mobile communication equipment than SD cards.
What Is Mini SD Card Used for
Like other removable flash memory cards, a Mini SD card can be used on portable devices such as cameras or smartphones to store various types of files, including photos, videos, music, documents, or programs. You can use a Mini SD card in an SD card slot via a card reader. In this way, you can connect your Mini SD card to the computer to transfer files.
Mini SD Card Adapter/Reader
The Mini SD card was jointly developed by Panasonic and SanDisk. In order to make it easier for more users to switch between different memory cards and use mini SD, SanDisk also specially introduced an SD card adapter or reader, which can be used with digital cameras, PDAs, and MP3 music players that currently use SD cards.
Mini SD card has the same read-and-write performance and large capacity as an SD memory card. It is fully compatible with standard SD cards and can be used as a normal SD card through the included SD card adapter.  
How to Format Mini SD Card on Windows 10
You can easily format a Mini SD card on Windows 10 the following two methods.
Method 1. Format Mini SD Card with a Disk Management Tool
To securely format the Mini SD card on Windows 10, you can resort to EaseUS Partition Master - user-friendly and advanced disk management software.
EaseS Partition Master
Convert a logical partition to primary or primary partition to logical, FAT to NTFS partition, MBR disk to GPT, or GPT disk to MBR
Resize/move, create, delete, format, wipe, and merge partitions
Manage HDD, SSD, USB flash drive, SD card, pen drive, external hard drive, etc on Windows 10/8/7
Free download this partition manager and follow the steps below to format the Mini SD card.
Step 1. Find your SD card and right-click the partition you want to format and choose "Format".
Step 2. Set a new partition label, file system (NTFS/FAT32/EXT2/EXT3/EXT4/exFAT), and cluster size to the selected partition, then click "OK".
Step 3. Click "Yes" on the pop-up window to continue.
Step 4. Click the "Execute 1 Task(s)" button on the toolbar, then click "Apply" to start formatting your SD card.
Method 2. Format Mini SD Card with a Disk Management Tool
Also, check out how to format a Mini SD card with Windows File Explorer.
Step 1. Connect the Mini SD card to your computer with an SD card adapter.
Step 2. Press Win + E keys to open Windows Explorer. Right-click your Mini SD card, and then choose "Format".
Step 3. Specify the file system and set a new label for your Mini SD card. Click "Start" and "OK" to confirm the formatting.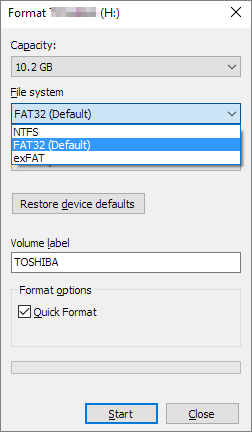 How to Format Mini SD Card on Mac
The following steps show how to format a Mini SD card on Mac by using Disk Utility.
Step 1. Connect your Mini SD card to your Mac using a Mini SD card reader.
Step 2. Run Disk Utility on your Mac.
Step 3. Select your Mini SD card. Choose "Erase" and then select "Format".
Step 4. Choose a file system format. If your Mini SD card is 32GB or larger, choose exFAT. If it is 32GB or smaller, choose FAT32.
Step 5. Click "Erase" when a pop-up message occurs.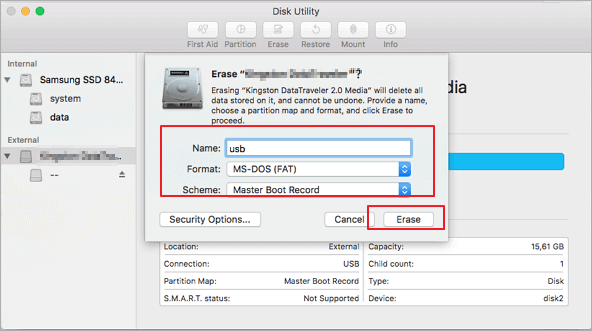 Mini SD Card VS Micro SD Card VS SD Card, What Are the Differences
Is a Mini SD card the same as a Micro SD card? No, Mini SD card and Micro SD card are two types of cards derived from SD memory cards. We will talk about the differences about regular SD card, Mini  SD card, and Micro  SD card from the following points.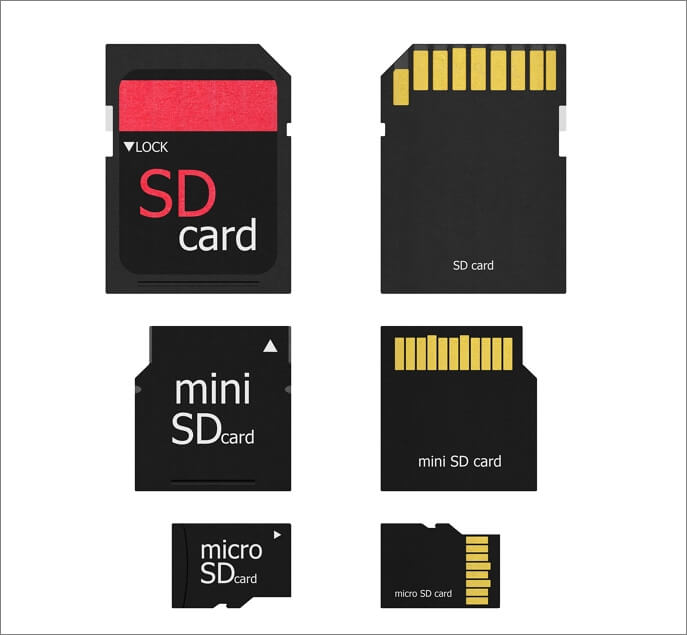 Physical Size: The size of an ordinary SD card is about 1.25 × 0.95 inches, the size of a Mini SD card is 0.87 × 0.79 inches, and the size of a Micro SD card is 0.43 × 0.59 inches. Both Mini SD card and Micro SD card can be used as SD cards through the card reader or card adapter. But the big SD card can't fit into a small card slot.
Storage Capacity: Different SD cards follow different standards, which will affect their maximum storage capacity. The original SD card standard allows a maximum capacity of 2GB, while a card using the SD high-capacity standard can have a maximum capacity of 32GB. The SD extended capacity standard allows capacities between 32GB and 2TB. There are three sizes of SD card and SDHC card. However, SDXC cards can only be used as full-size or Micro SD cards.
File System: According to different standards, different capacity, SD card can choose different file systems, some support FAT16, some support FAT32, some also support exFAT.  If your SD card's capacity is under 32GB, you can choose FAT16 or FAT32. If the capacity is larger than 32GB, you can choose exFAT.
Cost: Generally speaking, smaller SD cards are more expensive than larger ones. This is largely due to higher manufacturing costs, as smaller components require higher manufacturing precision. However, the card size usually has a greater impact on cost than the size itself. For example, a full-size Class 10 SDXC card may be more expensive than a Class 2 Micro SDHC card, even though the Class 2 card is physically smaller.
Mini SD Card Overview
There are three kinds of SD cards, SD card, Mini SD card, and Micro SD card, also called TF card. They are just different in size and compatible with each other.
The Mini SD card is small in size, stable in performance, and relatively common. As a slender multimedia card, the Mini SD card is widely used in the mobile phone market, such as Motorola MPX100, Panasonic X700, BQ S700, and other brands of mobile phone products that support it. At the same time, it can be used as a standard SD card through an expansion card, which is very convenient. 
About the Author
Daisy is the Senior editor of the writing team for EaseUS. She has been working in EaseUS for over ten years, starting from a technical writer to a team leader of the content group. As a professional author for over 10 years, she writes a lot to help people overcome their tech troubles.

Cedric Grantham is one of the senior editors of EaseUS who lives and works in Chengdu, China. He mainly writes articles about data recovery tutorials on PC and Mac and how-to tips for partition management. He always keeps an eye on new releases and likes various electronic products.
Product Reviews
I love that the changes you make with EaseUS Partition Master Free aren't immediately applied to the disks. It makes it way easier to play out what will happen after you've made all the changes. I also think the overall look and feel of EaseUS Partition Master Free makes whatever you're doing with your computer's partitions easy.

 Read More

Partition Master Free can Resize, Move, Merge, Migrate, and Copy disks or partitions; convert to local, change label, defragment, check and explore partition; and much more. A premium upgrade adds free tech support and the ability to resize dynamic volumes.

 Read More

It won't hot image your drives or align them, but since it's coupled with a partition manager, it allows you do perform many tasks at once, instead of just cloning drives. You can move partitions around, resize them, defragment, and more, along with the other tools you'd expect from a cloning tool.

 Read More