
Table of Contents

About the Author

Reviews and Awards

Best Data Recovery Software
Updated by
Gemma
on Oct 26, 2022  
| Workable Solutions | Step-by-step Troubleshooting |
| --- | --- |
| 1. Why Does Your Mac Run Slow?  | There are several reasons that your Mac runs slow...Full steps |
| 2. Why Should You and How Can You Format Mac | The reasons behind why you format your Mac device are many...Full steps |
| 3. Other Tips to Speed Up Your Mac  | If you're not ready to format your Mac device but want to increase its speed, there are ways to do that...Full steps |
| 4. Problems You May Encounter After Formatting | After the formatting of the Mac, users may encounter a few common issues that need to be addressed...Full steps |
Unlike other devices, Mac also needs formatting after the time limit interval. When you have been using the Apple device, storing lots of applications and working morning to evening, the device requires a break, removing unwanted items from the storage, and freeing up the space to make it run faster. If you are an Apple user and thinking will formatting my Mac make it faster, you should know that Apple devices are the most sensitive and technically high-end products. It needs more care and delicate handling. You need a format Mac to provide all it needs to run faster and smoother. And the format process is not rocket science, and you, too, can perform. 
So, before jumping into knowing will formatting my Mac make it faster, we must club the points why your Mac runs slow. Let's understand. 

Mac is slow! Easy Fixes in 2022
If you have no idea about why your Mac is slow, what is slowing down your Mac, or how to fix a slow Mac, this post is for you.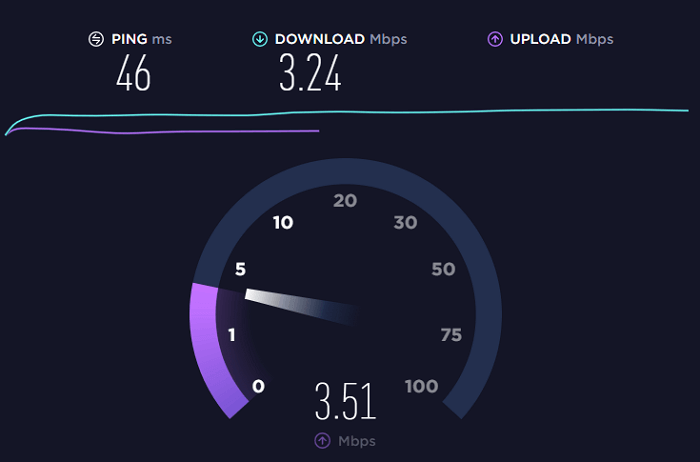 Why Does Your Mac Run Slow?
There are several reasons that your Mac runs slow. If you observe that your Mac runs slow, there might be some issues. The possible reasons are: 
You have stored resource-heavy applications running in the background: You need to install applications while using your device. But often forget to uninstall the apps while its work is over. These unused applications run in the background and slow down your Mac.
There's a hard drive space issue: App cache, junk files, system registries, and many more unwanted items have piled up when working with your device. These files occupy space in the hard drive and slow down the speed.
You need to upgrade the hardware and software: As the upgrade brings you a new system software model, the old version cannot compete and ends up with poor performance. The upgraded version always brings better results, and it affects the overall performance of the Mac device.
There's a slow power-up/boot button: The older Mac version came with a power-up button, and after several years of use, the switch goes slow off. 
Mac's micromanagement system is delicate and not for rough use. If you face a slow-down Mac issue, don't ignore it. Instead, sort out the problem and fix it as soon as possible. 
Why Should You and How Can You Format Mac
The reasons behind why you format your Mac device are many. Let's check out why you should format your Mac device for a better performance index. The reasons are: 
The old Mac version is not compatible with new applications, and upgrading its performance formatting could be the best option.
The Mac needs to clear and remove all the junk, cache, and unwanted files from the system, and formatting Mac can remove all those unused files and folders from the system.
Corrupted files and folders can slow down the overall performance of your Mac, and you need formatting to remove them from the system permanently. 
Formatting the hard drive frees up lots of space, and it will increase the speed of your Mac.
Before selling off the old Mac, you need formatting to erase all your data. But make sure before erasing you backup properly.
You need to format the Mac not to free up space or speed issues, but it will help in its overall system performance. Formatting the Mac device involves a few steps which you can perform efficiently. Point to be noted before starting the process, backup all your data from Mac and go for factory reset the device. It will prevent data loss, and you should not regret it later.
How can You format your Mac device? 
Here are the steps you can follow while you want to format your Mac.
Step 1: Unlink all the third-party apps you bought iTunes Store, iBook Store, or App Store.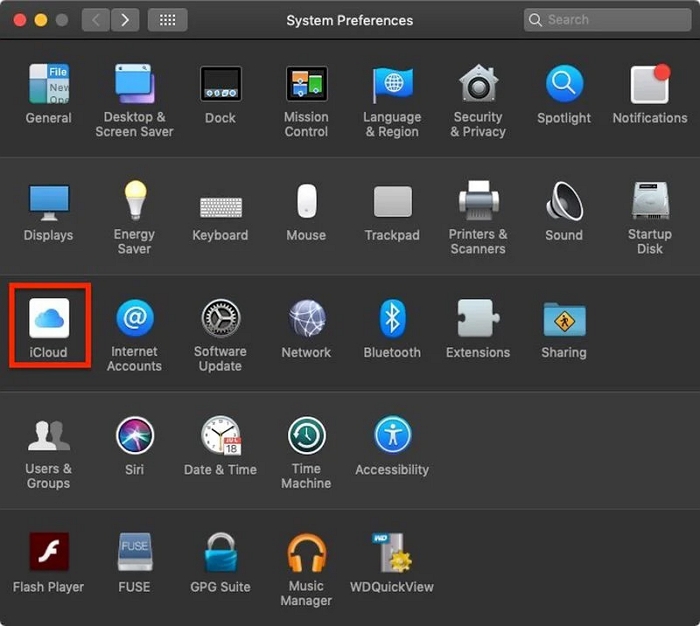 Step 2: Sign off from iCloud and disable the Find My Mac option.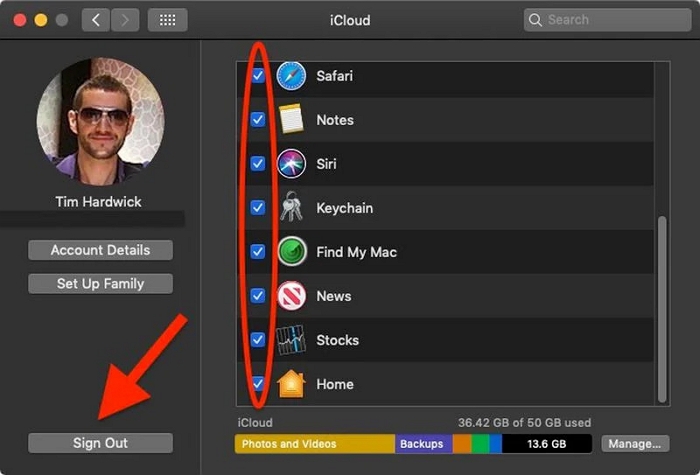 Step 3: Now click the Apple symbol in the top left corner of the screen and choose Restart.
Step 4: Tap on Restart.
Step 5: Press the Command and R keys together until you hear Mac tone indicates a reboot.
Step 6: Click on Disk Utility as soon as the utility screen appears.
Step 7: Next select Mac's system drive named Macintosh HD. next, hit the Erase button.
Step 8: Next, choose the Format option Mac Extended (Journaled) or APFS.
Step 9: Tap on Erase, confirm the action and wait until it gets finished.
Step 10: Now close Disk Utility, and click on Reinstall Mac OS.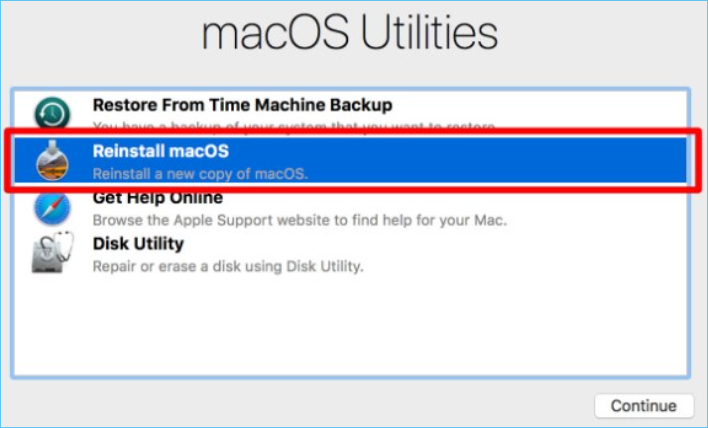 Step 11: You need to follow the installation prompts, allow the procedure and continue until you see the Setup Assistant appear.
Step 12:  Hold on to the Command + Q keys to shut down your Mac device.
That's all, and your Mac device now is ready to reuse, restore the backup or sell it off. Hopefully, you will have the answer to will formatting my Mac make it faster. 
Other Tips to Speed Up Your Mac 
If you're not ready to format your Mac device but want to increase its speed, there are ways to do that. We can summarize a few tips for you so that you can skip the long steps of formatting yet boost its speed. 
Here is the list of tips you can follow to avoid formatting your pride possession Mac book: 
Maintain a regular clean up system files and documents process
Manage the Startup programs
Delete unused Apps
Run macOS system update
Upgrade the RAM
Swap your HDD for an SSD
Detect and remove the Demanding Processes
Decrease the Visual Effects
You can regularly follow these steps to speed up your Mac device and enjoy its uninterrupted service. 
Problems You May Encounter After Formatting
After the formatting of the Mac, users may encounter a few common issues that need to be addressed. You may discover that your Mac couldn't store the data and doesn't open and run aptly. Apart from data restoration, Mac can show other issues like apple ID recognition, application installation etc., after formatting the device. These drawbacks can lead to data loss, sometimes retrieval, and sometimes permanent loss. 
We will recommend you professional assistance to deal with such issues so that you can sort out and run the program like before. 
Repair Your Data from Formatted Mac with EaseUS Data Recovery software 
When you plan to keep the formatted Mac device and not sell it off, you must repair it and address the problem with professional help like EaseUS Data Recovery Wizard for Mac. If you forgot to backup your vital data and format it, EaseUS data recovery can help you retrieve the lost data by scanning and previewing all the recoverable files.
With the tool's functionalities, including scan mode, file filter, file preview, bootable media, data protection, recovery to Cloud, etc., you can easily retrieve the data you lose during the formatting. So if you're looking for the answer, will formatting my Mac make it faster? You must be ready with the consequences if anything terrible happens. 
Let's check out the advanced features that lead you to restore the Mac data and help it to run at the fastest speed. 
Its functional programming can run to recover deleted files, photos, video, backup, etc.
Recover any lost data due to system crash, backup, format, hardware failure, human error or sudden shutdown.
Its core recovery functions include scan mode, file filter, file preview, bootable media, data protection, recovery to Cloud, etc.
Perform thorough data recovery from formatted hard drives on Mac.
Offer responsive technical team support if you need it during the operation.
The highly effective tool is compatible with macOS 12.3 version along with its previous version to perform the data recovery functions. The tool can scan your Mac device and helps you to recover all the essential data that you should not lose. 
If you want to retrieve important files that are misformatted, just follow the steps below:
Step 1. Select the drive to be scanned
In the main EaseUS Data Recovery Wizard window, there will be a list of the drives connected to your Mac. Select the drive you need to recover lost/deleted files from, and click the "Search for lost files" button.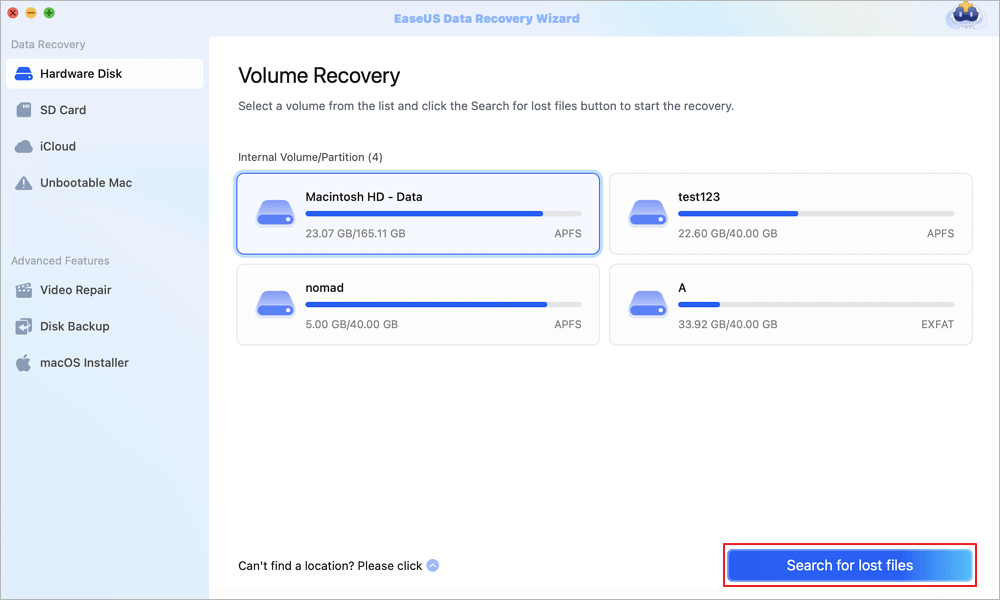 Step 2. Select your lost data/files
EaseUS Data Recovery Wizard for Mac will immediately scan your selected disk volume and display the scanning results on the left pane. You can sort the results to find the wanted files if you are looking for certain files.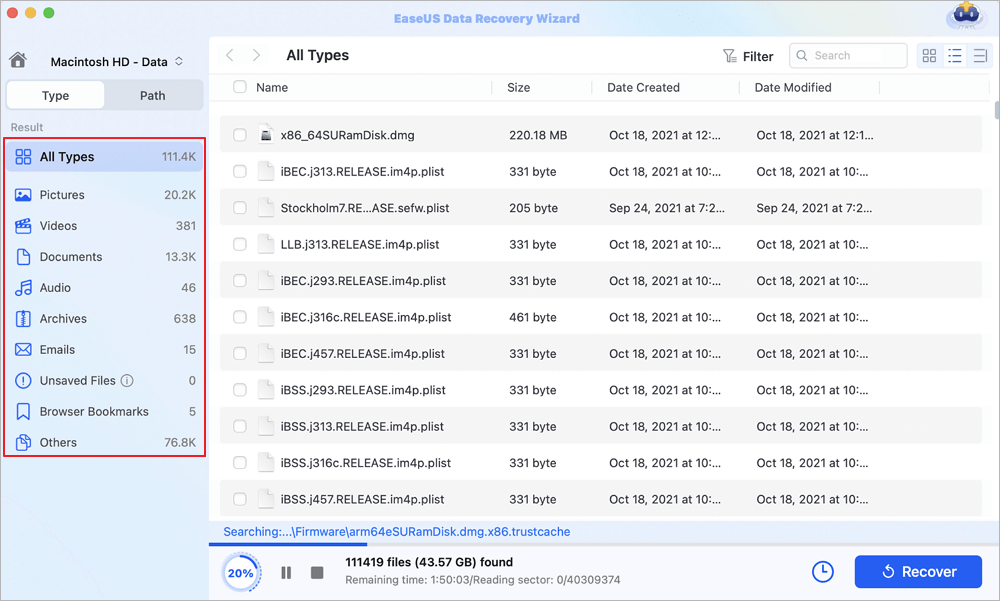 Step 3. Recover lost/deleted data
Once you have found the desired files, preview the files and then click "Recover" to begin the recovery of your deleted/lost Mac files.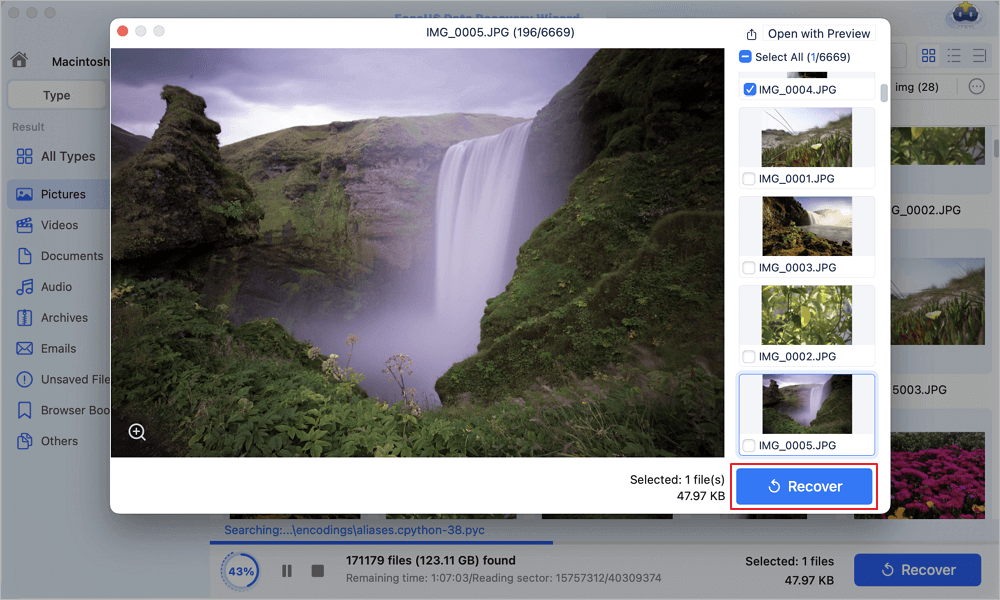 Conclusion
We have covered the possible scenario and before and after the consequences of formatting your Mac device. You must take precautionary measures to prevent data loss after the formatting, and EaseUS Data Recovery Wizard for Mac can assist you if you do anything accidentally. No matter how and what, you can recover and restore the data on your Mac device with the help of the tool. 

Brithny is a technology enthusiast, aiming to make readers' tech life easy and enjoyable. She loves exploring new technologies and writing technical how-to tips. On her spare time, she loves sharing things about her favorite singer - Taylor Swift on her Facebook or Twitter.
Written by Gemma
Gemma is member of EaseUS team and has been committed to creating valuable content in fields about file recovery, partition management, and data backup etc for many years. She loves to help users solve various types of computer related issues.
EaseUS Data Recovery Wizard is a powerful system recovery software, designed to enable you to recover files you've deleted accidentally, potentially lost to malware or an entire hard drive partition.

 Read More

EaseUS Data Recovery Wizard is the best we have seen. It's far from perfect, partly because today's advanced disk technology makes data-recovery more difficult than it was with the simpler technology of the past.

 Read More

EaseUS Data Recovery Wizard Pro has a reputation as one of the best data recovery software programs on the market. It comes with a selection of advanced features, including partition recovery, formatted drive restoration, and corrupted file repair.

 Read More