Here we recommend you try the top five Excel password recovery tools to unlock excel password online free
Workable Solutions
Step-by-step Troubleshooting
Top 1. LostMyPass
LostMyPass is one of the top online tools that you can use for MS Excel password recovery. It offers free...Full steps

Top

2. Password-Online
Password-online has developed its own technology for recovering Microsoft Office Excel 40-bit keys...Full steps

Top 

3. Password-Find
Password-Find provides the service to remove protection from Microsoft Excel, Word, PPT, VBA...Full steps

Top

4. Straxx Password Remover
Straxx Excel Password Remover not only can unlock password-protected excel but also can edit...Full steps

Top

5. Remove Password Online 
Remove Password Online Recovery help you remove the password from an Excel document...Full steps
Excel encryption can efficiently prevent essential data from arbitrary access and modify. But the downside is that you might forget or lose your password and then you can't read the Excel. Facing this problem, you can use a reliable Excel password remover tool to unlock password-protected Excel file online for free.
Here, we will introduce you to the top five online free Excel password removers to unlock and restore your password-protected Excel files with ease. You can start by understanding their strengths and weaknesses, and then choose the most appropriate one to use.
The following is a popular data recovery tool that helps you restore lost or permanently deleted Excel files easily. Try it for free.
How to Restore Lost Excel Files with File Recovery Software
When Excel files disappear, go missing, or show as RAW, 0 bytes, or even as inaccessible on your PC, you have another alternative method to restore your Excel files. It is to restore your lost or inaccessible Excel files with powerful file recovery software. 
Your Best Excel Recover Software - EaseUS 
Recover lost or deleted files, documents, photos, audio, music, emails effectively
Recover files from formatted hard drive, emptied recycle bin, memory card, flash drive, digital camera, and camcorders
Support data recovery for sudden deletion, formatting, hard drive corruption, virus attack, system crash under different situations
Here we'd like to encourage you to try this simple-to-use MS Office recovery software - EaseUS Data Recovery Wizard. As one of the best data recovery software, it can help you to restore lost Excel files within three steps. And its free data recovery software allows you to restore up to 2GB of files for free. 
Step 1. Select location and click "Scan"
Choose the drive or a specific folder on Desktop or somewhere else where you lost the excel files, and click the "Scan" button.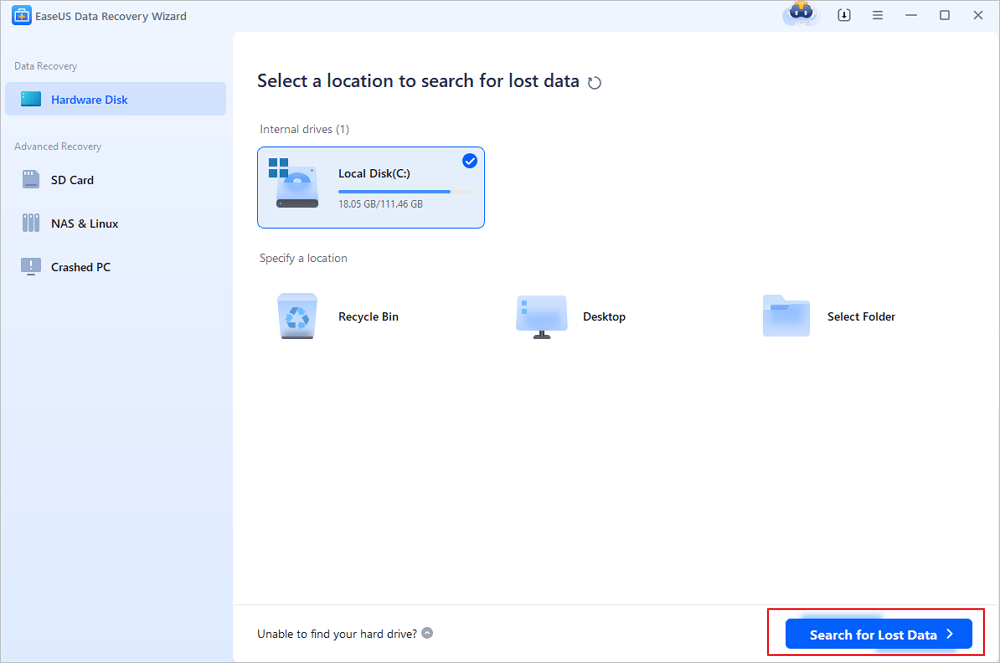 Step 2. Locate your excel files
To quickly find the Excel files from the scan results, click the "Documents" option in the left panel. Choose "Excel", and click "Preview" to check if the Excel files are the wanted ones.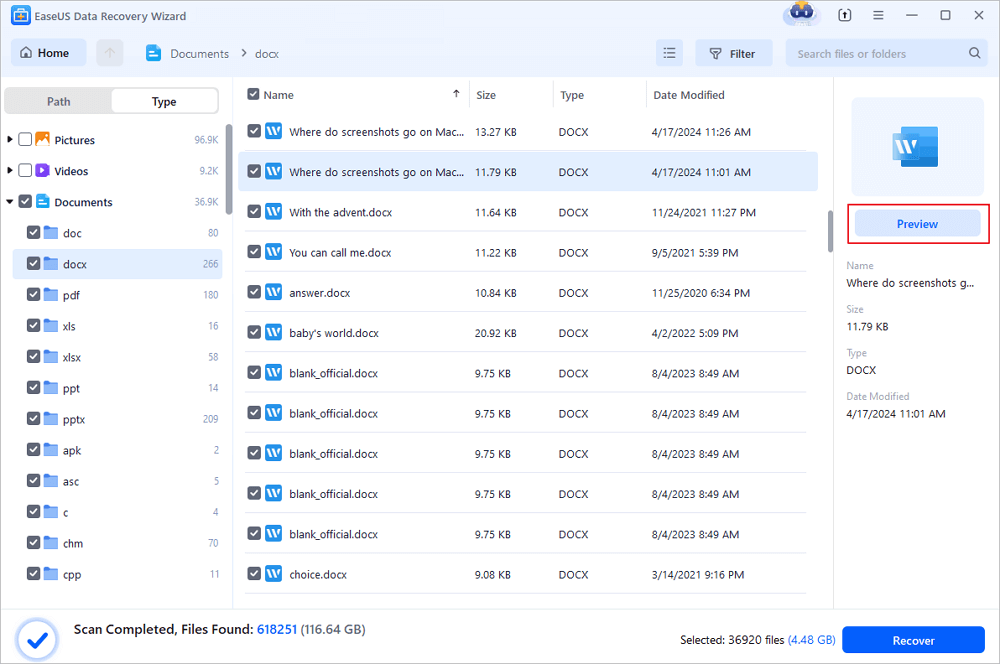 Step 3. Recover Excel files
Finally, select the desired Excel files and click the "Recover" button. Then, select a folder to save the Excel files to another location.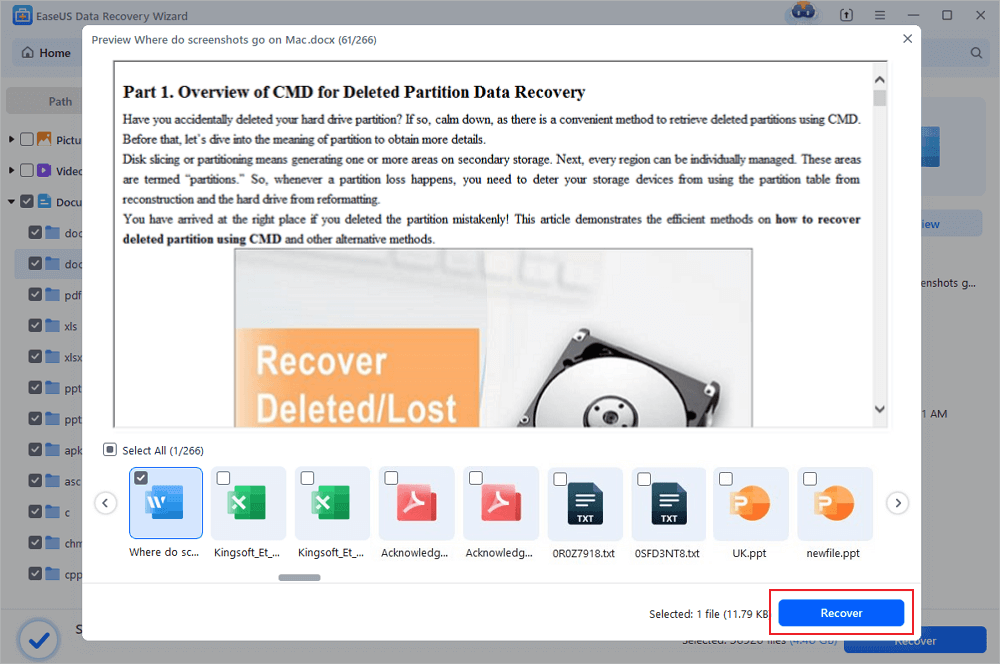 Top 5 Free Excel Password Remover Online
Other than Excel password recovery software that needs to be downloaded locally, the following Excel password remover online allows you to unlock Excel online directly. There is no need for you to look for free online Excel password remover crack anymore.  
1. LostMyPass
LostMyPass MS Excel Password Recovery is one of the top online Excel password remover tools that you can use for MS Excel password recovery. It offers you a free MS Excel password recovery try with a search through a database of 3 million of the most popular passwords.
Pros: The weak password recovery is totally free and can be done in just a few minutes.
Cons: You need to pay for the strong password recovery. And it's not cheap. Besides, your uploaded file size can't exceed 100MB.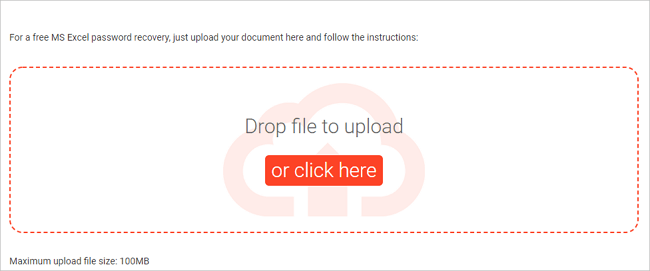 2. Password-Online
Password-online is another online Excel password remover. It has developed its own technology for recovering Microsoft Office Excel 97, 2000, or 2003 passwords with 40-bit keys, which enables you to recover the encrypted file in a few seconds.
Pros: It can unlock password-protected Excel instantly regardless of the password length and complexity. Free to try.
Cons: It only works for Excel 97, 2000, and 2003, not including Excel 2010/2013/2016/2019.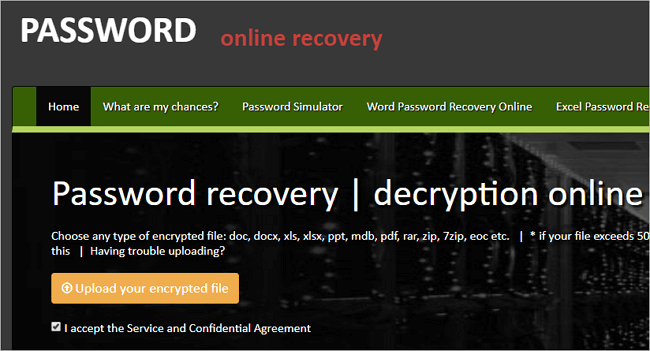 3. Password-Find
Password-Find provides the service to unprotect Excel sheet online. Still, it has great abilities to remove passwords from Word documents, PowerPoint presentations, and VBA projects. It can remove the password in a very short time, which won't take you much time.
Pros: It's free to try. It's capable of unlocking 100% of protected Microsoft Office 97-2003 documents and about 80% of protected Microsoft Office 2007-2019 documents.
Cons: $39.95 for finding the password for 1 document. It's a little expensive.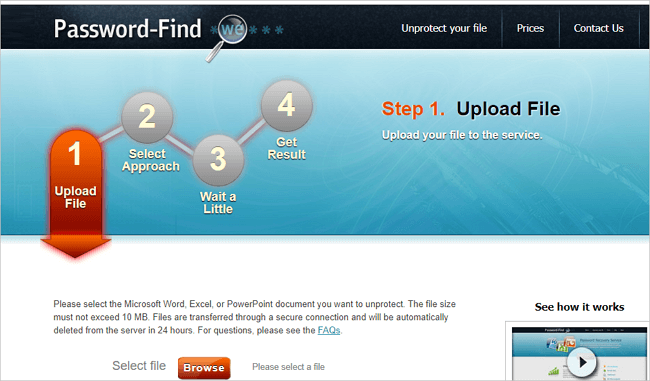 4. Straxx Excel Password Remover
Straxx Excel Password Remover is a strong free Excel password remover tool that not only can unlock password protected excel but also enable you to edit the workbook. It will remove passwords of any length, even passwords containing special characters. Instead of using the high-risk Excel password cracker, try this one to remove passwords from Excel 2007, 2010, 2013, or 2016. 
Pros: It offers a free version for personal use only. During the process, the original data will be intact.
Cons: You have to pay for removing the password from Excel 2013/2016/2019 Windows or 2016/2019 Mac.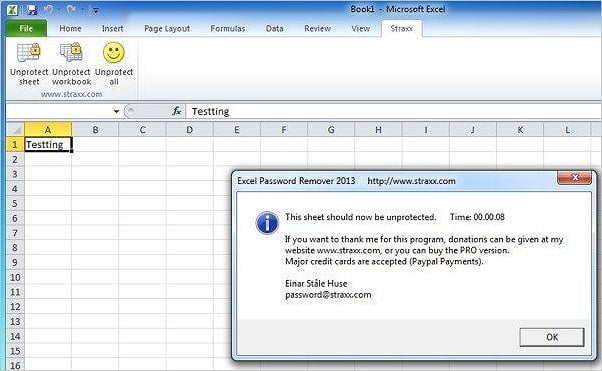 5. Remove Password Online Recovery
Remove Password Online Recovery is another excellent Excel Password Recovery online tool to help you remove the password from an Excel document. To unlock the Excel document, you can upload the file to the online server and let the tool begin decrypting the file. If the decryption is successful and the document has been unlocked, you will need to pay 10 USD to see and download the document.
Pros: Free to try. If the file is not decrypted, you do not have to pay anything.
Cons: The newest version of Excel 2013/2016/2019 is not supported.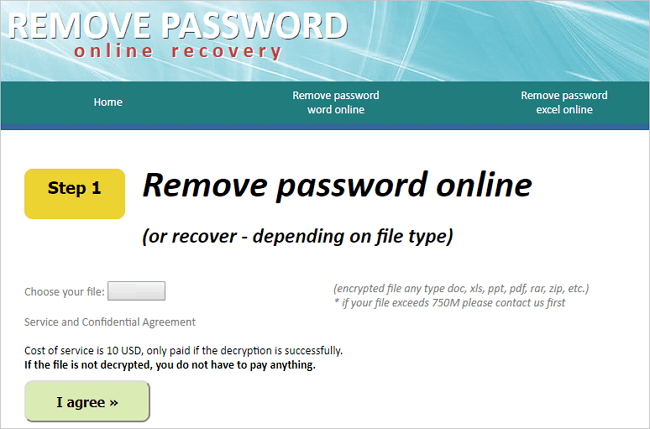 Online Excel Password Remover Conclusions
Using an easy-to-use online Excel password recovery tool is a timely and effective way to unlock and access the password-protected Excel file. But while addressing the problem, data security cannot be ignored. You may encounter data loss and theft problems if you are unlucky. Thus, choose the online excel password remover tool very carefully.
In addition to how to remove password from Excel or unprotect Excel, another common matter is how to restore lost Excel files. If you lose any critical Excel file, or they become RAW and even inaccessible, your best shot is to apply EaseUS Data Recovery Wizard for help.
Excel Password Remover FAQs
Here are a few questions related to Excel password remover. You can find the methods here if you also have any of these problems.
How can I remove Excel password without password?
Remove Excel password without password with the steps below:
Step 1. Open Excel, right-click the sheet tab and select Unprotect Sheet.
Step 2. Click Review > Changes group > Unprotect Sheet.
Step 3. Click the Home tab and choose Format in the Cells group.
Step 4. Choose Unprotect Sheet.
How do I unlock Excel Online?
Choose a reliable online password remover to unlock Excel. Go to the webpage, click to upload your Excel file you need to unlock. Type password and click Unlock. 
Can Excel passwords be cracked?
Even if your Excel files are password protected, they can be unlocked and accessed with a specific password breaker. Older versions of Excel are not as password protected as newer versions. So, we recommend you use the latest version of Excel because it is more secure and stable.

Cedric Grantham is one of the senior editors of EaseUS who lives and works in Chengdu, China. He mainly writes articles about data recovery tutorials on PC and Mac and how-to tips for partition management. He always keeps an eye on new releases and loves various electronic products.
Written by Tracy King 
Tracy joined in EaseUS in 2013 and has been working with EaseUS content team for over 7 years. Being enthusiastic in computing and technology, she writes tech how-to articles and share technical solutions about Windows & Mac data recovery, file/system backup and recovery, partition management and iOS/Android data recovery.