Installed fonts are missing in Windows 10 Creator, help!
"Hey there, have you ever met this problem that the installed fonts are missing after Windows system update? I'm now having such a problem that I couldn't find installed fonts nor use wanted fonts after updating Windows 10 to Creator.
That is to say that I cannot use wanted fonts to write and edit documents or writing down my words. I tried to search on my PC, nothing was found. What can I do to get lost fonts back?"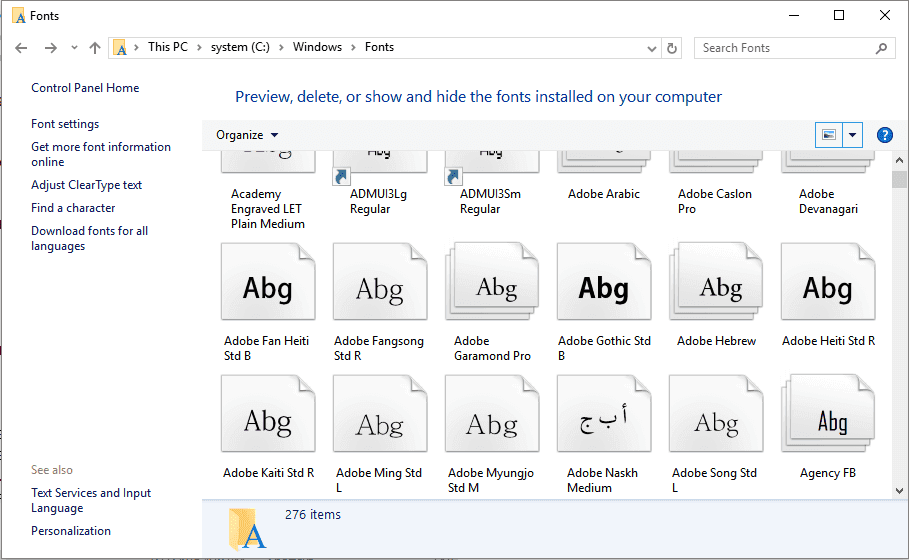 Have you ever met such a problem that you cannot find wanted fonts in PC or just don't know where did installed fonts go that you cannot edit files or documents with wanted fonts in Word or Excel? It's quite easy for users to meet this problem after upgrading Windows system to a new version. So how to fix this problem? Quick fix and solutions are available here to help now. Let's see how to restore or find lost fonts in Windows 10 Creator:
Quick Fix: Restart Windows PC to see whether fonts show up or not
When you firstly find that fonts are missing Windows PC, you can try to reboot PC and to check out whether the fonts will show up or not.
If fonts show up in PC after reboot Windows 10 Creator or Windows system, you can use them then;
If no fonts show up, follow offered methods in the below passages and get your problem solved now.
Method 1. Rebuild font cache to restore missing fonts in Windows system
Download the Rebuild_Font_Cache.bat file online;
Save the .bat file to your desktop;
Unblock the .bat file;
Right click or press and hold on the .bat file, and click/tap on Run as administrator;
An elevated command prompt will now open, run the commands in the .bat file to delete the font cache, and close;
When finished, restart the computer to rebuild a new font cache.
Method 2. Manually restore and reinstall fonts in Windows 10 Creator
1. Restore lost fonts or re-download fonts firstly;
Here you have two options to get fonts back: one is to restore and find lost fonts in PC by professional file recovery freeware;
Launch software and select location to scan and find lost fonts > Select fond fonts and Restore;
The other option is to re-download fonts from Microsoft or other providers.
2. Copy found or downloaded fonts installation files to C:\Windows\Fonts folder;
3. Double click the fonts installation files to apply the installation;
If fonts already exist, just replace them and install.
After this, reboot PC to let system keep all changes and then you'll be able to use fonts in Windows 10 Creator PC again.