Summary
When you forgot the Folder Lock password and couldn't access locked files and folders, don't worry. This article will help you resolve this issue in two parts: Part 1. Remove Folder Lock password in 3 methods; Part 2. Restore lost files in 3 steps with EaseUS file recovery software.
Folder Lock, powerful software to safeguard vital data and files, sets password protection to selected files and folders on Windows PC. It allows users to hide files, encrypt files, and even securely delete files.
When users forget the password, they will surely be locked and won't be able to access their locked files and data. On this page, you'll find secure and verified methods provided by professional users and geeks to unlock Folder Lock without the password.
PAGE CONTENT:
How to Unlock Folder Lock If Password Forgotten

Part 1. Unlock Folders and Files, Remove Folder Lock Password (3 Methods)

Part 2. Recover Lost Files after Removing Folder Lock Password (2 Methods)
PLUS: The solutions on this page can be applied to unlock all versions of Folder Lock without a password on Windows 10/8/7 and even older Windows systems.
How to Unlock Folder Lock If Password Forgotten
"Do you know how to remove Folder Lock password protection? Or can you show me how to unlock Folder Lock if the password was forgotten?
I forgot the password of Folder Lock on my computer and I need to use the saved files now. I want to know if there is a chance for me to unlock Folder Lock and restore my files in it? Help!"

Many Folder Lock users have experienced the same issue, forgetting the password. If you are having the same issue or cannot open Folder Lock, even forgot your password, don't worry.
In the following 2 parts, you'll learn verified solutions to remove the password from Folder Lock and restore all lost files with ease.
Part 1. Unlock Folders and Files, Remove Folder Lock Password
In this part, we'll list 3 major methods provided by www.newsoftwares.net, geeks from tech forums and YouTubers:
Method 1. Unlock Folders/Files (Use Folder Lock Serial Key as Password)
Offered by: www.newsoftwares.net
According to an FAQ post on www.newsoftware.net, it's said that when you forgot the master password, you can still use the Serial Number that you used to register Folder Lock as the master key.
Note: It only works when you have kept the Master Key option enabled in Password Security Settings. If you don't know how to enable the settings, contact the Folder Lock support team for help: https://www.newsoftwares.net/contact.
Here are the steps to unlock Folder Lock with your serial key:
Step 1. Open Folder Lock and click "Lock Folders".
Step 2. Enter your serial number at the password column, then click "OK" to unlock it.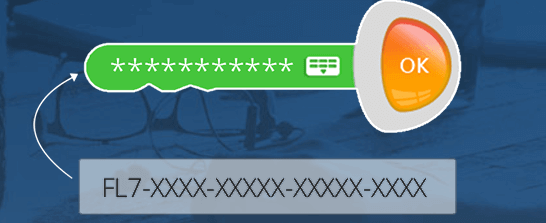 After this, you can open your locked folder and files again.
Method 2. Remove Password from Locked Files by Uninstall Folder Lock
Offered by: YouTubers, geeks from tech forums.
Note: If you are a trial user and have a serial key, try Method 1 to directly unlock files and folders with the key.
This method aims to help Folder Lock users who don't have a serial key nor password.
Here are the steps:
Step 1. Open Registry Editor:
Click Start > Open the "Run" dialog > Type: regedit and hit Enter. Click "Yes" to open it.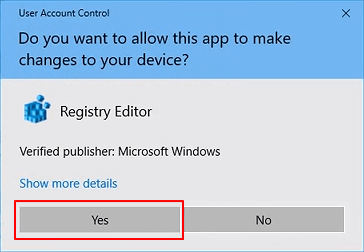 Step 2. Go to: HKEY_CURRENT_USER/SOFTWARE/NewSoftware's/Folder Lock/Uninstall.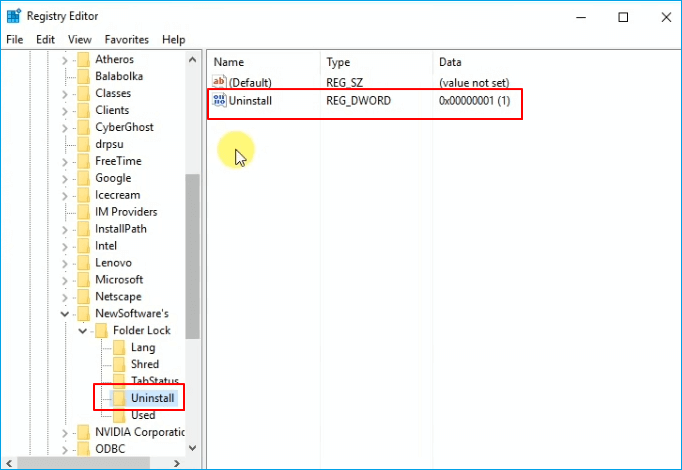 Step 3. Double-click "Uninstall" and change the value data from "1" to "0" and click "OK".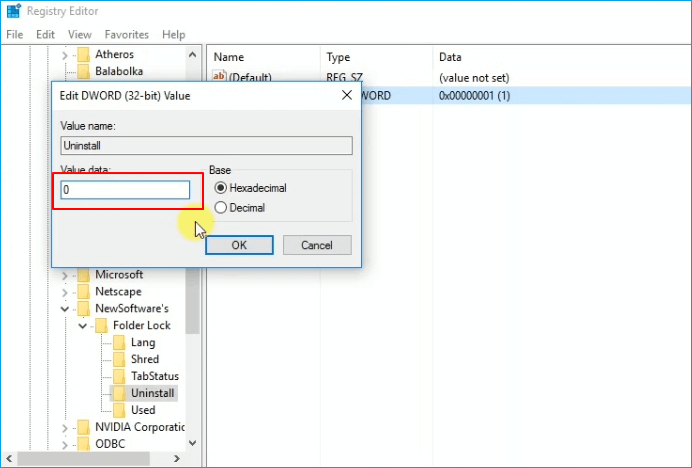 Step 4. Exit Registry Editor, open Task Manager and end task of all running applications, programs.
Step 5. Go to Apps & Features, search and find "Folder Lock".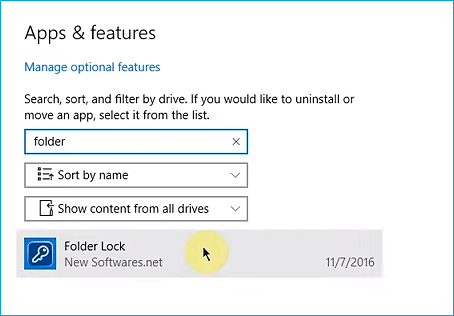 Step 6. Hover your mouse to Folder Lock and click "Uninstall". Click "Uninstall" again to confirm.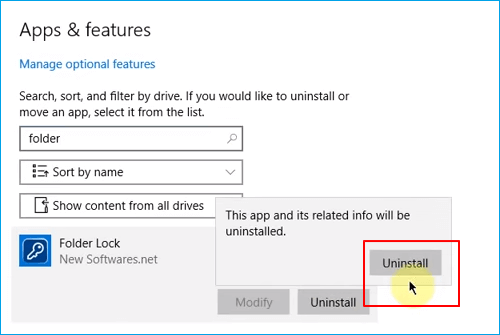 Step 7. Wait for the uninstalling process to finish.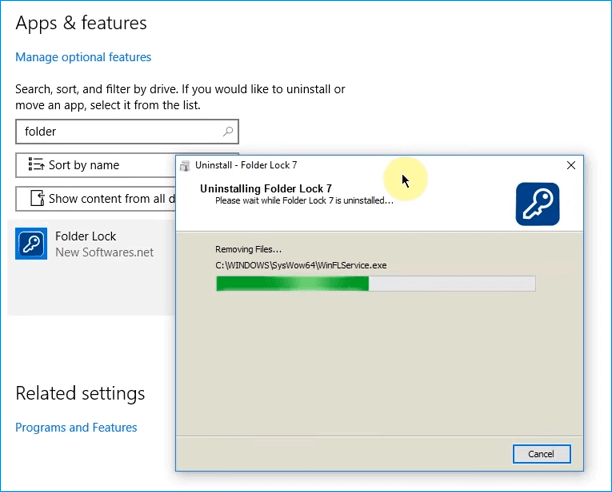 After this, you can directly open the previously locked folders by the Folder Lock and access your files with ease.
If you want to use Folder Lock to protect your files again, you can re-download and re-install it on your PC to continue enjoying its service.
Method 3. Stop Folder Lock Password Protection
Offered by: geeks from tech forums.
This method aims to help Folder Lock users to remove password protection by reboot PC from Safe Mode and remove the folder access permission.
Note: Be careful while you are following the steps below to remove password protection.
Step 1. Restart Windows from Safe Boot Mode:
1. Press Win + R to open the "Run" dialog > Type: MSCONFIG and hit Enter.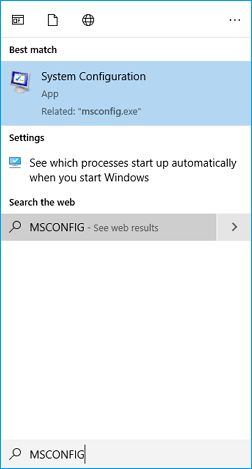 2. Click "Boot" in "System Configuration" dialog.
3. Select "Safe Boot" with minimal radio button > "OK".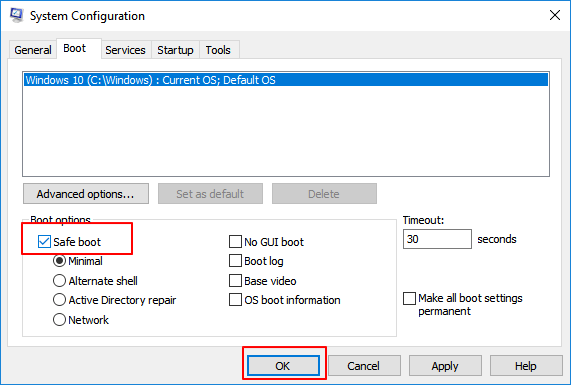 4. Click "Restart" when another dialog appears to ask you to restart Windows in Safe Mode.
Step 2. After restarting the computer in Safe Mode, reinstall Folder Lock.
Note: After the installation of Folder Lock, don't click the Finish button. And continue with the following steps.
Step 3. Remove folder access permission
Go to the file or folder location where your folder is locked. Then, you sill be able to see the locked folder again.
1. Right-click on the file or folder which is locked by Folder Lock and select "Properties".
2. Click "Security" > "Edit".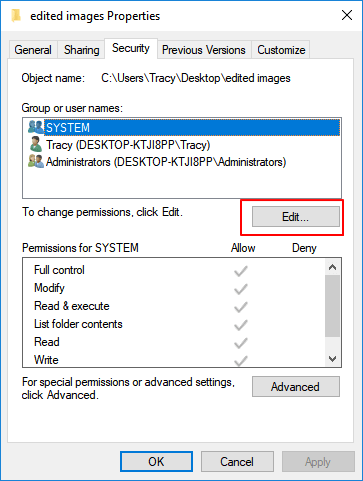 3. Now you'll see "Group", user names box.
The user names are System, Your Name and Administrator, etc.
4. Select the first name and you'll see the "Deny" checkbox list (Full control, Modify, Read & execute, List Folder contents, Read, Write etc.) in Permission for 'username'.
5. Uncheck all Deny boxes and do the same process to all other usernames.
6. Click OK.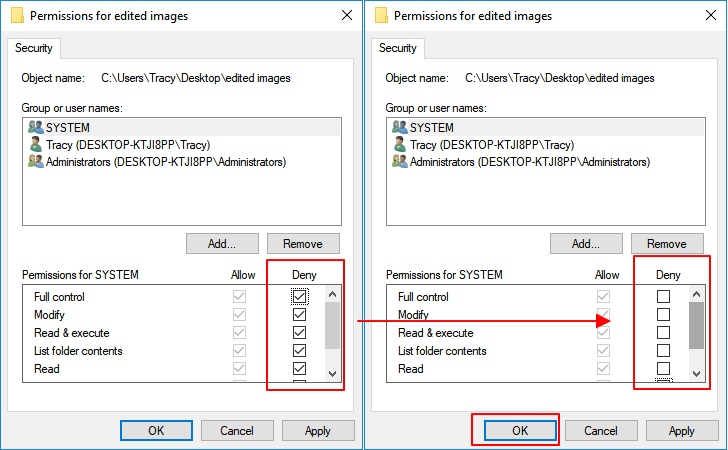 Note: if Windows asks you to verify, click "Yes" to change the folder permission.
After this, you may have successfully stopped folder password protection and you can now open the folder to copy and paste files to another secure location.
Part 2. Recover Lost Files after Removing Folder Lock Password
So now you can view, find and reuse your saved files in Folder Lock or folders again without any passwords. If you cannot find wanted files in the target folder, follow either method offered below to get your lost files back.
Method 1. Show or unhide hidden files in Folder/Folder Lock
If you've set to hide some important files in Folder, follow the below steps to show or unhide all hidden files:
Step 1. Right-click the Start or Windows icon, select "Search".
Step 2. Type: Show hidden files, select "Show hidden files and folders" to open File Explorer Options.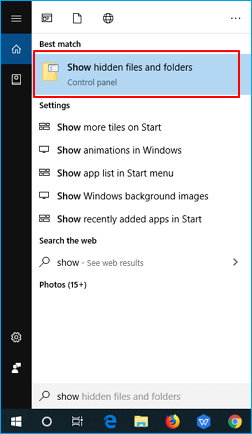 Step 3. Under Advanced settings, click "Show hidden files, folders, and drives" > Click "OK".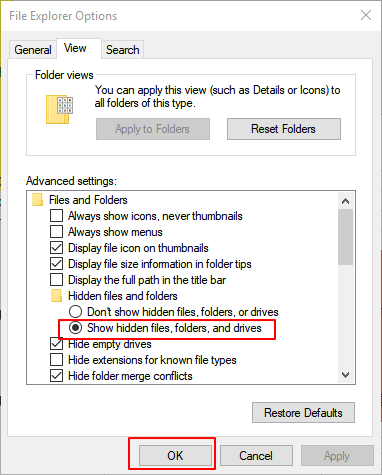 After this, you can check your folder to see if the missing files show up.
Note: If you still see no files, your files are lost. Don't worry, in the next method, you'll see a reliable file recovery software to fully scan and restore all lost files.
Method 2. Restore Lost Files from Folder
Professional file recovery software - EaseUS Data Recovery Wizard allows you to see, view and find all present and even lost files in Folder with a few simple clicks.
Follow below guidelines to find all your files in Folder or Folder Lock now:
Step 1. Choose the file location to scan.
Run EaseUS Data Recovery Wizard on your computer. Choose the drive where you lost files and click "Scan". If you lost files were on an external storage device, connect it to your computer firstly.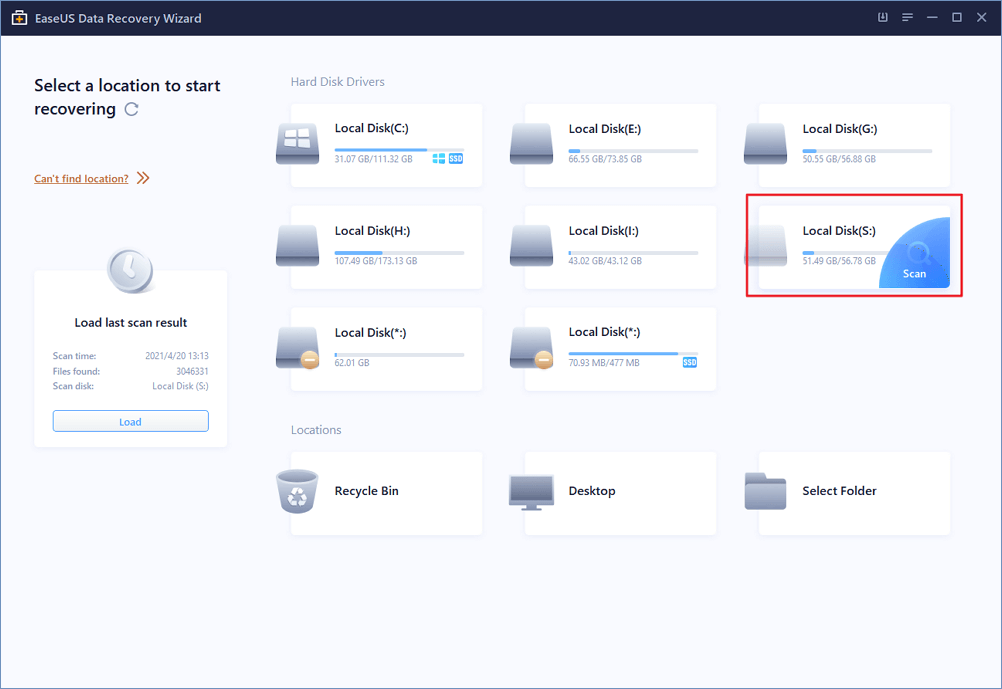 Step 2. Scan the lost files.
The software will start immediately a quick scan for deleted files, and later a deep scan will launch to scan more lost files all over the selected drive. After the scan, you can use the Filter to quickly filter a specific file type.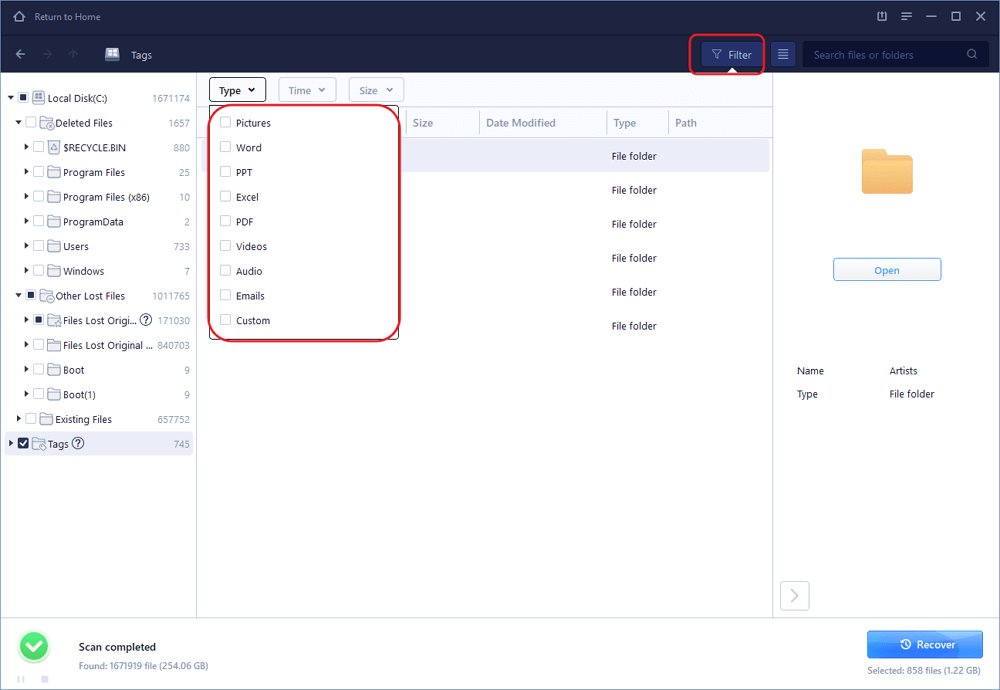 Step 3. Preview and restore files.
Double-click on a file allows for a full preview. Finally, select the desired files, click "Recover" and browse a location to save all the files at once.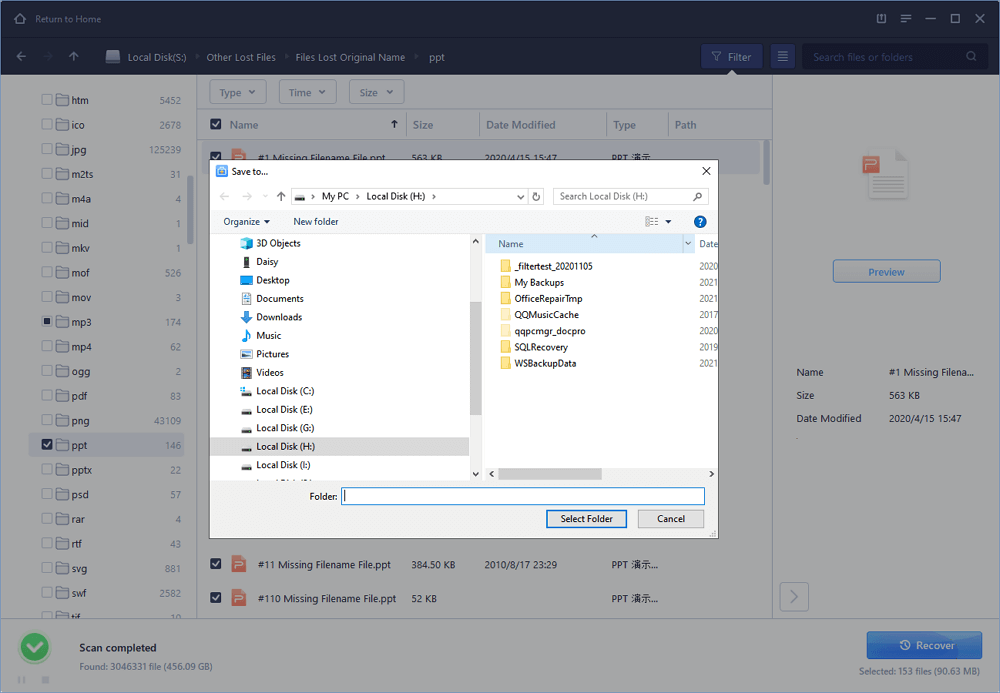 To Sum Up
This page includes three methods in Part 1 to help you remove password Folder Lock password protection without a password and help you access locked files again.
When you open the folder but see no files, two methods in Part 2 will effectively bring your files back. If you have further issues about file recovery, refer to our How-To or File-Recovery pages to find more solutions.
100% of people found this article helpful.
Frequently Asked Questions
1. Why choose EaseUS Data Recovery Wizard?

"EaseUS Data Recovery Wizard is the best we've seen. It's far from perfect, partly because today's advanced disk technology makes data-recovery more difficult than it was with the simpler technology of the past, but it's fast and efficient..." —PCMag

"The first thing you'll notice about EaseUS Data Recovery Wizard Pro is that its interface is very clear and uncluttered, with only a small collection of self-explanatory controls. You won't find lots of extra options hidden in a system of hidden menus, either; what you see really is what you get." —techradar

"Recover lost files, even after deleting a partition or formatting your drive." —Macworld
2. Why cannot I recover 2GB data for free?

It is recommended to check the version installed is Free or Trial because they are different versions.

Trial has data preview function but cannot save any files, while the Free version enables to recover 2 GB files. The default free space is 500 MB and you may share the product on social media to get another 1.5 GB.
3. Why cannot the recovered files be opened?

A file is saved as 2 parts on the storage device: directory info (which is comprised by file name, time stamp and size info, etc.) and data content.

If the files with original file names and folder structures cannot be opened, one possible reason is the corrupted directory info. There is still a chance to recover the data content with the RAW Recovery method in our software.
4. Why isn't it suggested to recover the files back to the original drive?

The storage structure of the lost files would be altered or damaged by any changes on the drive. If you save the recovered files back to the same drive, the original data structures and data content would be corrupted or overwritten, which causes permanent data loss. So you should prepare another disk to save the files.
5. How can I check whether my data is recoverable or not before purchase?

The Free version helps you save 2GB files to better verify the recovery quality of our product before purchase.
6. How long does it take to scan the drive?

It strongly depends on the capacity of your hard drive and the performance of your computer. As reference,most drive recoveries can be completed in around 10 to 12 hours for a 1-TB healthy hard drive in general conditions.
About Data Recovery Wizard
It's super easy to recover 250+ types of files after deletion, disk formatting and virus infection. Click the links and compare the difference of each version.