This article is mainly about external hard drive recovery - Western Digital/WD disk recovery and tells you how to recover data easily from a Western Digital hard drive with free Western Digital/WD disk recovery software. You can free download it and follow the tutorial video below to see how to recover data from Western Digital hard drive now:
About Western Digital(WD) hard disk drive
With the continuous growth in the digital media availability, all this information must be stored somewhere. And of course, the most commonly used storage media must be the hard drive which is also the integrant part of a computer. One of the famous hard drive producers is Western Digital, who needs no more introductions as one of the largest and most highly respected hard drive producers in the industry and provides high-performance hard drives named Western Digital hard disk drive.
Often shortened as WD hard disk, WD hard drive, or WD HDD, Western Digital hard disk is a non-volatile storage device used to store digital information and data on rapidly rotating platters with magnetic surfaces.
When you are using a Western Digital hard disk, data recovery knowledge is quite necessary for the event of data loss issues since none of the hard drives producers provides data recovery.
Why need to perform Western Digital (WD) disk recovery
Most Western Digital hard disk drive users must be troubled if they accidentally lost the data stored on it.
Sometimes, it is necessary to format the partition or delete a partition and then create a new partition when we reinstall the operating system, however, some people would wrongly format or delete the partition due to carelessness, and only to find the useful and precious data were gone after a few quick clicks.
Far more than that, virus attack, power failure or partition corruption, etc. would also bring you a data loss disaster from Western Digital hard disk.
Whatever, when it comes to Western Digital disk recovery, compared to the complicated and time-consuming manual data recovery service, a third-party hard disk data recovery software must be the first and favorable choice recommended for restoring lost data from Western Digital hard disk drives like My Book Pro, My Book, WD Elements, My Book Studio, etc.
Restore lost data from WD hard disk with EaseUS Western Digital (WD) disk recovery freeware
And EaseUS data recovery software is just such a powerful and free recovery software designed to retrieve the data from Western Digital, Samsung, Seagate, HP hard disk drives safely and easily. With its abundant functions, it enables you to do deleted files recovery, format recovery, unformat files, recover lost data from hard drive or partition, and even if you deleted the partition, you can also use this freeware to retrieve the data from the lost FAT16, FAT 32, NTFS, EXT2/3 partition or raw to NTFS with its directory tree under Windows.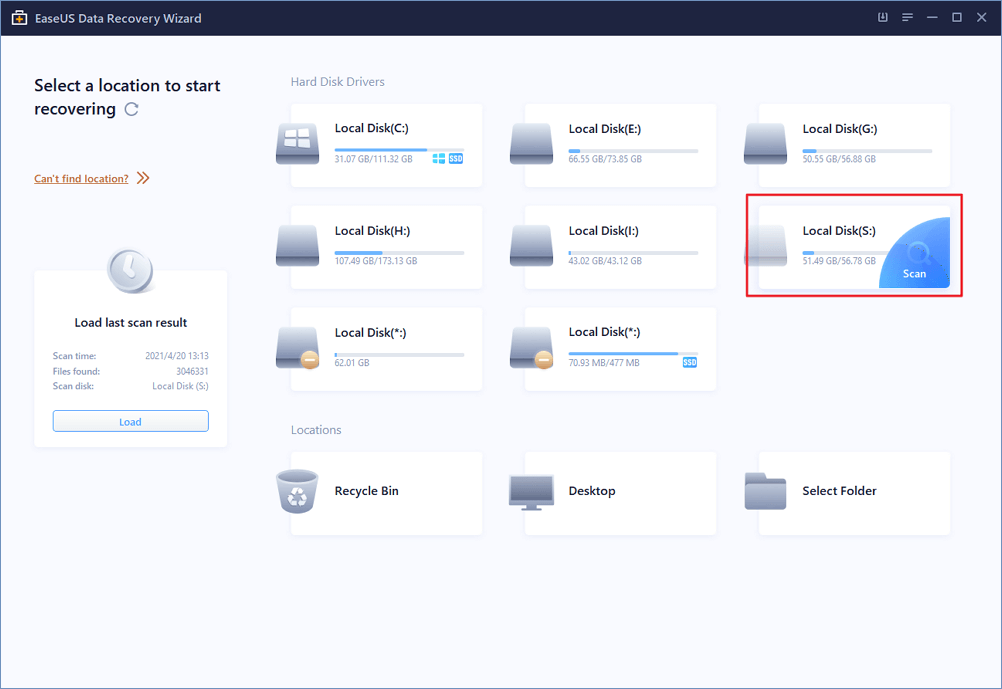 What else can EaseUS WD hard disk recovery software do for you?
Being professional and easy to use, EaseUS Western Digital/WD disk recovery software can be used to recover deleted files when data was deleted and emptied from the Recycle Bin. It is designed to recover lost data when hard disk drive was formatted, corrupted or displayed as RAW.
EaseUS Data Recovery Wizard works excellently in dealing with the trouble of how to recover data from hard disk drive when the partition was deleted, lost or invisible. It will scan the entire hard disk drive to find out all possible partitions and recover data from them.
EaseUS Data Recovery Wizard Free Edition continuously gets good reviews and ratings since its release, why not download it now. It would be a must-have hard disk recovery freeware to easily recover lost data from Western Digital/WD hard disk, Seagate hard disk, HP hard disk, Samsung hard disk, Maxtor hard disk, external USB drive, SD card, flash drive, pen drive or other storage media.