"I have a 32GB SD card in my Galaxy S4. It worked fine in the past months but now it just is working for unknown reasons and not showing up on the phone. And what's worse, when I am plugging it into my PC, it is still not recognized. I don't wanna lose my data. How do I get my phone or PC to read the SD card?"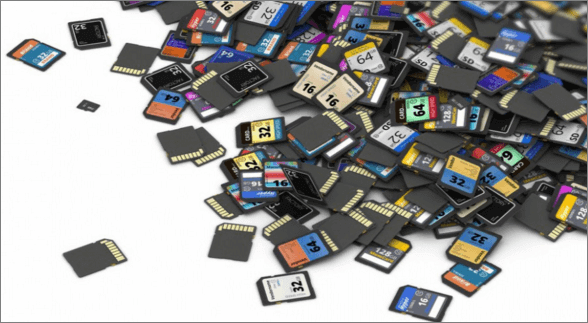 Why is SD Card Not Showing up
It is common to be bothered by SD card not showing up in Window issue. Have a look at the following possible reasons for this problem.
Poor contact between SD card and computer.
The drive letter of your SD card is missing.
The file system of the SD card is unrecognized or corrupted.
The device driver is outdated.
The SD card is infected with a virus.
According to the reasons above, we have created a list of solutions to fix the issue caused by all the possible reasons. You can try them one by one to repair corrupted memory card not detected, and no data loss will happen.
PAGE CONTENT:
Test Your SD Card on Another PC
Assign the Drive Letter to the SD Card
Use CHKDSK to Make the SD Card Detectable
Update the SD Card Driver
Remove the Virus or Malware
Recover Data and Format SD card
Solution 1. Connect Well and Test Your SD Card on Another PC
When you encounter the "SD card or hard drive not showing up" issue, the first thing should be checking if there is any connection issue. To check, you'll need to locate another PC with a card reader, and test your SD card on that computer, to see if it works.
If your SD card doesn't work on the other PC either, it's probably faulty, and you'll need to replace it.
If it does work on the other computer, then it's not a faulty card, but it may be that your card reader is faulty.
Solution 2. Assign the Drive Letter to the SD Card via Disk Management
If your SD card is connected to computer well but it not showing in File Explorer, you can go to Disk Management to see whether its drive letter is missing. If so, you can assign a drive letter to it within steps below:
Step 1: Press "Windows" + "R" at the same time to open Run dialogue.
Step 2: Input "diskmgmt.msc" and press "Enter" key to open Disk Management.
Step 3: Located the SD card, right-click the partition on it and select t "Change Drive Letter and Path…".
Step 4: In the pop-up window, click "Add" to assign the drive letter to your SD card.
Solution 3. Use CHKDSK to Make the SD Card Detectable
Step 1: Right-click on My Computer/This PC and select Manage, click on Disk Management.
Find the device in the drive viewer to check out whether the computer can detect your memory card or not. If it is not detectable, continue the process with the CHKDSK command, and follow these steps.
Step 2: Press Win+R > Type: cmd and hit Enter.
Step 3: Type: chkdsk D: / f and hit Enter; (D is the drive letter of your memory card). Or you can type: chkdsk D:/f /offlinescanandfix and hit Enter.
This should fix the memory SD card error and make the card detectable again.
Solution 4. Update the SD Card Driver
Go to Device Manager, here you will see the card reader in the list. If it has a yellow sign beside it, the problem is most probably caused by a driver issue. Then you need to update the driver. Here's how to do:
Step 1: Connect the SD card to the PC
Step 2: Navigate Control Panel -> System -> Device Manager -> Disk drivers.
Step 3: Find and select your USB device, right click and first choose "Uninstall" and then choose "Scan for hardware changes" to refresh the drivers.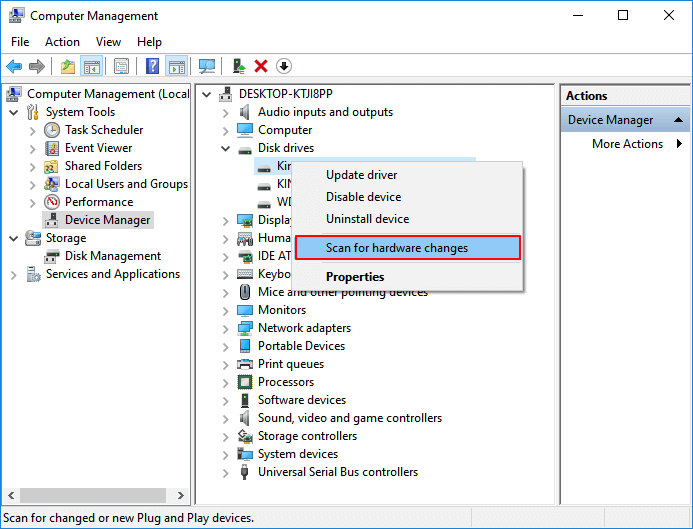 Solution 5. Remove the Virus or Malware
Step 1: Plug in your SD memory card to your computer.
Step 2: Go to the start menu, type in "cmd" in a search bar, hit enter and then you can see something named "cmd. exe" under a list of programs.
Step 3: Right-click "cmd. exe" and then you will get the command windows that allows you to recover virus infected files. Type in "attrib -h -r -s /s /d drive letter:\*.*", for example, "attrib -h -r -s /s /d G:\*.*".
Solution 6. Recover Data and Format SD card for Reusing
If the SD card is still not working or recognized after you trying all the methods above, we advise you to try EaseUS disk data recovery to recover data from the memory card not detected and then format the sd card to fix file system or compatibility issue.
Note: It is workable only if your SD card can be detected in Disk Management.
To recover data from an SD card, follow these steps:
Stop using your SD card immediately once you lost files on it. Continuing using the card would hugely increase the chance of data overwriting, which makes data unrecoverable.
Step 1: Connect the SD card to PC
Insert the SD card to a card reader, and connect the card reader with your SD card to a healthy computer.
Step 2: Run SD card recovery software and scan the card.
Launch EaseUS Data Recovery Wizard on your PC and select your SD card under the External Devices column.
Then click Scan to start finding lost data on your SD card now.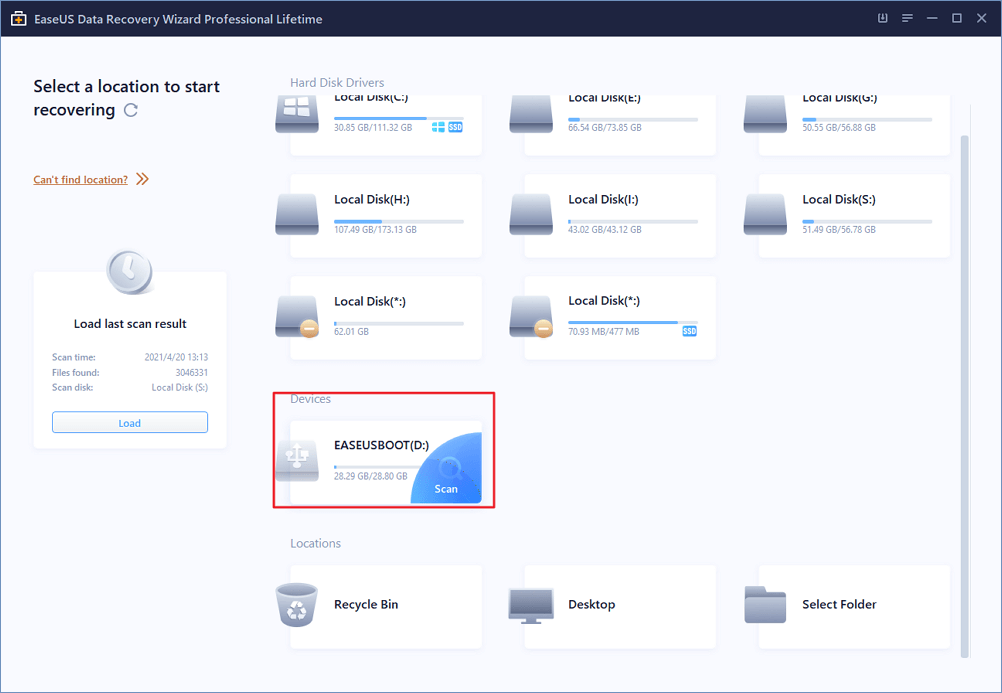 Step 3: Check found SD card data.
After the scanning process, you can preview and find your lost SD card files from below listed tabs:
Deleted Files: List your deleted files there.
Drive X: All lost files can be found here.
Lost Partition Files: Check first if it's for formatted recovery.
Extra Files: Finds files that lost names or paths.
And you can use Filter and Search to quickly find your files.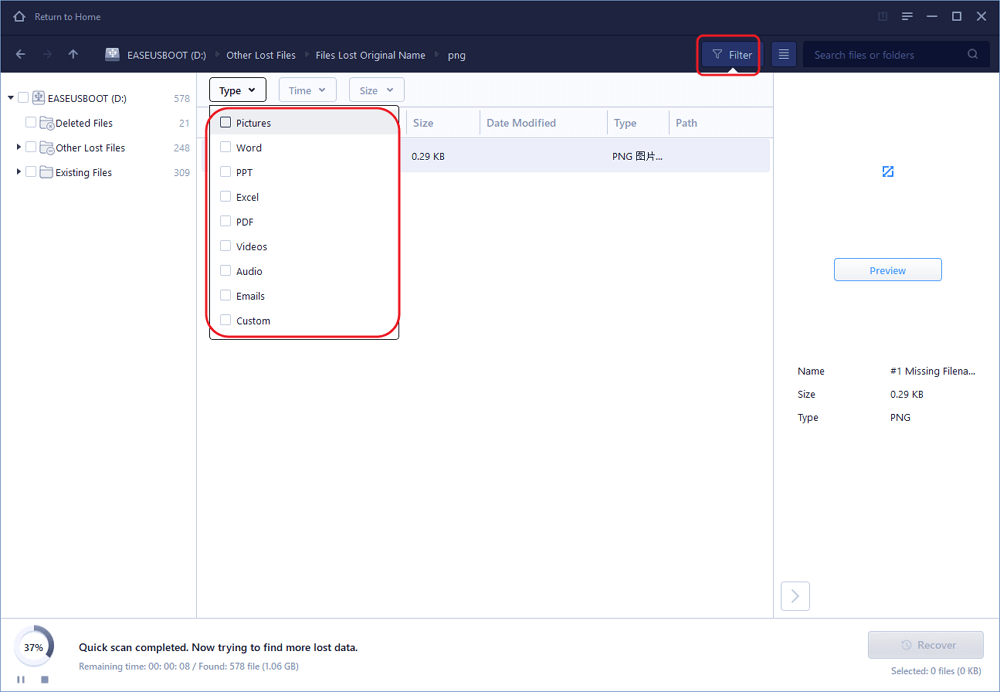 Step 4: Restore SD card data.
You can check and preview found files by double-clicking each one of them.
Then click Recover to save found SD card files to a secure location on your PC or an external storage.