SD Card Not Showing Up or Working Solutions Overview
There are 5 effective ways to fix SD card not working or showing up including testing SD card on another PC, changing the drive letter, running CHKDSK, and a lot more. See which solution works well:
SD Card Not Showing Up Symptoms 
If you are having one of the below-listed problems on your SD card, it means that your SD card has got some tricky issues and you may even lose saved data in your card:
SD card is not recognized
SD card is not detected by PC, Android phone, camera, or camcorder
SD card is not reading on cellphone, computer, camera or video player
SD card doesn't show up on PC, camera, Android phone, etc.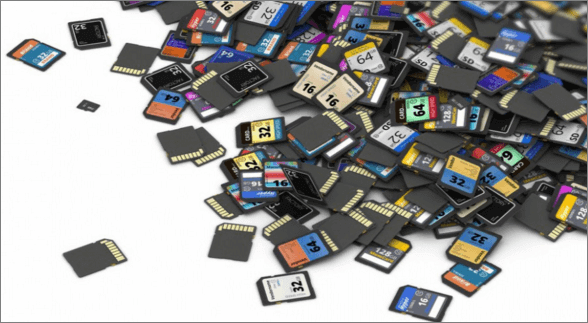 To find solutions to fix the SD card problems that you are having, you may first check and find how and why the detecting, recognizing issues occurred to your SD, SDHC, SDXC, Micro SD cards.
Why Is SD Card Not Showing Up
It is a common issue that SD is not showing up on Windows PC. Check the list of possible reasons and you may find the exact reason that caused your SD card not showing up or recognized.
Poor contact between SD card and computer.
The drive letter of your SD card is missing.
The file system of the SD card is unrecognized or corrupted.
The device driver is outdated.
The SD card is infected with a virus.
These problems are not exclusive to PC users. Thus, it's really necessary for you to know how to solve these problems. A similar issue also occurs to Mac users now and then, you can follow this link: flash drive not showing up on Mac to get rid of this issue from your SD card on Mac.
Based on the reasons above, we have collected a list of solutions to fix this issue. You can try them one by one to repair a corrupted memory card not detected, and no data loss will happen. 
Solution 1. Test SD Card on Another PC or A New Card Reader 
Applies to: There's a problem with the computer interface or SD card reader.
When you encounter this issue that the SD card or hard drive is not showing up on your PC, the first thing you should check is whether the SD card has a connection issue. Here, you'll have two ways to test your unrecognized or undetectable SD card:
Change a new SD card reader or a new SD card USB adaptor
Connect the SD card to another PC

Then you can test your SD card and see if it shows up on your PC or not. If it does work with the new SD card reader or the new computer, then it's not a faulty card. Your card reader should be faulty.
If your SD card neither works on the other PC nor the new card reader, the problem exists in your SD card. Read on and you'll find better solutions to resolve this problem.
Solution 2. Change the Drive Letter of Unrecognized SD Card
Applies to: SD card does not have a driver letter disk or there is drive letter conflict problem.
If your SD card is connected to the computer well but it fails to show up in File Explorer, you can go to Disk Management to see whether its drive letter is missing or disappearing.
If it's so, you can assign a new drive letter to your card and make it recognizable again with the steps below:
Step 1. Right-click the Windows Start button, choose "Disk Management". 
Step 2. Located the SD card, right-click the partition on it, and select "Change Drive Letter and Path…".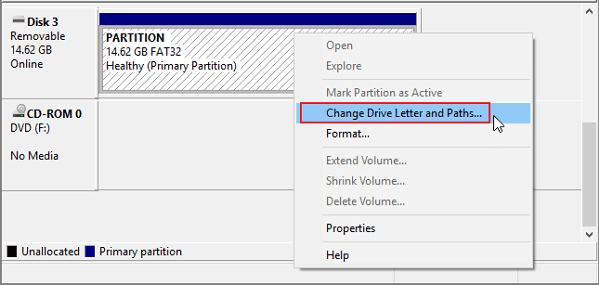 Step 3. In the pop-up window, click "Add" to assign the drive letter to your SD card.
Solution 3. Run CHKDSK to Fix the SD Card Error
Applies to: SD card not detected because of the corrupted file system.
Step 1. Right-click on My Computer/This PC and select "Manage", click on "Disk Management". Find the device in the drive viewer and check out whether the computer can detect your memory card or not.
If it is not detectable, continue the process with the CHKDSK command with the following steps.
Step 2. Press "Win+R" keys > Type: cmd and hit Enter.
Step 3. Type: chkdsk g: / f and hit Enter. (g is the drive letter of your memory card).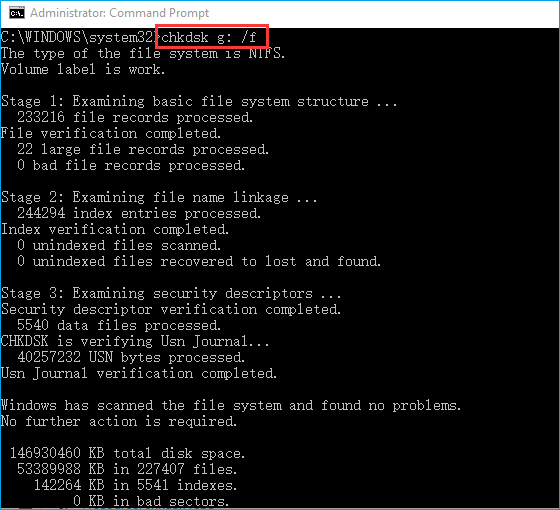 Or you can type: chkdsk D:/f /offlinescanandfix and hit Enter. This will check and fix the found errors in your memory SD card automatically and make the card detectable again.
Solution 4. Update the SD Card Driver
Applies to: SD is not working due to outdated or problematic disk driver. 
Go to Device Manager, here you will see the card reader in the list. If it has a yellow sign beside it, the problem is most probably caused by a driver issue. Then you need to update the driver. Here's how to do:
Step 1. Connect the SD card to the PC.
Step 2. Navigate "Control Panel > System > Device Manager > Disk drivers".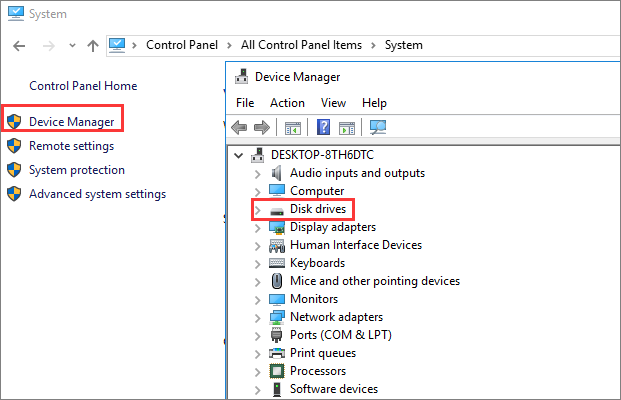 Step 3. Find and right-click on the SD card, and first choose "Uninstall" and then choose "Scan for hardware changes" to refresh the drivers.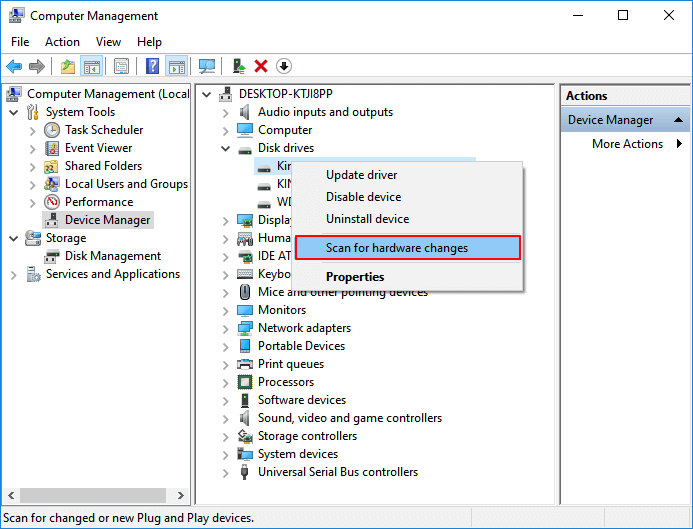 Solution 5. Recover Data and Format SD Card for Reusing
Applies to: The basic fixes don't work and the last resort is to format the SD card.
If the SD card is still not working or recognized, or your SD card can be detected but you lost important files after these attempts, we advise you to apply one of the best data recovery software - EaseUS Data Recovery Wizard to recover data from your SD card. Then format your sd card to make it reusable again. 
EaseUS SD Card Recovery Software
Recover files from SD card, emptied recycle bin, memory card, flash drive, digital camera, and camcorders
Recover deleted photos from SD card, as well as documents, videos, audio, music, emails, etc. 
Restore lost data from SD card for sudden deletion, formatting, files system corruption, virus attack, etc.
Note: Only if your SD card can be detected in Disk Management, EaseUS Data Recovery Wizard will work for fast data scanning and restoring.
To recover data from an SD card, follow these steps:
Step 1. Connect the SD card, memory card, or CF Card to your computer and launch EaseUS memory card recovery software on your PC. The SD card will be listed under the Devices section. Choose the SD card and click "Scan" to start looking for your lost data.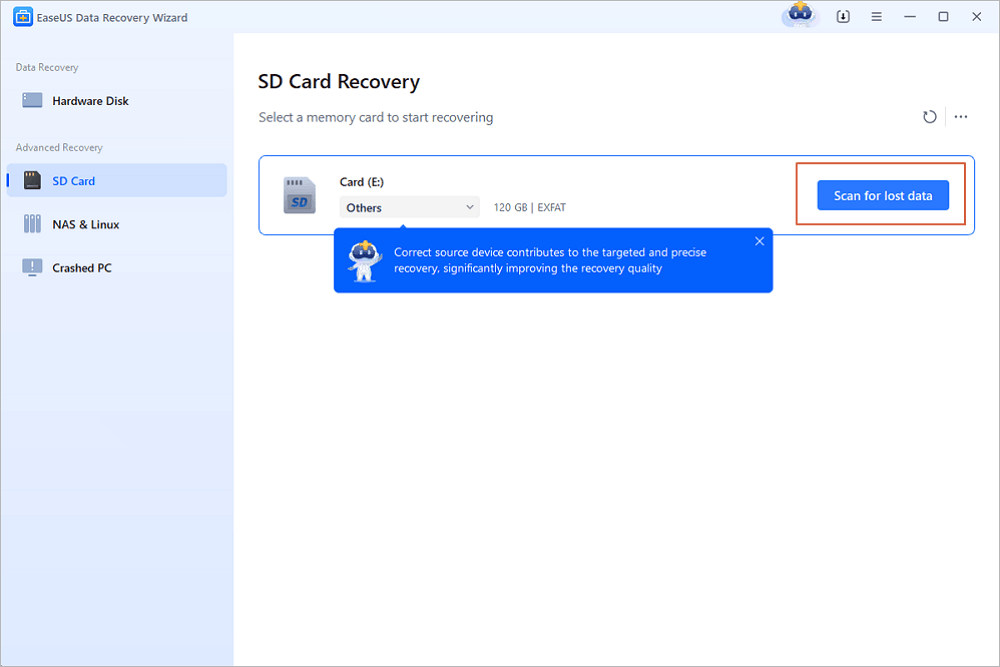 Step 2. The software will start a scan automatically. The scan is powerful enough to find all lost files that even lost file names. After the scanning process, you can find deleted items from the tree-view panel on the left. Then, click "Filter" if you are looking for a specific file type, like photos, documents, videos or emails.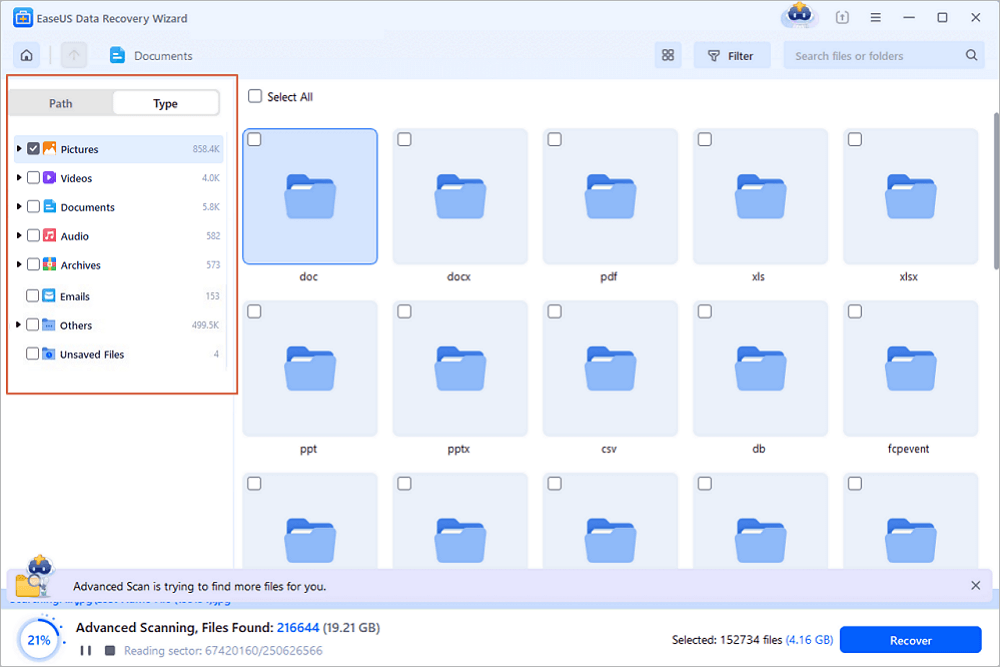 Step 3. You can directly double-click the files to preview the content. After this, you can choose wanted files and click "Recover" to restore them to a secure location on your PC or other external storage devices.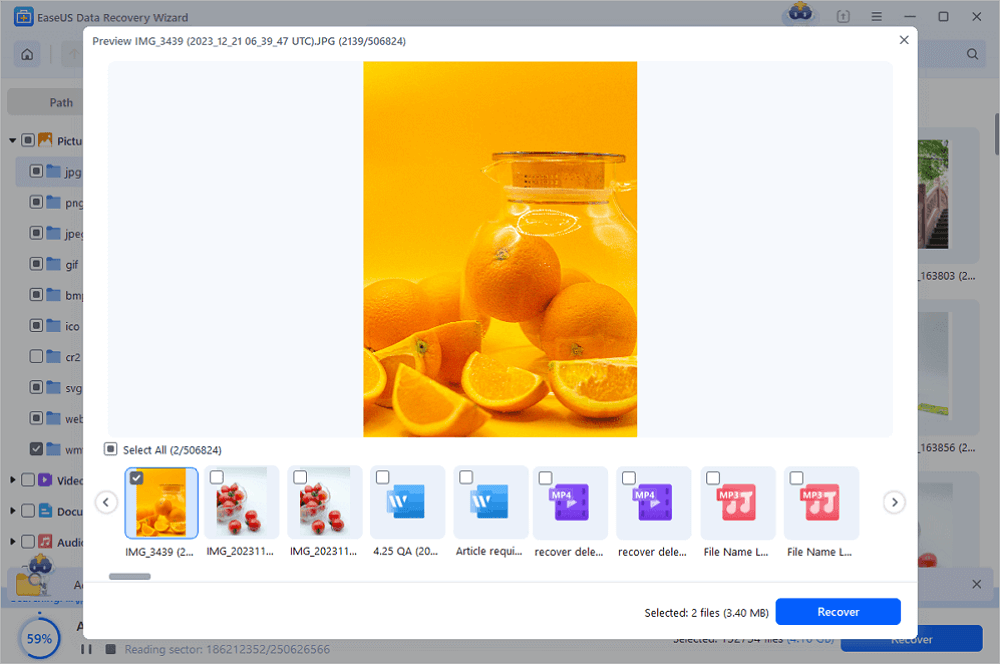 After restoring and saving the SD card to another secure location on your PC, you can then format the SD card and convert the file system to FAT32 or NTFS, make it available for saving data again. 
Final Verdicts
In this article, we've discussed the symptom, causes, and solutions to the SD card not showing up issue. There are five methods in all to solve SD card not detected, recognized, or reading in Windows 10. 
At the very beginning, you can try to connect your SD card to another computer with a new card reader to resolve the connection problem. If that doesn't solve the problem, keep trying more methods such as change the SD card drive letter, run CHKDSK to repair the corrupted file system of SD card, update SD card drive, and more. 
If none of the basic solutions works, there is still an effective solution, and that is formatting your SD card for reuse. Because formatting is bound to result in data loss, it is important to use EaseUS data recovery software to restore data from SD card before formatting. 
SD Card Not Showing Up FAQs
After learning how to fix the SD cards not working or showing up, you may have more questions about it. See if you can find your answers here:
1. Why is my SD card not showing up?
SD cards may not appear properly for a variety of reasons, including connection issues, mechanical damage, logical corruption, SD card reader issues, and so on.
2. How to repair a corrupted Micro SD card not detected or showing up?
Update driver for Micro SD card
Format Micro SD card using Disk Management tool
Repair corrupted or unreadable Micro SD card with CMD
3. How to clean the SD Card Reader not working?
One of the most common causes of Windows 11/10 can't read SD card or SD card reader not working is a filthy SD card or a dusty SD card reader. Either can cause poor contact between the card and the reader, resulting in Windows 11/10 not reading the SD card.
So, clean your card and remove any dust from the reader before trying the card again. You can also find another PC and test the SD card to see if it works. Try the solutions below if your SD card is still not reading on Windows 11/10.

Updated by Dany 
Dany is an editor of EaseUS who lives and works in Chengdu, China. She focuses on writing articles about data recovery on Mac devices and PCs. She is devoted to improving her writing skills and enriching her professional knowledge. Dany also enjoys reading detective novels in her spare time.

Written by Roxanne
Roxanne is one of the main contributors to EaseUS and has created multiple posts on digital devices like PCs, Mobile phones, tablets, Mac, etc. She loves to share ideas with people of the same interest.