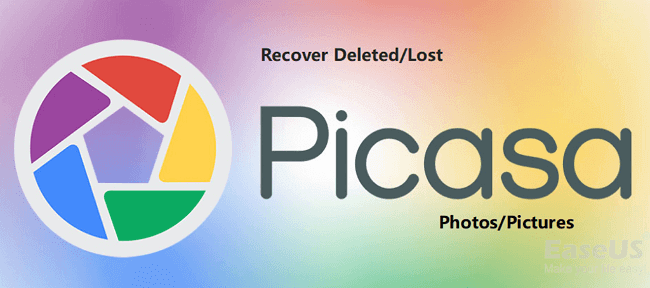 Picasa is a popular photo viewing and editing tool introduced by Google. Most people like it because it provides a very great photo editing experience. But pictures stored on Picasa are not 100% safe. Many unexpected accidents especially accidental deletion can get them lost in a few seconds. That's why so many people post questions like that "how to recover deleted Picasa photos".
How can I recover deleted photos from Picasa
"About half a years ago, I downloaded Picasa and install it on my Windows computer. I really like this amazing tool. It works so well in photo management that I usually use it to view, edit and share all my photos on Facebook, Flickr and Google accounts.
But just five minutes ago, I accidentally clicked on "Delete from Disk" button on my photos of Picasa. And after that, I tried to search them on my computer hard disk and even looked in Recycle Bin, but it didn't help. Is there any efficient photo recovery solution that can help me recover deleted Picasa photos?"
If you are having or had a similar experience as listed above, losing Picasa photos or pictures in Windows or Mac computers, relax. Read on and you'll learn a quick tip and 3-step Picasa photo recovery solution provided by EaseUS data recovery software to fully resolve your issue.
Quick Tip: Recover deleted Picasa photos from Recycle Bin or Trash
Picasa was designed as a handful picture editing tool by Google which simplified the way to recover deleted Picasa photos for its users on Windows and Mac computers. Both Windows and Mac users can easily recover lost Picasa photos from the Recycle bin or Trash as the quick tips listed here:
For Windows users:
1. Open the Recycle Bin.
2. Locate and right-click on the Deleted Picasa photos by the image thumbnail.
3. Select "Restore".
(The selected photos will be restored to the original location where you saved Picasa photos such as the Picasa album.)
For Mac users:
1. Open the Trash.
2. Magnify the photos to identify your deleted Picasa photos.
3. Drag these photos to other location on Mac (Desktop, a specific folder on Mac volume or an external storage device).
See, this is the whole process of Picasa deleted photo recovery. Pretty cool, right? If you've emptied the Recycle bin or Trash as mentioned in the above case, finding no elsewhere to track the lost photos, what will you do? Relax! Here EaseUS software has resolved this issue by offering you a 3-step photo recovery solution with its best Mac file recovery software.
3 steps to recover deleted Picasa photos with EaseUS Data Recovery Wizard
EaseUS disk data recovery software - Data Recovery Wizard is powerful to recover lost data from computers and all storage devices. It can be applied to various data loss situations including deleted file recovery. So you can rely on it to recover deleted photos from Picasa. It just takes 3 simple steps.
If you are a Mac user, select the Mac version of this software and apply for Picasa photo recovery immediately.
First, get to know some useful features when you recover deleted pictures:
Filter: it provides a quick way to wanted files. To find wanted pictures, choose "Graphics" in the Filter list.
Search: search for an exact file name or file type. For example, type .png, .jpg, .jpeg, .tif, etc. in the search box to search for the specific types of pictures.
Second, follow a detailed guide to recover deleted pictures:
Step 1: Choose a location.
Choose the drive with the correct drive letter (it can be a local disk or an external device) and click the Scan button.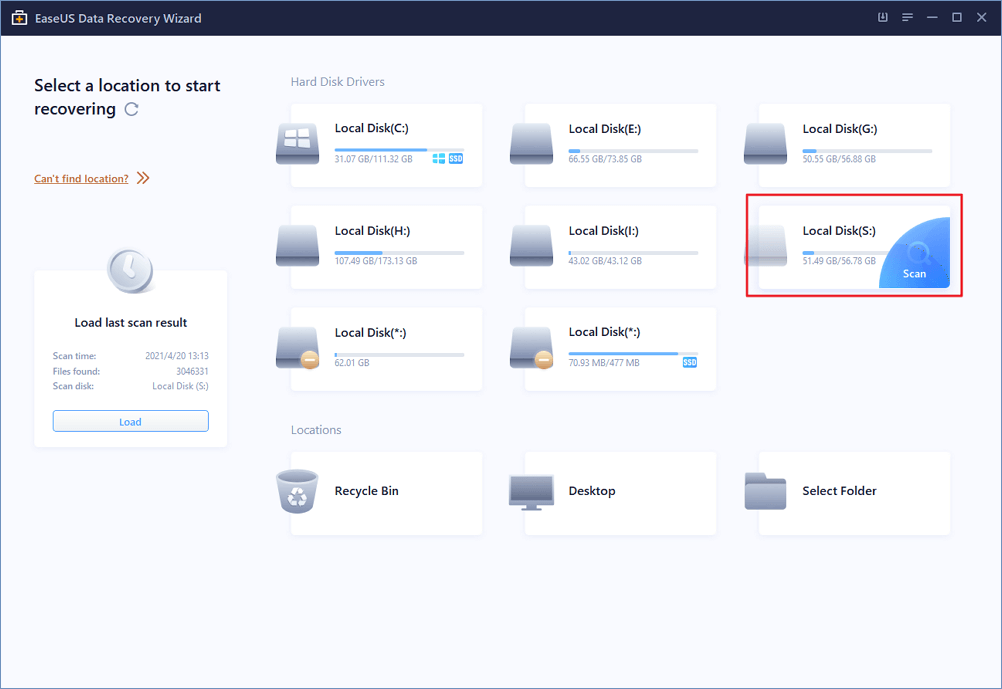 Step 2: Scan the lost data.
It won't take long for EaseUS Data Recovery Wizard to find deleted contents on the selected drive. Soon, the "Deleted files" result comes out. After the scan is over, there are many scan results showing up under different categories.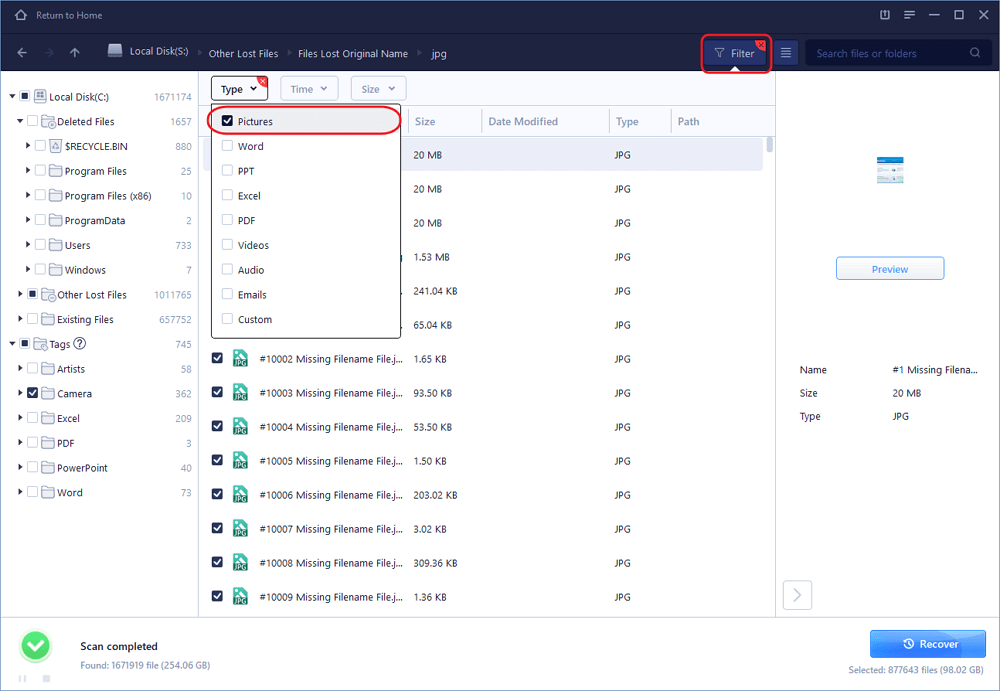 Step 3: Filter pictures and recover.