PAGE CONTENT:
1 - Recover Data from an Unallocated HDD
2 - Fix Unallocated Hard Drive with CMD
What Can I Do to Perform HDD Unallocated Space Data Recovery
"What can I do to perform HDD unallocated space recovery to rescue my data? Recently my 2TB western digital external hard drive which is used for file storage shown as unallocated space and all that data on it became inaccessible. About 2 hours ago, I attempted to open up the drive and put it inside my computer since I no longer needed to go around with it. But the drive wasn't showing up on my computer but it was showing up in disk management. It says the whole drive was unallocated.
I didn't touch anything since I was worried I might delete all my data. so I was hoping to make it external again by placing it in the shell case, and plugging it via USB port would fix it. But it is still saying the whole drive is unallocated. Please, I do not want to lose my data."
When you are bothered by the unallocated case, you must figure out the reason first. There are many reasons that can cause this. You can see as follows:
The hard drive is suddenly disconnected from the power supply.
Partitions were created or modified incorrectly.
You are installing an additional hard drive.
Hard drive failure.
Virus infection.
Once you have known the reason why the HDD becomes unallocated, you can start to fix the unallocated HDD. You need to do two things. First, recover data from the HDD to avoid data loss. Second, fix the unallocated device.
1 - Recover Data from an Unallocated HDD
For average users who are not so familiar with a computer, HDD unallocated space data recovery is an unimaginable job, even they badly need to retrieve their data. But here we can tell you that HDD unallocated space recovery is possible and easy as long as you have a powerful data recovery tool. EaseUS Data Recovery Wizard is our recommendation. Being a powerful and easy-to-use data recovery program, it is the best choice for you to perform HDD unallocated space data recovery.
EaseUS Data Recovery Wizard - The Best Hard Drive Recovery Software
Recover lost or deleted files, photos, audio, music, emails from hard drive effectively, easily and completely.
Supports data recovery from recycle bin, hard drive, memory card, flash drive, digital camera.
Supports to recover data for sudden deletion, formatting, lost partition, virus attack, system crash under different situations.
You can download EaseUS Data Recovery Wizard and follow the step-by-step guide to recover your photos, videos, audio files, and documents from HDD unallocated space. Usually, the unallocated spcae is often recognized as lost partition in EaseUS Data Recovery Wizard.
How to start hard drive recovery with EaseUS hard drive recovery software:
Step 1. Choose a location to scan.
Make sure that all hard drives were correctly connected and recognized by the software. Refresh an external hard disk if necessary.
From which drive was data lost? Choose the relevant hard drive partition by left-clicking on it.
Click the Scan button.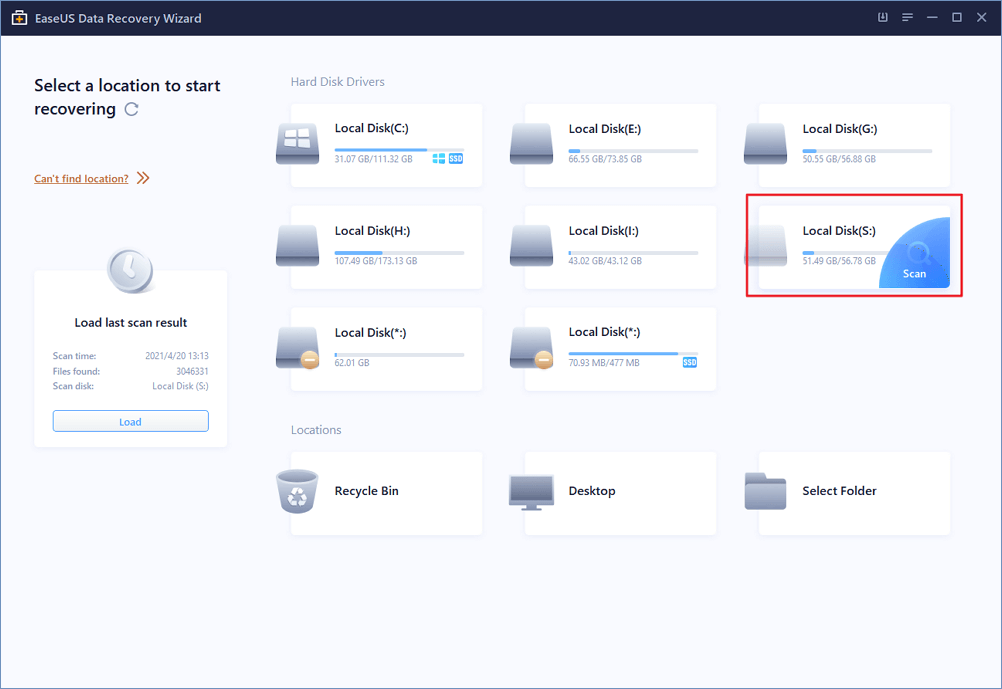 Step 2. Wait for the scanning results.
It takes a while for EaseUS Data Recovery Wizard to complete the scan, all depending on how much disk space is used on the selected hard drive.
As you see, the "Deleted files" result would come our first, later it's all lost data result.
You can try to recover lost data as soon as it shows up even though the scanning process has not finished yet.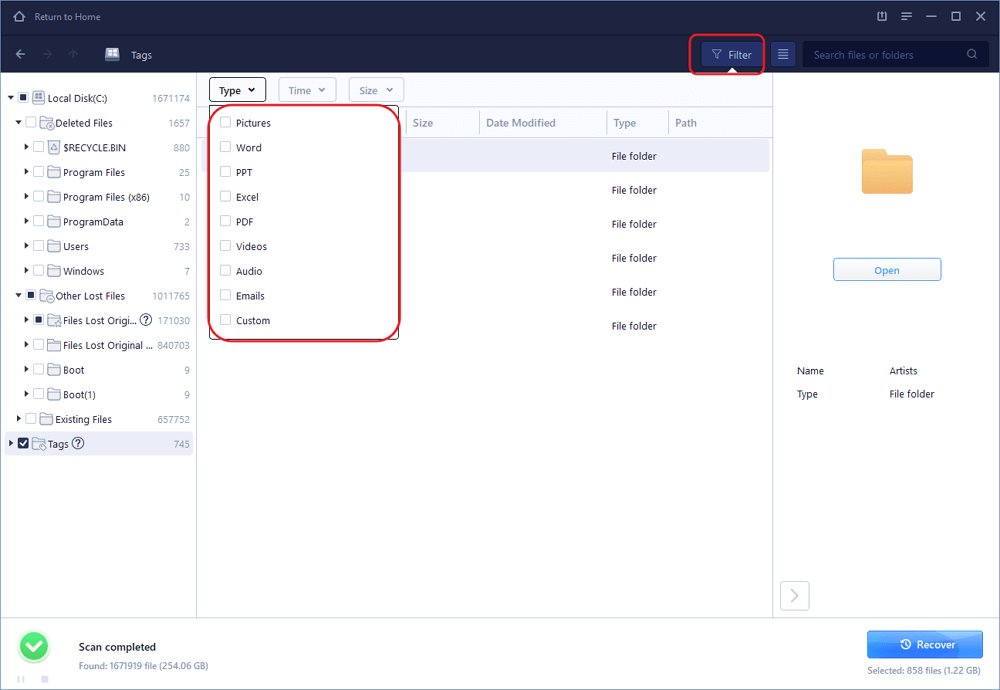 Step 3. Filter the result and recover data.
There are multiple ways for you to find the target files. Anyway, choose the quickest method.
Lost Partition Files: more lost data are going to be found on your selected partition and put in this section if it was formatted or deleted in early time.
Extra Files: a deep-scan result for raw files even though the file names and file paths have been lost.
Filter: extremely useful when you're looking for a specific type of files such as pictures, documents, music, videos, etc.
Select files and click the Recover button. (You can always choose to preview files before purchasing a license code for a full hard drive data recovery. )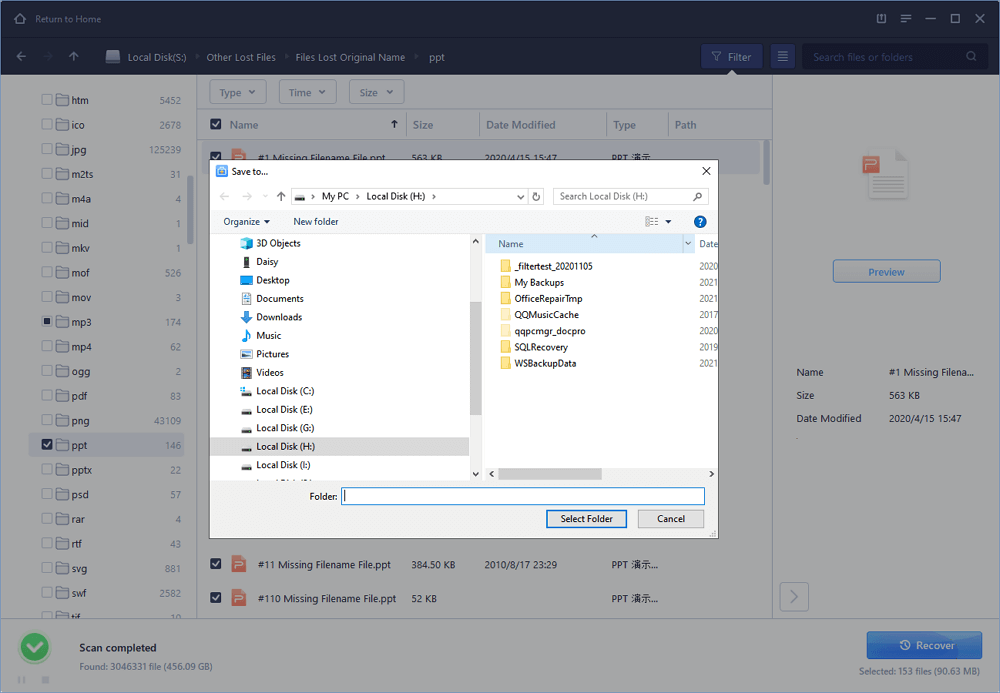 2 - Fix Unallocated Hard Drive with CMD
Open Diskpart and type: list volume and hit Enter.
Type: select volume X and hit Enter. (X is the drive letter of your unallocated external hard drive.)
Type: delete volume and hit Enter.
Type: list volume and hit Enter. (If the Disk Management tool cannot create a new volume on it, continue the steps below.)
Type: select volume X and hit Enter.
Type: delete volume and hit Enter.
Type: delete volume override and hit Enter.
Enter Disk Management and right-click the unallocated hard drive to create a new volume and set the file system to get fix the unallocated error on the hard drive.
If you are not familiar with the CMD, you can use a free partition manager software - EaseUS Partition Master Free with its Check Partition and Create Partition features to fix the unallocated issue with ease. If you need more information, you can also refer to this post - repair the unallocated external hard drive without losing data.