What particular requirements are there for SD cards for Raspberry Pi? This article will explain the format of the SD card used by the Raspberry Pi and the most intriguing question "how to complete the Raspberry Pi SD card format on Windows and Mac". Let's get started, shall we?
What Format Should SD Card Be for Raspberry Pi
The Raspberry Pi Foundation created the inexpensive, credit-card-sized Raspberry Pi. It employs a conventional keyboard and mouse and can be connected to a computer monitor. The Raspberry Pi is a basic computing device. Raspbian, the operating system that is officially supported, must therefore be installed on an SD card before it can be used.
As we all know, the most used file system for flash devices is FAT32. However, the 4GB file size restriction means that we cannot save individual files greater than 4GB to FAT32 partitions.
exFAT is presented as a solution to this problem. SD cards greater than 32GB use the SDXC standard and are formatted in exFAT, per the SD capacity guidelines.
The issue is that exFAT and FAT32 have different levels of compatibility. Additionally, most devices, including the Raspberry Pi, do not accept exFAT-formatted hard drives. The Raspberry Pi's bootloader, which is non-updateable and integrated into the GPU (Graphics Processing Unit), can only read from FAT file systems (including FAT16 and FAT32), not boot from them. There is a link to help you learn more about the FAT file system.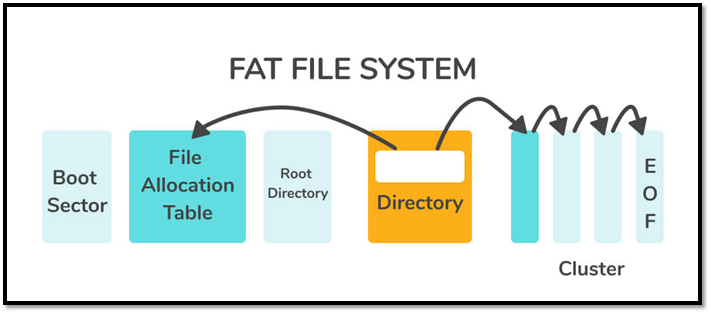 Users should format their SD cards to FAT. Here, we are demonstrating how to format SD card FAT32. 
Guide on Raspberry Pi SD Card: Format Raspberry Pi SD Card in Windows
We can format the Raspberry Pi SD Card via two methods, and you can format the SD card via a third-party tool or a built-in tool. Let's explore these methods one by one with their detailed steps.
Method 1. Format Raspberry Pi SD Card via EaseUS Partition Master
EaseUS Partition Master Free is a trustworthy third-party partition software that works flawlessly to format memory cards that are damaged, corrupted, inaccessible, or won't format on all Windows platforms. You can use EaseUS Partition Master to format an SD card greater than 32GB to FAT32 or convert exFAT to FAT32 on Windows 10, 8, 7, XP, or Vista to create an SD card that is entirely compatible with the Raspberry Pi.
It is easy to use so don't worry and download it to try.
Step 1. Find your SD card and right-click the partition you want to format and choose "Format".
Step 2. Set a new partition label, file system (NTFS/FAT32/EXT2/EXT3/EXT4/exFAT), and cluster size to the selected partition, then click "OK".
Step 3. Click "Yes" on the pop-up window to continue.
Step 4. Click the "Execute 1 Task(s)" button on the toolbar, then click "Apply" to start formatting your SD card.
 Here are some features of EaseUS Partition Master you should know:
Method 2. Format Raspberry Pi SD Card via Disk Management
What is Disk Management? The Windows operating system's disk management tool enables you to manage your disk partition and perform complex operations on the storage and disks already installed on the system.
Use the instructions below to use this approach to change your SD Card to FAT32.
Step 1. From the Start menu, select Run, and then type "diskmgmt.msc" into the command box.
Step 2. To format an SD card, simply right-click on it and select "format."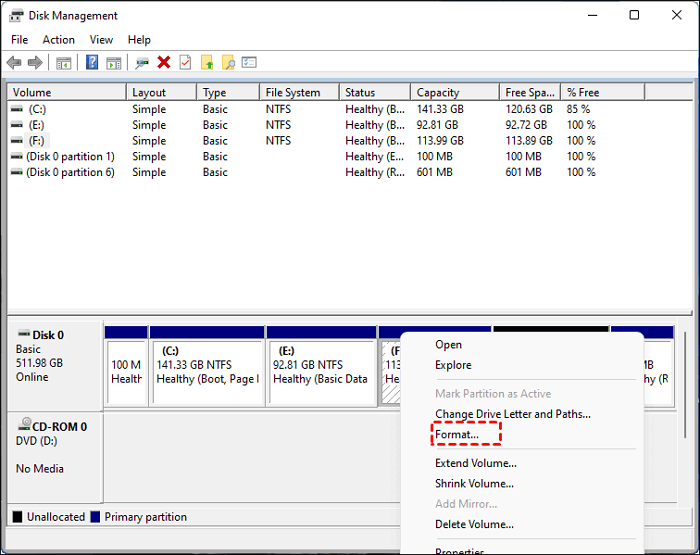 Step 3. Click OK, as shown below, after selecting "FAT32" under the file system.
Step 4. A warning message appears. Before choosing "OK," back up any important files. If you haven't yet backed up any files, click "Cancel."
The Raspberry Pi can now be used with your FAT32 SD Card. Keep reading the next section to see how we can do the same on Mac.
Guide on Raspberry Pi SD Card: Format Raspberry Pi SD Card on Mac 
In Mac, we have 'Diskutil,' similar to the diskpart tool on Windows OS. Follow the following instructions below to format the SD card for your Raspberry Pi device.
Step 1. Start the terminal program on your computer while also inserting the SD Card.
Step 2. Type "diskutil list" into the terminal window to get a list of all attached disks and drives, as shown below.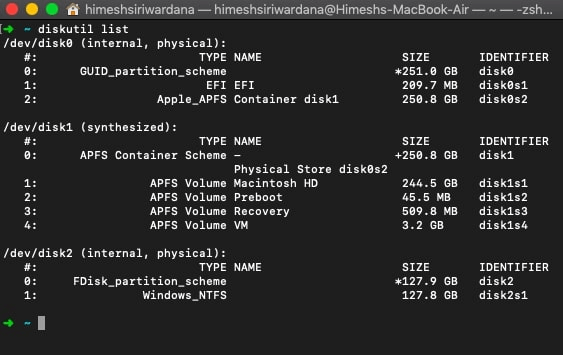 Step 3. Type "sudo diskutil eraseDisk FAT32 YOURNAME MBRFormat /dev/diskX" into the commands box to format your disk. Here 'x' is the number associated with your disk in step 2. 
The SD Card can be installed on the Raspberry Pi when the process is complete.
Conclusion
By now, you'll be aware of what a Raspberry Pi is, what file system types work best for it, and how to format a Raspberry Pi SD card both on Windows and Mac.
EaseUS Partition Master is the best third-party tool to format Raspberry Pi SD Card. So, download it and give it a try!
You may also like:
Moreover, if you have any queries, you can comment below.
FAQs About Raspberry Pi SD Card Format
Formatting Raspberry Pi SD can be a little bit challenging to understand, so here we have gathered a list of questions for users. Read through the questions and their answers to clear out your doubts. 
1. Can Raspbian read FAT32?
The Raspberry Pi's bootloader, which is non-updateable and integrated into the GPU (Graphics Processing Unit), can only read from FAT file systems (including FAT16 and FAT32), not boot from them. Users must now format the SD card for the Raspberry Pi.
2. Can Raspberry Pi run on exFAT?
exFAT is, by default, supported by the most recent Raspberry Pi software, but if it isn't, we can easily enable it by installing a few packages covered in this post.
3. Should I format the SD card as FAT32 or exFAT?
FAT32 is more compatible. We suggest formatting the memory card to FAT32 if you need clarification on whether your device supports exFAT.
EaseUS Data Recovery Services
EaseUS data recovery experts have uneaqualed expertise to repair disks/systems and salvage data from all devices like RAID, HDD, SSD, USB, etc.