Method 1. Backup Windows 7 automatically with Windows 7 Backup and Restore
Windows 7 Backup and Restore is a built-in feature to help users to protect their personal files and documents against accidental deletion and loss. You can set up Windows automatic backup at regular intervals to backup your personal files and documents to another location, such as a secondary hard drive, flash drive, or network folder.
Backup and Restore creates safety copies of your most important personal files so that you're always prepared for the worst. You can choose what to back up, or pick individual folders, libraries, and drives by yourself. Windows can back up files on whatever schedule you choose - just set it and forget it.
If you are experiencing system problems or you realize that you accidentally deleted or modified a file, you can also use the restore functionality of Windows Backup and Restore.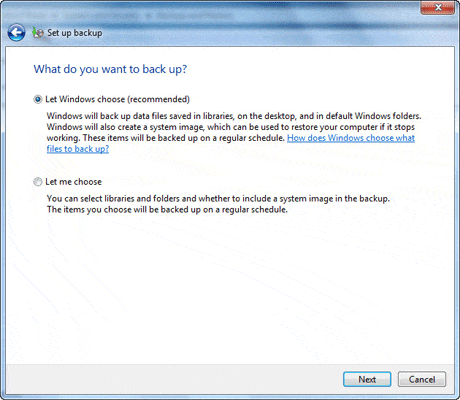 Following are the steps to access the Windows 7 Backup and Restore:
Step 1. Click the "Start" button from the Taskbar.
Step 2. Click the "Control Panel".
Step 3. Double-click the "Backup and Restore" Center icon.
Then you can create a plan for how often do you want to backup data and select what exactly you want to backup.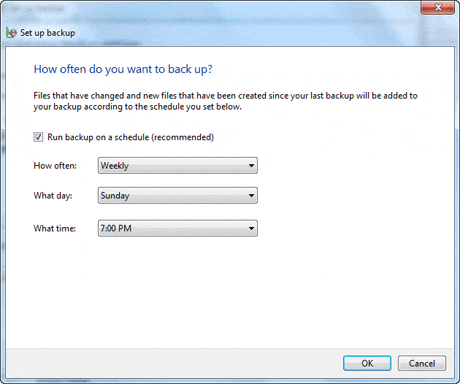 Although Windows 7 Backup and Restore has an automatic backup feature, you cannot create your own schedule. Sometimes, back up once in a day really is not enough. For example, if you want to backup files every two hours, Windows 7 Backup and Restore cannot do it. What's more, Windows 7 Backup and Restore is not stable as professional backup software. So another backup software is needed. There is easy-to-use backup software - EaseUS Todo Backup recommended.
Method 2. Back up Windows 7 automatically with system backup software
EaseUS Todo Backup can run hard drive partition data backup automatically at a predefined time. you can free backup system or any files within 30 days. By scheduling a backup task with a simple backup wizard, you can set to backup now, daily and weekly to set automatic hard drive partition data backups to protect your system and important data will be an easy job. What's more, it has other features, such as differential backup, incremental backup, disk clone.
Step 1. On your Windows 7 computer, download and install EaseUS Todo Backup. To back up your entire Windows 7 operating system, choose "System Backup" to start.
Step 2. The software will automatically select all your Microsoft Windows 7 related files and detect an available backup location for you. Here, if you've prepared a backup storage device for the Windows 7 system image, click "Browse" in the "Destination" area.
This is where you can freely choose a backup location on your own. It can be a local hard disk, an external HDD, USB memory stick or even a Network drive, a Cloud storage device, etc.
Step 3. Meanwhile, EaseUS Windows 7 backup software provides customers with more advanced backup options.
Turn on "Schedule", and you can set an automatic Windows 7 backup task by daily, monthly...or upon an event.
In the "Backup options", to avoid the large backup image files occupying disk space too quickly, you can compress the backup image to an ideal level.
Step 4. After making all the necessary settings for backing up the Windows 7 system, click "Proceed" to execute the backup task at once.