
Table of Contents

About the Author

Related Posts
Unable to Play Videos Transferred to Flash Drive [Solved]
Why the Video Isn't Working After Transfering to USB
So, you are unable to play your video. In this case, the video file was from a camera on a flash drive. If it is an important file, you will want to recover it first and investigate why it cannot be played before formatting your drive.
You need to discover what is the source of your problem. Because your video may have been broken due to corruption on the flash drive or on the video file.
Flash drivers are a type of driver that allow the user to interact with various devices, like printers or cameras. They are small pieces of code that allow for communication between the device and the computer. 
When something goes wrong with these pieces of codes, the flash drive stops working properly. The symptoms of a flash drive with errors can be difficult to detect. One is when you receive an error message from your device saying it cannot find a driver or component for it. The other sign is when your device does not work correctly and you receive error messages from Windows on your computer screen.
However, the problem can be with the video file. There are several symptoms of corrupted files. For example, when the media player you use says the video is unplayable. Often, the video plays with many issues such as no sync between audio and video, the screen turns grey or is pixelated.
What To Do When Videos Are Corrupted
EaseUS RepairVideo is a free online tool for repairing broken videos. You can use it to bring back videos that stopped playing, whether you have stored them on your flash drive or have downloaded them from the internet.
The process is fast and simple. Visit the EaseUS website, enter your email and try the tool. You'll receive the final results with no charge.
If you are curious about how powerful EaseUS RepairVideo is for solving various cases of errors with videos, just check the features:
EaseUS RepairVideo works on any supported browser. Installation and purchasing are not required.
RepairVideo can recover damaged videos that have been edited, converted, transferred, or broken during recovery attempts. Furthermore, you can fix videos that have been corrupted by malware, lost batteries, etc.
Compatible platforms include Windows, Mac OS X, Android, and iOS.
RepairVideo can handle all the most popular video formats, including 3GP, M4V, FLV, AVI, MOV, MP4, MKV, WMV, SWF, FLV, MP3, NPEG, 3G2, RM/RMVB, etc.
Restoring broken videos can be done on a variety of devices, including LG, Sony, HTC, Samsung, Huawei, Motorola, and ZTE. Also bring back damaged videos from pocket cameras, dashboard cameras, USB flash drives, CTTVs, corrupted hard drives, and many other sources.
Step 1. Upload your video with the corruption issue. You can click the Upload Video button on the left to select a video file, or simply drag and drop the video to the area on the right.
Step 2. Enter your email address and click the Start Repairing button to instantly start the repair. Here, you must make sure the entered email address is valid to send and receive email messages over the Internet. EaseUS VideoRepair will send you a confidential extraction code to the provided email address. You can only download the repaired video by applying the code you received.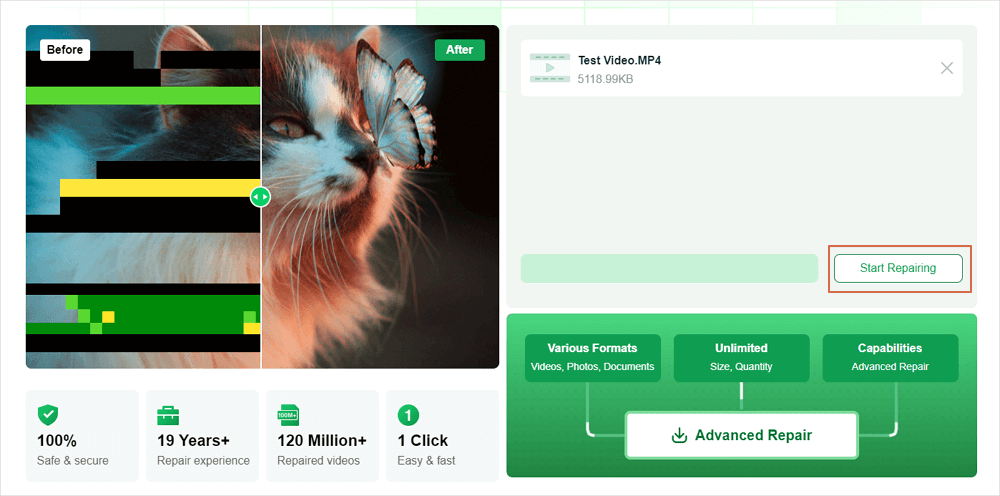 Step 3. The uploading and repairing process goes. You don't necessarily stay all the time waiting because once the session reaches 100% compeletion, you'll receive the extraction code in your mail.
Step 4. In your mail, check the message sent by EaseUS. There you'll remember the extraction code (just leave the page open so you can return to check). Click the View Your Repair button and you'll be guided to the website. Click the Download Video button, then enter the code that is exclusively generated for you, and click OK.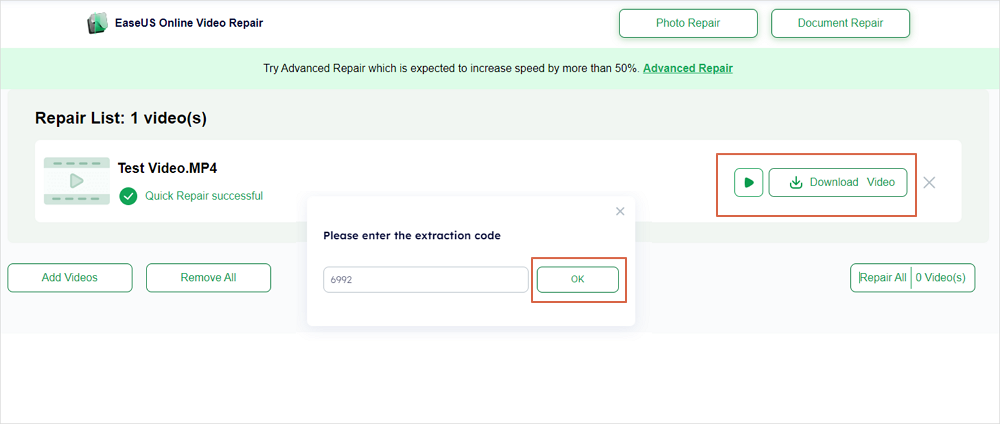 Method 1. Quick Format Your Flash Drive
If you are experiencing issues with your flash drive, it is likely that you have a hardware failure. Fortunately, there are ways to fix this. One of the most successful solutions is backing up all the data from the flash drive, then format it. Doing a quick format is enough to solve issues like a flash drive that doesn't open or malware infection.
Reformatting a flash drive with this guide requires a computer with Windows 10, 8, or 7. You will also need to connect your flash drive device to your computer. 
If you have to format the drive, make sure that all of the data has been backed up first. Formatting will remove all of the data on your device and create new empty space for other files to be saved onto. After that, do the steps below.
Step 1. To format the flash drive, go to Computer and then right-click on the drive that you are trying to format. Hit "Format".
Step 2. Choose "Quick Format" (full formatting will take longer). Then, just click "Start".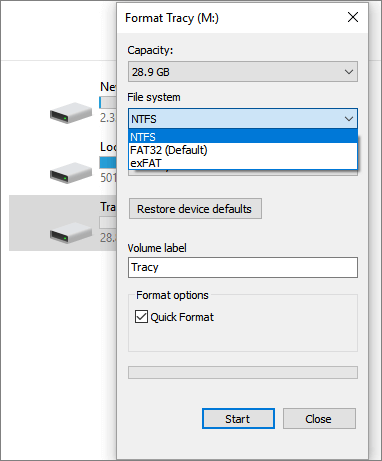 Method 2. Run CHKDSK to Check and Repair Errors
Windows has chkdsk, a hard disk utility to scan and repair disk errors. It can also be used to scan and repair errors on USB drives, flash drives, SD cards, CD-ROMs etc.
Chkdsk is a built-in command that checks the disk for errors and even fixes them. The tool is available as an executable file in Windows XP, Vista, 7, 8, and 10. 
Before following the steps below, back up all the data from your flash drives.
Step 1. First, open an elevated command prompt window. You can do this by searching for Command Prompt in the Start menu and then right- clicking to "Run as Administrator". 
Step 2. Run chkdsk will scan the flash drive for errors and repair any that it finds. In the elevated command prompt window enter "chkdsk" without quotes followed by a space then type your flash drive letter (/f /r /x etc.). After that, just press Enter and wait for the scanning.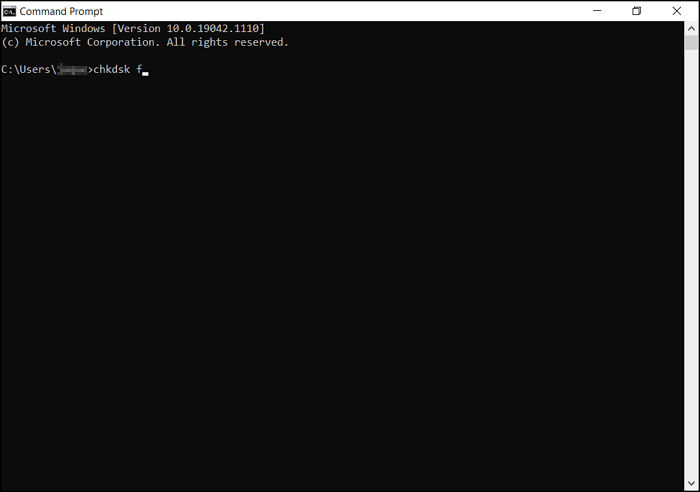 Conclusion
In the case, you stored video files on a flash drive and they stopped working, you need to know what is the issue. For example, when the problem is with the flash drive, commonly, windows will report a problem with the device and refuse to load the driver.
You can solve it by running a quick format. Chkdsk also scans and repairs errors on the drive, if there are still problems after quick formating.
When formatting a flash drive, you should also make sure that you back up your data in case something happens to it as well as installing antivirus software for added protection. Also, install the latest drivers for your flash drive.
However, sometimes the issue is with the video file. You will need to repair it with a professional tool. But do not worry, EaseUS RepairVideo can make the video work again, for free, and no installation will be required.
About the Author

Brithny is a technology enthusiast, aiming to make readers' tech life easy and enjoyable. She loves exploring new technologies and writing technical how-to tips. On her spare time, she loves sharing things about her favorite singer - Taylor Swift on her Facebook or Twitter.