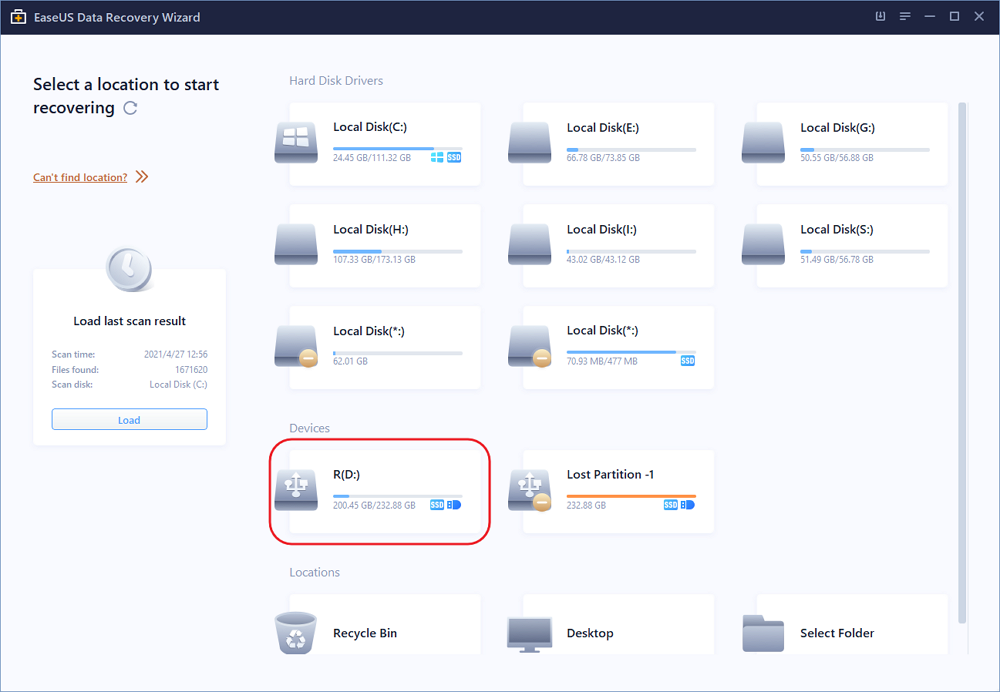 How to Fix USB flash drive not working Windows 10/7?
Unplug the USB stick from the current port and computer, and try plugging it into a different computer and/or USB port. If it works on the new USB port or computer, the USB port may be damaged or dead, or the computer itself may have a problem. And you can use EaseUS Data Recovery to recover data. Check if the port is clean, dust-free, and firm.
With a portable USB memory stick and flash drive, we can transfer work documents, school papers, and multimedia files quickly from a PC or between USB drives to keep them as a backup or just be able to access the files everywhere. We find ourselves in trouble when the USB flash drive is not working.
Symptoms of USB Flash Drive Not Working on Windows 10/7
When a USB stick is not working, the situations vary. The most typical cases are:
Fix USB Flash Drive Not Working on Windows 10/7 Without Losing Data
The USB, not working issues mentioned above are the most frequent ones people may encounter. To fix the specific USB errors, just click the link we left where the relevant solution has been provided.
In addition, it's necessary to learn the general troubleshooting methods in the following, which show you what to do if a USB flash drive is not working on Windows 10 or Windows 7.
First. Recover data when a USB flash drive is not working
Always prioritize your precious data on a USB flash drive that is not working anymore. As long as Windows still detects the drive, you can download EaseUS Data Recovery Wizard to rescue your documents & large-size multimedia files. Since there is the possibility of losing data during the fixes, it's highly recommended to recover data from your problematic USB in advance.
It only takes three steps to recover data from a USB flash drive that is not working with EaseUS recovery software.
Note: To guarantee a high data recovery chance, install EaseUS data recovery software on another disk instead of the original disk where you lost files. 
Step 1. Launch EaseUS Data Recovery Wizard on your Windows 11, Windows 10, Windows 8, or Windows 7 computer. Select the disk partition or storage location where you lost data and click "Scan".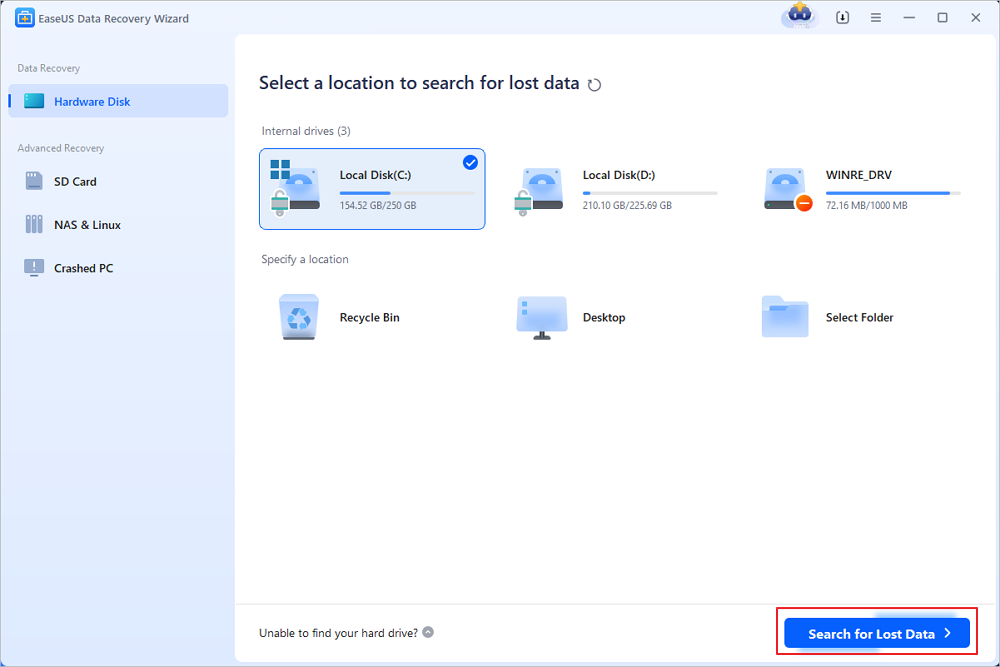 Step 2. This recovery software will start scanning the disk to find all lost and deleted files. When the scan process completes, click "Filter" > "Type" to specify lost file types.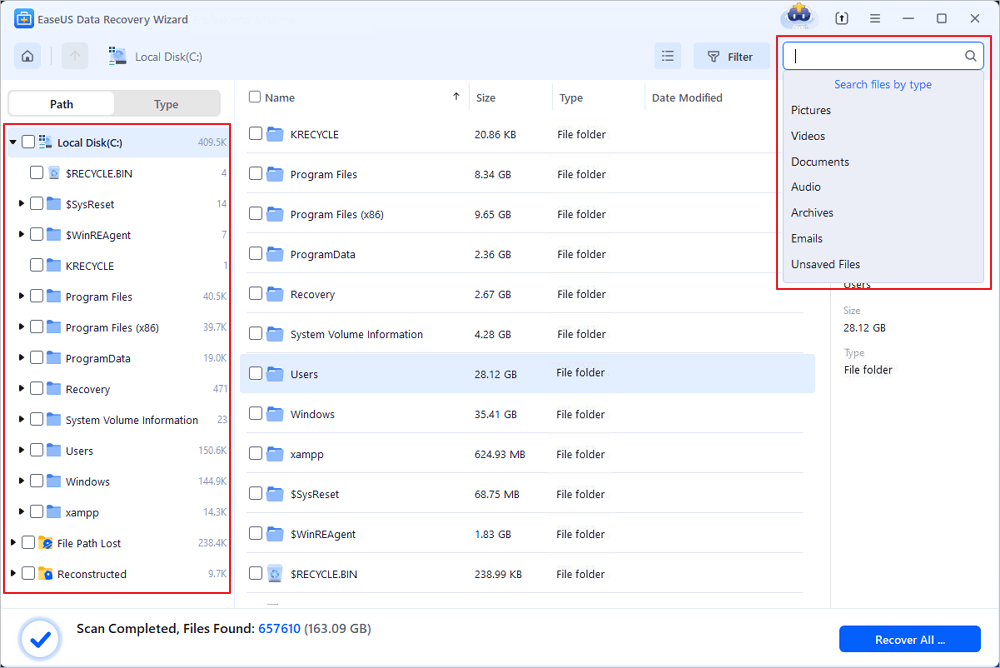 Step 3. Preview and restore lost Windows files. You can double-click to preview the scanned files. Then, select the target data and click the "Recover" button to save them to another safe spot in the PC or an external storage device.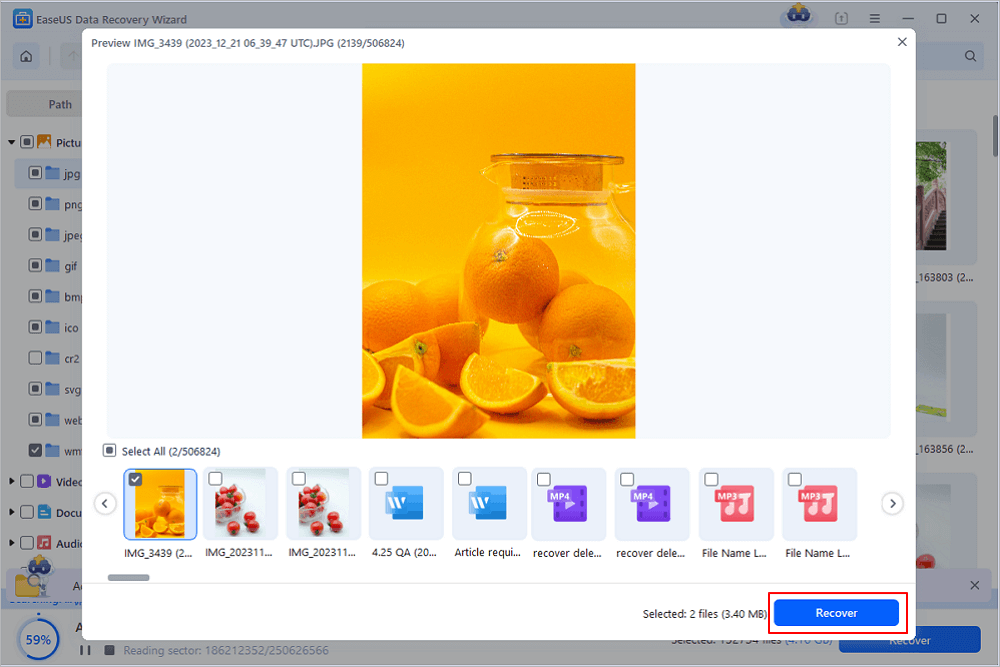 Second. Fix a USB flash drive that is not working (in three ways)
There are three options available for you.
Method 1. Try a different USB port or PC
Insert the USB stick into another USB port on your PC or connect it to another PC to exclude that the cause is not from the USB flash drive itself.
Method 2. Update USB driver
There's another chance your USB flash drive has no problem, and an outdated driver in your PC causes the error.
Step 1. To check for a new driver, go to Computer, right-click on your USB's icon and click on "Properties".
Step 2. Go to the Hardware tab and find "General USB Flash Disk USB Device". Select it and click the "Properties" button below.
Step 3. In the next pop-up, click the "Change settings" button.
Step 4. When a new pop-up appears, go to the "Driver" tab and click the "Update Driver" button.
Step 5. Next, select the first option, "Search automatically for updated driver software," and follow the instructions.
Method 3. Check & repair USB drive partition error
When your USB flash drive is corrupted or damaged, or there are bad sectors on it, your USB flash drive will not work correctly for sure. If your USB flash drive is corrupted or damaged, you can follow the steps below to repair your disk using the free partition manager - EaseUS Partition Master. If bad sectors are on your USB, learn how to repair bad sectors here.
Step 1. Open EaseUS Partition Master on your computer. Then, locate the disk, right-click the partition you want to check, and choose "Advanced" > "Check File System".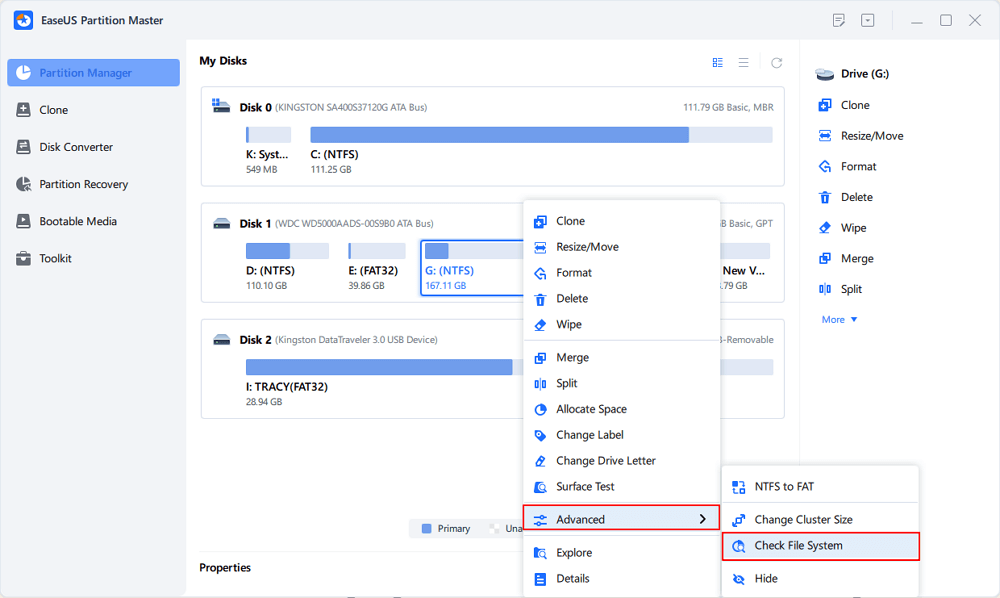 Step 2. In the Check File System window, keep the "Try to fix errors if found" option selected and click "Start".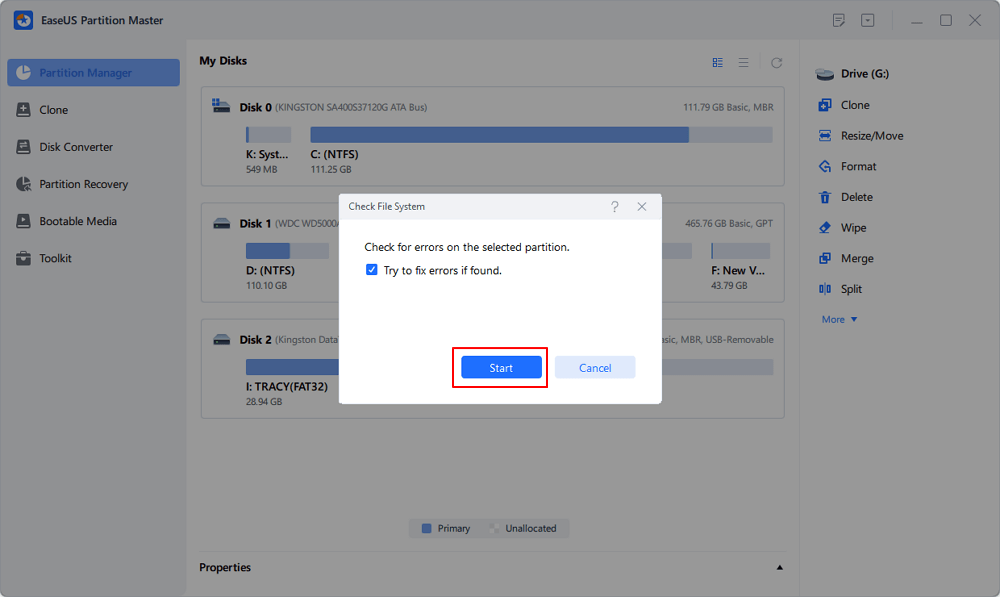 Step 3. The software will begin checking your partition file system on your disk. When it completes, click "Finish".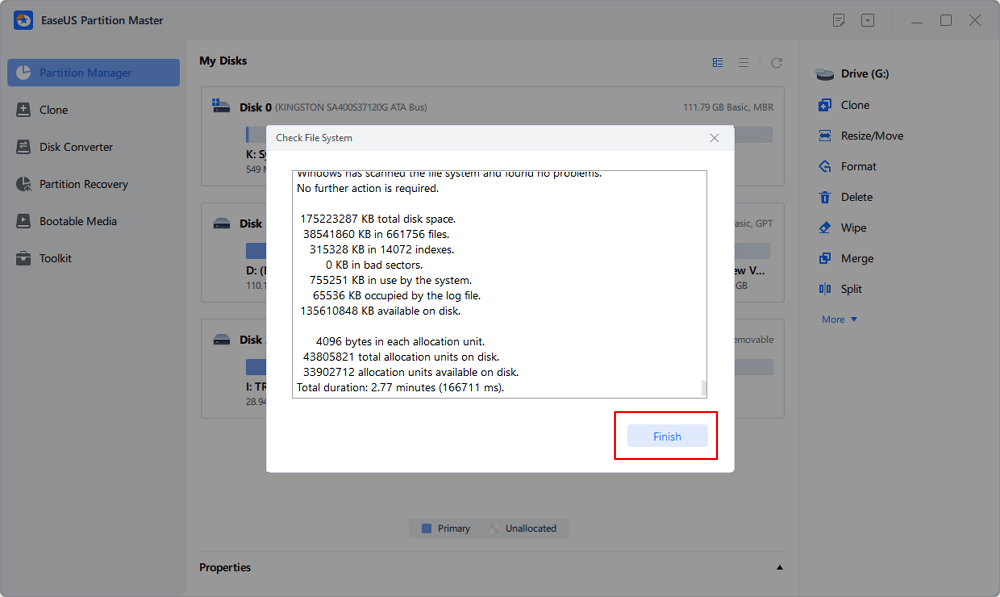 Method 4. Format the USB stick that is not working
Another effective way to fix the file system errors on your USB flash drive is to format it directly. By doing so, you assign a new file system to your storage device, which will be usable again. You can take the last measure to fix the USB flash drive that is not working problem by formatting the drive and using it as new.
Right-click the external drive or USB you intend to format and choose "Format".
Set the Partition label, File system (NTFS/FAT32/EXT2/EXT3/EXT4/exFAT), and Cluster size, then click "OK".
Click "Yes" to continue.
Click the "Execute 1 Task(s)" button and click "Apply" to format the hard drive partition.
The Bottom Line
A USB flash drive not working correctly could be pretty annoying. However, if your computer can still detect the device, you should feel relieved since that means the files on it can be rescued with the help of EaseUS Data Recovery Wizard.
With the files kept safe somewhere else, you can continue fixing the not working error without worrying about any data loss. In addition to checking whether other devices cause the problem, fixing a USB that is not working is helpful by repairing the file system errors or formatting. I hope the issue with your USB can be successfully solved with the solutions provided here.
FAQs About USB Flash Drive Not Working
For those who have more questions about USB flash drives, you may follow and check the answers below each question. 
1. How can I repair my USB flash drive?
You can apply three ways to repair your USB flash drive. 
Method 1. Canning and Repairing with Windows chkdsk.
Method 2. Run Windows disk error checking.
Method 3. Formatting USB to FAT32
Method 1 and Method 2 can repair errors on your disk from the command line. Formatting can reset your USB flash drive file system. Afterward, with EaseUS data recovery software, you can get your data back from a failed pen drive without losing files. You may refer to the USB flash drive repair tool for help. 
2. Why is my USB flash drive not showing up?
If a driver is missing, out of date, or corrupted, your computer won't be able to load or access your drive. Thus, your computer may not be able to recognize it. 
Usually, the reasons for USB flash drives not showing are 1). USB driver issues; 2). Drive letter conflicts; 3). File system errors. 
And you can try to update USB drivers, change the USB drive letters or reset the file system to fix this issue. For more details, refer to USB Not Showing Up in Windows 10/8/7.
3. Why does my flash drive not work?
Be it similar to the USB flash drive not showing an issue, when a USB flash drive contains errors, corrupted file system, outdated USB drivers, or even losing drive letter, it all may not work on a computer.
You can try any method as shown on this page in the main content to make your flash drive work again:
1). Check flash drive connection, change USB port or PC.
2). Update flash drive drivers.
3). Check and repair flash drive errors.
4). Format and reset the flash drive file system.
EaseUS Data Recovery Services
EaseUS data recovery experts have uneaqualed expertise to repair disks/systems and salvage data from all devices like RAID, HDD, SSD, USB, etc.