
Table of Contents

About the Author

Related Posts
How to Fix Moved or Copied Video Files Won't Play Efficiently
Why Copied Video File Won't Play
So, you are sharing videos of great memories with your friends worldwide, but the downloaded files aren't playing for everyone. Or perhaps you are transferring the video files between devices only to discover they aren't working, after all.
The copy of your video file may not play for many reasons. Corrupted videos can be caused by the following reasons:
The video wasn't transferred properly because the USB cable was damaged.
Your internet was unstable and the file didn't download completely.
Files were transferred between computers or smartphones infected with viruses.
The video files were saved in a different format instead of the original,
Devices used for storing videos had bad sectors that caused corruption.
Videos won't play since the media player you're using doesn't have codecs for running that format.
Quick Fixes When Copied Video Files Doesn't Play
For knowing why your copied video files aren't playing it is good to analyze each possible cause. Start by running the source video. 
Is there any issue with it, such as pixelated images, no-sync between audio and video for example? If the original video is playing OK, go to the next step.
What is the format of the source file and of the copied video that doesn't play? In the case both files don't have the same format, try converting them to the same type, so it can be playable.
Can you open other videos on the device for which the copies were transferred? Sometimes the device is the problem, so they won't play any kind of video file.
How to Fix a Corrupted Video File When Copied or Moved 
You can recover copied videos that don't play with EaseUS RepairVideo. RepairVideo can use it to bring back videos that stopped playing, whether they have been corrupted while being transferred or due to malware infection, for example.
Simple visit the EaseUS website, enter your email and try the EaseUS RepairVideo. You'll receive the repaired videos for free.
Here are the features that make EaseUS RepairVideo effective for problems with videos:
Fast and easy to use, with step-by-step guides on the EaseUS website.
EaseUS RepairVideo works on any supported browser. You don't need to download the software or buy the recovered videos.
It can repair damaged videos damaged by editing, converting, transferring, or broken by a recovery attempt. Also, it allows users to restore the videos which have been corrupted by failure on hardware, malware infection, lost batteries, etc.
With the support of EaseUS RepairVideo, you can repair corrupted videos from Android, iPhone, Windows, and Mac devices.
You can use RepairVideo to bring back most video formats, including 3GP, M4V, FLV, AVI, MOV, MP4, MKV, WMV, SWF, FLV, MP3, NPEG, 3G2, RM/RMVB, etc.
It's possible to restore broken videos from LG, Sony, HTC, Samsung, Huawei, Motorola, ZTE, and more. RepairVideo also recovers destroyed video files from pocket cameras, dashboard cameras, USB flash drives, CTTVs, corrupted hard drives, and more.
Step 1. Open EaseUS RepairVideo and Upload Problematic Video
Open EaseUS RepairVideo page: https://repair.easeus.com/, click "Update Video", or drag and drop a corrupted, broken, or not playing video to the right area to upload to EaseUS RepairVideo page.
Step 2. Enter a Valid Email Address and Start Repairing Video
Enter a valid email address and click "Start Repairing" to upload and repair the malfunctioning video.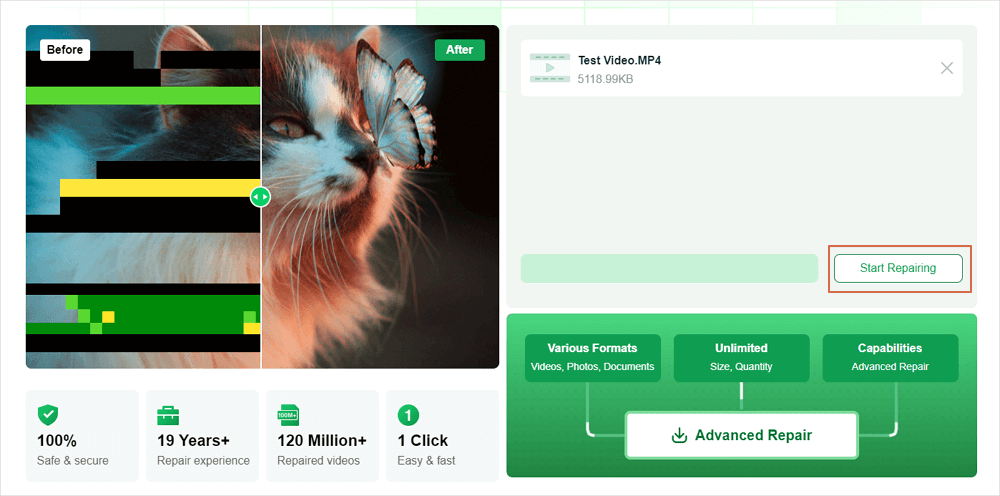 Step 3. Wait for the Automatic Uploading and Repairing Process to Finish
EaseUS RepairVideo will automatically upload and repair the corrupted or broken video for you. You can leave the repairing page opened and continue doing other stuff.
Step 4. Enter Extraction Code and Download Repaired Video
When the repairing process completes, you can preview the video at the right pane. Also, you'll receive an email with a video extraction code.
Go and find the code, reopen the EaseUS RepairVideo page. Then click "Download Video" and enter the extraction code, click "OK" to start downloading the repaired video.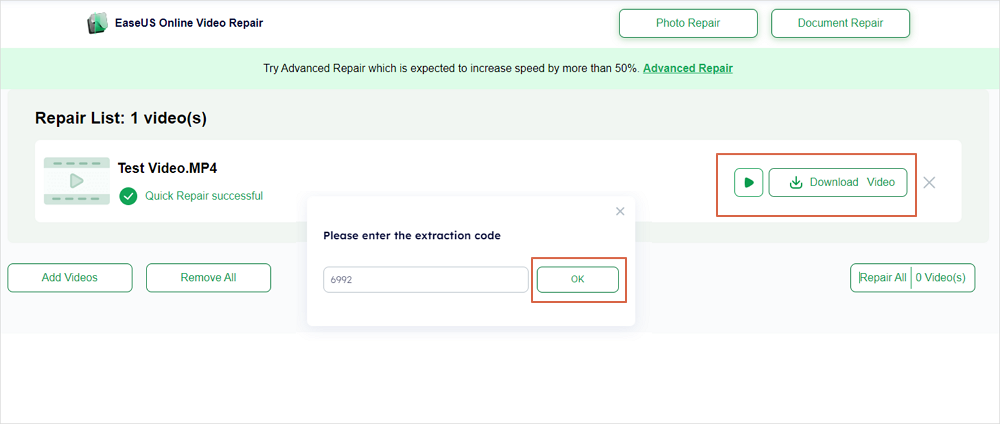 Fix a Corrupted Device Where You Copied Files 
Damaged video storage devices can also cause moved or copied videos to fail to play. Here are the methods for fixing a corrupted hard drive, USB drive, or external hard drive. 
Method 1. Format the Device That Doesn't Work
The videos you tried to copy may not work due to hardware failure on your device. Backing up and formatting a drive are some of the most effective solutions. 
Performing a quick format will fix problems like a corrupt or infected hard drive. Before you format the device, make sure you've backed up your data. When you format your device, all of the files on it will be removed and new empty spaces created. Do the following steps after backing up the drive.
Step 1. In Computer, right-click on the drive you are going to format and choose "Format". Click on the option "Format".
Step 2. Just click "Start" after selecting Quick Format (full formatting takes longer).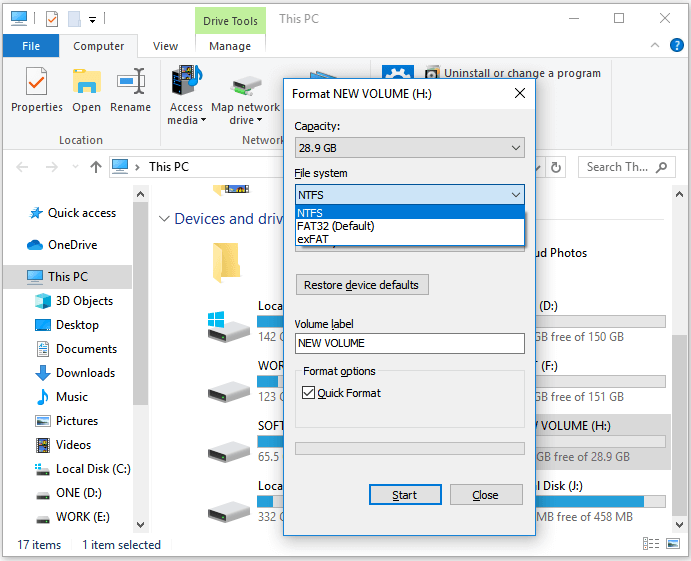 Method 2. Run CHKDSK on the USB Flash Drive to Check and Repair Errors
To repair disk errors, Windows has a hard disk utility called CHKDSK. By running the command, bad sectors will be scanned and recovered. Also works with USBs, flash drives, SD cards, CD-ROMs, etc. 
Before following the steps below, back up all the data from your device. 
It is important to remember that formatting will erase all the data on a hard drive and create free space to recover the drive.
Step 1. Start by opening a command prompt window that is elevated. Find Command Prompt in the Start menu and right-click to "Run as Administrator". 
Step 2. Running CHKDSK will scan the drive for errors and repair any that are found. You should type CHKDSK without quotation marks followed by a space and your drive letter (/f /r /x etc.). After that, just press Enter and wait for the scanning to finish.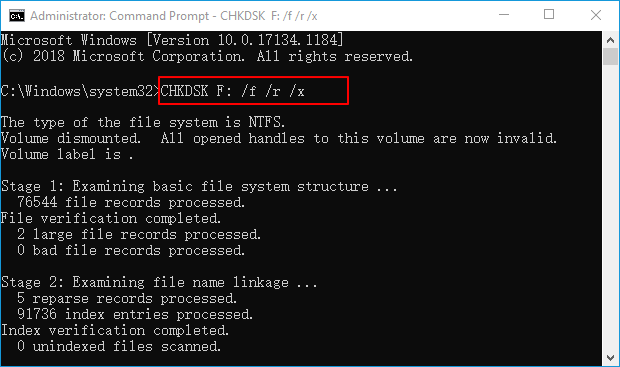 Conclusion
You need to know what is the problem if you copied video files to a new device and they stopped working. When the problem is with the device, you might not be able to play another video file using it.
If you are having trouble with the drive, a quick format could be the solution. CHKDSK will also scan and fix any errors on the drive if there aren't any fixed after quick formatting. Back up your data and install antivirus software when you format a device for extra protection. 
On the other hand, sometimes the issue is with the video file and not with the device itself. You will need to use a professional program to repair the copied video file that is not playing. If you are worried about this, do not stress out, EaseUS RepairVideo may help you fix the problem for free, and no installation will be required.
About the Author

Cedric Grantham is one of the senior editors of EaseUS who lives and works in Chengdu, China. He mainly writes articles about data recovery tutorials on PC and Mac and how-to tips for partition management. He always keeps an eye on new releases and likes various electronic products.