
Table of Contents

About the Author

Reviews and Awards

Recover Deleted Files in Windows 10/11
There are times when MP4, AVI, MOV, or M4V videos are not playable, which is most likely due to the corruption of video files when downloading. Other causes of video corruption are:
Virus attack that can damage files on your system and files, including videos
Unprofessional video converter can sometimes damage or corrupt videos, as well as unsuccessful video conversion
OS crash contributes to video file corruption
Repeatedly deleting video file can also cause damage
Unexpected interruption in the power supply when playing a video
Under these circumstances, the video file formats get corrupted. Then you can't play them unless that you use video repair software to repair the damaged video files. Is there any reliable and professional video repair tool that can fix corrupted video files in MP4 or other formats?
Here are the top 13 best video repair software that allows you to repair damaged video files for Microsoft Windows 7, 8, 8.1, 10 32 bit, and 64 bit. In the end, we also recommend you try a free online video repair tool that you'd like. Let's start now. 
The Top 13 Best Video Repair Software 2021 for MP4 Repair 
Top 13 video repair software full version free download. Use them to repair your corrupt video file.
Also read: Top 10 best free MP4 editors of 2021 in Windows 10
1. EaseUS Data Recovery Wizard
EaseUS Data Recovery Wizard is not only top-notch data recovery software for Windows and Mac OS but also an outstanding corrupted file repair tool.
If you happen to encounter that the lost camera videos are recovered but failed to play due to some unknown reasons, no worries, you can use EaseUS video repair tool to repair all corrupted, damaged, and broken MOV, MP4, GIF, and other videos. It supports the most widely used camera brands, including Canon, GoPro, and DJI.
Why is this software recommended in the first place? Because in addition to the mature video fix feature, it supports other comprehensive file repair solutions. For instance:
Repair corrupted Excel or Word document for various reasons 
Fix multiple broken files at the same time
Preview repaired files for free
Repair damaged files from PC, laptop, external hard drive, SD card, USB flash drive, etc.
Download the full version of EaseUS video repair tool and read the following step-by-step guide to repair your lost corrupted videos effortlessly.
Step 1. Select a location
Choose the correct drive which contains the corrupted videos. It can be a removable disk or a local drive. Click "Scan".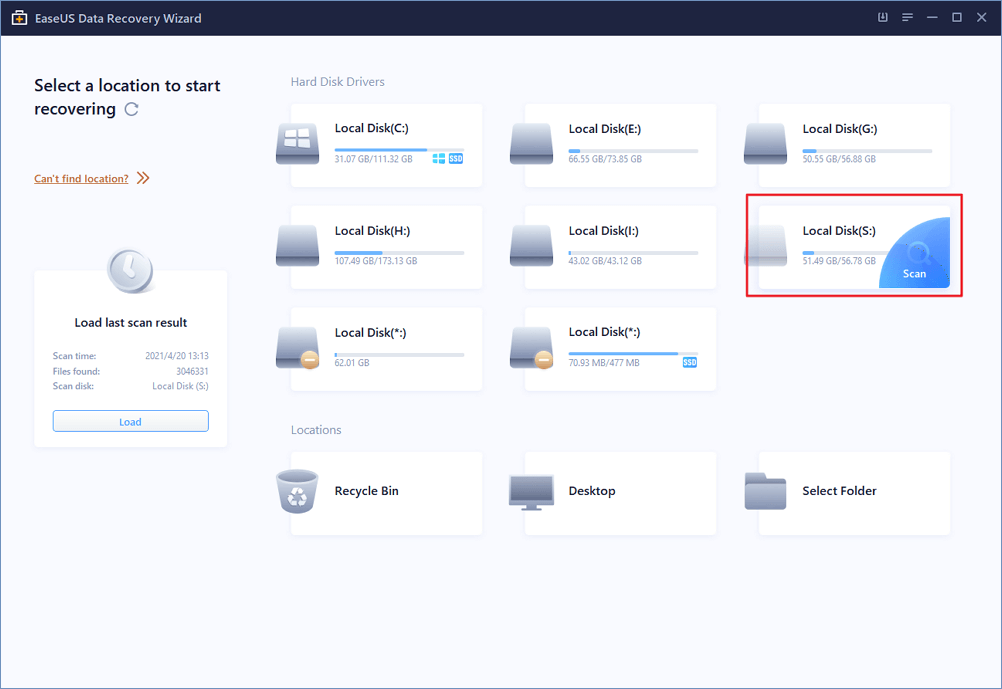 Step 2. Scan for damaged and corrupt videos
This program will scan all over the selected drive and display all files(including lost and existing files). You can use "Filter" on the top right to quickly locate all the video files.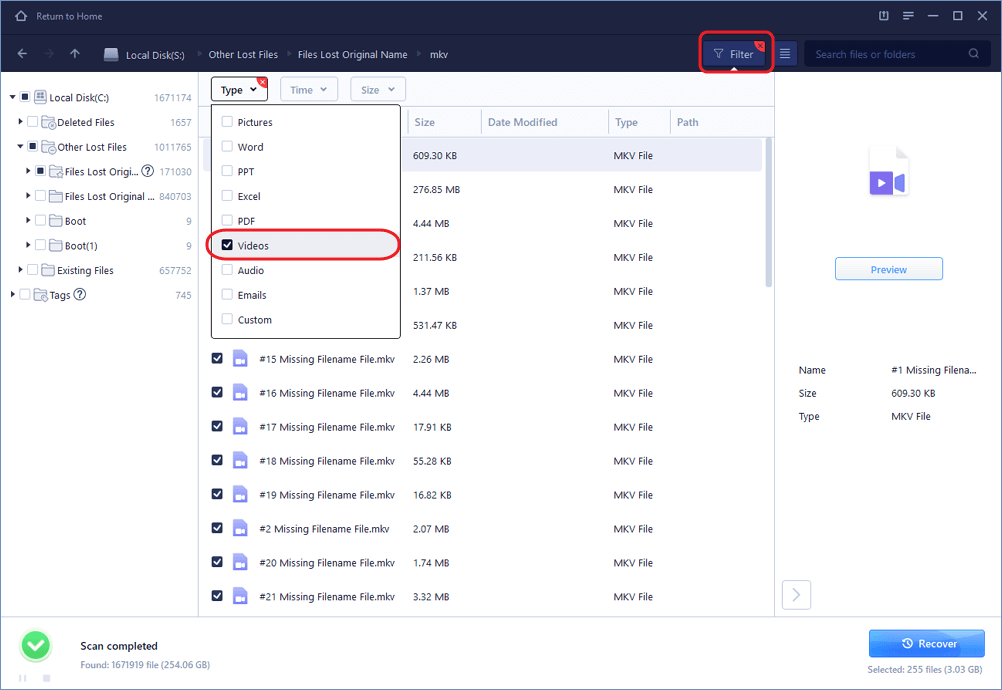 Step 3. Repair corrupted videos
Double-click on a file lets you preview the file quality. Finally, if there is no problem at all, click "Recover". You should choose a different location to save the recovered videos.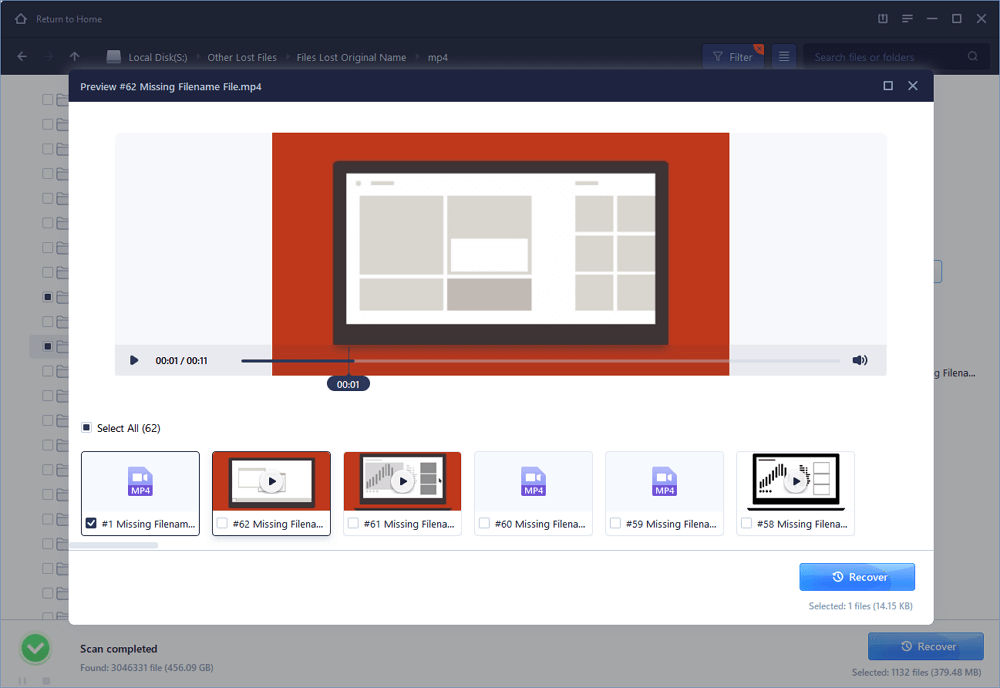 Except for the file repair feature, EaseUS Data Recovery Wizard is still famous for its powerful data recovery function. 
Recover deleted, formatted, and inaccessible data in different data loss situations
Recover photos, audio, music, and emails from any storage effectively, safely, and completely
Recover data from recycle bin, hard drive, memory card, flash drive, digital camera, and camcorder
Pros: EaseUS Data Recovery Wizard is a well-known program that integrates data recovery, picture, and video repairs functions. It is super cost-effective.
Cons: EaseUS Data Recovery Software can only repair lost MP4, MOV, and GIF files recorded by cameras.
2. Stellar Phoenix Video Repair Tool
Stellar Phoenix Video Repair tool is an easy to use program to fix corrupted and damaged video file that is unplayable in QuickTime player on both Windows and macOS. It can repair multiple severely corrupt videos simultaneously during capturing, file transfer, video editing, converting, or processing.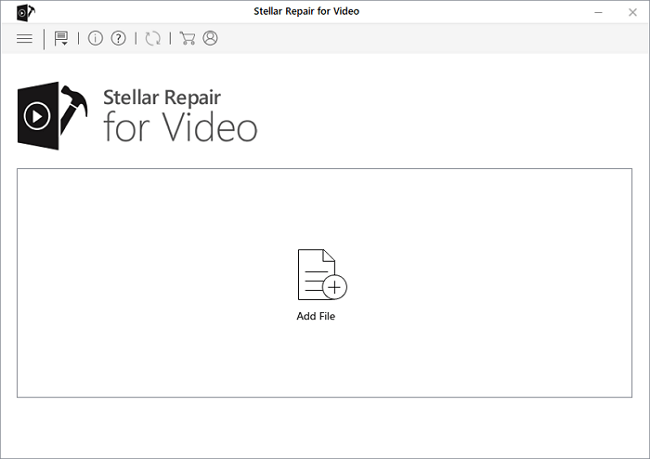 Supports all the popular video formats, such as MP4, MOV, AVI, MKV, AVCHD, MJPEG, WEBM, ASF, WMV, FLV, DIVX, MPEG, MTS, M4V, 3G2, 3GP, and F4V video file formats
Fix many videos at a single time efficiently
Preview the repaired video before saving and save the selected files to any custom location
Besides a normal mode, it also provides an advanced mode to repair a video severely damaged 
Fix problematic video file for various issues like header corruption, movement corruption, sound corruption, change in file format, duration corruption
Pros: Stellar Repair for Video is one of the most recommended tools to fix all kinds of video damages due to its powerful functions.
Cons: It offers a free demo version. For the free version, the preview of videos of size 10 MB or less is only available.
3. Yodot AVI Repair 
Yodot AVI Repair is a reliable tool that allows you to fix corrupt video files effortlessly on many devices, including iPads, iPhones, Windows and Mac. It provides a simple and user-friendly interface to fix corrupted video files in a few steps.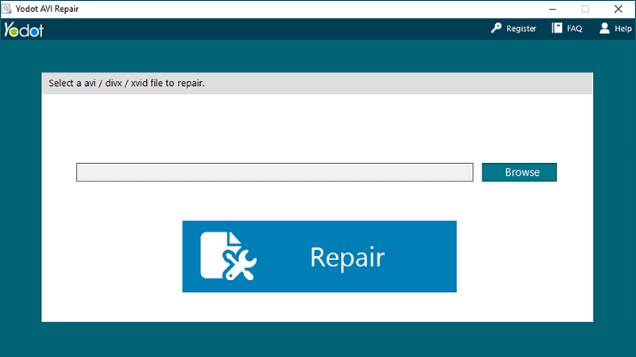 Fix corrupted AVI, XVID, and DIVX video file on Windows and Mac OS
Fix corrupted AVI files on the hard drives, memory cards, USB drives, iPods, etc.
Offer a free trial version, using which you can evaluate its results and preview the repaired videos before restoring
Pros: Yodot AVI Repair is compatible with many system platforms, such as OS, Windows, and macOS.
Cons: For common video file formats, it only supports AVI files.
4. Remo Repair MOV 
Remo Repair MOV is well developed to fix your corrupted videos simply. It has two versions - one to fix corrupt AVI and the other to repair MOV videos in a few clicks. Remo Repair MOV can fix numerous kinds of damages on a MOV or MP4 file on your Mac or Windows in various situations.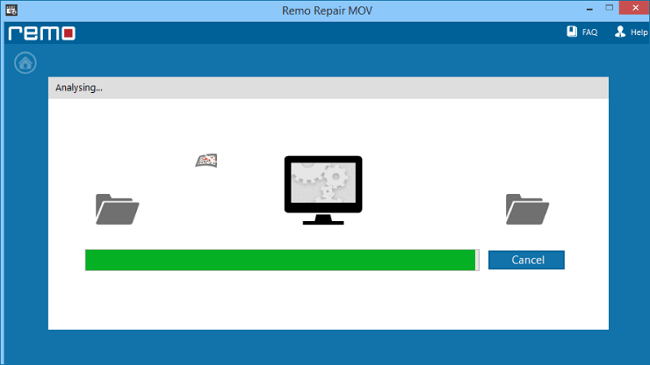 Repair corrupted, damaged, broken MOV files and make the video playable
Simple interface to allow users to finish video repairing easily
Fix MOV files taken on any digital camera, drones, smartphones, etc.
Comes with a demo version which repairs corrupted file and provides a preview
Pros: It supports all the common Windows and macOS.
Cons: Remo Repair MOV and Remo Repair AVI are two separate versions. If you need to fix these two files, you need to buy the two products separately.
5. Kernel Video Repair Tool
Kernel Video Repair is one of the most used video repair tools to repair video files with many additional features. This software can repair all kinds of video files, whether crashed, broken, corrupted, or inaccessible. No matter how severely the file is corrupted or how big the file size is, the software can repair it efficiently.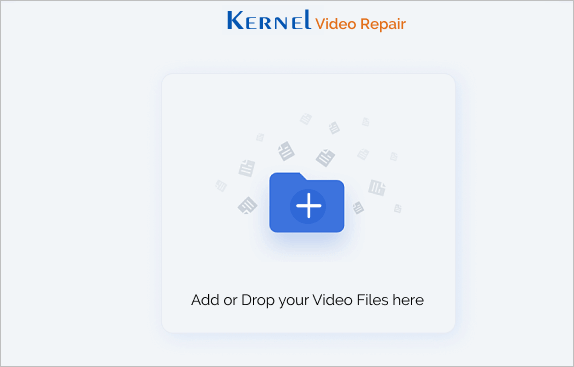 Repair corrupted videos in various types, including MP4 file, MOV, MPEG, MJPEG, MTS, M4V, MKV, AVI, AVCHD, WEBM, ASF, WMV, FLV, DIVX, 3G2, TS, 3GP, F4V
Fix corruption in multiple video files at a time
No limitations on the size of Video files for repair
User-friendly interface for simple operation without technical requirements
Compatible with Windows 10, 8,1, 8, 7, XP, Vista, and more
Pros: Kernel Video Repair offers ultimate video repair features to repair crashed and broken video files.
Cons: The free trial version only allows you to repair your corrupt video for up to 30 seconds.
6. Digital Video Repair Tool
Digital Video Repair enables you to fix damaged Mpeg 4 and AVI videos in just a few clicks. Digital Video Repair can repair broken AVI files encoded with Xvid, DivX, MPEG4, 3ivx, and Angel Potion codecs. This tool can easily fix unfinished AVI files, MOV, and MP4 videos that haven't been completely downloaded from the Internet or a local network.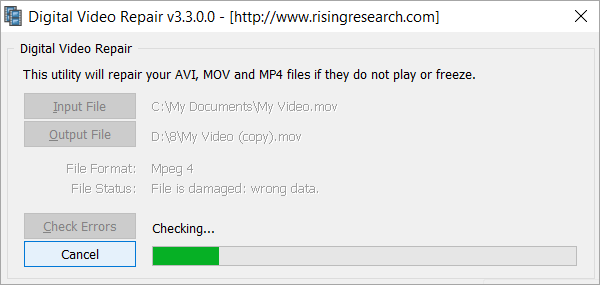 Support popular video formats like MOV, MP4, AVI, FLV, etc.
Repair videos of large size over 2 GB
Automatically delete the not important content from video files
Fix multiple video files at once
Multilanguage support (Chinese, English, German, Italian, Russian)
Pros: Digital Video Repair is a 100% free video repair tool that can repair all the popular formats of videos.
Cons: No preview of videos are provided.
7. Repair Video Master
Repair Video Master provides a one-click operation to fix all any separated, corrupted, or otherwise damaged videos. It supports all the popular video formats, such as AVI, DivX, Xvid, MPEG-4, RM, RMVB, ASF, WMV, WMA, AC3 files.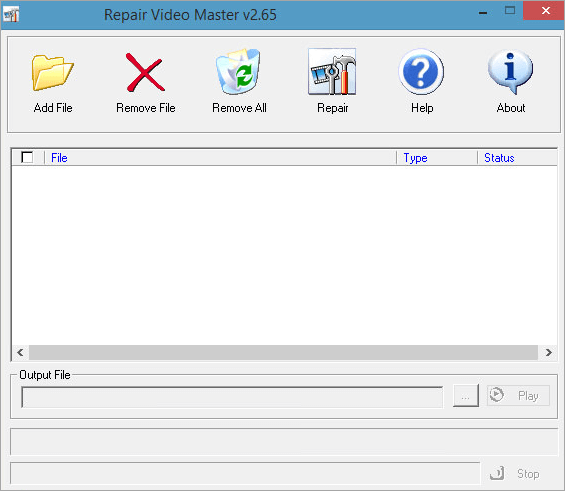 Repair partly damaged or corrupt video files effectively
Quick repair speed with great performance
Repair multiple videos at the same time
Provide a free version that has a size limit of 2 GB
Pros: Repair Video Master can repair files that are truncated, damaged, corrupted, or broken.
Cons: It is only compatible with Windows OS.
8. VLC Media Player
VLC Media Player is a free and open-source cross-platform multimedia player and framework that plays most multimedia files as well as DVDs, Audio CDs, VCDs, and various streaming protocols.  Not only is VLC Media Player a great player, but it's also a great video repair tool that can repair your corrupt or broken AVI video files.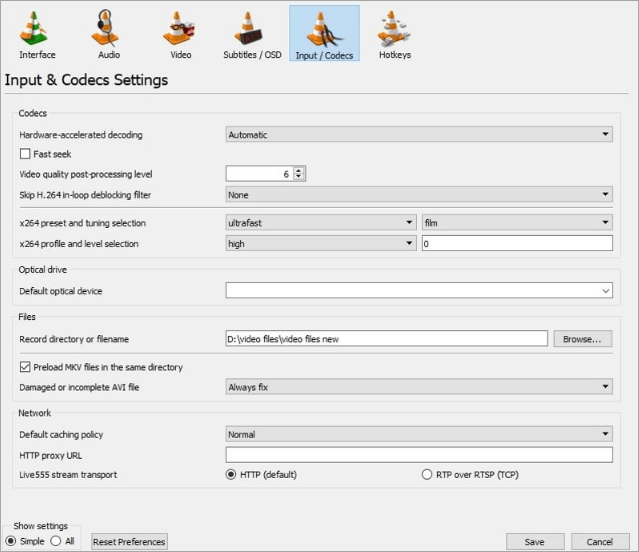 Repair corrupted video files due to unknown reasons
Compatible with Windows, Mac OS, Linux, and more
Pros: VLC Media Player is completely free, with no spyware, no ads, and no user tracking.
Cons: VLC Media Player supports only AVI video repairing for now.
9. DivXRepair
DivXRepair enables you to repair corrupt AVI files when they suddenly freeze, but the sound keeps playing. This program can fix the damaged video files by cutting off the bad parts and re-assembly the AVI file. The bad parts of AVI are undecodable frames/freezing frames.
Repair every kind of possible damage on an AVI file
Easy interface and allows users to fix damaged video quickly
Compatible with Windows 10/8/7
Pros: DivXRepair is a free AVI file repair tool.
Cons: It only supports AVI format and hasn't been updated in a while.
10. DivFix++
DivFix++ provides a useful solution to repair all kinds of problematic AVI files due to corruption or damage. Since the tool is available for free, you can use it repeatedly.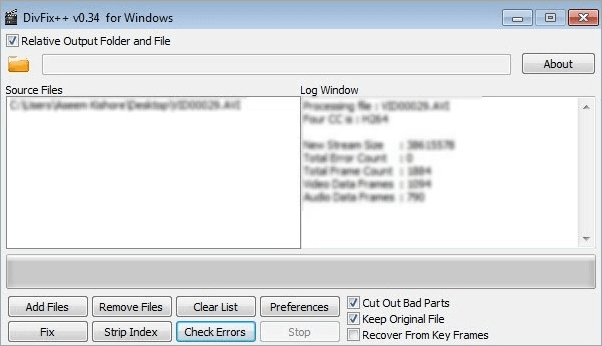 Great repairing performance for AVI file formats 
Allow for preview beforehand
Compatible with macOS, Windows, and Linux
Pros: DivFix++ is totally free.
Cons: It only supports AVI format.
11. OneSafe Video Repair
OneSafe Video Repair is one of the top digital video repair tools for repairing corrupt or damaged video file format. It cannot work for advanced issues.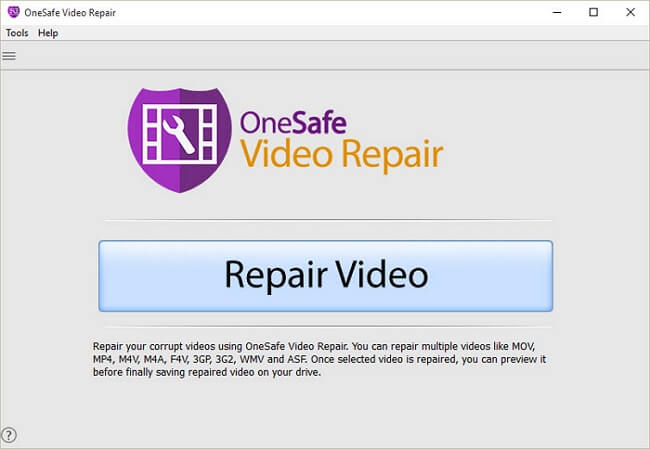 User-friendly interface, basic knowledge of repairing required
Repair videos stored on the hard drive, memory card, and other storage media
Offer the batch repairing feature
Repair different formats of video files, like WMV, ASF, MOV, MP4, M4V, 3G2, 3GP and F4V
Repair corrupt and damaged JPEG or JPG files
Pros: Easy to use to repair videos created in different file formats.
Cons: It doesn't support the Mac Operating system. 
12. Meteorite MKV Video Repair Utility
Meteorite is an MKV or Matroska video repair tool. This free video repair software can repair corrupted MKV video files to make it compatible with your player. Also, you can preview Matroska files that are already in download.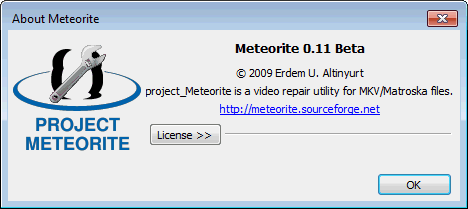 The first and only Matroska/MKV digital repair tool 
Pure C++ code for fast operation
Supports multiple operating systems
Pros: Compatible with Linux, Mac OS X, and Windows systems.
Cons: You can only repair MKV files.
13. Graugmbh Video Repair Tool
Graugmbh video repair software can repair and fix broken or damaged video files, including MOV, MP4, 3GP, M4V, that do not play in your media player.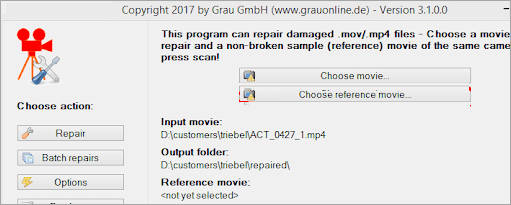 Support various video file formats repair 
Repair corrupted video files taken on many popular cameras
Pros: Support Multiple Windows and Mac operating systems. 
Cons: Demo version file is only half the size of the repaired movie files in full mode.
Repair Corrupted Videos with a Free Online Video Repair Tool
EaseUS RepairVideo is a 100% free and safe online video repair tool that can fix damaged or broken video files of popular formats such as MP4, MOV, GIF, etc. You can easily repair corrupted videos in three steps: upload > repair > download.
Step 1. Upload your video with the corruption issue. You can click the Upload Video button on the left to select a video file, or simply drag and drop the video to the area on the right.
Step 2. Enter your email address and click the Start Repairing button to instantly start the repair. Here, you must make sure the entered email address is valid to send and receive email messages over the Internet. EaseUS VideoRepair will send you a confidential extraction code to the provided email address. You can only download the repaired video by applying the code you received.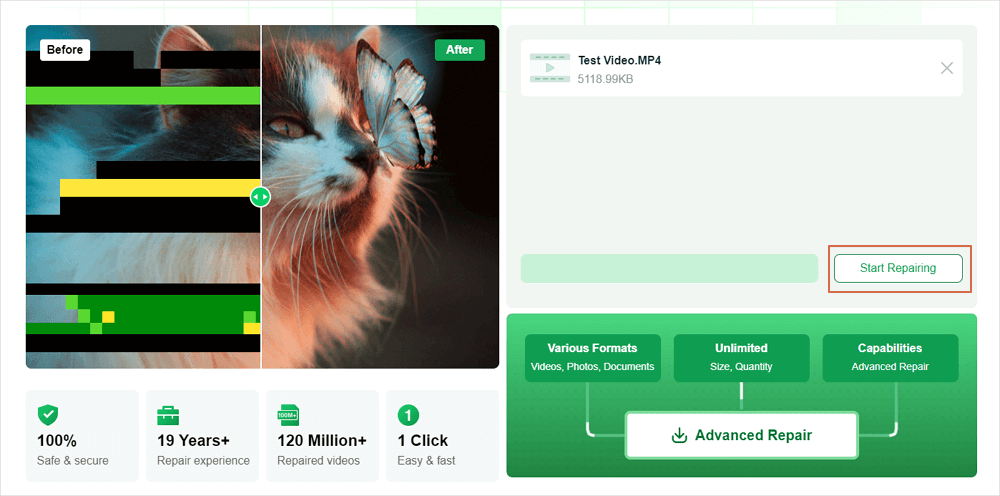 Step 3. The uploading and repairing process goes. You don't necessarily stay all the time waiting because once the session reaches 100% compeletion, you'll receive the extraction code in your mail.
Step 4. In your mail, check the message sent by EaseUS. There you'll remember the extraction code (just leave the page open so you can return to check). Click the View Your Repair button and you'll be guided to the website. Click the Download Video button, then enter the code that is exclusively generated for you, and click OK.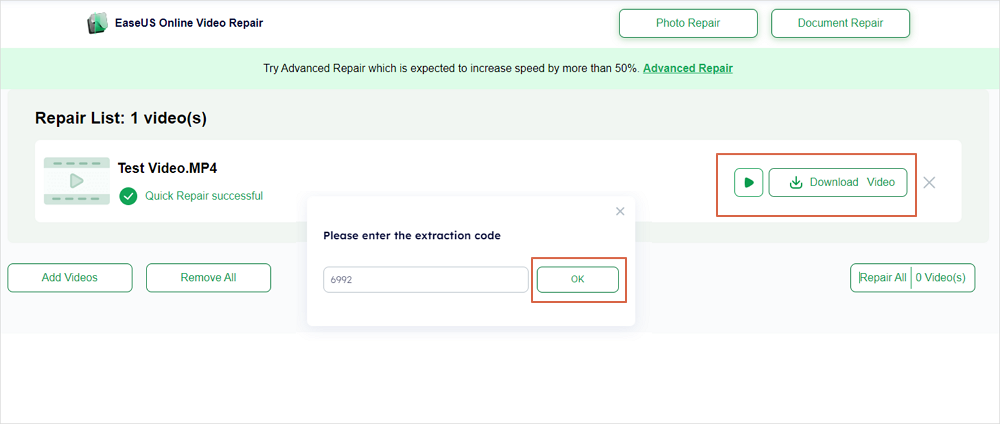 Video Repair Tool Conclusion
The above 13 best video repair software can help you effectively fix damaged videos due to different causes. They can be divided into two categories: the first product is a category, and the other twelve are a type.
EaseUS video repair software is a video recovery and video repair tool that you can't miss if you have lost corrupted MP4 and MOV files. If you just need to repair existing damage videos, you can choose from the remaining nine tools according to your preference.
Video Repair Software FAQs 
If you still have any of the following questions about video repair, check the brief guides.
What is the best video repair software?
You need a video repair tool to fix damaged video files. Here, we have a list of the top 13 best video repair software that can help you repair corrupted video files in no time. Some of these video repair tools work for only certain codecs and operating systems, while some work for all.
Among them, EaseUS video repair tool stands out because of its integrated video recovery and repair features. Free download EaseUS video repair software full version to fix different damaged video format files, like MP4, MOV, and GIF.
How can I fix corrupted video files?
You can fix corrupted video files with EaseUS video repair tool in three steps:
Step 1. Select the device that contains the damaged video files.
Step 2. Scan and fix the corrupted files.
Step 3. Preview the repaired video files and recover them in a safe place.
How can I fix corrupted mp4 files for free?
You can use the free version of EaseUS video repair tool to fix corrupted MP4 files up to 2GB.  Or you can choose Digital Video Repair Free Tool for MP4 repairing, which won't offer the preview option.
How do I fix corrupted mp4 files online?
You can select a reliable and safe online video repair tool to fix corrupted MP4 files without downloading. Usually, it's simple to repair damaged MP4 files online by selecting a video, then uploading and repairing your files.
How do I fix a corrupted video file on Mac?
Here are the top five best Mac video repair software to fix corrupted video files:
EaseUS Data Recovery Wizard for Mac
Stellar Phoenix Video Repair Tool
Yodot AVI Repair
Remo Repair MOV
Meteorite MKV File Repair Tool
Is stellar video repair free?
Stellar video repair software is NOT free. You can download this video repair software on a Windows or Mac OS without any apprehensions, and fix broken or damaged MP4, MOV, F4V, FLV, DIVX, WEBM videos, etc..
Daisy is the Senior editor of the writing team for EaseUS. She has been working in EaseUS for over ten years, starting from a technical writer to a team leader of the content group. As a professional author for over 10 years, she writes a lot to help people overcome their tech troubles.

Cedric Grantham is one of the senior editors of EaseUS who lives and works in Chengdu, China. He mainly writes articles about data recovery tutorials on PC and Mac and how-to tips for partition management. He always keeps an eye on new releases and likes various electronic products.
EaseUS Data Recovery Wizard is a powerful system recovery software, designed to enable you to recover files you've deleted accidentally, potentially lost to malware or an entire hard drive partition.

 Read More

EaseUS Data Recovery Wizard is the best we have seen. It's far from perfect, partly because today's advanced disk technology makes data-recovery more difficult than it was with the simpler technology of the past.

 Read More

EaseUS Data Recovery Wizard Pro has a reputation as one of the best data recovery software programs on the market. It comes with a selection of advanced features, including partition recovery, formatted drive restoration, and corrupted file repair.

 Read More