You played a video game on your computer, but the message "saved game corrupted" appears. Currently, you may be frustrated with this particular problem. Since you are unfamiliar with how to handle this issue on your own. Your first thought is probably that you are going to need a professional to help you with the problem. That isn't the case here, though!
Your computer may have a problem preventing you from playing videos. Normally, you can restart your system after trying to log out and back in. But you can also try restarting your computer again. After trying all of these methods, if the error persists, it might be time to use a repairing tool to solve it.
You will be able to fix a video game on your own by the end of this article. Aside from that, we'll provide you a step-by-step explanation on how to use the EaseUS RepairVideo tool to fix video games online. This professional tool has outstanding features that make video repairing simple.
Causes of Game Video Corruption
There can be many reasons that can cause your game video corruption. Before looking for methods to resolve this issue, try finding the cause. Some of the causes can be
  Video game corruption due to faulty hard disk.
  Video game corruption due to conversion
  Downloading a video game that was contaminated
  The video game contains high pixelation, which is unavailable on your device
Figuring out the cause can help you find the right solutions for your video game to repair and play again.
Why Choose the EaseUS RepairVideo Tool
EaseUS RepairVideo is an excellent tool for repairing corrupted videos for free. This simple and easy-to-use software will assist you in repairing any type of video.
Some of the most notable features of EaseUS RepairVideo are given below:
Supports corrupted games video files in all scenarios:
EaseUS RepairVideo tool will fix all your corrupted, distorted, and blurry videos. This tool provides support for repairing corrupted files stored on removable disks, memory cards, external drives, hard drives, or USB drives. EaseUS RepairVideo can handle video repair and makes sure that no data is lost.
Supports game video repair on all devices:
EaseUS RepairVideo provides convenience by repairing all types of videos, regardless of where they are stored. Data repair from an Xbox device appears to be a challenging process. EaseUS RepairVideo can help you do it quickly and easily. Only if your Xbox is not encrypted then you will be able to repair your corrupt video.
Aside from repairing video games from Xbox only, EaseUS also repairs video games from Nintendo game videos.
Supports all video formats:
This is an outstanding feature of EaseUS RepairVideo, making it a preferred tool. With this video repair tool, you can repair nearly all video formats including MP4, 3GP, AVI, MKV, NPEG, RM/RMVB, 3G2, and FLV. It ensures that the video is repaired correctly without modifying it.
100% free and safe:
One of the main concerns that EaseUS addresses is the complete safety and security of its users' data. Before repairing the video, you will be asked for an email to verify data encryption. When the video has been repaired, you will receive an email with an extraction code. Only you have access to the information you've given EaseUS RepairVideo.
EaseUS RepairVideo is completely free software. Your video damage will be repaired at no cost to you.
How to Repair Corrupted Game Videos Online
You must upload your game videos to the EaseUS online tool, and you may repair all of your videos game with a simple guide. In your browser, go to EaseUS RepairVideo. Either drag and drop the video into the EaseUS repair tool or upload it.
Before you begin repairing the video, double-check that you have entered your email address. Once you provide the EaseUS extraction code sent to your email, you will be able to access the repair video. Download the repair video. 
Step 1. Open EaseUS RepairVideo and Upload Problematic Video
Open EaseUS RepairVideo page: https://repair.easeus.com/, click "Update Video", or drag and drop a corrupted, broken, or not playing video to the right area to upload to EaseUS RepairVideo page.
Step 2. Enter a Valid Email Address and Start Repairing Video
Enter a valid email address and click "Start Repairing" to upload and repair the malfunctioning video.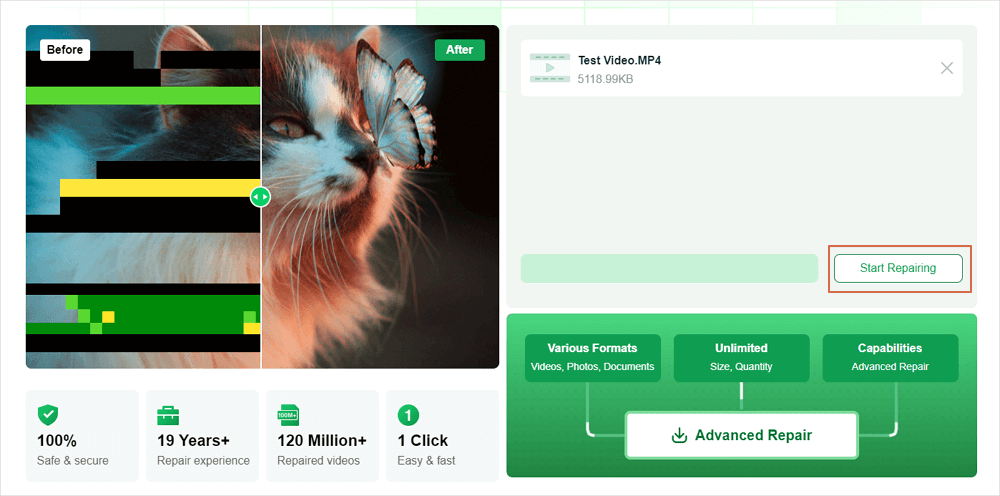 Step 3. Wait for the Automatic Uploading and Repairing Process to Finish
EaseUS RepairVideo will automatically upload and repair the corrupted or broken video for you. You can leave the repairing page opened and continue doing other stuff.
Step 4. Enter Extraction Code and Download Repaired Video
When the repairing process completes, you can preview the video at the right pane. Also, you'll receive an email with a video extraction code.
Go and find the code, reopen the EaseUS RepairVideo page. Then click "Download Video" and enter the extraction code, click "OK" to start downloading the repaired video.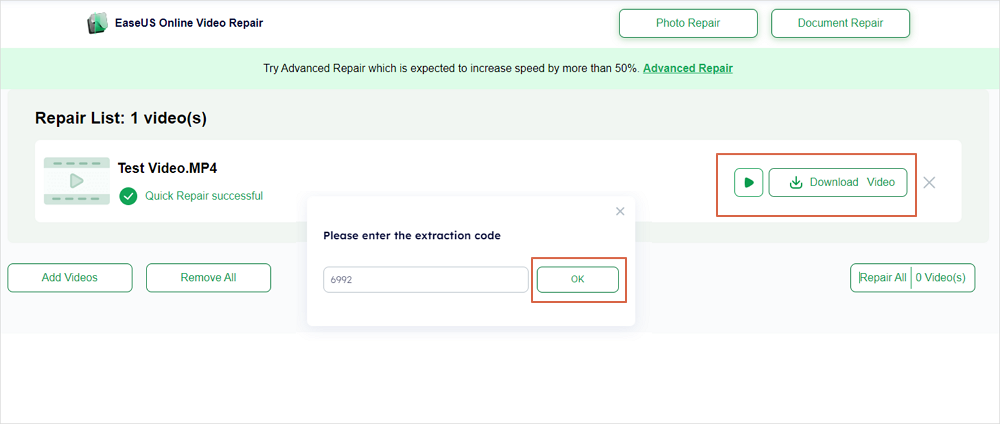 Conclusion
Many people instinctively replace their electronic device or give up on their video game if it isn't playable. No matter which device your video game is saved on, you don't need to worry! With the EaseUS RepairVideo tool, all your videos are fixable and recoverable just with some easy steps.
Free yourself from the frustration of not being able to access your favorite game. Download EaseUS RepairVideo software now or use it online on your browser and get back to playing your favorite video games.

Brithny is a technology enthusiast, aiming to make readers' tech life easy and enjoyable. She loves exploring new technologies and writing technical how-to tips. On her spare time, she loves sharing things about her favorite singer - Taylor Swift on her Facebook or Twitter.