| Workable Solutions | Step-by-step Troubleshooting |
| --- | --- |
| Fix Corrupted Video from SD Card | Attach SD card to device > right-click on the corropted video > select "Rename" > change file format to ".avi"...Full steps |
| Repair Broken Videos on Windows | Run EaseUS Data Recovery Wizard > choose specific drive > click "Scan" > select specific video format...Full steps |
| Fix Corrupted Video on Android | Open EaseUS Video Repair > click "Update Video" > enter a valid email address > click "Start Repairing"...Full steps |
Fixing the corrupted videos successfully on Windows has no longer remained a hectic task. A few clicks, and you will be done perfectly with it. There can be different reasons behind video file corruption. It is one of the most annoying situations that prevent you from accessing your memories or essential content. And that is the main reason why it gets pretty crucial for a person to repair these corrupted videos on Windows using quality video repair tools. 
Why Do Videos Get Corrupted
Different reasons serve behind the corruption of the video files. It may happen due to technical glitches or can also occur due to the presence of bad sectors in the storage device. Moreover, malware infection and improper video transfer also serve behind the corruption of videos. Here we are with the main reasons that are mainly responsible for video corruption.
Malware or viral attack: The presence of different malware or viruses serves to be the main reason behind the corruption of the videos and hence makes it difficult for the video players to process these files.
Premature shutdown: The video files also get corrupted when knowingly or knowingly shut down these files while playing prematurely. These are scenarios where the video playback is not closed before the shutdown starts. It further damages the critical element of the video file and hence further leads to its corruption.
Usage of low-quality video players: The usage of low-grade third-party video editors or players may also affect the requisite properties of the videos and hence cause these files to become corrupted.
Storage medium damage: Any physical damage caused to the storage mediums such as hard drives or memory cards or their careless handling can also affect the viability of a video file.
Alteration of file structures: Any damage to the file's header, metadata, or module is tampering that can affect the original status of the video files and hence can further lead to their corruption.
Can I Recover My Corrupted Videos
We understand your concern, and we are here with three different solutions to guide you on corrupted video file repair. You can go through the details of each section and can select the solution that suits your requirements well.
How to Fix Corrupted Videos on Windows 10/Android/SD Card
Before we start with the fixes, always follow the backup rule. It is a good idea to create a secure backup of your data so that you can easily access it whenever and wherever required. So even if the file is corrupt, you can always copy files from the backup section. 
But if you do not have an option, this guide includes three methods for recovering corrupted videos on Windows 10/Android/SD Cards. You can easily select the one that fits your needs well.
Method 1. Fix Corrupted Video from SD Card with VLC Media Player
A lot of SD card users have reported facing server corruption of videos. These issues have been recorded from digital cameras and phones as well. The VLC media player has emerged as a great savior here as it includes an in-built index repair feature that helps resolve the issue and repair perfectly. 
One can easily fix the AVI video files manually and can fix the corrupted videos from an SD card with VLC Media Player. Here is the detailed process of how to do all the things perfectly.
Step 1. Attach the SD card to your device and open the corrupted video file. Right-click on the corrupted video file and then select "Rename". You now have to change the file format to ".avi".
Step 2. Press "Enter" to proceed further with the process. Launch VLC Media Player on your device. Tap on the Tools segment, followed by selecting "Preferences".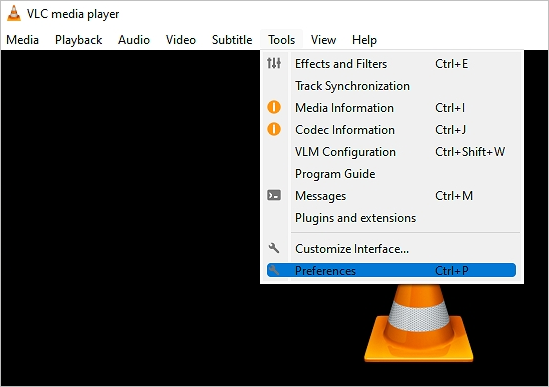 Step 3. The next thing you have to do is to switch to the Input/Codecs section. Once done, the Inputs/Codecs Settings window will open up. Now go to the files section and select "Always fix" in the Damaged or incomplete AVI file option.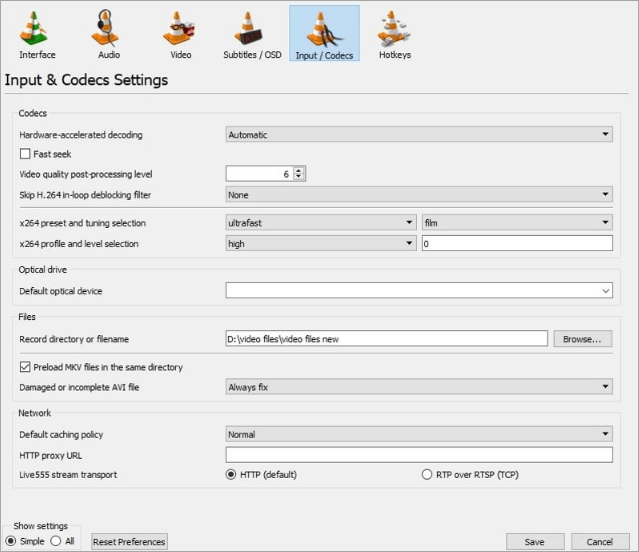 Step 4. Now tap on "Save" to successfully save your changes. Launch the corrupted video file with VLC. Bingo! You have resolved the issue, and the corrupted video file runs successfully with the VLC media player.
Method 2. Repair Broken Video Files on Windows 10 with Video Repair Software 
Have you deleted your videos accidentally, or have they been corrupted? If yes, don't worry, as we have the absolute solution for you: EaseUS Data Recovery Wizard. Trusted by billions of users globally, it is a perfect data recovery wizard that helps you recover all lost files, documents, photos, and videos. It can recover deleted, formatted, partition loss, virus attack, OS crash, or have gone through other data loss scenarios. It is the perfect way to get your precious data back conveniently. 
EaseUS file repair tool repairs corrupted MP4/MOV, photos (JPEG/JPG), and documents ideally. It is a powerful l tool that serves users different advanced features to enjoy, such as:
Repair corrupted or damaged files perfectly
Provide a preview of the files before recovery
Provides free remote assistance
Ensures flexible scanning modes for convenient access
Works well on different file formats
You can follow the steps below to repair your broken video files on Windows 10 with EaseUS Data Recovery Wizard:
Step 1. Run EaseUS Data Recovery Wizard. Choose the correct drive which contains the corrupted videos. It can be a removable disk or a local drive. Then, click "Scan" to start.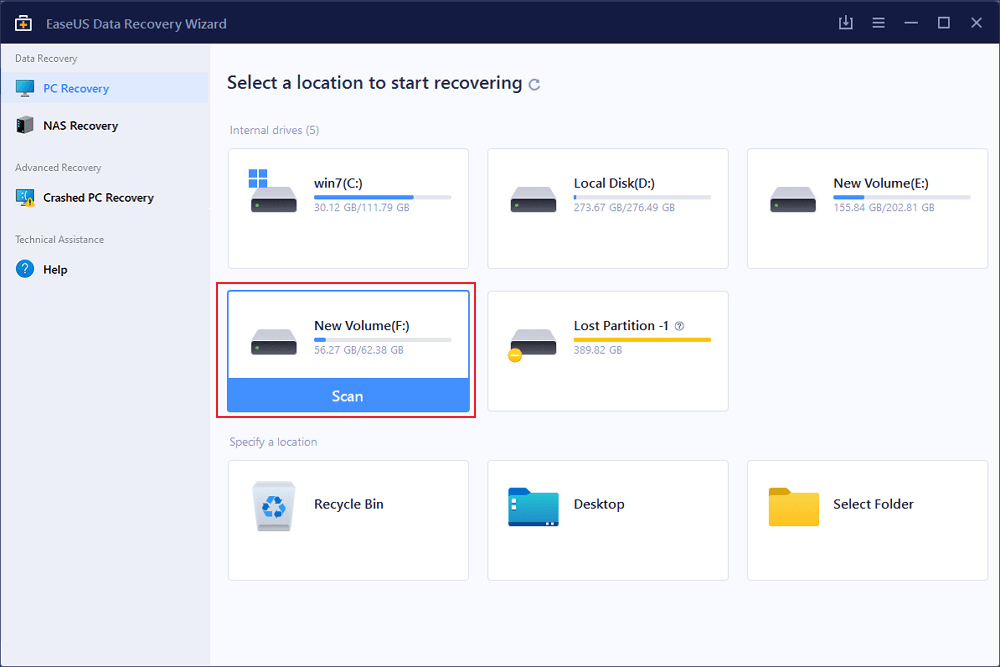 Step 2. This program will scan all over the selected drive and display all files (including lost and existing files). You can select Videos under the file type on the left side, then, select a specific video format, such as MP4, MOV, GIF, etc. Or, you can even quickly find the files you want to repair based on the brand of camera that shot the video.
Step 3. When you can preview the video, the software has fixed it for you. Finally, click "Recover" to restore the fixed videos to a different location to avoid data overwriting.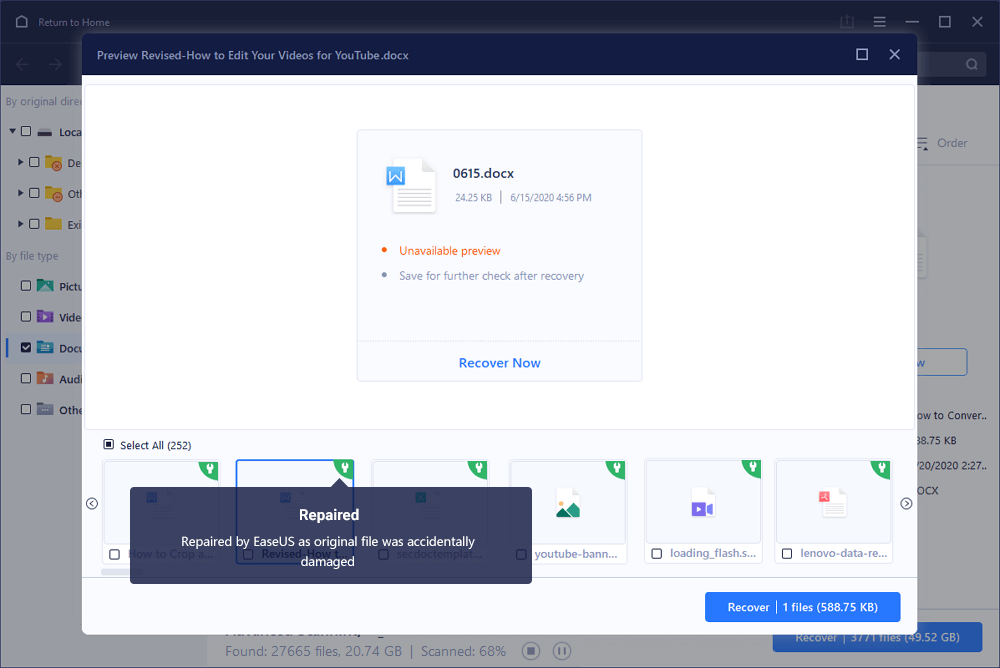 Method 3. Fix Corrupted Video on Android with Online Video Repair Tool 
One can also fix corrupted video on Android using one of the leading online video repair tools, i.e., EaseUS Video Repair. It is a feature-loaded option that can take care of your deleted or formatted data perfectly. 
Perfectly repair corrupted or unrepairable video files
Provides free services to the users
Features straightforward and easy-to-go interface
Works well on different file formats
You can follow the steps below to repair your corrupted video files on Android:
Step 1. Open EaseUS RepairVideo and Upload Problematic Video
Open EaseUS RepairVideo page: https://repair.easeus.com/, click "Update Video", or drag and drop a corrupted, broken, or not playing video to the right area to upload to EaseUS RepairVideo page.
Step 2. Enter a Valid Email Address and Start Repairing Video
Enter a valid email address and click "Start Repairing" to upload and repair the malfunctioning video.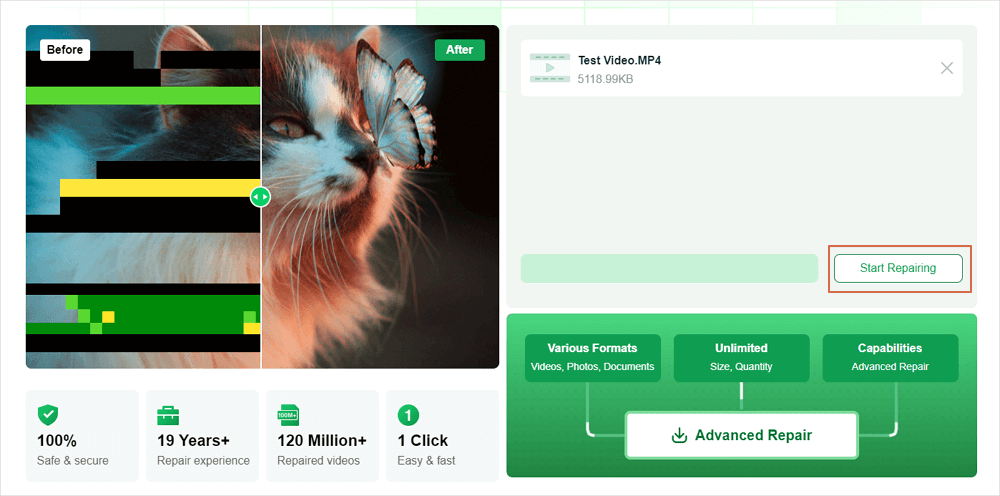 Step 3. Wait for the Automatic Uploading and Repairing Process to Finish
EaseUS RepairVideo will automatically upload and repair the corrupted or broken video for you. You can leave the repairing page opened and continue doing other stuff.
Step 4. Enter Extraction Code and Download Repaired Video
When the repairing process completes, you can preview the video at the right pane. Also, you'll receive an email with a video extraction code.
Go and find the code, reopen the EaseUS RepairVideo page. Then click "Download Video" and enter the extraction code, click "OK" to start downloading the repaired video.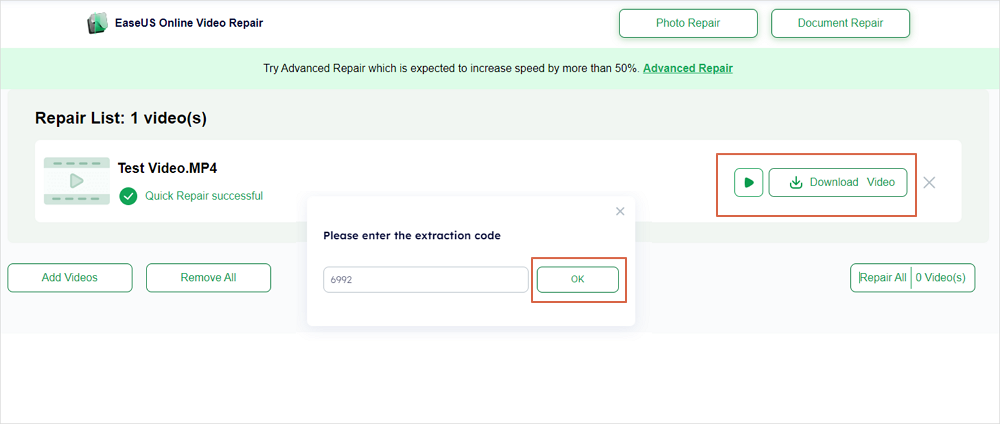 Tips to Avoid Video Corruption on Windows 10 
Avoiding video corruption is not a big issue. Make sure to deal with the video files carefully and be organized throughout, so you stay prevented from creating any mess. Here we are with the best tips to help prevent and fix corrupted video files.
Install antivirus: One can easily prevent virus and malware attacks to a greater extent with an antivirus. Make sure to install a decent antivirus on your device and update it regularly. We advise you to opt for advanced, secure, and comprehensive security to your PC and other external storage drives.
Insert or eject external drives very carefully: Taking out the external drives from the computer system abruptly may also lead to video file corruption or unreadable media. And that's why you should follow the complete procedure of inserting and ejecting the external drives very carefully.
Use the copy of the original video file: Rather than just working on the original video file, permanently save a copy of the original video file and work on this copy for editing the video or converting it to some other format. It is the best thing one could do to keep things in your favor, even if something is happening wrong with your file.
Make use of the storage devices carefully: Storage devices are supposed to be quite vulnerable to corruption. Whether a pen drive or a hard drive, the risk of video corruption is relatively higher in each segment. Different logical and physical issues such as file system corruption, heat, liquid, and electrical surge can damage or corrupt your video files. Use these storage devices carefully and use the best practices to avoid these issues eventually.
Ensure proper transferring: Proper video footage transfer between the devices can also effectively prevent video corruption. Make sure to enable the transfer of videos without causing any interruption.
Conclusion
Managing video files is easy, especially with backups. Yet, video corruption is one of the most common issues but also annoying as it prevents you from accessing your stored data. We have suggested three different methods for effectively fixing the corrupted videos on Windows. Using a data recovery tool like EaseUS Data Recovery Wizard can be a great help for you anytime. It is the perfect tool that can help you get your data back without effort. 

Cedric Grantham is one of the senior editors of EaseUS who lives and works in Chengdu, China. He mainly writes articles about data recovery tutorials on PC and Mac and how-to tips for partition management. He always keeps an eye on new releases and likes various electronic products.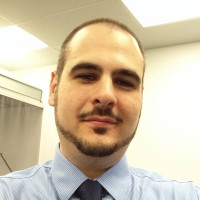 Approved by Evan Galasso 
Evan Galasso is a digital forensics and data recovery engineer with over 10 years of experience in the field. He presents opinions on the current state of storage media, reverse engineering of storage systems and firmware, and electro-mechanical systems of SSDs and HDDs.