In today's world, videos are more important than ever. They allow us to capture memories, connect with friends and family, and stay up-to-date on the latest news and events. They are easy to produce and can be shared across a wide variety of platforms. However, videos can also be delicate and easily damaged. When a video is damaged or distorted, it can be difficult to watch and enjoy. This is where video repair software comes in. Video repair software can help to fix errors in videos, allowing you to enjoy your content without any interruptions. Keep reading and you can get the best video repair software and the most effective video repair solutions.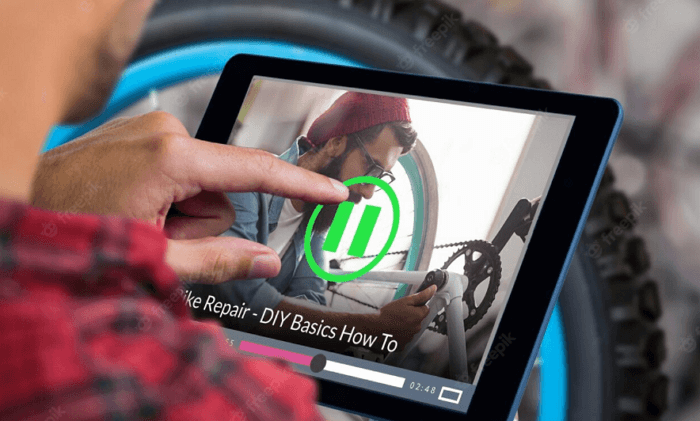 Causes - What Cause Corrupted/Damaged Videos
Anyone who has ever tried to repair a video, including MP4, AVI, MOV, or M4V video, knows that it can be a challenge. There can be many causes for a corrupted or damaged video. 
Video Compression Error
Different video formats have different levels of compression, which can impact the quality of the video. For example, a video that is highly compressed will have a lower quality than a video that is less compressed.
Transfer Interruptions
This can happen if you're trying to download a video from the Internet and your connection drops, or if you're copying a video file from one location to another and the process is interrupted for some reason.
Video Transfer Error
Finally, a video can also become corrupted or damaged if it is transferred from one device to another using an unreliable method, such as emailing the file instead of using a cloud-based storage service.
Incorrect Video Conversion
This can happen if you try to open a video file in a program that doesn't support that file type. For example, trying to open a .avi file in QuickTime Player would likely result in playback issues because QuickTime Player can't open .avi files.
Video Storage Device Issue
If a video is stored on a computer, it is susceptible to data corruption if there is a problem with the hard drive or another piece of hardware. If a video is stored on an external storage device, such as a USB drive or SD card, it can become corrupted if the device is damaged or formatted incorrectly.
Virus Attack
Certain viruses and malware programs can damage or corrupt video files. If you suspect that your computer is infected, you should run a virus scan as soon as possible.
Partial or Incomplete Downloads 
If only part of a video file is downloaded, the video will likely be unplayable.
As a result, repairing a video can be both time-consuming and expensive. However, there are a few simple steps that can be taken to repair videos. First, try to identify the source of the damage. 
If the video is water damaged, try to dry it out as quickly as possible. 
If the video is heat damaged, try to cool it down. 
If the video is physically damaged, try to repair the damage. 
Once the source of the damage has been identified, you can begin to repair the video with the best video repair software.
Tools - What Is the Best Video Repair Software
Video repair software works by analyzing the video file and then repairing any errors that it finds. The software typically uses a combination of techniques to fix the video, including correcting file headers, rebuilding frames, and more. In most cases, the repairs are made without affecting the quality of the video. What is the best video repair tool? How can I repair corrupted AVI, MP4, MOV, or M4V videos for free? 
EaseUS RepairVideo is the best video repair tool that can help you repair various types of video files. It is designed to fix videos that are corrupted or damaged. This video repair software stands out among the video repair tool for its fantastic features.
Remarkable Features You're Expecting
Let's see how the features work to simplify and secure your video repair job.
01
Support for All Popular Video Formats:
EaseUS RepairVideo supports all popular video file formats such as MP4, MOV, 3GP, AVI, MKV, AVCHD, MJPEG, WEBM, ASF, and WMV, FLV, DIVX, MPEG, MTS, M4V, 3G2, F4V, etc.
02
Compatible with Any Device:
The video repair tool can repair videos shot from DSLRs, digital cameras, drone cameras, surveillance cameras, Android phones, iPhones, iPad, and other devices.
03
Repair Videos in Any Situation:
With this tool, you can easily repair videos that are corrupted or damaged due to virus attack, system crash, unexpected power off, editing/recording/converting errors, etc.
04
100% Safe and Secure:
EaseUS RepairVideo is a 100% safe and secure tool for Windows & Mac users. This online video repair tool is free from any kind of virus, malware, or Trojan.
The Best Free Video Repair Tool Online
To effectively deal with your video corruption challenges, an online video repair tool can do the magic you are actually in need of. We present the 5 best video repair tools to repair corrupt video files for you.
EaseUS RepairVideo
Kernel Video Repair online
Wondershare Video Repair Online
Fix.video
Videorepair
The Best Video Repair Software
video repair online tools and video repair software are both designed to fix video files that have been damaged or corrupted. However, there are a few key differences between them. The online video repair tools are typically more user-friendly, as they do not require any installation or technical knowledge. However, video repair software often offers more features and options, such as the ability to preview the repaired video file before saving it. As a result, it may be worth investing in video repair software if you need to frequently repair video files. To save your time, we picked the top 5 best video repair software based on their features, ease of use, format system support, and other features.
Digital Video Repair
Kernel Video Repair
Stellar Video Repair Tool
VLC Media Player
EaseUS Data Recovery Wizard...
Software Walkthrough - How to Repair Corrupted Video Files
A video repair tool can repair and fix corrupted videos stored in any device, including camera memory card, memory stick, CF card, USB flash drive, SD card, SDXC, SDHC, HDD, SSD, and others. To repair damaged videos, follow the methods below.
Method 1. How to Repair Corrupted Video Online
If you have ever encountered a corrupted video file, you know how frustrating it can be. Although there are lots of ways to repair damaged video files, one of the most effective is to use EaseUS RepairVideo. This online video repair service can help repair MP4/MOV files online that are corrupted due to compression, conversion, or other issues. Let's fix corrupted videos together. Upload...Repair...Save!
Step 1. Upload your video with the corruption issue. You can click the Upload Video button on the left to select a video file, or simply drag and drop the video to the area on the right.
Step 2. Enter your email address and click the Start Repairing button to instantly start the repair. Here, you must make sure the entered email address is valid to send and receive email messages over the Internet. EaseUS VideoRepair will send you a confidential extraction code to the provided email address. You can only download the repaired video by applying the code you received.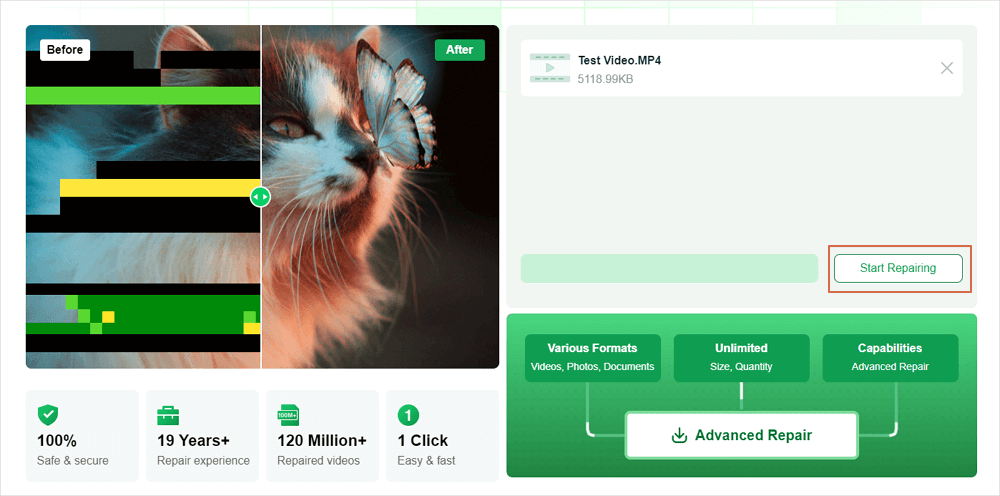 Step 3. The uploading and repairing process goes. You don't necessarily stay all the time waiting because once the session reaches 100% compeletion, you'll receive the extraction code in your mail.
Step 4. In your mail, check the message sent by EaseUS. There you'll remember the extraction code (just leave the page open so you can return to check). Click the View Your Repair button and you'll be guided to the website. Click the Download Video button, then enter the code that is exclusively generated for you, and click OK.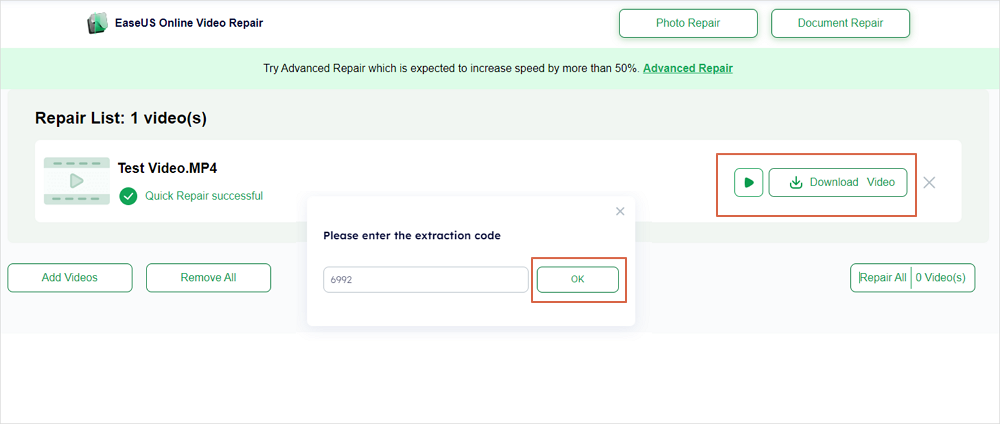 Method 2. Repair Corrupted Video with Video Repair Software
If you repair a video online, your repair experience will be affected by the Network speed, the video size, and the file type. If you don't want to be bothered by the Network speed, you can repair video locally with video repair software. EaseUS Data Recovery Wizard is designed to repair all types of video files, including those that are corrupted.
In addition, it is very easy to use. Simply download and install the software, then run it and select the video file that you want to repair. The software will then scan the file and repair any damage that it finds. In most cases, your video will be repaired within minutes.
How to Prevent Video Damage or Corruption
Video repair can be a tough process. Thus, you should take some steps to minimize the video corrupt risk. There are a few things you can do to prevent video damage or corruption.
Make sure you're using reliable storage media and devices.
Be sure to regularly back up your data to prevent loss in the event of a drive failure.
Keep an eye on the file format of your videos. Avoid changing the video format of the source media.
Avoid exposing storage media to extreme temperatures or physical shocks, which can damage the data stored on them.
When transferring videos from one device to another, be sure to use a secure method that won't corrupt the files.
Video Repair FAQs
With the video repair software, you may have repaired video files successfully. If you have other problems like video game repair, camera video repair, or VLC video repair, you can turn to the FAQs here. We've compiled a list of the most frequently asked questions to help you get started.
1. Can I recover my corrupted video files?
Yes, you can. Files can become unplayable from the system and can become corrupted if the system is also corrupted. You can easily uncorrupt these video files and repair them by using different methods and video repair tools available online.
2. How can I repair a damaged video file?
You can fix corrupted videos for free using EaseUS RepairVideo:
Step 1. Open EaseUS RepairVideo and Upload Problematic Video
Step 2. Enter a Valid Email Address and Start Repairing Video
Step 3. Wait for the Automatic Uploading and Repairing Process to Finish
3. How to repair corrupted MOV files?
To repair corrupted MOV files, you can use a video file repair tool such as EaseUS RepairVideo
Step 1. Drag & drop MOV videos directly from the specific location.
Step 2. Input your valid email address on the box and click Start Repairing.
Step 3. Go to your email to check the extraction code. Enter the extraction code and download the repaired MOV video.
4. How long does it take to repair a video?
The amount of time it takes to repair a video will also depend on the severity of the damage and the type of necessary repairs. In most cases, it will take between one and two hours to repair a video. However, if the damage is severe or the repairs are complex, it may take longer.
5. What is the best video repair tool?
Our top 5 best free video repair software picks for 2022:
EaseUS RepairVideo
EaseUS Data Recovery Wizard
Stellar Video Repair Tool
Yodot AVI Repair
Remo Repair MOV
6. How do I uncorrupt an MP4 file?
Follow the steps below to repair MP4/MOV files:
Step 1. Run EaseUS Data Recovery Wizard.
Step 2. Select the video and click scan.
Step 3. When you can preview the video, the software will fix it for you.
Step 4. click "Recover" to restore the fixed videos to a different location to avoid data overwriting.
7. How do I repair the VLC media player?
Follow the steps below:
Open VLC and head to Tools > Preferences. 
Under Input/Codecs, look for the Files section. 
Under the Damaged or incomplete AVI file dropdown, choose Always Fix.
Conclusion
In conclusion, repairing your MP4/MOV/AVI videos can be a simple and effective way to fix common problems. By following the steps outlined in this article, you can repair most video files in just a few minutes. In addition, by using a reliable repair tool, you can be confident that your repaired videos will be of high quality and will play back smoothly.

Brithny is a technology enthusiast, aiming to make readers' tech life easy and enjoyable. She loves exploring new technologies and writing technical how-to tips. On her spare time, she loves sharing things about her favorite singer - Taylor Swift on her Facebook or Twitter.