
Table of Contents

About the Author

Related Posts
[Fixed] QuickTime Player Can't Open MP4, MOV, or AVI
QuickTime is one of the most popular built-in media players on Mac. This media player lets Mac users enjoy various file formats, personal media, and internet videos in remarkably high quality. It has a simple design and easy-to-use controls that make it convenient for all Mac users.
This multimedia player is quite popular due to its following features:
It has an uncluttered interface that makes everything you wish to watch more enjoyable.
It supports various Window formats like MPEG-4 files (MP4, MP3, m4V)
QuickTime Player has a handy slide that lets you enjoy your movie at any playback speed you wish.
It offers its users a pristine video quality that gives everything you wish to watch a brilliant quality.
All these features make this video player one of the most preferred video players on Mac. But sometimes, you can't open a file on QuickTime; why's that?
Why Can't QuickTime Player Open the Video File
Sometimes QuickTime can fail to access your video file. It can be very disappointing as you might want to play an important business video for your boss or might want to watch your favorite web series. Before jumping in on how to fix such an issue, it's important that you find out that what are the probable causes leading to the videos not being played.
There can be several reasons that can lead to stopping the video player from playing your video. Some of those reasons can be:
Your system is infected with Malware. You might want to scan your Mac with reliable anti-virus software.
The video file has a codec missing.
Your file got corrupted
Your Mac has some internal errors in its software
QuickTime Player's internal issue. Your version might be outdated and you need to update it.
Whatever the reason, you can still play your videos using the suitable method to fix your issue.
How to Fix the QuickTime Player Open Issue Efficiently
Here are five methods to help you fix your QuickTime player not playing my video issue:
Fix 1. Repair Corrupted Videos with EaseUS Data Recovery Wizard
EaseUS Data Recovery Wizard for Mac is a data recovery tool for Mac users. It can recover videos from your local Mac, SD cards, external hard drives, SSD, HDD, and other storage devices. It is also a video repair tool, and this option can only be used for Pro users. You will only need to add the corrupted video, and the repair will take a few minutes.
It has an advanced video repair option. If the video repair failed, you could add some sample videos to help this tool analyze your corrupted video and repair it successfully. We have prepared a tutorial with pictures. You can check the following steps if you don't know how to operate it:
Step 1. Add your broken/damaged videos
Open EaseUS Data Recovery Wizard for Mac. Click "Add" or drag the corrupted MP4/MOV/AVI/MKV/3GP/FLV/MKV/WMV video files to the repair list.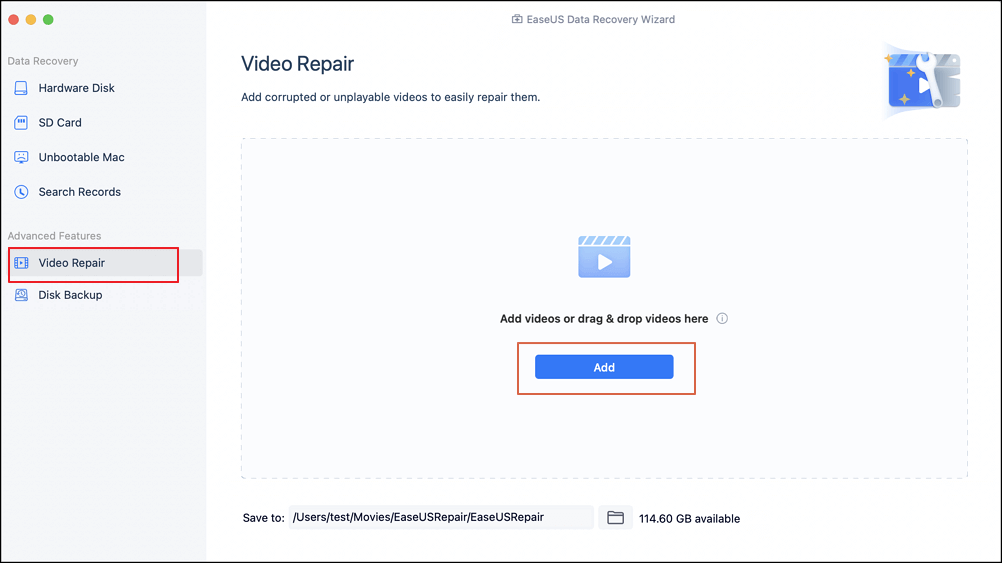 Step 2. Start repairing video files
Select the damaged video files from the list and click the "Repair" button to start the video repairing process. If you want to repair all of the videos, click "Repair all".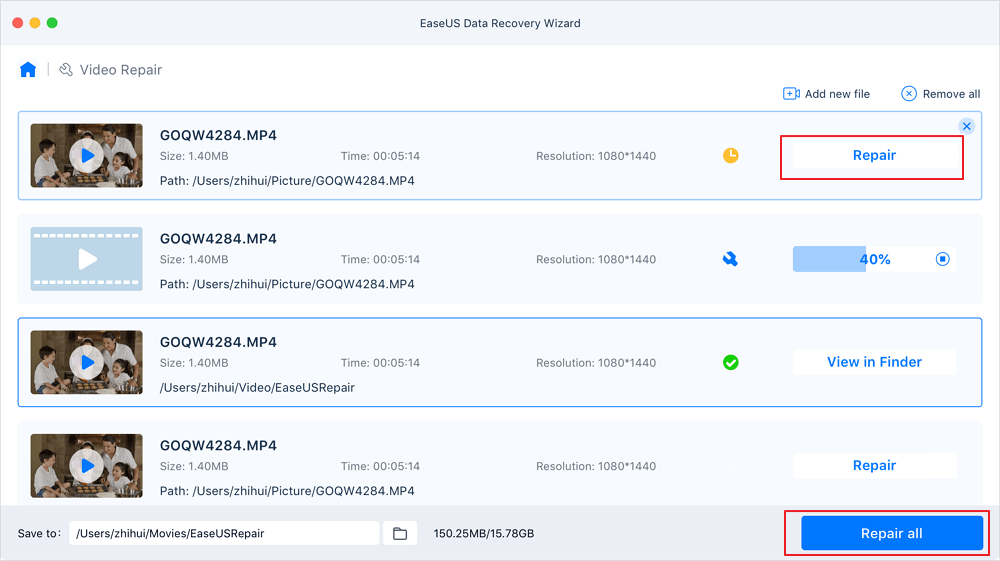 Step 3. Preview and save broken videos
After a few minutes, you can find the damaged videos repaired. Before clicking the "Save to" button, click "View in Finder" to check the videos.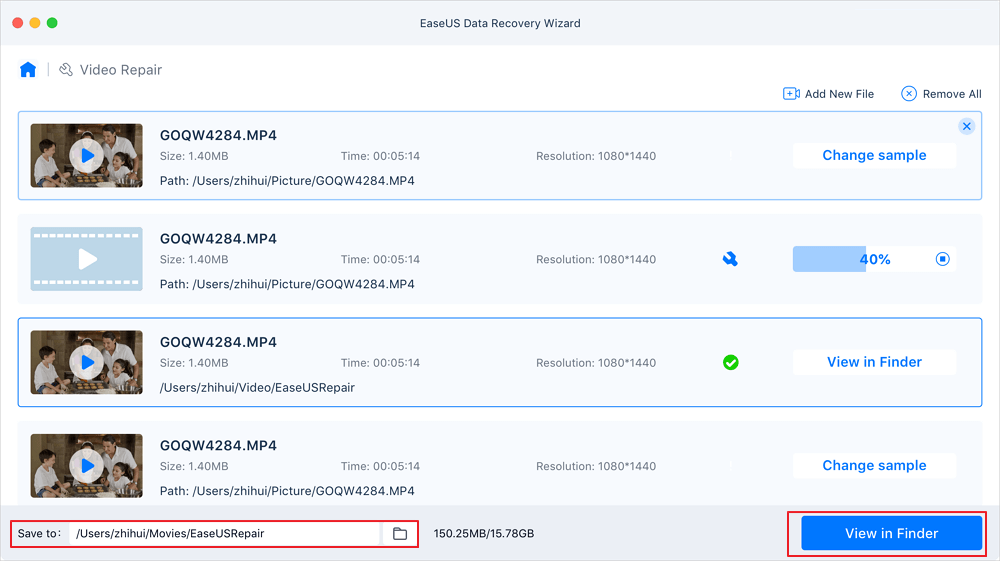 Step 4. Utilize the advanced repair mode
If the videos are not repaired successfully, it means the videos were damaged severely. You need to move on to the "Advance Video Repair" mode, which utilizes sample video files to increase the video repair rate. Click "Add" to upload corrupted videos.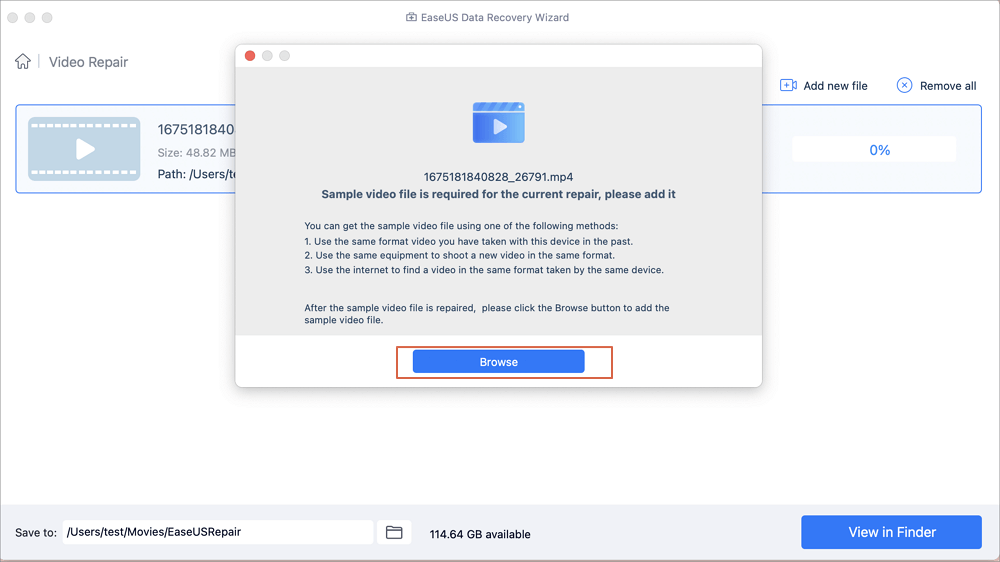 Step 5. Check the videos and start video repair
The video repair tool will check and scan your video automatically. After the process, click "Start repair" to repair the severely damaged videos.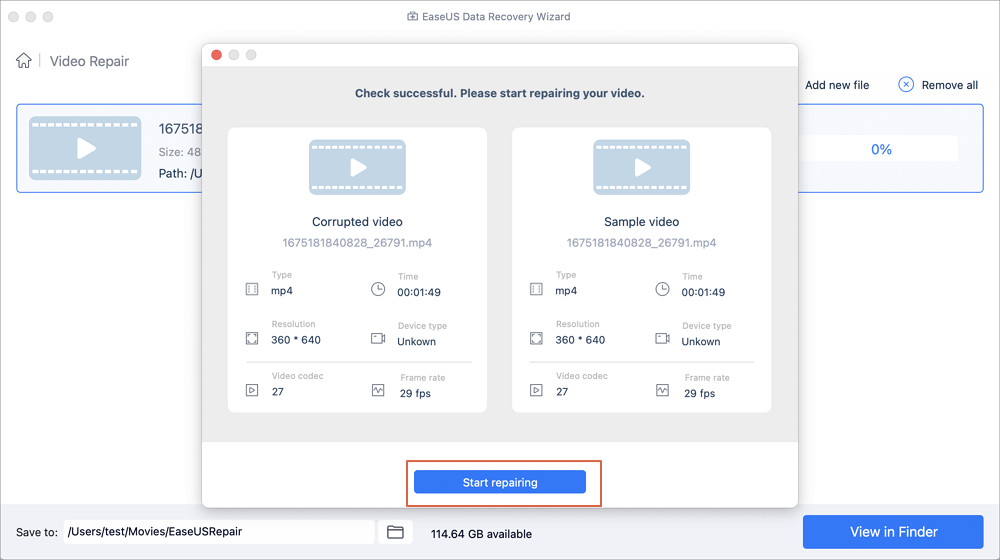 Finally, you can view the videos in Finder and click the "Save to" button to save the repaired video files to an appropriate destination.
Fix 2. Use A Different Codec
Digital videos are compressed to adjoin different multimedia streams like audios and videos, and this connection comes into place using a codec algorithm.
Codec is also used to convert digital info into a readable format. So if your file is unable to open on QuickTime, there is a chance that your Mac is not prepared to read this video's codec. To find out the codec of your file, you can follow these steps:
Step 1. From the Windows tab of the opened video file, select "show movie inspector".
Step 2. A dialogue box will appear showing the video's source, format, FPs, size, data size, and data rate. You should look out for "Format" to view all your media's codecs.
Here are all the audio and video codecs supported by QuickTime:
Video Codec: MPEG-2 (OS X Lion or later), MPEG-4 (Part 2), H.264, H.263, H.261
Audio Codec: AAC (MPEG-4 Audio), HE-AAC, Apple Lossless, MP3
Check if your video has any of these formats. If not, activate the required Codec support. You can download third-party apps as well to assist QuickTime to recognise all the video and audio formats.
Fix 3. Play Files Using a Different Media Player
If the above method does not work for you, you can use a different media player installed on your Mac device. VLC and Mplayer can be used whenever you experience a playback issue on your QuickTime media player.
Here are some steps that you can follow to play your videos on VLC instead of QuickTime:
Step 1. Install VLC Player on Mac and right-click on the video file that you want to play on the VLC player.
Step 2. From the appeared options, choose "open with" a dialog box will appear; from the box, select the "VLC Player" option.
Once all the steps are completed, your video is ready to be played in the VLC Media Player.
Fix 4. Convert the File Format to QuickTime Supported Format 
If your file doesn't play on QuickTime, try transcoding the original video into an encoding format supported by the QuickTime player. You can change the extension by renaming the file. Replace the .mp4 extension with .avi in the file's name.  
You can also download other third-party software which can convert videos to QuickTime player-compatible format.
Fix 5. Repair Your Corrupted Video Files with EaseUS RepairVideo
Sometimes, your video can get corrupted, causing your video to be unplayable in the QuickTime Media Player. To repair your lost/damaged video and make it payable on your QuickTime Media Player, you need professional and 100% safe video repair software. 
 EaseUS RepairVideo is a free video repair tool that can help you with all sorts of unplayable videos. It assists you in fixing broken videos in recording & shooting, converting, and transferring.  EaseUS free video repair tool allows you to repair damaged videos on variable devices, such as repair YouTube videos, or fix video files from PC, Mac, and mobile devices. 
Additionally, it supports all the video formats you might possibly need including mp4, mov, mkv, avi, mpg, and many, many more!
Step 1. Open EaseUS RepairVideo and Upload Problematic Video
Open EaseUS RepairVideo page: https://repair.easeus.com/, click "Update Video", or drag and drop a corrupted, broken, or not playing video to the right area to upload to EaseUS RepairVideo page.
Step 2. Enter a Valid Email Address and Start Repairing Video
Enter a valid email address and click "Start Repairing" to upload and repair the malfunctioning video.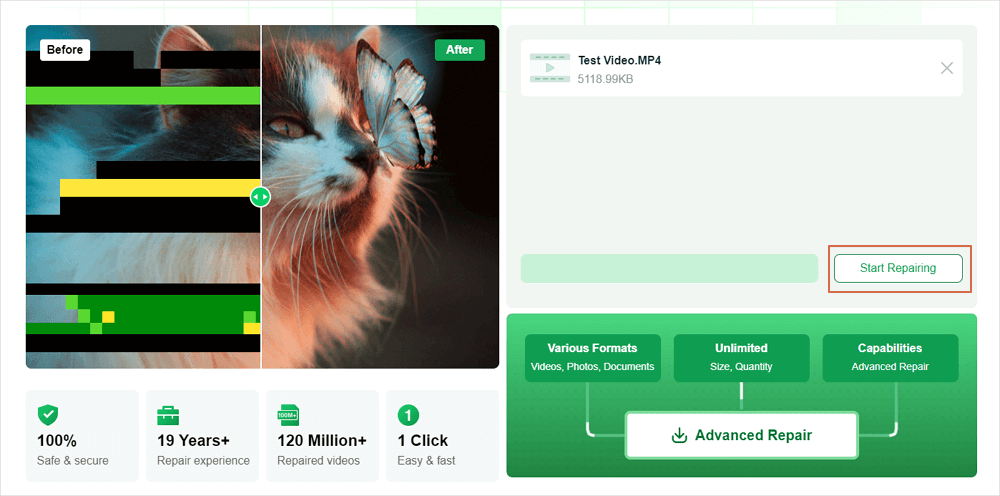 Step 3. Wait for the Automatic Uploading and Repairing Process to Finish
EaseUS RepairVideo will automatically upload and repair the corrupted or broken video for you. You can leave the repairing page opened and continue doing other stuff.
Step 4. Enter Extraction Code and Download Repaired Video
When the repairing process completes, you can preview the video at the right pane. Also, you'll receive an email with a video extraction code.
Go and find the code, reopen the EaseUS RepairVideo page. Then click "Download Video" and enter the extraction code, click "OK" to start downloading the repaired video.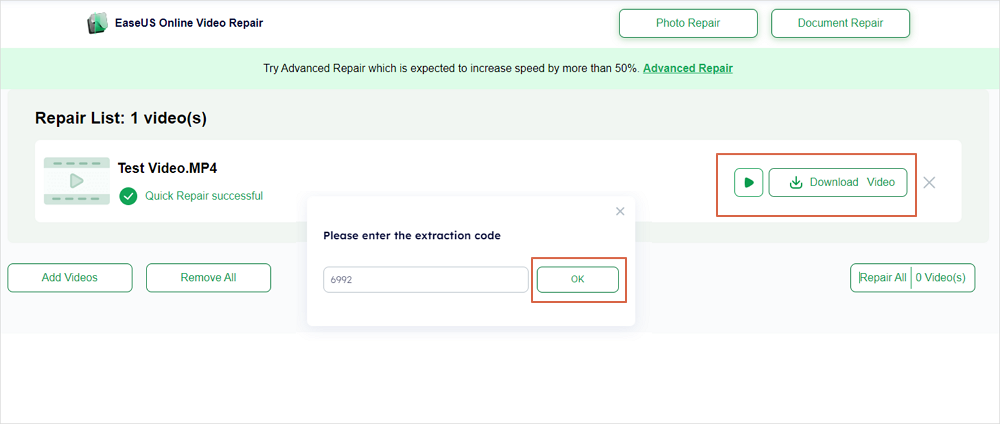 Fix 6. Install the Latest Version of QuickTime
If your video is not playable on your QuickTime, try installing the latest version of QuickTime. QuickTime 7 Pro is the newest media player that can handle all the video formats and lets you play and open any video file without causing any trouble.
To check your version, click on the tab ''QuickTime Player'' and then ''About QuickTime Player''. 
Conclusion
QuickTime can usually play your videos without causing any codec error, but sometimes it may cause you trouble playing your video. All the methods mentioned above are equally beneficial for playing your MP4 or MOV videos on QuickTime. By simply reading and following the steps, you can solve all your QuickTime Player can't open my files issues.
Also, it is worth mentioning that the EaseUs RepairVideo tool is one of the best tools to repair your videos and let you play them on your media player without harming your file's audio or video quality. You can download this software and feel free from the tension of losing your video.
About the Author

Cedric Grantham is one of the senior editors of EaseUS who lives and works in Chengdu, China. He mainly writes articles about data recovery tutorials on PC and Mac and how-to tips for partition management. He always keeps an eye on new releases and loves various electronic products.