
Table of Contents

About the Author

Reviews and Awards

Best Data Recovery Software
Updated by
Dany
on Jan 19, 2023

"I have a necessary file on my Mac. However, yesterday it became unexpectedly inaccessible. How can I fix the corrupted file?"
Computer files abruptly rendered unworkable or useless are known as corrupted files. A digital file could get damaged for various reasons, such as when your Mac shuts down or crashes while storing the information. It is essential to consider the file types compatible with Macs to prevent future annoyances. This article will introduce how to check and repair corrupt files on Mac. 
And many causes can be accountable for file corruption on macOS:
File system issues
Header corruption
Virus attack
Hardware failure
Human error
How to Check if A File Is Corrupted on Mac
If you have checked the integrity of a file on a Mac before, things will be easier. Although there may be other causes, file damage and data corruption are frequently linked when mistakes in importing huge files indicate that they are not recognized as valid. When transferring massive files, as well as when working with fixing corrupted hard drives on Mac, this happens very frequently.
File corruption on a Mac or any other device can be checked or identified with a few symptoms. During playback, you should experience annoying symptoms if your file is broken or corrupted. A few possible indicators include the following:
Late responses take longer than usual, such as a file's opening or closing taking forever.
No user output, like clicking on the corrupt file, will result in no response.
Mac displays various error warnings when operating or opening.
Interruptions while playing files like MOV or MP4 or audio out-of-sync problems
It plays blurred images when operating or opening files like PNG, JPG, etc.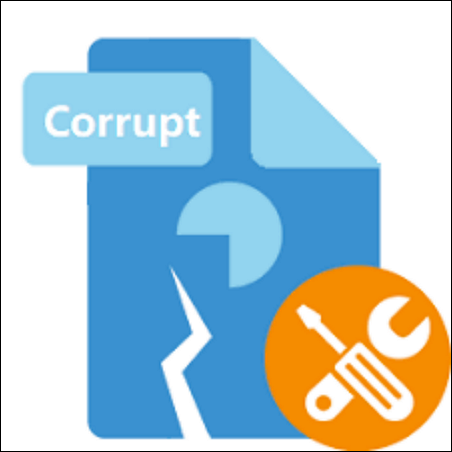 How to Repair Corrupted Files on Mac
The built-in Mac features can be used to access corrupted Word files. Knowing the recovery procedures is necessary to open the file because the system is entirely different from Windows. Because it won't obey orders, the program itself is usually the issue. The software can be forced to shut down, but you should reopen the file.
Solution 1. Repair Corrupted Files on Mac with First-Aid
A built-in utility called Disk Utility on Mac can detect and correct errors. The formatting, directory structure, and a damaged file on a Mac storage device might all play a role in the issues. You can run First-Aid to resolve disk-related problems on a Mac.
Step 1. On your Mac, first, launch the Disk Utility program.
Step 2. Select "View" - "Show All Devices" by clicking on it.
Step 3. Choose a volume from the sidebar, then click the "First-Aid" button.
Step 4. After clicking "Run", adhere to the on-screen directions.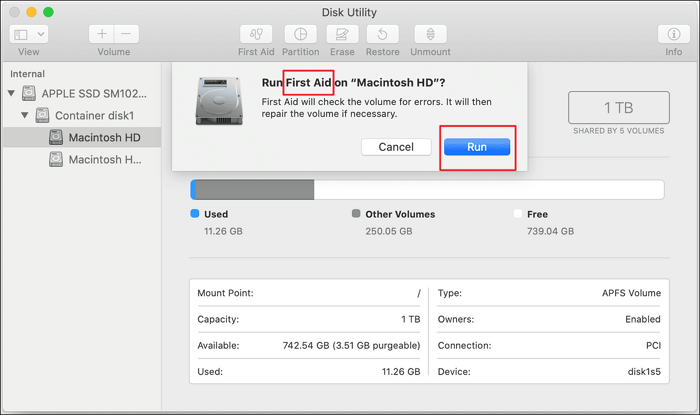 Step 5. Click "Done" after the First Aid procedure is finished.
After the repair, you can select "Show Details". You can utilize the drive if Disk Utility says that the disk appears to be functioning normally or has been repaired. If only Disk Utility had produced the duplicate files, they would be taking up space if it displayed "overlapped extent allocation" issues, and there would be a corrupted file. The file can be recreated, deleted, or replaced.
You can try rescuing such files from Mac's Time Machine if Drive Utility cannot fix your disk.
Solution 2. Fix Corrupted Files from Mac Time Machine
Time Machine is Apple's built-in backup program, and it can store a copy of every file you've produced or modified in the last 24 hours. Automatic hourly backups are made. If you wish to fix a corrupted file, you should take measures quickly.
Step 1. Go to Time Machine on your Mac. You may access it by selecting "Time Machine" from the menu bar under System Preferences - Time Machine.
Step 2. Following that, you will get a list of every folder and file that Time Machine has backed up. Select the folder where the corrupted file was initially placed.
Step 3. Next, look in the folder for the needed file. If there are too many files, you can search through them using the dial on the right side until you find the one you want.
Step 4. To repair a file from a Time Machine backup, select the file that needs to be fixed and click the Restore button at the bottom of the screen.
Solution 3. Repair Corrupted Files on Mac with Software
Try utilizing a Repair tool for Mac if you haven't repaired the corrupted files with First-Aid or Time Machine. Software often makes it simple to fix various types of files on Mac. EaseUS Data Recovery Wizard for Mac is a powerful file repair application that will assist you in quickly and efficiently selecting any broken, corrupt, damaged, or inaccessible files.
Unwind if you need to restore lost files or have problems opening corrupted files. We are prepared to assist. We offer EaseUS Data Recovery Wizard, the most efficient corruption file recovery and restoration program. You can directly use the free data recovery software for file recovery if the size of your lost or corrupted files is less than 2GB. If you want to ensure that you can get your files back and preview them, you can download the trial version by clicking the button.
The software supports fixing and recovering more than 1000 file types, including DOC/XLS, XLSX/PPT/PPTX, JPG/JPEG, TIFF/TIF, PNG, AVI, MOV, MP4, MP3, etc. It also enables complete control over formatted, damaged, or missing data on Macs.
All Mac and external storage devices are compatible with this software, including external HDD/SSD, fusion drives, USB drives, Mac SD card recovery, CF cards, digital cameras, video players, and more.
It supports repairing and recovering recently lost data on Mac's hard disk and other attached external storage devices.
The software finds missing document files, emails, web pages, images, videos, and music.
You can try EaseUS Data Recovery Wizard for Mac and follow the steps below to fix corrupted files.
Step 1. Select your disk
Select the disk location where you lost the corrupted files. Click the "Search for lost files" button.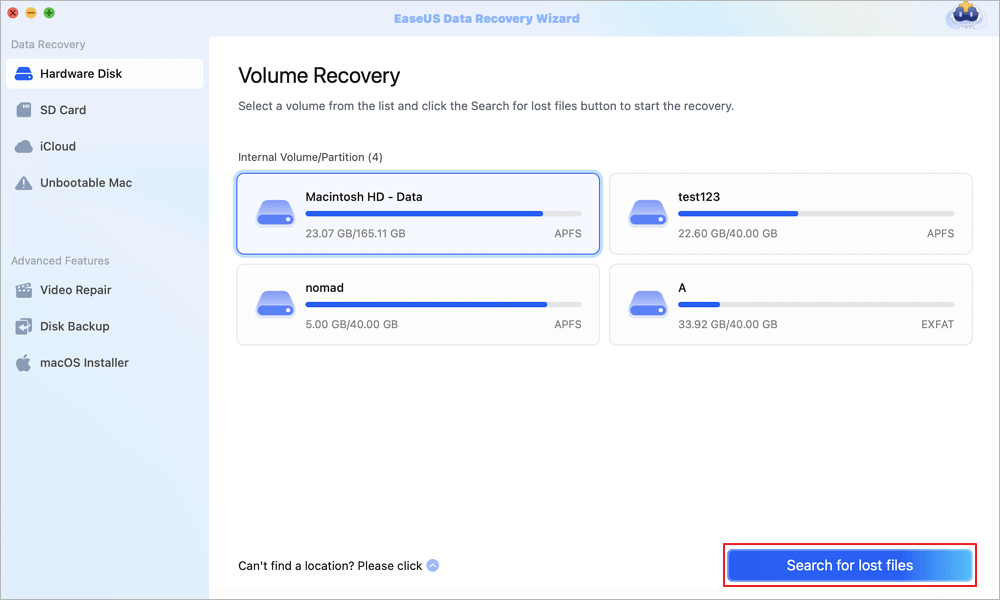 Step 2. Scan for corrupted files
EaseUS Data Recovery Wizard for Mac will immediately scan your selected device and scan for lost Word/Excel documents, videos, PDF files, and photos on the left pane.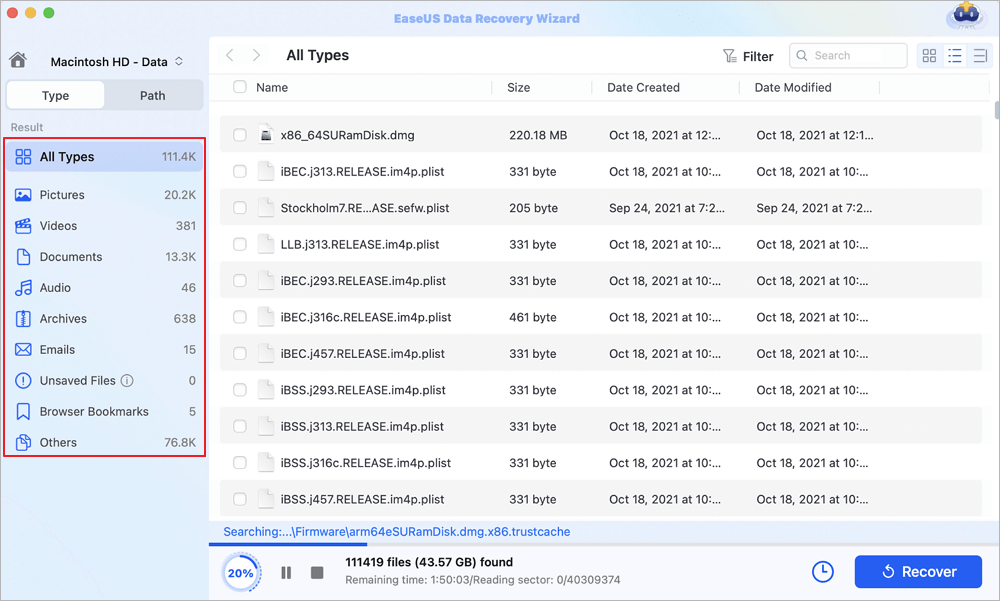 Step 3. Repair and recover corrupted files
In the scan results, select the files to preview. If the file is corrupted, the software will automatically repair the corrupted file, and then you can preview it. Then, click the "Recover" button to recover the repaired files.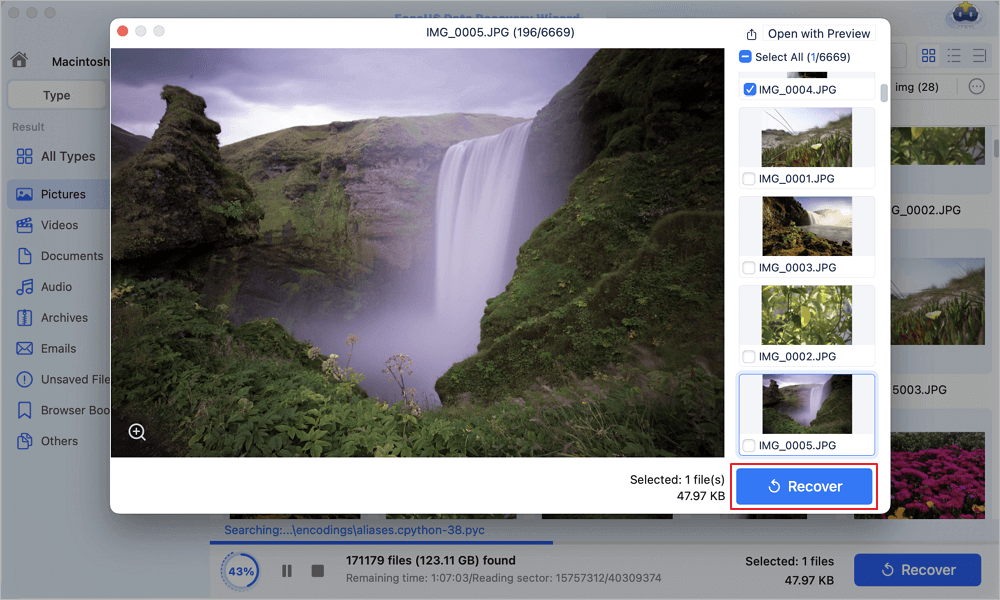 How to Recover Lost or Corrupted Files on Mac
To recover the deleted or lost files due to accidental deletion or corruption, try to recover Trash on Mac to see whether you can restore them there. Using the specialized Mac data recovery software is a potential alternative if you cannot succeed in this manner.
Here we prepare a video for you to learn about how to recover data and files from different storage devices on Mac.
Your files on Mac could fail at any point, regardless of how cautious or aware you are as a Mac user, and you could lose all of your data and files. Therefore, backing up your Mac data is the greatest strategy for security because if an accident occurs, you can recover them immediately.
You don't have to be concerned about recovering the corrupted files if you regularly back up your Mac data and files. So you can take these measures:
Time Machine
iCloud Drive
Third-party cloud storage 
External storage devices 
Final Words
There are a few file repair options available when Mac files become corrupt. Use any of the techniques offered here. These techniques might help you access the most recent document version, saving you time and effort even if they are not guaranteed to be 100% effective.
Use the EaseUS Data Recovery Wizard for Mac to recover corrupted files. It has the ability to fix corrupted, broken, and damaged Word, Excel, PPT, and PSD documents, as well as various sorts of images and videos.
Repair Corrupted Files on Mac FAQs
Here are 4 additional questions about repairing corrupt files on Mac. Check here for the answers.
1. How to recover deleted video files on Mac?
Damaged video files can be quickly and easily repaired on a Mac. The good news is that most video recoveries are incredibly effective when employing the procedures above. EaseUS Data Recovery Wizard for Mac can also help you recover your video and recover deleted video files on Mac.
2. Can corrupted files be fixed?
You can accomplish this with a video recovery program like EaseUS Data Recovery Wizard. It offers many benefits, and it is simple to use and created for all user profiles, including those with little prior computer knowledge. With only a few clicks, you may quickly restore your corrupted file with this potent program.
3. How do I find corrupted files on my Mac?
There are different approaches for you to check if your files on Mac are corrupted:
Restart in single-user mode by pressing and holding Command + S during boot.
Run Disk Utility on Mac to check for file structure corruption.
Manually open and examine each file.
4. How to fix a corrupted PDF file on Mac?
A PDF file repair can be challenging. Sometimes the data was simply terrible, to begin with, and other times it may have been corrupted during the transfer. The default PDF viewer for Macs, Preview, is useless in these situations. You can acquire a new copy after utilizing EaseUS data recovery software's repairing function.

Updated by Dany 
Dany is an editor of EaseUS who lives and works in Chengdu, China. She focuses on writing articles about data recovery on Mac devices and PCs. She is devoted to improving her writing skills and enriching her professional knowledge. Dany also enjoys reading detective novels in her spare time.
EaseUS Data Recovery Wizard is a powerful system recovery software, designed to enable you to recover files you've deleted accidentally, potentially lost to malware or an entire hard drive partition.

 Read More

EaseUS Data Recovery Wizard is the best we have seen. It's far from perfect, partly because today's advanced disk technology makes data-recovery more difficult than it was with the simpler technology of the past.

 Read More

EaseUS Data Recovery Wizard Pro has a reputation as one of the best data recovery software programs on the market. It comes with a selection of advanced features, including partition recovery, formatted drive restoration, and corrupted file repair.

 Read More