
Table of Contents

About the Author

Reviews and Awards

Best Data Recovery Software
Updated by
Dany
on Feb 06, 2023

What do you do when the videos you've worked so hard to create are corrupted, damaged, or unavailable? Do you simply give up trying to fix the videos? No, you can try the fixes to repair corrupted videos on Mac.
It is frustrating when your videos abruptly stop playing and display error messages like error 2048 on Mac. There is always a danger that video files could be damaged or corrupted somehow, regardless of the format. Human error occurs occasionally. Technology is to blame in other cases. This article introduces a few techniques to assist you to fix corrupted video on Mac.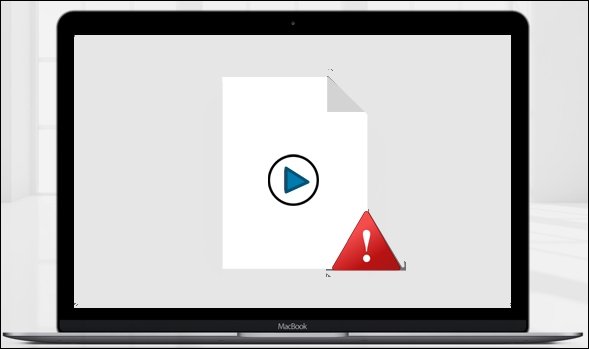 Reasons Behind the Corrupted or Damaged Video Files
Videos can occasionally become corrupt or inaccessible. It can be attributed to various factors, including the video format, the playing equipment, the internet connection, and the video encoding procedure. To better understand why videos become damaged and what can be done, let's look at these causes.
Sudden power outage on your Mac. This is frequently caused by a power outage, viral infection, or system error.
Physical damage to the media. Physical harm to the media might come from broken tapes or scratches on a CD or DVD.
Format problems. When the video recording device needs to be configured properly, format issues could result. The format problems can also result in unable to play videos transferred to flash drives.
Low-quality video compression or conversion. It can get ruined if you use unstable software to compress or convert your MP4 video file.
Something goes wrong with the download source. Sometimes the website or internet page you use to download your movie file is risky. This may cause your video file to become corrupted and inaccessible. Furthermore, downloading damaged videos increases the risk of other video files on your computer.
How to Repair Corrupted or Damaged Video Files on Mac
Suppose it has happened to you that the audio is damaged when playing a video. Data corruption may be to blame if the video is continuously cut off or your video player alerts you that the file cannot be played. Mac users frequently experience data corruption, and in most situations, consumers delete their damaged video files and start again. However, there are some useful techniques that could assist you in resolving these issues. In this part, you will learn how to repair corrupted video files.
Method 1: Repair Corrupted Video on Mac with EaseUS Data Recovery Wizard
You may fix damaged videos on your Mac responsibly with EaseUS Data Recovery Wizard for Mac. This software has the newly-published feature of fixing corrupted videos besides its trusted recover deleted files on Mac functions. It can extract the data from a corrupt video file and separate the audio and visual streams on a duplicate.
It is a remarkable program that makes fixing damaged videos simple. Using it will enable you to repair and recover videos that have stopped playing for whatever reason, including malware infestation, broken bad sectors, and more.
Mac video repair: It can repair videos from various situations, like improper editing, converting, recording, shooting, etc.
Supported storage: It can repair corrupted video files and recover them to a camera, camcorder, Android phone, iOS device, and SD card.
Supported video formats: M4V, FLV, AVI, MOV, MP4, MKV, WMV, SWF, FLV, MP3, NPEG, 3G2, RM/RMVB, and more.
Easy Operation: Anyone can use this software without any issues because it doesn't require any specialized knowledge.
Download EaseUS Data Recovery Wizard for Mac and follow the steps below to fix corrupted videos.
Step 1. Add your broken/damaged videos
Open EaseUS Data Recovery Wizard for Mac. Click "Add" or drag the corrupted MP4/MOV/AVI/MKV/3GP/FLV/MKV/WMV video files to the repair list.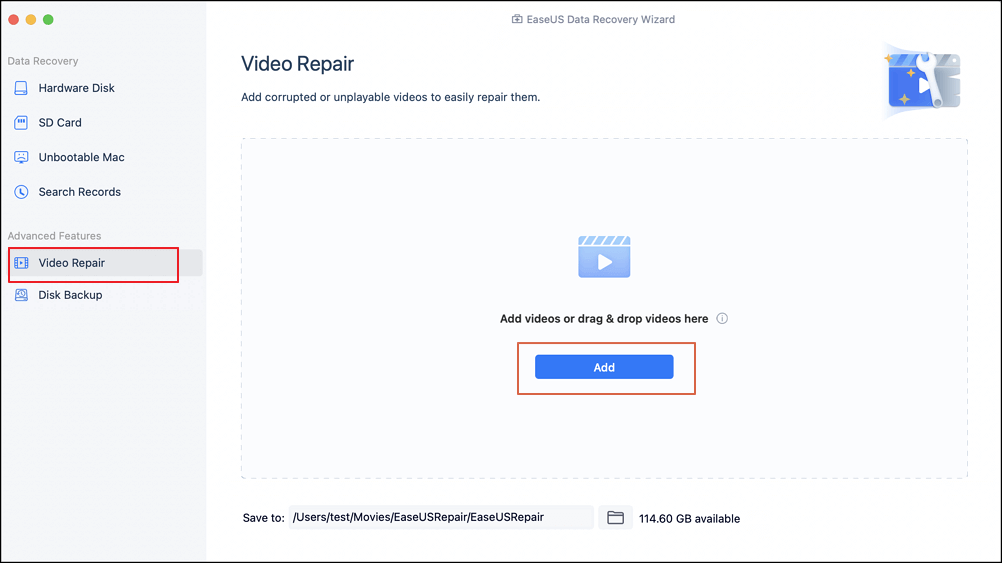 Step 2. Start repairing video files
Select the damaged video files from the list and click the "Repair" button to start the video repairing process. If you want to repair all of the videos, click "Repair all".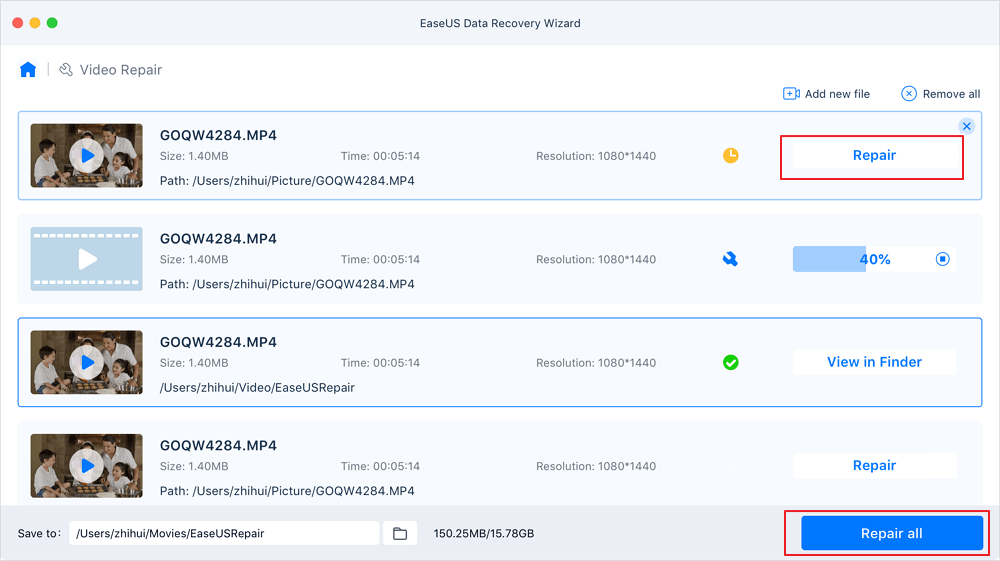 Step 3. Preview and save broken videos
After a few minutes, you can find the damaged videos repaired. Before clicking the "Save to" button, click "View in Finder" to check the videos.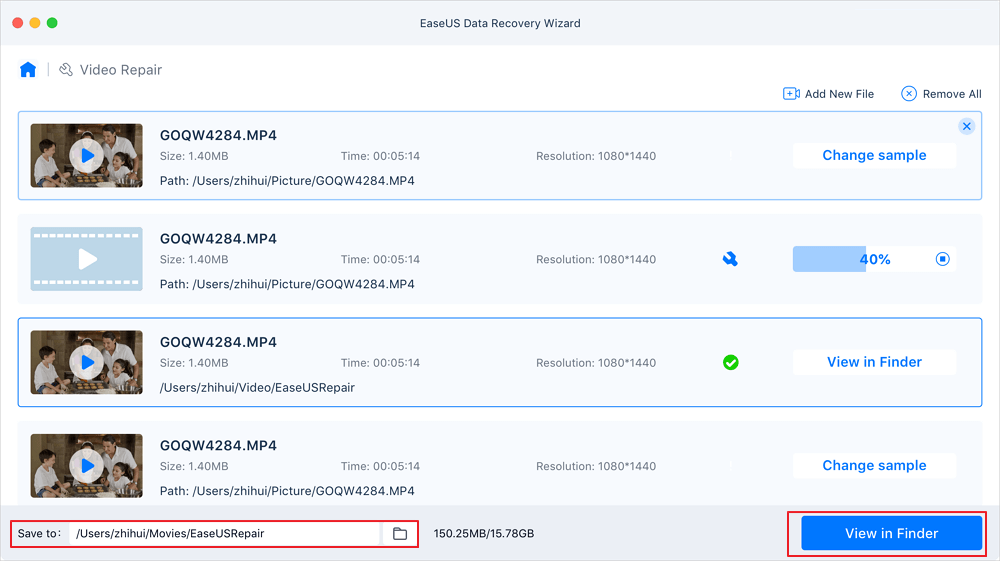 Step 4. Utilize the advanced repair mode
If the videos are not repaired successfully, it means the videos were damaged severely. You need to move on to the "Advance Video Repair" mode, which utilizes sample video files to increase the video repair rate. Click "Add" to upload corrupted videos.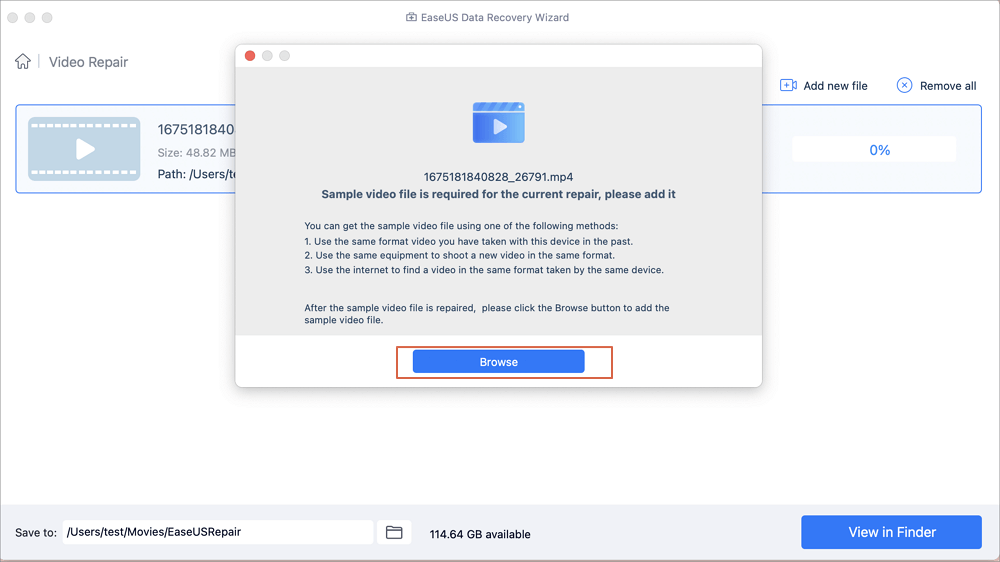 Step 5. Check the videos and start video repair
The video repair tool will check and scan your video automatically. After the process, click "Start repair" to repair the severely damaged videos.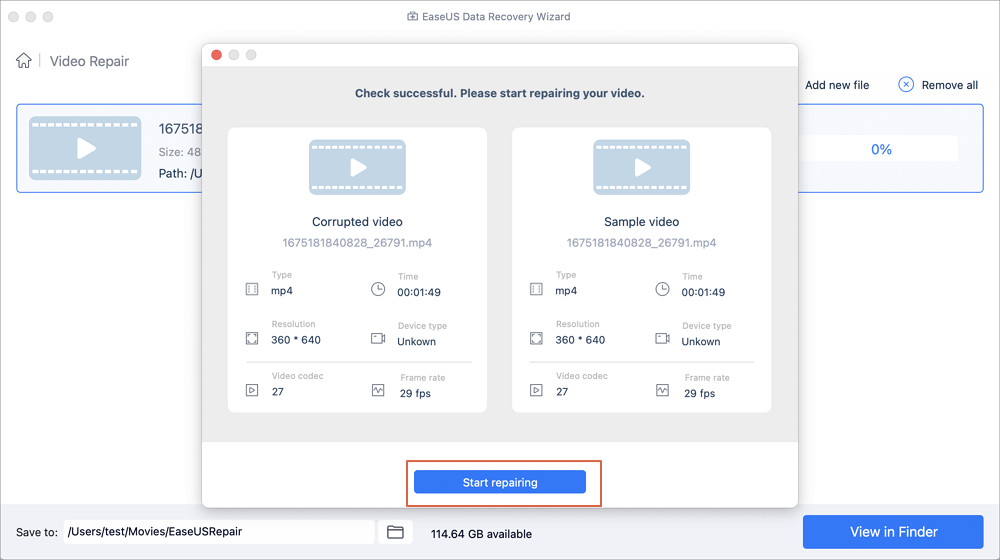 Finally, you can view the videos in Finder and click the "Save to" button to save the repaired video files to an appropriate destination.
Method 2: Repair Corrupted Video Files with VLC Media Player
Try VLC video repairing to fix Mac corrupted video files. You may repair damaged AVI, MP4, or MOV video files using the video format file repair feature of VLC. It has a built-in repair capability that can quickly and automatically mend multiple damaged video files.
Step 1. Open VLC and choose "Preferences..." to fix corrupted MP4 on Mac.
Step 2. To import the corrupt MP4 file, choose "Input /Codecs."
Step 3. Select "Always fix" - Click "Save," and your MP4 movie will be fixed on a Mac.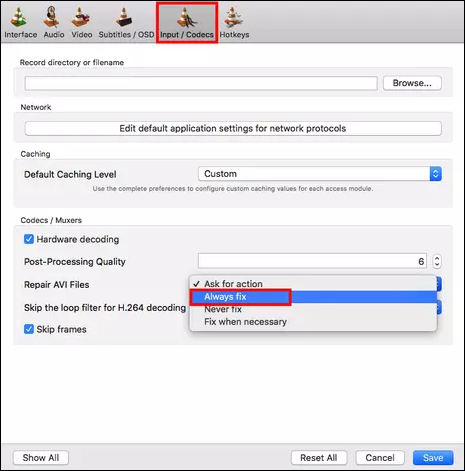 However, VLC functions better with AVI files than MP4 files. Therefore, it could occasionally be ineffective in fixing other corrupted video files like MP4, MKV, etc. As for MP4 fixing on the Mac, specialized software like EaseUS Data Recovery is more suitable.
Method 3: Repair Corrupted Videos by Changing the File Extension
You may change the extension of your video if you want to use the VLC repair feature of fixing the AVI format. So you may accomplish this by following these easy steps.
Choose your file to display the drop-down menu
Then select "Get Info" to access this option.
Changing the file extension
You can modify the file extension by clicking on the "Name & Extension:" text bar.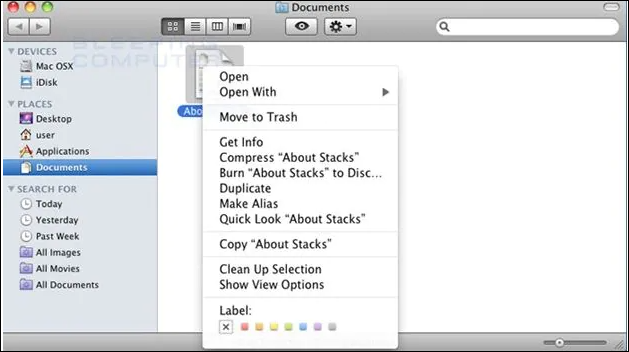 Extra Tip: How to Recover Deleted Video Files on Mac
Like video corruption, video losing or accidental deletion is annoying, too. Most video loss issues are brought on by incorrect formatting of the video player or other storage device, a problem with the memory card in a digital recorder or camcorder, disconnecting the memory card while reading or recording video, virus attack, and other unidentified causes. Fortunately, recovering deleted films on a Mac is easy using the best video recovery program, EaseUS Data Recovery Wizard for Mac, which can repair and recover your video files by downloading just one program.
The data recovery software is committed to making Mac video recovery quick and straightforward. You can easily recover deleted videos on your Mac. This tool perfectly satisfies common requirements like recover trash on Mac and recovering lost files on a formatted USB drive.
Check the steps to learn how to recover deleted video files.
Step 1. Search for lost files
Select the disk location to search for lost files (it can be an internal HDD/SSD or an external hard drive) where you lost data and files. Click the "Search for lost files" button.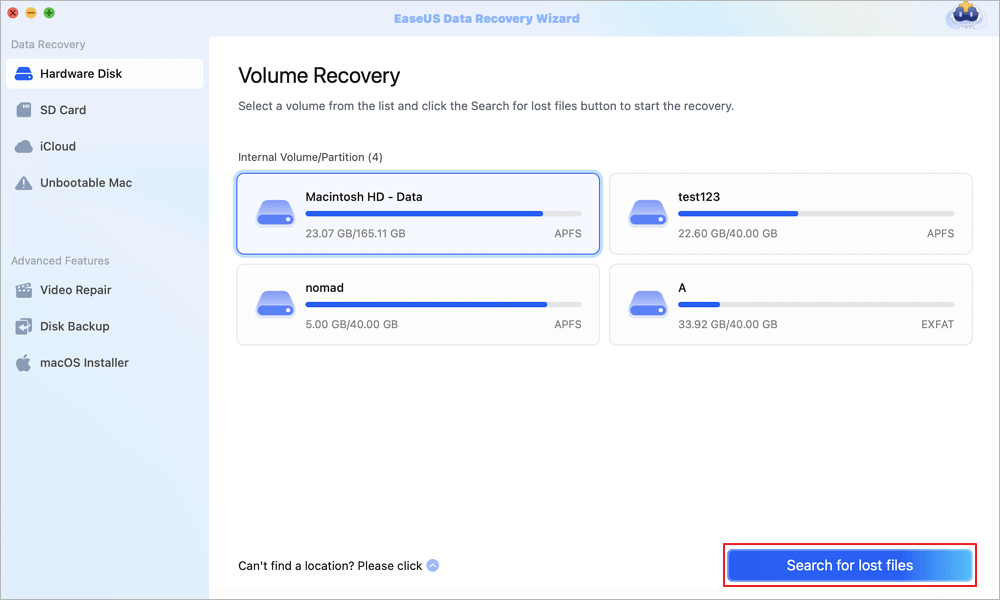 Step 2. Go through the scanning results
This software will immediately scan your selected disk volume and display pictures, documents, audio, videos, and emails on the left pane.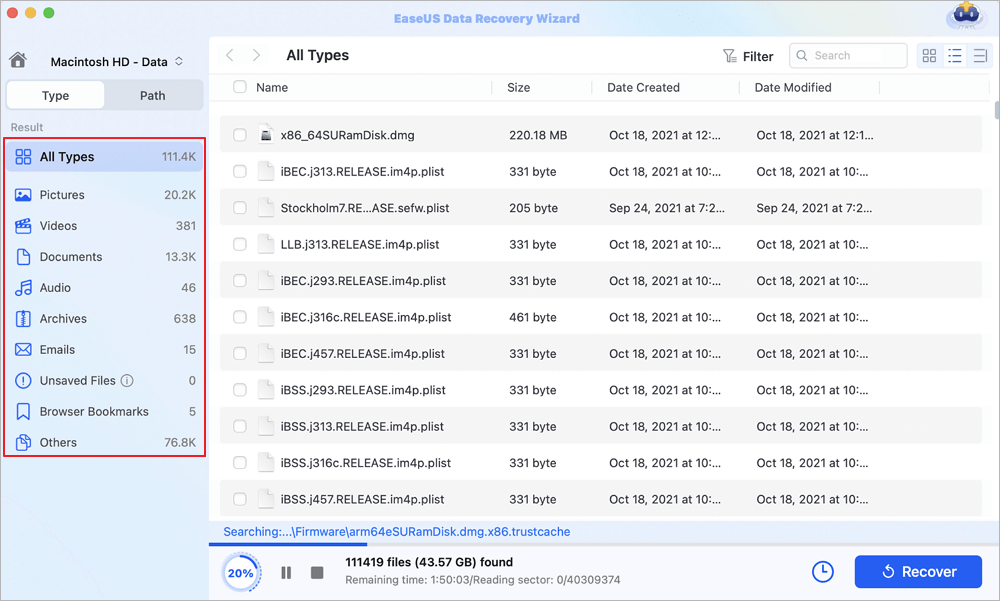 Step 3. Select the file(s) and recover
Click the data to preview, and click the "Recover" button to have them back.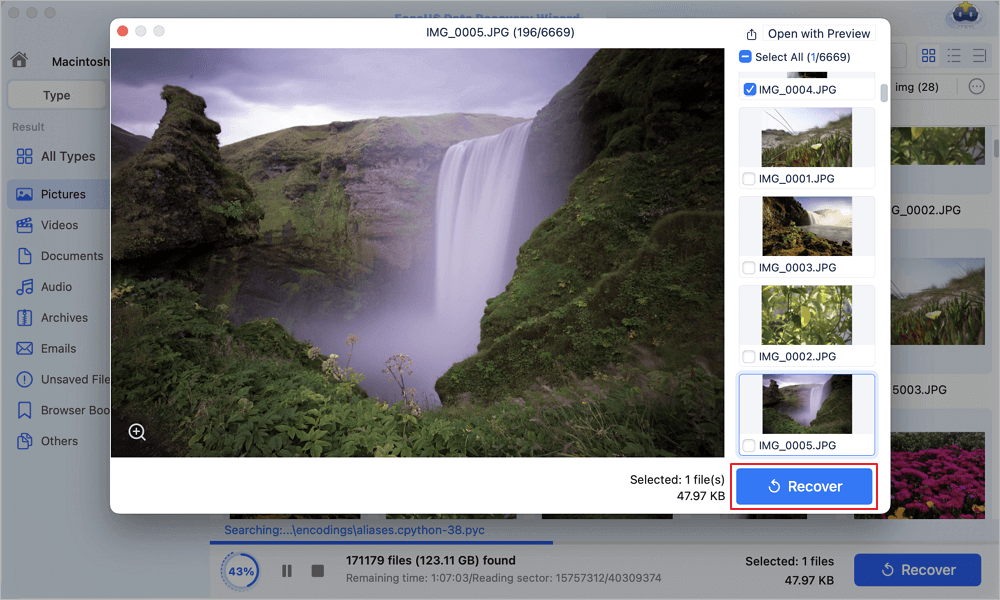 Conclusion
We hope the information in the post can help you understand how to fix corrupted video files on a Mac. On a Mac, repairing damaged video files is simple, quick, and easy. The good news is that most video recoveries carried out using the above techniques are extremely successful. You also have a chance to recover your video using EaseUS Data Recovery Wizard.
Repair Corrupted Video Files Mac FAQs
After reading the post, you may doubt repairing corrupted videos. We hope you can learn more things from the following questions:
1. Can corrupted videos be fixed?
You can accomplish this with a video recovery program like EaseUS Data Recovery Wizard. It offers a lot of benefits. It is simple to use and created for all user profiles, including those with little prior computer knowledge. You may quickly restore your corrupted file with this potent program with only a few clicks.
2. Why is my video corrupted?
The following factors can occasionally be the cause of corruption in video files:
A faulty header
Something goes wrong with the download source.
Internet connectivity loss
Incorrect compression problems and more
3. Can VLC repair damaged video files?
Videos can be repaired using VLC, but you'll need a repair program if the file is seriously damaged. Get an MP4 repair program for your Mac that can correct problems that the VLC player cannot if you're trying to fix MOV or MP4 videos there.

Brithny is a technology enthusiast, aiming to make readers' tech life easy and enjoyable. She loves exploring new technologies and writing technical how-to tips. On her spare time, she loves sharing things about her favorite singer - Taylor Swift on her Facebook or Twitter.

Written by Dany 
Dany is an editor of EaseUS who lives and works in Chengdu, China. She focuses on writing articles about data recovery on Mac devices and PCs. She is devoted to improving her writing skills and enriching her professional knowledge. Dany also enjoys reading detective novels in her spare time.
EaseUS Data Recovery Wizard is a powerful system recovery software, designed to enable you to recover files you've deleted accidentally, potentially lost to malware or an entire hard drive partition.

 Read More

EaseUS Data Recovery Wizard is the best we have seen. It's far from perfect, partly because today's advanced disk technology makes data-recovery more difficult than it was with the simpler technology of the past.

 Read More

EaseUS Data Recovery Wizard Pro has a reputation as one of the best data recovery software programs on the market. It comes with a selection of advanced features, including partition recovery, formatted drive restoration, and corrupted file repair.

 Read More