
Table of Contents

About the Author

Related Posts
How to Fix Corrupted WMV Video Files for Free in 2021
Cedric
Updated on May 20, 2022|
min read
User case: "After retrieving some deleted video files from my hard disk, I tried to play them in Windows Media Player, but they would not open. I was initially confused as the files were restored in the same size, but I soon discovered it was due to a faulty index/header. So can anyone help me to fix my WMV files?"
Windows Media Video (WMV) is the most well-known video compression format, and it is specifically intended for Windows operating systems. However, while playing a WMV file, users frequently encounter several problems.
Sometimes, the Windows Media Player may fail to play WMV files for any reason, including the removal of the.wmv file extension, incompatibility of codecs, audio/video drivers, and so on. In such circumstances, it is critical to fix the corruption issues in WMV files before playing them.
Here we will walk through how to quickly fix corrupted WMV video files while dealing with the most common problems.
Reasons of WMV Video File Get Corrupted
A video is made up of encoded information that is organized in a precise way so that video players can understand it. When a video is corrupted, the information that makes up the video is altered or badly structured, rendering the resulting file unreadable by video players.
Below are some of the most usual reasons for video corruption:
During the download/transfer, the system abruptly shuts down.
The storage drive has been corrupted.
In the system, there is a virus or malware.
The video file was converted incorrectly.
Fix Corrupted WMV Video Files with EaseUS Free Video Repair Tool 
Now you are aware of the reasons why WMV video files get corrupted and probably want to know how to fix corrupted WMV video files, then look no further than EaseUS RepairVideo Tool.
EaseUS RepairVideo is a very adaptable and effective video recovery service that works in your browser for free. This online tool can recover videos that have been corrupted due to malware and virus attacks, battery failure during recording, and other factors. This software does not require any specific abilities; therefore, everyone may use it without difficulty.
It has the ability to recover footage from a camera, camcorder, Android phone, iOS device, and SD card. If you ever have a broken or corrupted video, EaseUS RepairVideo is the most outstanding tool for restoring it to its original state.
Further reading: How to repair large video files from Android.
Here are some of EaseUS RepairVideo features:
Video fixing is completely free.
No need to download any tool. 
Support for all popular video formats: MP4, MOV, MKV, FLV, AVI, 3GP, M4V, WMV, FLV, SWF, MPG, 3G2, RM/RMVB, NPEG, and so on.
Addresses various video corruption cases, including editing, transcoding, and corrupting after recovery.
Support for fixing video from various sources, including external hard drives, corrupted hard drives, USB flash drives, SD cards, cameras, DJI, GoPro, dash-cams, CCTV, pocket cameras, and other video recording software, among others.
Steps to repair corrupted WMV video files:
Step 1. Upload your video with the corruption issue. You can click the Upload Video button on the left to select a video file, or simply drag and drop the video to the area on the right.
Step 2. Enter your email address and click the Start Repairing button to instantly start the repair. Here, you must make sure the entered email address is valid to send and receive email messages over the Internet. EaseUS VideoRepair will send you a confidential extraction code to the provided email address. You can only download the repaired video by applying the code you received.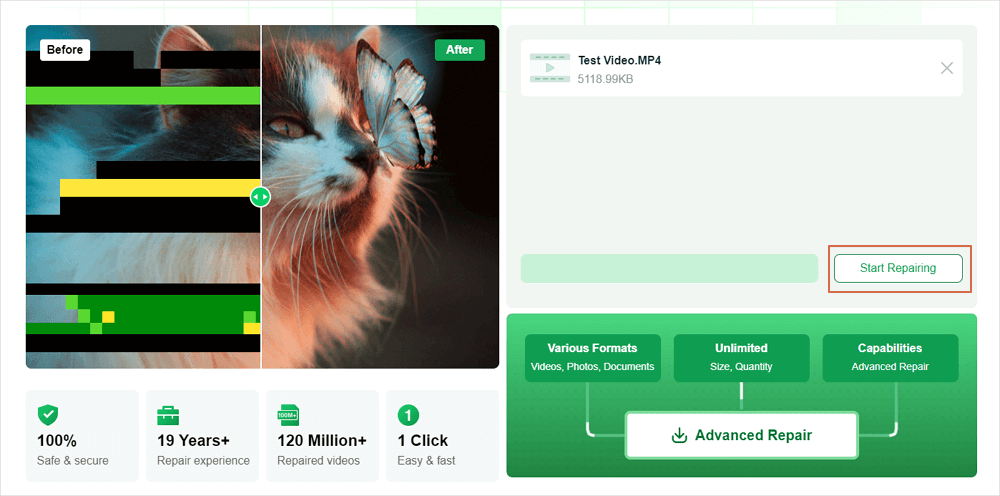 Step 3. The uploading and repairing process goes. You don't necessarily stay all the time waiting because once the session reaches 100% compeletion, you'll receive the extraction code in your mail.
Step 4. In your mail, check the message sent by EaseUS. There you'll remember the extraction code (just leave the page open so you can return to check). Click the View Your Repair button and you'll be guided to the website. Click the Download Video button, then enter the code that is exclusively generated for you, and click OK.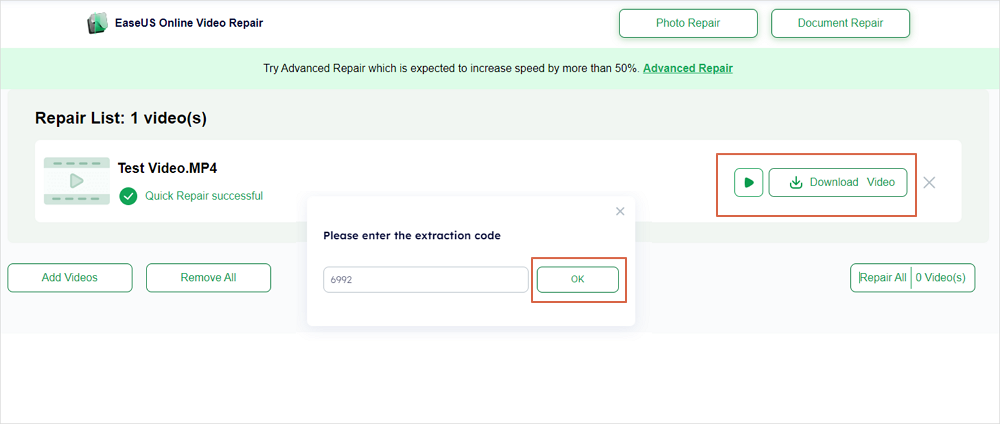 Convert WMV to Another Format to Fix Broken WMV Videos
Looking for an online converter video converter tool to convert your WMV to Another format? Then look no further than Zamzar.  It is the best free file converter that supports a wide range of file types. It's really simple to use and allows you to convert files online without downloading any software. Zamzar is compatible with any operating system because it only requires a browser to function (i.e., Zamzar works with Windows, Linux, Mac).
Steps to convert WMV to another format :
Step 1. First, open the "ZamZar tool'' and click "Add Files" to select the WMV files you wish to convert.
Step 2.  Now, choose the "Convert To" you like to convert your file.
Step 3.  Finally, tap on  "Convert Now" to convert your WMV file to another format.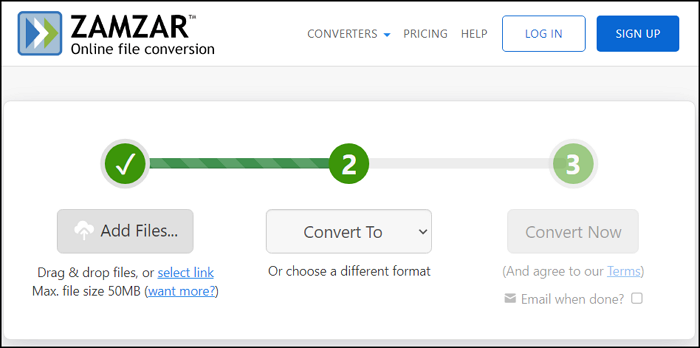 How to Prevent WMV Video File from Getting Corrupted 
Some measures can help keep your videos from becoming corrupted. Here are a few examples.
Do not rename.wmv files' extensions.
Install anti-virus software on your computer.
Do not turn off the power or the card reader when downloading or transferring videos.
Do not try to save videos if the memory card is full.
Format your camera card or video storage media on a regular basis.
Keep a backup of your videos.
Final Thoughts 
That's all; there are several reasons why you can't play a WMV video properly, and many of them aren't linked to data corruption, which makes these issues simple to resolve. However, it is critical to take preventive precautions to keep your data from being corrupted. If your video file is corrupted, simple methods such as format conversion or the use of professional repair tools can help.
Fortunately, EaseUS RepairVideo provides an easy-to-use user interface and can restore damaged files.
About the Author

Cedric Grantham is one of the senior editors of EaseUS who lives and works in Chengdu, China. He mainly writes articles about data recovery tutorials on PC and Mac and how-to tips for partition management. He always keeps an eye on new releases and likes various electronic products.