With the growing popularity of the cloud storage service in the modern life, people are getting used to putting their important files on some cloud drives instead of the computer or other portable storage devices. As is known to all, compared with the traditional way of using hard drives or external flash drives to store data, the cloud storage ought to be much safer and easier due to the following facts.
1. There are many cloud services available to choose, and many of them are offered for free, such as Google Drive, DropBox and OneDrive.
2. To upload files from a local drive to the cloud, only a cloud account and password are required.
3. You will have the least chance of data being damaged due to hard drive error issues or computer won't boot error that frequently happened.
So, how are you going to benefit from the cloud drive and make it an ideal backup place? Here, take the Google Drive for an example, you will learn the detailed guide to backup SD card to Google drive.
How to back up SD card to Google Drive from Android
If you're using an SD card on an Android device and would like to backup Android SD card on the Android device, there are two apps you can use. One is the photo gallery, and the other is the Google Drive app. Since the photo gallery only supports to backup photos on your SD card to the Google Drive, we think that the Google Drive app is a better choice for uploading more data including photos, videos, documents and so on.
Step 1. Download and install the Google Drive app on your Android.
Step 2. Open the app when it finished installing. Log in your Google account.
Step 3. At the bottom of the left pane, there is a + icon with the red background, tap on it and then click the Upload.
Step 4. Choose a path from the Open button. Now select the files on your SD card, which can be everything in the Images, Videos, Audio, Downloads and Photos categories. Click Done.
Google Drive will start immediately backing up all your selected files to the Google Drive cloud.
One problem with uploading SD card files to Google Drive
"My default folder to for my photos on my Android device is the SD card and Google photos doesn't seem to allow me to choose the SD card as a location to backup and sync. How am I able to set that within Google photos?"
As you can see, it's not a problem of using Google Drive app to backup and sync SD card data to the cloud from Android from a single person. It seems that many people experienced the failure in doing the cloud backup from Android. Is there any alternative way to perform the backup?
How to Backup SD Card to Google Drive on PC
Fortunately, to backup Android SD card to the cloud, you can use EaseUS cloud backup software that supports to backup hard drive, SD card, USB flash drives and selected files, folders or even emails to the three most popular cloud storages, including Google Drive, DropBox and OneDrive!
So, when you have trouble in backing up and syncing the SD card data to Google Drive on an Android device, try to rectify the problem on a PC. EaseUS Todo Backup will 100% assist you in a safe, quick and easy way.
Connect your SD card to your PC first and follow the guidelines below to continue the backup process.
 Notice:

To backup files to your Google Drive, OneDirve or Dropbox cloud account, it requires you to authorize EaseUS Todo Backup to access your account with your password and confirmation.
Let's see how to backup files to your cloud account now:
Step 1. Launch and run EaseUS Todo Backup on your computer.
And click the icon at the left top corner, find and click "File Backup" at the left pane.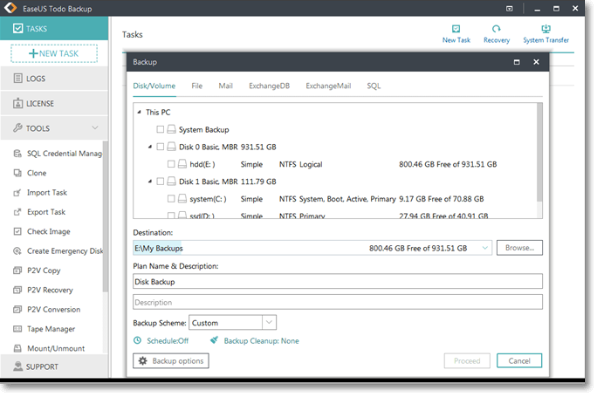 Step 2. Choose the specific files that you want to backup to your cloud account - Google Drive/OneDrive or Dropbox.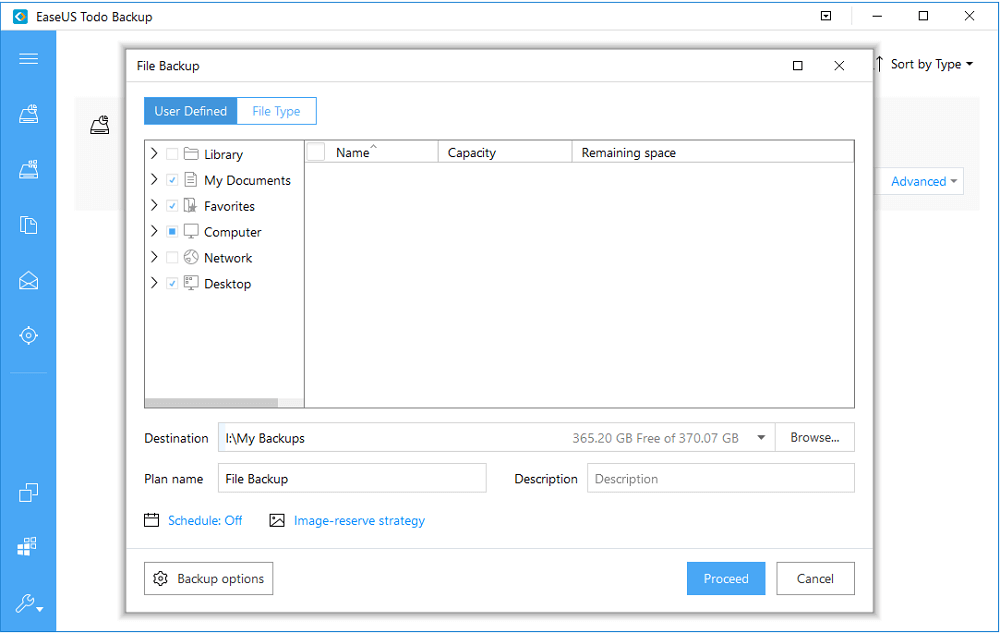 And then, click Browse at the destination column to select Cloud Device and click the + icon to access the cloud storage.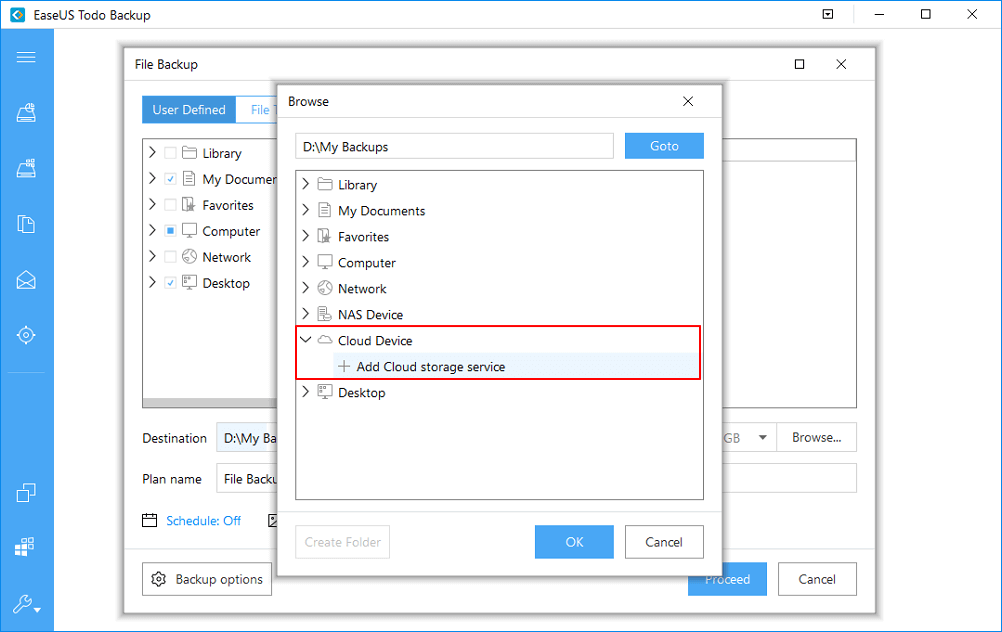 Step 3. Select your Cloud storage - Google Drive/OneDrive or Dropbox and sign in to allow EaseUS Todo Backup access your account for saving backup images.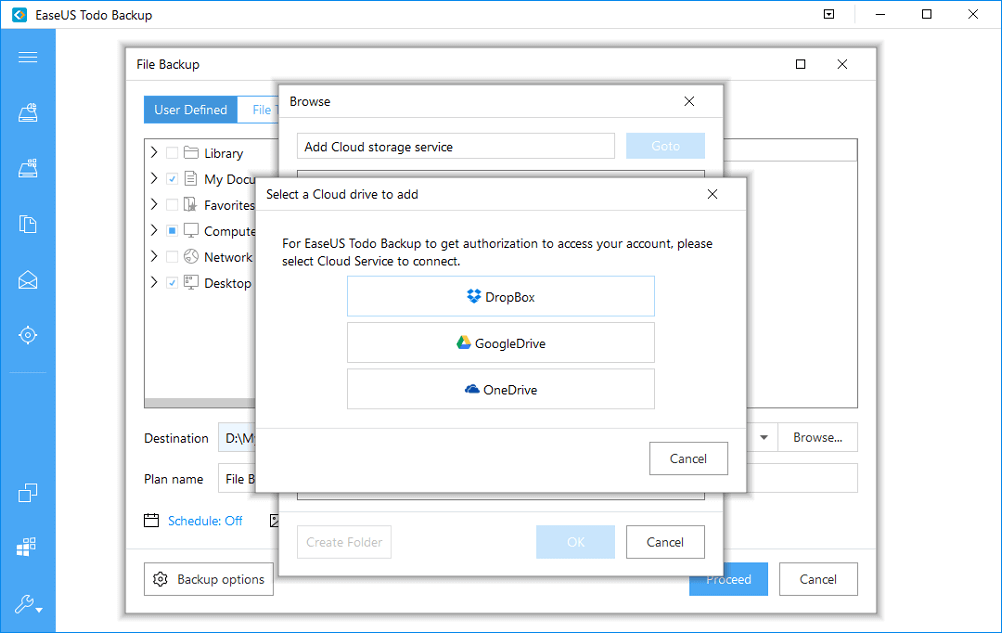 Step 4. Click Allow to let EaseUS Todo Backup access and save backup images of your files to Cloud drive and finally click Proceed to start backing up your files now.
Wait for the process to finish, and all your videos will be saved to your Cloud storage with a compressed format by taking small space.