SD cards are important storage devices because they help us save important pictures, documents, videos, music, etc. As a videographer or photographer, SD cards become handy in extending the storage capacity of your digital camera.
Do you know that there are various ways to back up SD card data and save you from anxiety in the event of damage or corruption? This article will outline the different types of SD cards, ways to choose the right device, the top five backup devices in 2022, and a software alternative (EaseUS Todo Backup Free) to back up your SD card data.
Why Do You Need an SD Card Backup Device
The first reason you may want to use an SD card backup device is for the security of your data in the event of data loss. Keeping backups assures you that you'll still access your documents, music, videos, pictures, etc., when your SD card becomes corrupted or damaged. You may also delete files stored on your SD card by accident.
A backup device, therefore, becomes handy in such situations since you won't have to worry much about lost data. An SD card backup device is also important since it helps free up space on your SD card if it's almost full. Moving data to a backup device creates space to store additional files on your SD card.
The Different Types of SD Card Backup Devices Available
Different types of SD cards exist based on size, compatibility, and speed. They include the following.
1. Secure Digital (SD) Card
This is the oldest type of memory card type. It's large compared to the latest generations and measures 32mm by 24mm by 2.1 mm. The card provides maximum storage of 4GB and a transfer speed of 10mbps.
2. Secure Digital High Capacity (SDHC) Card
This is a refined form of the SD card that supports high-resolution video recording and image editing. It has similar physical attributes to the SD card but with a faster transfer speed. It also provides more storage space (32Gb) than a basic SD card. 
3. Secure Digital Extended Capacity (SDXC) Card
Compared to an SDHC, SDXC provides a larger storage capacity, making it more efficient. It's primarily beneficial for photographers or gamers. Most of these devices come with a storage range of 64GB to 2TB.
4. Micro SD Card
As the name suggests, a Micro SD is a lighter version of the SD card with almost similar features. Their main selling point is their size (small) and portability. It can store up to 16GB of data with a transfer speed of 8mbps.  
5. Micro SDHC Card
This memory card is a modified version of Micro SD. It sought to address the insufficient space offered by the latter. It can hold up to 32GB of data which is suitable for primary smartphone users. It also allows a data transfer speed of 10mbps.
6. Micro SDXC Card
This is the latest version of the Micro SDs and comes with advanced features. It provides a large storage space ranging from 32GB to 2TB. You won't need to delete some files or empty your SD card to create space for extra files.
7. Compact Flash Card  
A compact flash card is physically larger than any other SD card and has a high storage capacity. They have an ultra-high transfer speed for files and data.
How to Choose the Right SD Card Backup Device for You
The first thing to consider when looking out for an SD card backup device is its performance speed. Data transfer speed is essential since it helps to save time spent copying a given file to an SD card. Compact flash cards have the fastest transfer speed, while SD cards have the slowest.
Second, when considering the right SD card, you should check its storage capacity. A good SD card should allow you to store your files without running out of space. Another factor to consider is the card size. Micro SDs have the smallest size, while SD cards have an average size. Compact flash cards are the largest.
The Top Five SD Card Backup Devices Available in 2022
Although many SD card backup devices exist in the market, not all give you the best experience. This section will outline the top five SD card backup devices available on Amazon. The chart below compares them based on price, functions, and performance.
Device Name
Price
Functions
Performance
Amazon Link
Seagate Portable 2TB External Hard Drive Portable HDD
$90.93

Stores up to 2TB of content
Works on Mac and Windows computers

20 Mbps
Link
WD 2TB Elements Portable External Hard Drive HDD
$48.95-$119.09 depending on the storage size

Compatible with USB 3.0 and 2.0
NTFS file system for Windows 10/8/6

Fast data transfer
Link
Toshiba Canvio Basics 2TB Portable External Hard Drive  
$46.99-$96.69 depending on the storage size

Allows plug and play
Compatible with USB 2.0 and 3.0

Not mentioned
Link
Crucial MX500 1TB NAND SATA 2.5 Inch Internal SSD
$46.99-$343.99 depending on storage size

Integrated power loss immunity
Uses data encryption

Read speed of 560 Mbps and write speed of 510 Mbps
Link
Seagate (STGD2000100) Game Drive for PS4 Systems 2TB External Hard Drive Portable HDD
$79.39

Allows you to store 50+ games on PS4
Allows plug and play with USB connectivity

Not mentioned
Link
Recommended SD Card Backup Software- EaseUS Todo Backup Free
The devices mentioned in the chart above are all physical SD card backup techniques. They can sometimes be problematic to carry due to the risk of damage or theft. If you want free software to back up your SD card data and files, the best solution is EaseUS Todo Backup.
The software allows you to save backups to NAS, Cloud, and local drives. The cloud backup service provided by EaseUS is flexible, secure, and cost-effective. Each user receives a free cloud storage space of 250GB. Other features of EaseUS Todo Backup Free include:
Simple backup management
Bootable backup and recovery
Backup scheduling
Password-protected backups
Multi-path backup storage
Make an effort to download the free version of EaseUS Todo Backup Free today for convenient SD card data backup.
Step 1. Start with selecting the backup contents.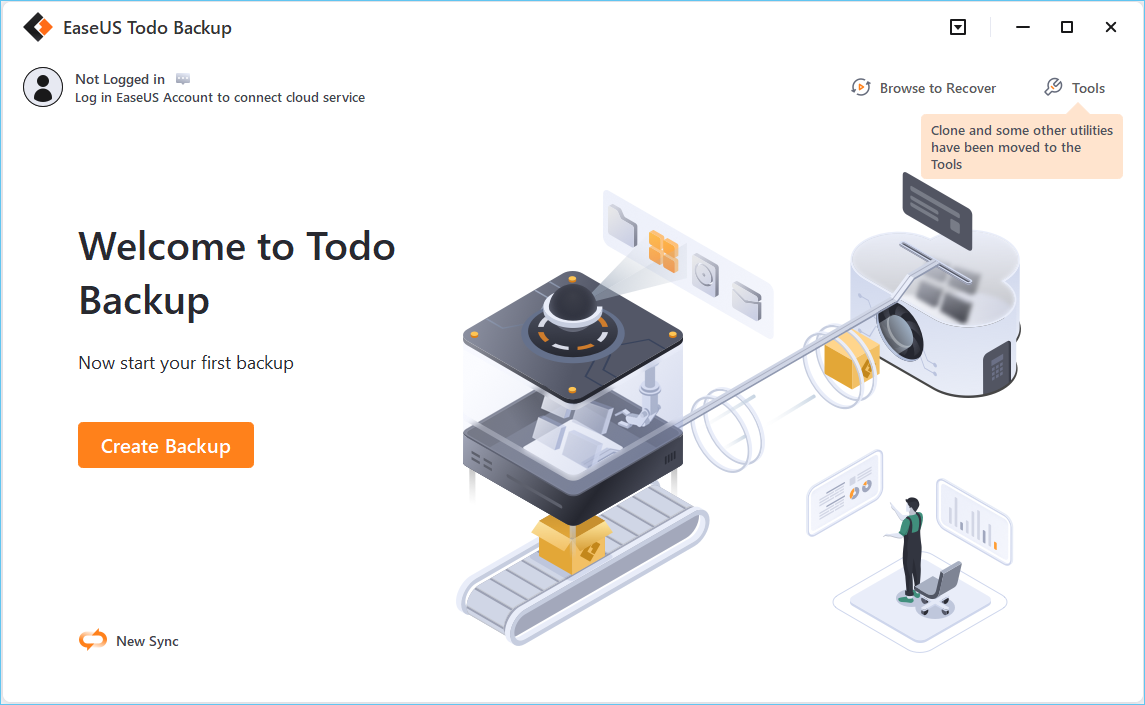 Step 2. There are four backup categories, File, Disk, OS, and Mail, click Disk.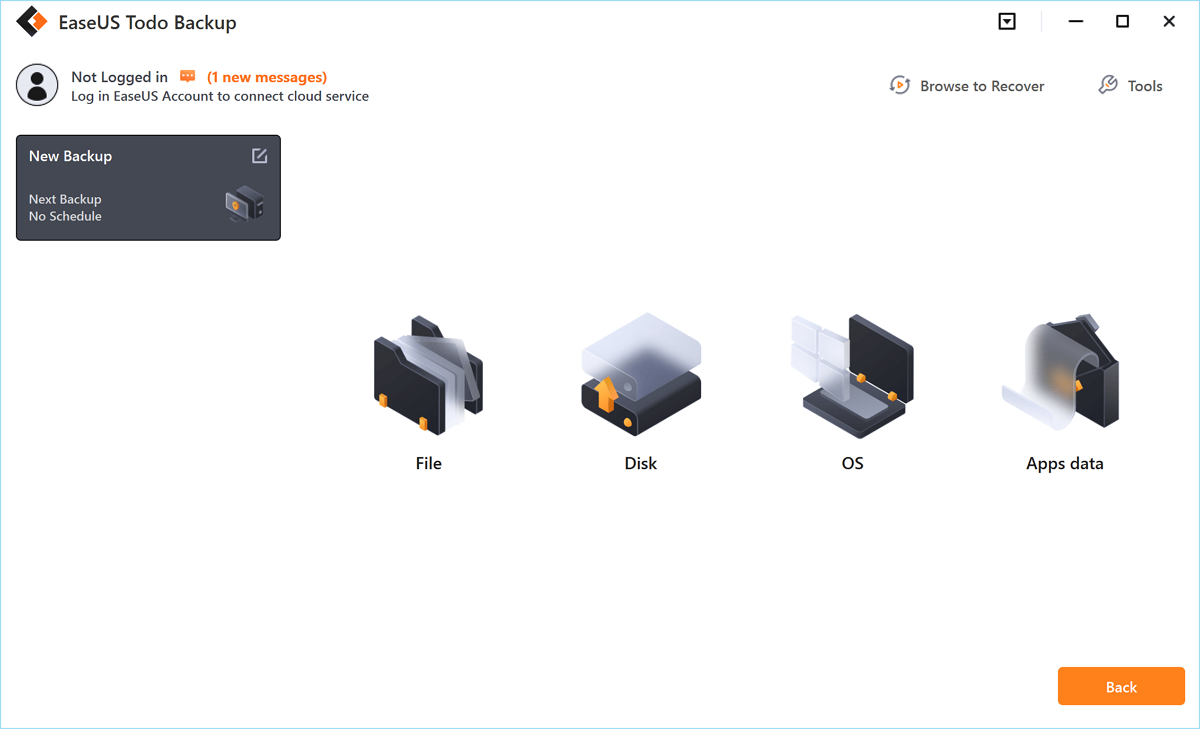 Step 3. It is available to back up a whole disk or a certain partition. Choose the one you need and click OK.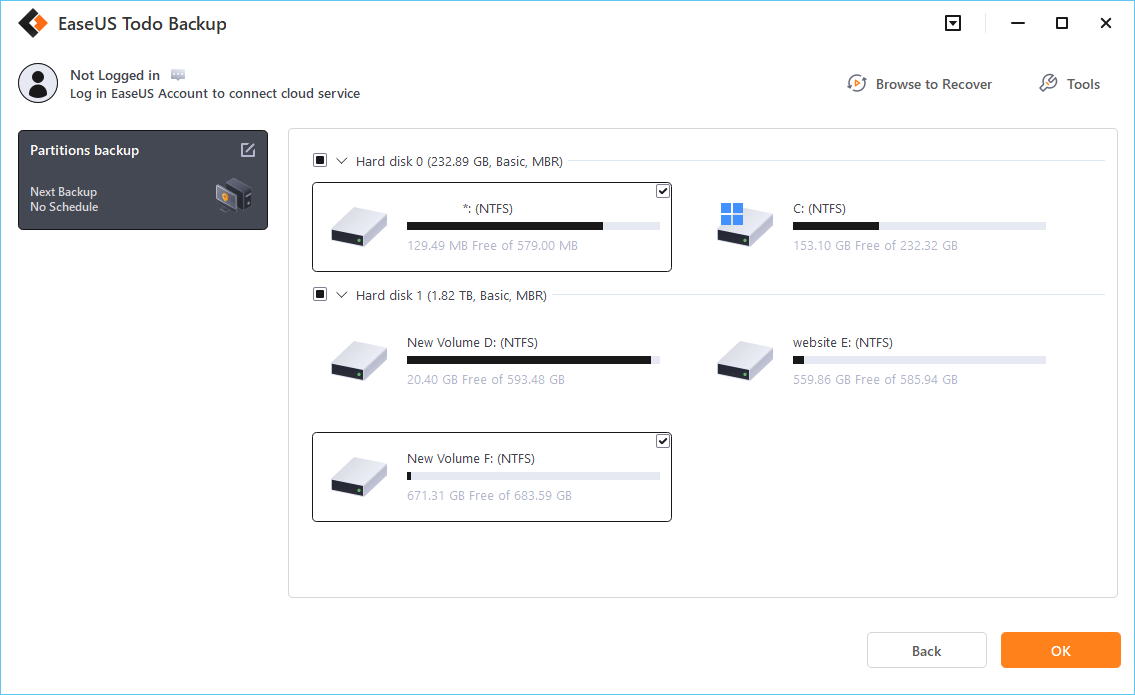 Step 4.  Select the destination where you want to save the backup.
Step 5. For disk/partition backup, you can choose to save the backup to local drive or to NAS.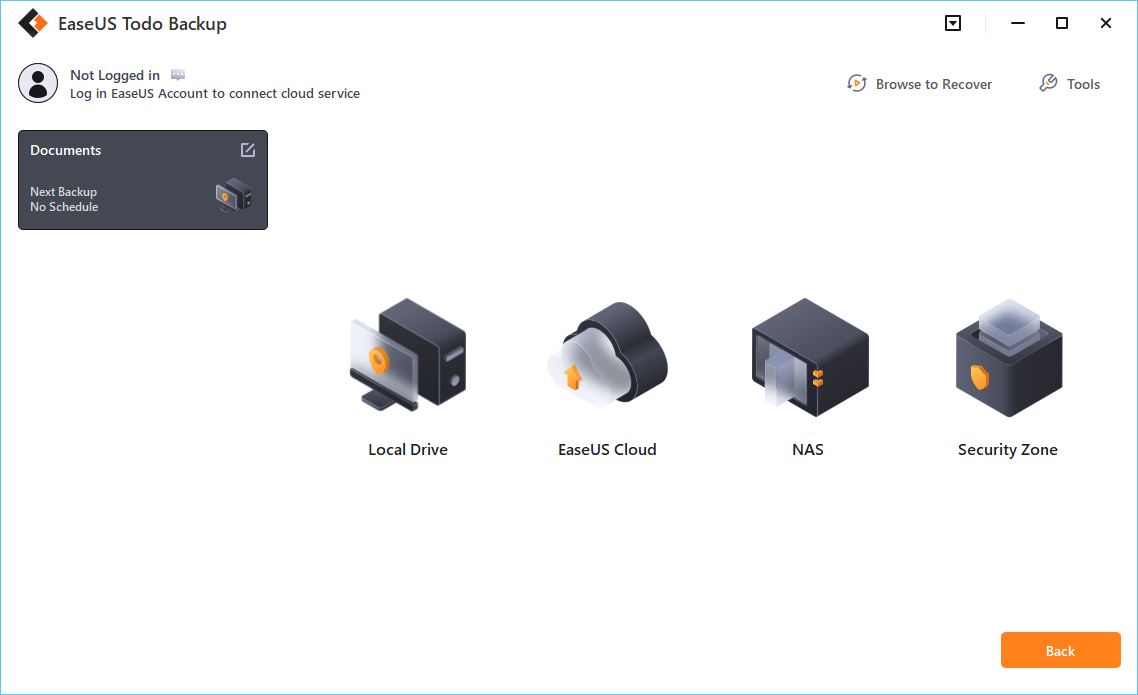 Step 6. After the backup process is completed, your task will be displayed at the left. Right-click any one of the task, you can further manage your backup such as recover it, create incremental backup, etc.
FAQs About SD Card Backup Devices
How Long Will Data Last on SD Card?
An SD card isn't a long-term data storage device. Ensure you back up your data consistently. However, under normal conditions, an SD card can store data for up to 10 years.
Why Do SD Cards Lose Data?
An SD card may lose data because of a user or card error. A user error may occur when you mishandle the card when writing data on it, i.e., ejecting it before the process is complete.  
How Do I Check My SD Card for Errors?
You can use Windows built-in Check Disk Utility. Navigate to Windows File Explorer and right-click on your SD card drive to check its properties. Select "Check Now" to trace any errors on your SD card.
How Does SD Card Store Data?
SD cards store data using NAND chips (electronic components). The NAND chips allow you to read and write data on the SD card.
Why Did My SD Card Suddenly Stop Working?
Your SD card may stop functioning if there's a loose port connection. To solve this issue, reinsert the card into your device. You can also turn off your phone, eject the SD card and return it after some time.  
Daisy is the Senior editor of the writing team for EaseUS. She has been working in EaseUS for over ten years, starting from a technical writer to a team leader of the content group. As a professional author for over 10 years, she writes a lot to help people overcome their tech troubles.

Jean has been writing tech articles since she was graduated from university. She has been part of the EaseUS team for over 5 years. Her special focuses are data recovery, disk partitioning, data space optimization, data backup and Mac OS. By the way, she's an aviation fan!