Choose a proper way to back up your SD card before formatting
1. Manually copy SD card data with a USB cable
2. Automatically backup SD card data with SD card backup software
SD card is with a mini size, which is still widely used on some old-fashioned Android phones/tablets, digital cameras, music players, and nowadays the drive recorder in a car! It's portable, making the data transfer easy between different devices. The more frequently you use the memory card on different devices, the more likely it's getting corrupted. To fix an SD card with error, the most suggested way is formatting, which will lead to a total data loss.
Therefore, you must backup SD card before formatting if there is very important data you would like to keep, and this post shares two ways to copy everything off from the memory card on your own for free.
Solution 1. Backup SD Card Before Formatting with a USB Cable
If you're using the SD card on an Android phone/tablet, you can directly connect your device using the equipped USB cable to backup Android SD card. Both your Android internal memory and the SD memory card will be recognized by your computer. Or, you may perhaps just take out the SD card, and use a card reader to connect it to the computer.
Step 1. On your computer, find your Android external hard drive that represents your memory card. Double click on it to open the contents.
Step 2. Your data on the SD card will show up in many folders with file names. Just press Ctrl and click the folders or files you want to backup, use Ctrl + C to copy those selected items. Now, select the destination location, which can be the computer's hard drive or the other external storage device such as a flash drive, use Ctrl + V to paste all the SD card contents there.
Solution 2. Backup SD Card Before Formatting on Your PC
The first method is highly recommended for people who have a memory card between 2-8 GB, however, for the larger SD card, especially beyond 32 GB, do not try the copy-and-paste way at first. It's so time-consuming, meanwhile, you have to prepare another drive with an even larger size.
To backup SD card with large-size files on it, EaseUS Todo Backup Free is a good choice. It's free backup software that is available on the Windows computer. And the advantages beyond the manual way of SD card backup are about the small backup image and the automated backup process.
To use EaseUS Todo Backup to backup SD card before formatting, only three clicks will do. Connect your devices to your computer and follow the steps below to back up your SD card with ease.
Step 1. Launch EaseUS Todo Backup and then choose backup mode "Disk/Partition Backup".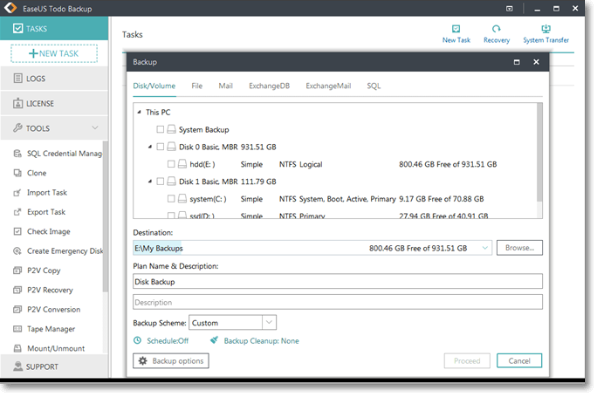 Step 2. Select the backup destination, or it will choose the most suitable location by default.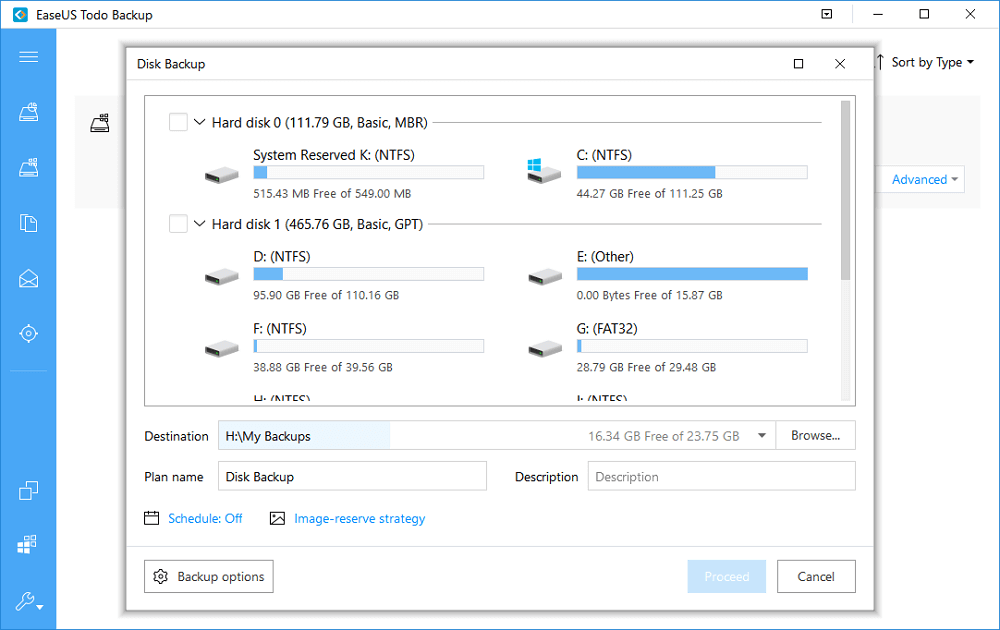 step3. Click "Proceed" to complete the whole process.