Have you ever been troubled by losing MP3 files and attempted to find a tool to retrieve your data? Here the best MP3 recovery software, EaseUS data recovery software is available and ready to help. Just download this tool and follow the step-by-step tutorial, then you will be well guided to recover deleted MP3 music files, WMA files, and other music files effectively with simple clicks.
Why need an MP3 recovery tool
Now free MP3 files have been widely shared over the internet. Sometimes, you have to buy some rare or limited Mp3 music due to the strengthening protection of intelligence. But just like other data files such as pictures, videos, emails, documents, etc, your cherished MP3 files are prone to be deleted by misoperations, formatting, disk corruption, virus attack, and some other reasons.
When you are caught in such a situation, you need to find and download a third-party MP3 recovery tool to help you out. It is the easiest and most efficient way to recover lost or deleted Mp3 files. Read here, you may start to frantically search for a reliable MP3 recovery tool. But what is the best one? read on, and then you will get the answer.
Download MP3 recovery software to recover deleted music files
You may think it is easy to find an MP3 recovery tool as you can find a long list of such programs when you searching on Google. But is it really the case? Of course not!
Even all the MP3 recovery tools listed in the searching results are advertised to be able to fully recover MP3 files, but actually few of them works. If you are one of the victims, here we recommend you to download and try EaseUS MP3 file recovery software which also supports disk data recovery.
With the powerful data recovery capacity, this MP3 recovery software can deep scan your hard drive or other storage devices like external(removable) hard drive, USB flash drive, digital camera, memory stick, SD card, iPod, etc to find and recover lost MP3 files due to formatting, deletion or partition loss or any other reasons.
Note: When you find Mp3 files lost, just stop using the music player immediately and try EaseUS MP3 recovery software to recover MP3 files as soon as possible. Otherwise, your data might be overwritten by new data and get permanently lost. In this case, no MP3 recovery software will help.
Keep Noted: If you lost music files on an SD card, USB or external hard drive, connect it to your PC in advance.
Also, keep in your mind that you should stop using the device immediately when you lost files on it.
Step 1: Run EaseUS file recovery software.
Select the location on which you lost music files in EaseUS Data Recovery Wizard.
Click Scan to let this program scan your device to find lost files.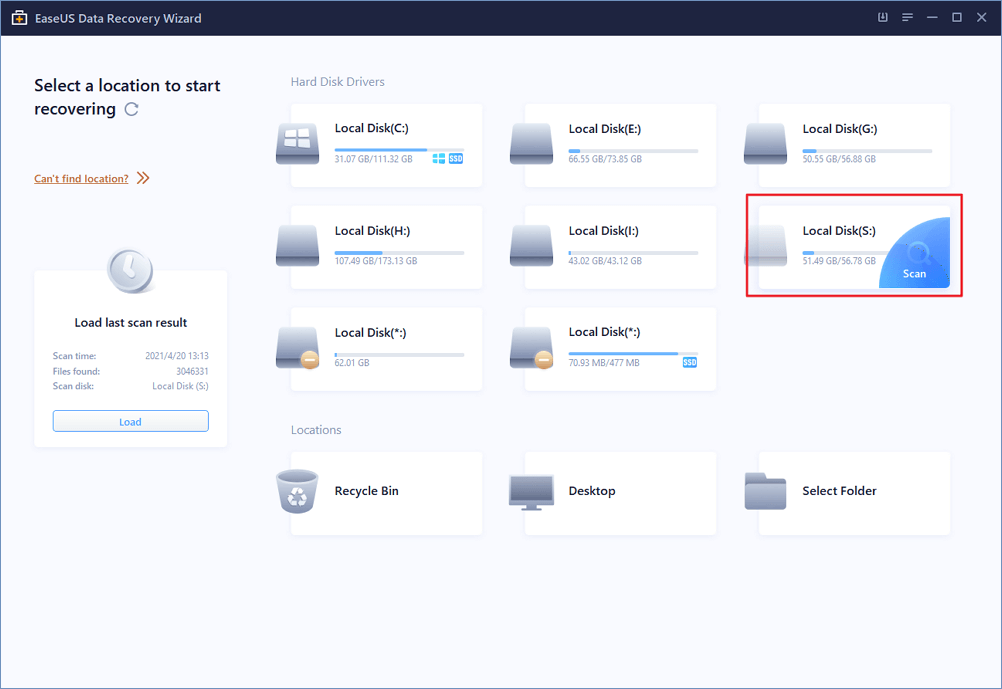 Step 2: Scan and find lost music files.
Wait for the program to scan the selected device to find lost music files.
Check Deleted Files, Drive (with your device name), Lost Partition Files and even Extra Files to find all lost files.
Preview found music files by double-clicking them.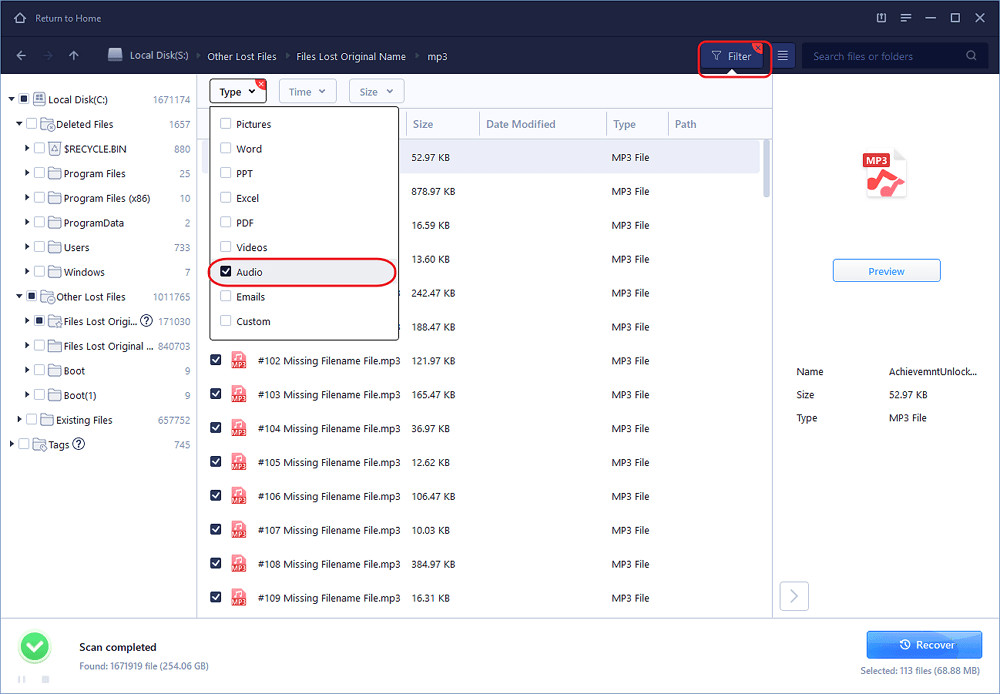 Step 3: Recover music files.
If you are trapped in Mp3 files loss and want to recover them (more than 2GB), I recommend you use the trial version of EaseUS MP3 recovery tool to scan the lost Mp3 files and order the full version to save the recovered Mp3 files.
And EaseUS Data Recovery Wizard is not only an Mp3 recovery software used to recover deleted Mp3 files, but also data recovery software to recover office documents, photos, emails and some other types of files.