PAGE CONTENT:
General Knowledge About RAID
Best Raid Recovery Software - EaseUS Data Recovery Wizard
How to Recover Data from Raid Hard Drive
General Knowledge About RAID
Before introducing the professional RAID data recovery software, let's learn some basic knowledge about RAID.
Definition of RAID
RAID, Redundant Array of Inexpensive Disks or Redundant Array of Independent Disks, is a data storage virtualization technology that provides a way of storing the same data in different places on multiple physical hard disks for the purpose of increasing your system performance or providing fault tolerance.
Different Levels of RAID
Data is allocated on RAID hard drives in different ways, which are referred to as RAID levels, including RAID 0, 1, 2, 3, 4, 5, 6 and 10. The explanations of commonest RAID levels:
| Level | Definition |
| --- | --- |
| RAID 0 | (Striped Disk Array without Fault Tolerance) RAID 0 provides data striping (spreading out blocks of each file across multiple disk drives) but no redundancy. This improves performance but does not deliver fault tolerance. If one drive fails then all data in the array is lost. |
| RAID 1 | (Mirroring Volume) RAID 1 provides disk mirroring. Level 1 provides twice the read transaction rate of single disks and the same write transaction rate as single disks. |
| RAID 5 | (Block Interleaved Distributed Parity) RAID 5 provides data striping at the byte level and also stripe error correction information. This results in excellent performance and good fault tolerance. Level 5 is one of the most popular implementations of the RAID. Give its popularity, it's necessary to know how to back up RAID drives to avoid complete data loss. |
| RAID 6 | (Independent data disks with double parity) RAID 6 requires a minimum of four disks. It uses two parity stripes on each disk and allows for two disk failures within the RAID set. The double parity makes it provide high fault tolerance and more expensive since the two extra disks required for parity. |
| RAID 10 | (A Mirror of Stripes) RAID 10, also called RAID 1+0, is not one of the original RAID levels, two RAID 0 stripes are created, and a RAID 1 mirror is created over them. Used for both replicating and sharing data among disks. |
Advantages of RAID
Generally, RAID uses multiple disks working together to increase overall system performance for computer users, especially server users. In addition, it also has the following benefits:
Higher data security
Higher fault tolerance
Increased parity check and regularly check for any possible system crash
Simultaneous reading and writing process
However, although RAID provides higher data security, data loss on RAID hard drives happens. You may suffer data loss on RAID disks or drives due to system crash, virus attack, power failure/surge or other unexpected errors. You may think that RAID data recovery is complex. Actually, as long as you get the right RAID recovery software, you can recover data from your RAID hard drives safely and effectively with ease.
Best RAID Recovery Software - EaseUS Data Recovery Wizard
The RAID hard drive recovery software - EaseUS Data Recovery Wizard, allows you to recover files from RAID hard drives on Windows with simple steps. Be it RAID 0, RAID 1, RAID 5, or RAID 10, EaseUS RAID recovery software will help you recover data from any RAID hard drive on the condition that it can be recognized by your computer system. For example, it can retrieve data from RAID 1 disk and recover data from RAID 5 with 2 failed drives. With this software, you can get files back from RAID hard drive with the 3-step process: scanning the disks, selecting the files you want to recover, and recovering data.
 Recommendation

Recover data from multiple RAID levels
Recover files from failed RAID drives
Recover lost or formatted RAID logical volumes
It's well worth trying to apply this software to recover data from your RAID hard drive given its scanning speed, quality, stability, and high usability. Don't miss the best RAID recovery software and recover data from your RAID hard drives right now!
How to Recover Data from Raid Hard Drive
To recover data from RAID drives, the professional RAID recovery software is greatly helpful! EaseUS Data Recovery Wizard, the best data recovery software, provides you with the complete RAID data recovery solutions under Windows. With it, you can get back your data from RAID 0, RAID 1, RAID 5, RAID 10, etc. Performing RAID data recovery at random can result in terrible results, so remember to use the reliable EaseUS RAID recovery software and follow the guide above to manage the task safely.
EaseUS RAID data recovery software works for the standard RAID levels. Feel free to perform RAID data recovery as soon as lose data by an accidental deletion or a quick disk formatting. Above all, read the two tips that are going to help determine whether you will succeed in finding the loss or not!
1. Ensure that configuration tables of the RAID are not damaged/corrupted. Do not head to the recovery process until you solve the 'breakdown' problem, especially when you use the RAID 0,5,6,10.
2. For RAID 1, however, you can try to recover data from a single hard drive that still functions well.
Proceed with the detailed guide:
1. Run EaseUS Data Recovery Wizard. Choose the RAID drive from where you wish to recover data, and then click Scan.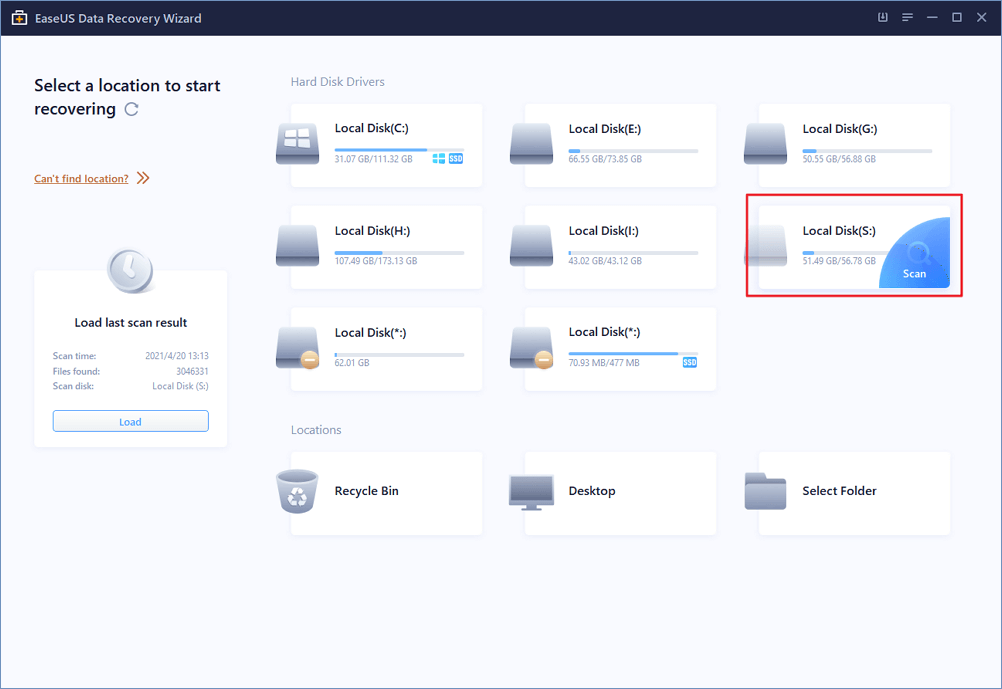 2. The disk scanning starts. Wait for some time, the deleted files will appear one after another.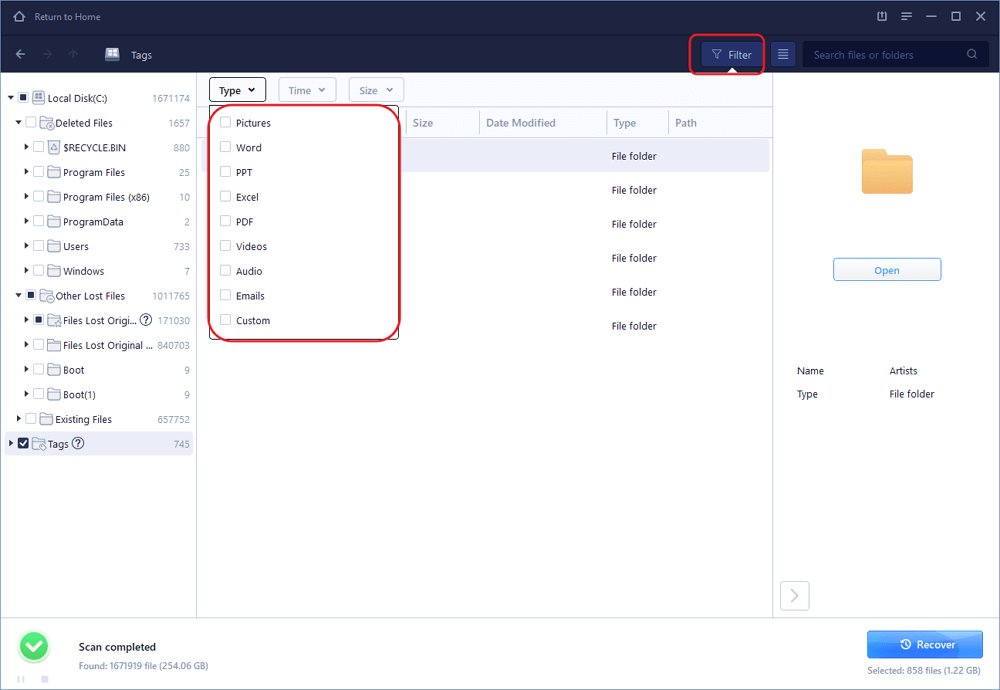 3. After the scan is over, just check the scan results under each section. Select the wanted files and click Recover.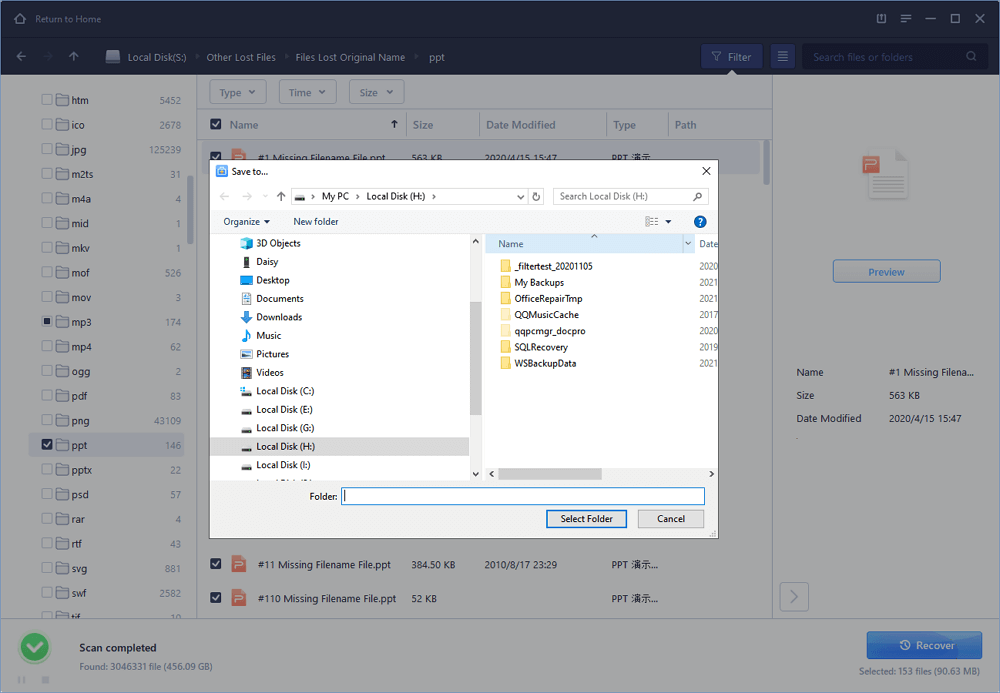 Other than RAID data recovery, EaseUS data recovery software also allows you to:
Recover files from common hard drive, external hard drive, SD card, USB flash drive, and other conventional storage devices
Recover files deleted after emptying recycle bin, system crash, OS reinstallation, and other tough data loss situations
Retrieve photos, videos, audio files, Microsoft Offices files, Adobe files, and other 200+ files
Don't hesitate to equip your computer with such a powerful tool.
Do You Need Specialized Data Recovery Services?
You may need further help for tough data loss situations like reformatting drive, RAW disk, partition loss, repartition failures and system boot error. Consult with EaseUS Data Recovery Experts for cost-efficient one-on-one manual recovery service. They could offer the following services after FREE diagnosis:
1. Unformat the drive

2. Repair the RAID, RAW disk or operating system

3. Recover lost partition (the one that cannot be recovered by software)