
Table of Contents

About the Author

Reviews and Awards

Best Data Recovery Software for 2021
Applies To: Memory card not showing files in mobile and SD card photos not showing up in Gallery
On this page, we included 6 fixes to help you solve the SD Card Photos Not Showing up in Gallery error. Here's the quick access to every solution:
| Workable Solutions | Step-by-step Troubleshooting |
| --- | --- |
| Fix 1. Check the Connection | Re-insert your SD card into the Android phone...Full steps |
| Fix 2. Show Hidden Files | Find "Show Hidden Files" on your Android...Full steps |
| Fix 3. Change File System | Insert your SD card into your computer and open "This PC"...Full steps |
| More Fixes | Sometimes, write protection may be the case why your SD card photos are not showing up...Full steps |
Issue: SD Card Photos and Videos Not Showing Up in Gallery
"Hello there, do you know what to do when the SD card data fails to show up in Gallery on Android phone? I'm troubled by this problem that my Samsung Galaxy S7 failed to read my saved photos and videos on SD card in the Gallery. How can I fix this issue? Please help!"
Actually, SD card photos not showing up in Gallery occurs quite often on Android phones. This issue is slightly different from the pen drive not showing data on PC. Based on our experience, the memory card does not display files may be due to:
Connection issue
Files are hidden or deleted
Incompatible file system
.NOMEDIA file on the SD card
Virus infection
Write protection
Other reasons like electrically damaged or physically cracked memory card may also lead to SD card photos not showing up in Gallery, but that is in rare cases. Now, follow the fixes provided below to solve your problem.
6 Fixes for SD Card Photos Not Showing Up in Gallery
Once you've known the possible reasons, now it's time to fix the problem. Here we've listed 6 proven troubleshooting tips, apply these tips one-by-one until you find the one that works for you. Some methods may need to be operated on a computer, please make sure you have one available. 
Method 1. Check SD Card Connection
Connection issues will certainly cause trouble while accessing the files on the memory card. To check whether the memory card not showing files in mobile results from connection issue, you can:
Re-insert your SD card into the Android phone
Insert your SD card into another phone or computer
Clean your SD card and the slot with a soft cloth
If you've cleaned and re-inserted the SD card into your Android phone several times but it still doesn't work, then the connection is not the "Suspect Zero." In such a case, move on and try other fixes.
Method 2. Show Hidden Files on the SD Card
Sometimes you can't see the SD card photos and videos are because they're set as hidden files. You can show hidden files by changing the Gallery Settings. Here's how to make your files show up again in such a situation:
Step 1. Open default File Manager on your Android.
Step 2. Find the Gallery Menu and choose Settings.
Step 3. Tap the "Show Hidden Files" option and check if your photos and videos show up.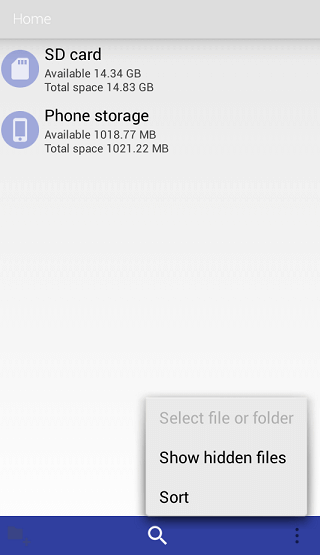 If your Android phone doesn't allow you to do such an operation, you can download the third-party app - ES File Explorer in Google Play to have a try.
Method 3. Change the File System of the Memory Card
If the SD card files are not showing up in Gallery on your Android phone but appear on your computer, your memory card may have a file system that your mobile is incompatible with. Android doesn't support NTFS file system. Instead, it is fully compatible with FAT32, Ext3, and Ext4 file system. If your SD card is an NTFS file system (you can check it via Properties on PC), it won't be supported by your Android phone. To fix "SD card photos not showing up in Gallery" in such a case, all you need to do is back up your SD card files on your computer and then formatted the device to a mobile-supported file system.
To back up the files on your memory card, you can either manually copy and paste the files or make a backup with free backup software - EaseUS Todo Backup. The former solution requires no third-party software while the latter one is much faster. Apply the method you prefer.
After backing up your photos, videos, or other files on your storage device, now you can format your SD card without worrying about data loss.
Step 1. Insert your SD card into your computer via a card reader and open "This PC".
Step 2. Right-click your memory card and choose "Format".
Step 3. Choose "FAT32" as the new file system of your storage medium and click "Start".
Step 4. In the Warning window, click "OK" to confirm your operation.
Step 5. Copy the files you backed up back to your SD card and then insert your SD card into your mobile. Afterward, you should see the files showing up on your Android phone.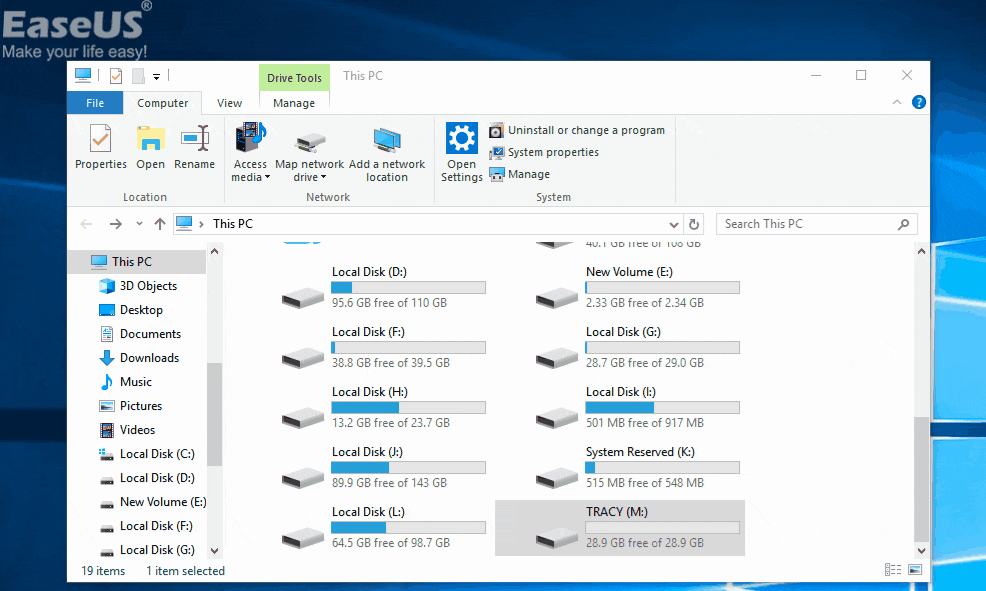 Method 4. Delete .nomedia File in the SD Card
The .nomedia file on Android devices or on devices that are connected to an Android device serves as a reminder to tell other apps not to scan the media files in the folder where the .nomedia file exists. Thus, if there is a .nomedia file in your SD card, the Gallery app cannot read any data from it. In other words, the photos, videos, and other files will become invisible to the Gallery. To fix "SD card not showing up in Gallery" due to the .nomedia file, you can delete the file.
Deleting the .nomedia file needs the help of the third-party tool. You can search on the Internet and choose a reliable tool to help you remove the .nomedia file in your SD card. If there is a .nomedia file existing on your SD card, you will be able to see your SD card photos showing up in Gallery after you remove it from your device.
Method 5. Remove Virus
Virus or malware infection may cause the files on your memory card to disappear, either by hiding or deleting the data. In such a case, run the antivirus software on your Android phone or computer to scan your device. If there is any virus or malware, remove it from your device.
However, there may be data loss on your SD card if the antivirus software finds and removes the problematic files from your device. To get back your data, you can perform SD card recovery using EaseUS Data Recovery Wizard. It helps to recover files lost due to deletion, formatting, virus attack, OS crash, and more. It also supports hidden file recovery, which is useful when "show hidden files" is not working in Windows 10.
To recover lost files from your memory card, download the EaseUS Data Recovery Wizard first:
Step 1. Download EaseUS Data Recovery Wizard - the dependable SD card recovery software for Windows on your PC. Connect the SD card to your computer with either a card reader or by attaching the device that contains it. Launch the software so you can see the SD card from the disk list presented on the interface. Select the SD card and click Scan.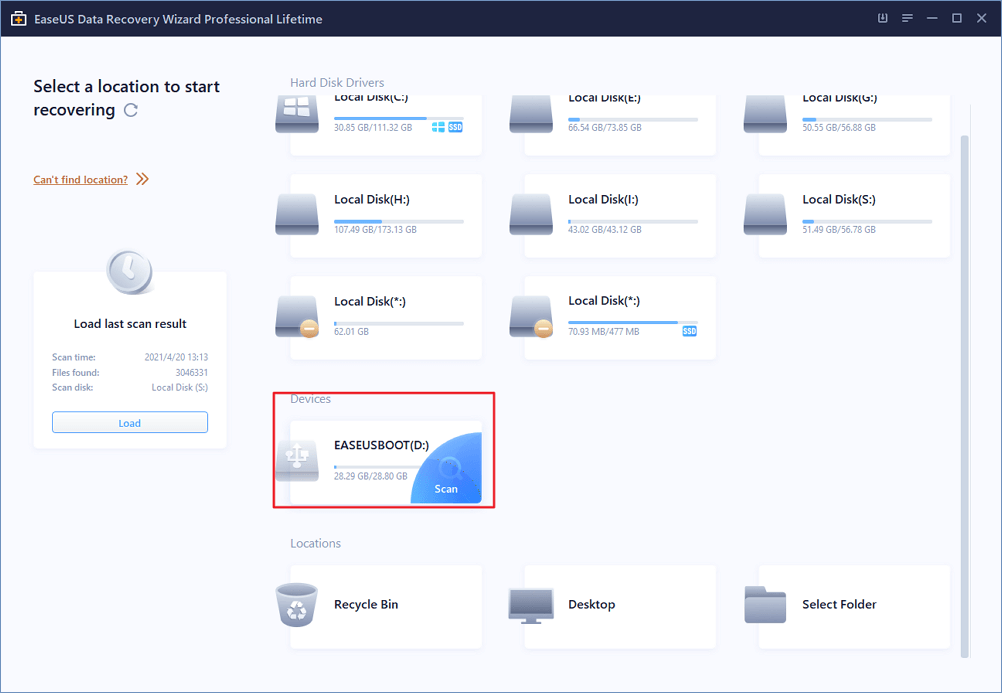 Step 2. The scan process should be running. A quick scan is able to quickly find the files that were recently deleted or items emptied from the recycle bin, and the later deep scan is useful for files that are harder to find, which might lose file names. During the course of scanning the SD card, you can start checking the results from the leftside tree-view pane, or simply use the Filter function to show up only the pictures, doucments, videos, emails and so on.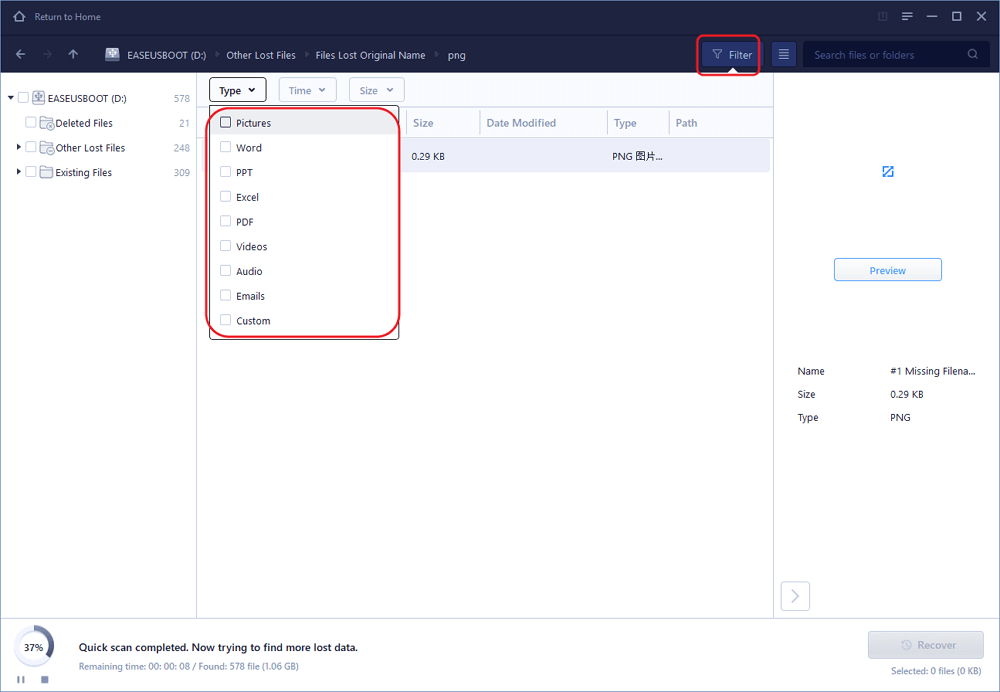 Step 3. Double-click on a file will allow you to preivew its content. At last, select the desired files you wish to recover and click the Recover button to get them all back. When you're asked to choose a location to save the recovered files, do not use the SD card but another drive, to avoid data overwriting.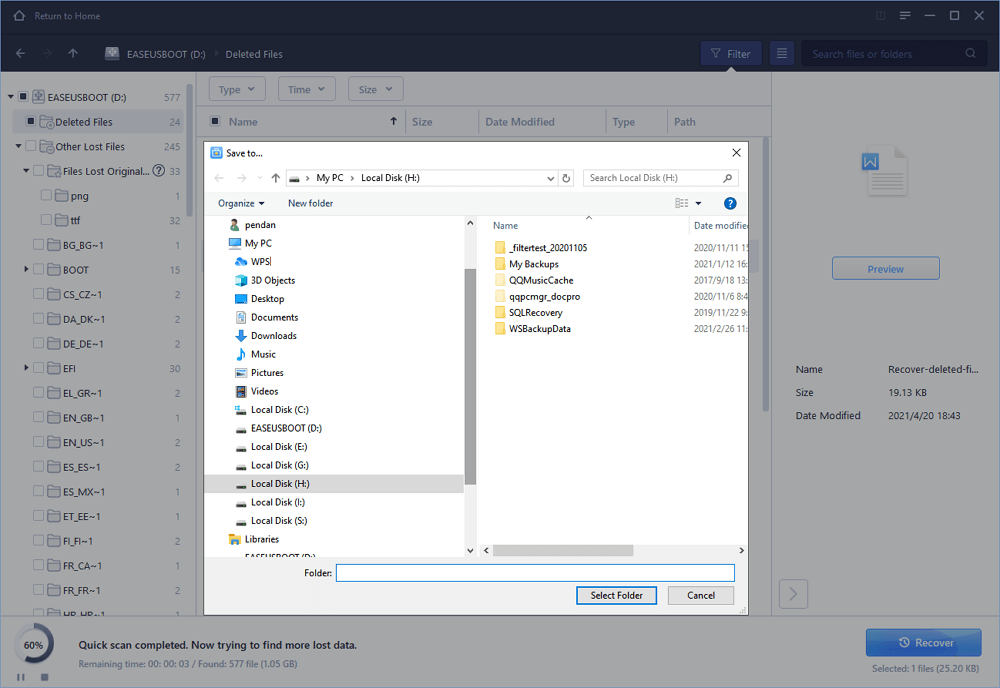 Method 6. Remove Write Protection on the SD Card
In most cases, when a memory card is write-protected, the files on it will still show up on your mobile. But in some cases, write protection may be the case why your SD card photos are not showing up in Gallery. If your SD card is write-protected, you can remove the attribute directly to make the files show up again.
Via Diskpart, you can clean the read-only attribute on a hard drive or external storage device like your SD card.
Step 1. Run "Command Prompt" as an administrator.
Step 2. Enter diskpart and click "Yes" in the prompt asking for notification.
Step 3. Enter the following command in order:
list volume
select volume X (Replace "X" with the number of your write-protected hard drive.)
attributes disk clear readonly
If you don't consider yourself a pro-computer user and you're not familiar with command-lines, don't worry. There are graphical-based solutions to help you remove write-protection from your hard drives, USB drives, and even SD cards.
EaseUS CleanGenius is one of these tools that helps you fix aforementioned issues on your drives without knowing a thing about command-line.
Here's an easy-to-follow guide on how to use this tool to get your issues sorted:
Step 1:  DOWNLOAD and install EaseUS CleanGenius (free) on your computer.
Step 2: Run EaseUS CleanGenius on your PC, select Optimization and choose the Write Protection mode.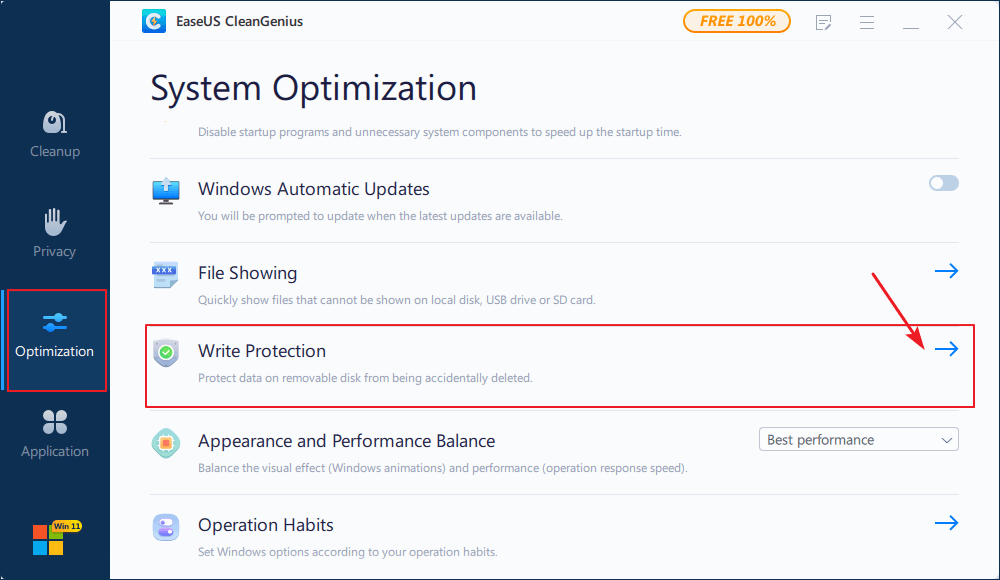 Step 3: Select the device that is write-protected and click Disable to remove the protection.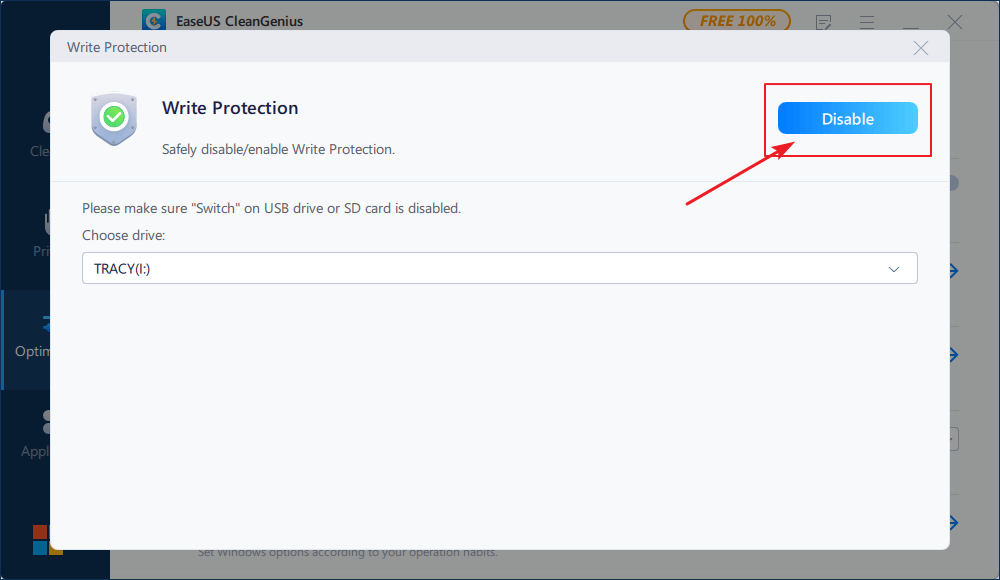 The Bottom Line
In most cases, the issue "memory card is not showing files on mobile" or "SD card photos not showing up in Gallery" can be fixed by one of the methods above. If none of the solutions above works, your SD card may be electrically or physically damaged. That's when you need to replace a new one.
Daisy is the Senior editor of the writing team for EaseUS. She has been working in EaseUS for over ten years, starting from a technical writer to a team leader of the content group. As a professional author for over 10 years, she writes a lot to help people overcome their tech troubles.
Written by Tracy King 
Tracy joined in EaseUS in 2013 and has been working with EaseUS content team for over 7 years. Being enthusiastic in computing and technology, she writes tech how-to articles and share technical solutions about Windows & Mac data recovery, file/system backup and recovery, partition management and iOS/Android data recovery.
EaseUS Data Recovery Wizard is a powerful system recovery software, designed to enable you to recover files you've deleted accidentally, potentially lost to malware or an entire hard drive partition.

 Read More

EaseUS Data Recovery Wizard is the best we have seen. It's far from perfect, partly because today's advanced disk technology makes data-recovery more difficult than it was with the simpler technology of the past.

 Read More

EaseUS Data Recovery Wizard Pro has a reputation as one of the best data recovery software programs on the market. It comes with a selection of advanced features, including partition recovery, formatted drive restoration, and corrupted file repair.

 Read More