"Help! My external HDD suddenly went to a RAW format and I am unable to access the drive to retrieve my files. I searched how to fix a RAW drive problem but totally lost myself in the massive results. It's hard for me to find the right answer. Does anyone know clearly how to solve this kind of problem without losing data?"

What's RAW?
The RAW file system indicates a state of your hard drive which has no or unknown file system. A disk or drive with a RAW file system is also known as a RAW disk or RAW drive. When a hard drive or external storage device is shown as RAW, it could be: The file system of the drive is missing or damaged. The quick way to fix a RAW file system is to format the drive with a Windows recognizable file system like FAT or NTFS.
Here is the problem. Formatting a disk will help convert the RAW file system to NTFS, for example, but this behavior also erases data on this drive.
The proper way to handle a RAW HDD, USB flash drive, or SD card should be like this:
-> No data in the RAW drive
Handling a RAW drive without much data inside is much easier. The only fix is to choose a reliable and professional program to format the drive.
-> There is important data inside the RAW drive
In fact, over 90% of the circumstances are having data involved. If you want to get the highest chance of successful recovery of inaccessible data from the RAW drive, you should perform data recovery before formatting the device (even Windows asks you to format the disk in drive X before you can use it), because formatting will overwrite the lost data which makes part of the data unrecoverable by any third-party EaseUS Data Recovery Wizard program.
Besides, you don't perform 'chkdsk' command or 'clean' command in Diskpart on the RAW disk before data recovery. Those Diskpart commands can somehow solve most of the hard drive corruption problems. However, they also do damage to the files in the drive and decrease the chance of data recovery.
If you're interested in getting a dependable RAW data recovery service, this video is helpful.
How to Convert RAW to NTFS in Windows 10/8/7 Without Losing Data
Download EaseUS Data Recovery Wizard, an easy-to-use and powerful EaseUS Data Recovery Wizard that is good at retrieving data from an inaccessible or unreadable HDD, external USB flash drive, memory card, and many other storage devices. It is a do-it-yourself program that average computer users can easily operate, without requiring learning curves. It's able to recover up to 1000 types of files in all kinds of data loss cases, including that your hard drive starts malfunctioning, turning to RAW.
One of the salient features in EaseUS Data Recovery Wizard, which is also the feature that surpasses its rivals, is that it can automatically repair videos, audio files, and documents that are corrupted after recovery. With the EaseUS data recovery solution, it's less possible to encounter the issue - files won't open after recovery.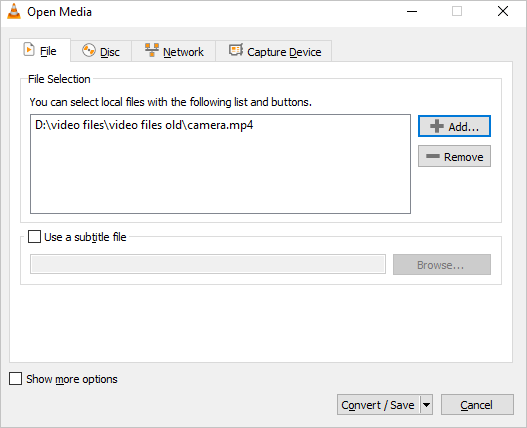 To recover data from a raw drive, follow the three steps.
Step 1. Select and scan the RAW partition
If the RAW partition contains a partition label, you can directly select it from drives list and click "Scan" to look for the lost files. If the RAW partition lost its label, it will be recognized as "Lost Partition", just select the "Lost Partition" and click "Scan" to initiate an overall scan on the RAW drive.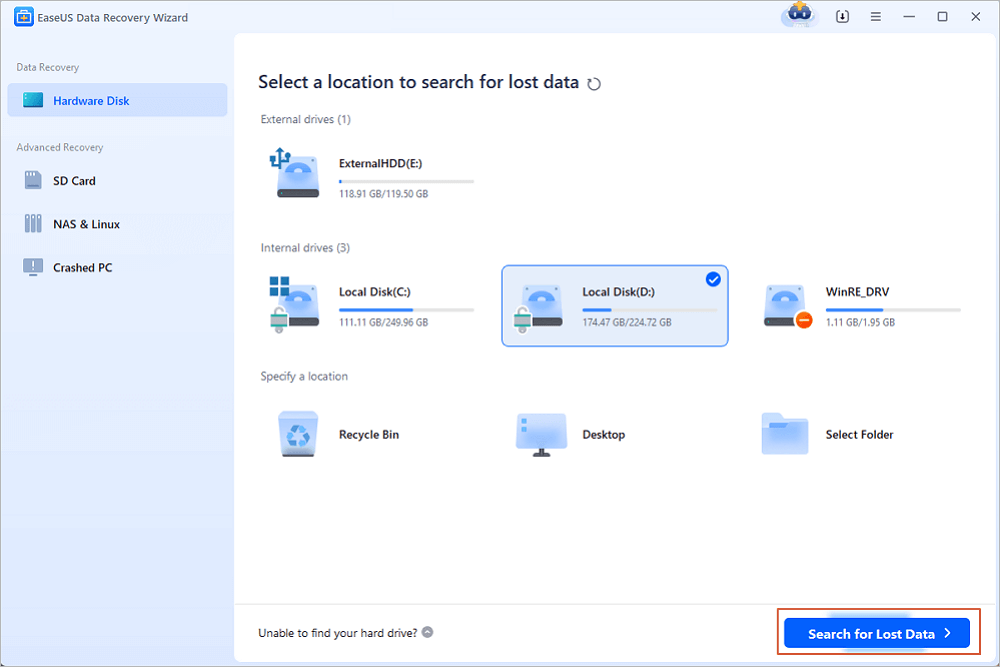 Step 2. Preview found data from the scan result
After the scan is completed, all available files in the RAW hard drive will be displayed. View these files and find the files you want to recover. You can sort the scanned data by file format or search directly in the "Search files or folders" box.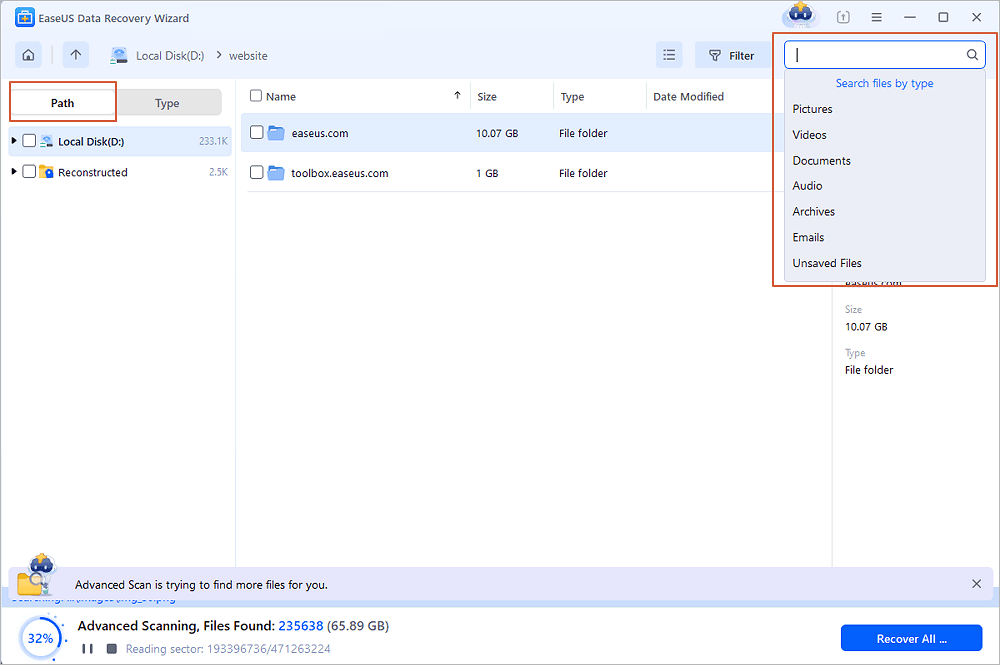 Step 3. Recover data from RAW partition
Select all files and click "Recover" to get all the data back. Select another internal or external hard drive to save the recovered data and click "OK" to start RAW drive recovery.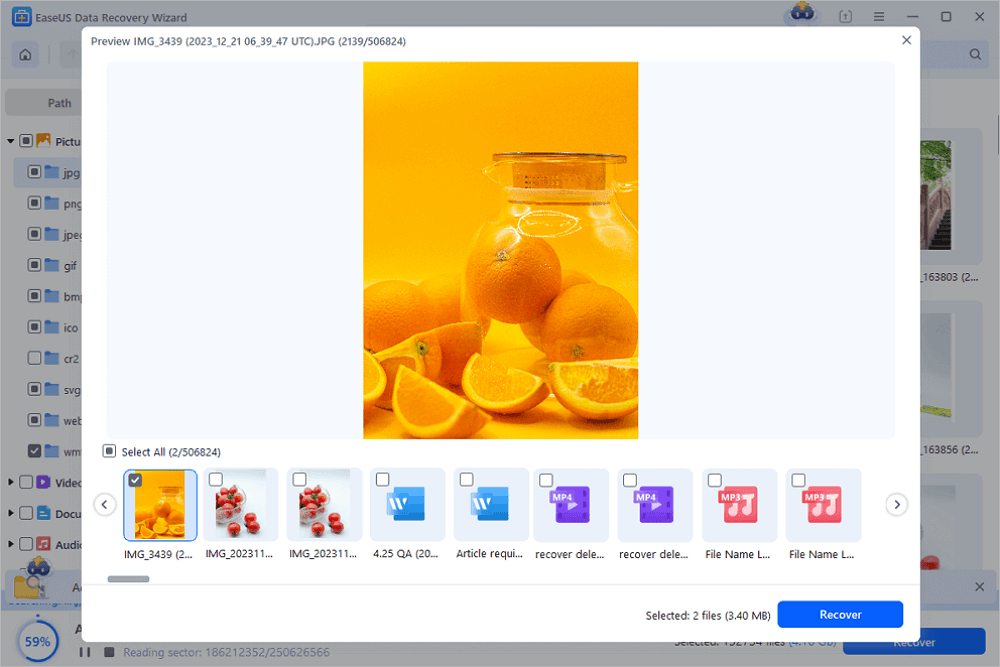 Alternatively, whenever you find difficulty in running the software to find lost data on the RAW drive, e.g., the recovery process is too time-consuming on an incredible large RAW disk, or you've already tried data recovery but did not find the desired files, never mind, you can turn to the EaseUS manual data recovery service.
EaseUS RAW Recovery Services
Click here to contact our experts for a free evaluation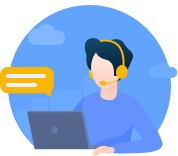 Consult with EaseUS data recovery experts for one-on-one manual recovery service. We could offer the following services after FREE diagnosis:
Repair damaged RAW drive without formatting<
Recover data from RAW drive, including BitLocker encrypted drives
Recover RAW partition, RAW USB, RAW flash drive, RAW external hard drive, etc.
Best RAW to NTFS Converter Free Download for Windows 10/8/7
Despite the solution to fixing a RAW drive is simple and straightforward and there are many ways to do the job, we choose EaseUS Partition Master Free, a third-party RAW to NTFS converter program, over all other choices. The reasons are in the following.
① It's free, applicable to all Windows platforms, including Windows 10/8/7/XP/Vista and Windows Server.
② It won't cause further errors like [1]"Windows was unable to complete the format" in Windows Explorer, [2]"The format did not complete successfully" in Disk Management, and [3] "Chkdsk is not available for RAW drives" in Windows Command Prompt.
③ The way of Disk Management processing a RAW drive is to delete the RAW drive first and then recreate a new partition on the previously RAW partition. EaseUS Partition Master lets you directly format the RAW drive to many file systems like FAT and EXT, not limited to NTFS.
④  It's a program with multi-functional disk management solutions in it. The frequent and practical features include resize/move, copy partition, migrate OS, merge partitions, etc. We suggest personal and home users install EaseUS Partition Master so as to use it as a long-lasting friend who is accompanying around.
See how to use EaseUS RAW to NTFS converter to convert RAW to NTFS.
Step 1. Launch EaseUS Partition Master.
Right-click on the RAW partition or RAW external hard drive/USB/SD card that you need to format and choose "Format".
Step 2. Format RAW Partition and reset the file system.
Assign a new partition label, set the file system to NTFS/FAT32/EXT2/EXT3/EXT4/exFAT, and cluster size to the selected partition, then click "OK".
Step 3. In the Warning window, click "Yes" to continue.
Step 4. Execute the operations.
Click the "Execute 1 Task(s)" button in the lower right corner to view all the changes, then click "Apply" to start formatting your RAW partition/USB/SD/external hard drive.
RAW Drive Is Fixable, So Is Data!
Regarding the topic of "RAW to NTFS converter software free download", we outline an article that focuses on how to convert a RAW drive to a recognizable drive without losing data. To accomplish the job, we need two assistants:
1. EaseUS Data Recovery Wizard, which helps retrieve data from a currently inaccessible drive, like the RAW drive.
2. EaseUS Partition Master, which aims to fix the RAW drive issue by reformatting the RAW drive with an NTFS file system so it can be put in use again.

Cedric Grantham is one of the senior editors of EaseUS who lives and works in Chengdu, China. He mainly writes articles about data recovery tutorials on PC and Mac and how-to tips for partition management. He always keeps an eye on new releases and loves various electronic products.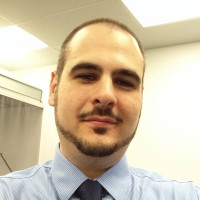 Approved by Evan Galasso 
Evan Galasso is a digital forensics and data recovery engineer with over 10 years of experience in the field. He presents opinions on the current state of storage media, reverse engineering of storage systems and firmware, and electro-mechanical systems of SSDs and HDDs.