Netflix is one of the leading OTT platforms where you can watch your favorite TV series and latest movies. If you are a frequent user of Netflix, you must know the new content download feature. Yeah! It's amazing! But many times, people want to transfer their Netflix downloads to other devices, and the reason can be that they want to transfer the downloads from the old system to the new system or the old phone to the new one.
Now the question is, how can you transfer Netflix download? Whether it's possible or not? We will know everything about this via this post so read the post till the end to grab complete knowledge.        
Can I Transfer My Netflix Downloads to Another Device 
In general, if you will ask, can I transfer my Netflix downloads to another device? Then, the answer is no! But here, you need to pay attention to your subscription plan. As you know, the maximum number of devices you can download the titles on Netflix is always dependent on your subscription plan.
Usually, Netflix comes with three plans basic, standard, and premium. Per the terms and conditions, the basic plan allows the user to download titles to one device; the standard plan allows two devices, and the Premium plan allows up to 4 devices. 
But remember, it's a strict instruction from Netflix that you can only watch the downloaded content on the same device you downloaded the titles. Why so? The answer is it's only because all the titles on Netflix are proprietary and encoded in Netflix native format, which is non-transferable between devices directly, which means each device needs to download content on its own!  
So, what's the solution here? Yeah! However, you can take the help of reliable third-party software to decode Netflix downloads. Here we will always recommend you go with EaseUS Todo PCTrans to transfer those big download files between devices without any data loss.    
Transfer Netflix Downloads from PC to PC
Here we will guide you on how you can transfer Netflix downloads from one PC to another. We recommend using the EaseUS Todo PCTrans tool to do this process. Before going into the detailed process of transferring Netflix downloads, it's essential to know about the tool we will use.
EaseUS Todo PCTrans is an excellent and reliable tool for transferring your data from one system to another. It is a top-rated third-party tool with several advanced features and functions and supports Windows 11/10/8/7 operating system versions.
When it comes to the advantages and functions, you can say it offers users the best and most user-friendly interface. Another significant advantage of this tool is that it comes with three flexible transfer modes like PC to PC, locally, and via image files without any data loss. Rather than these two, you can get additional advantages. The list includes:
Quick and seamless data migration for Windows PC.
Moving new programs to your new PC and data recovery or rescue from a broken or dead computer.
Efficiently transferring personal data and settings to a new system. 
Now follow our below-mentioned exact steps to transfer your decoded Netflix download files from one pc to another via EaseUS Todo PCTrans.     
Step 1. Open EaseUS Todo PCTrans on both of your computers. Choose "PC to PC" to go to the next step.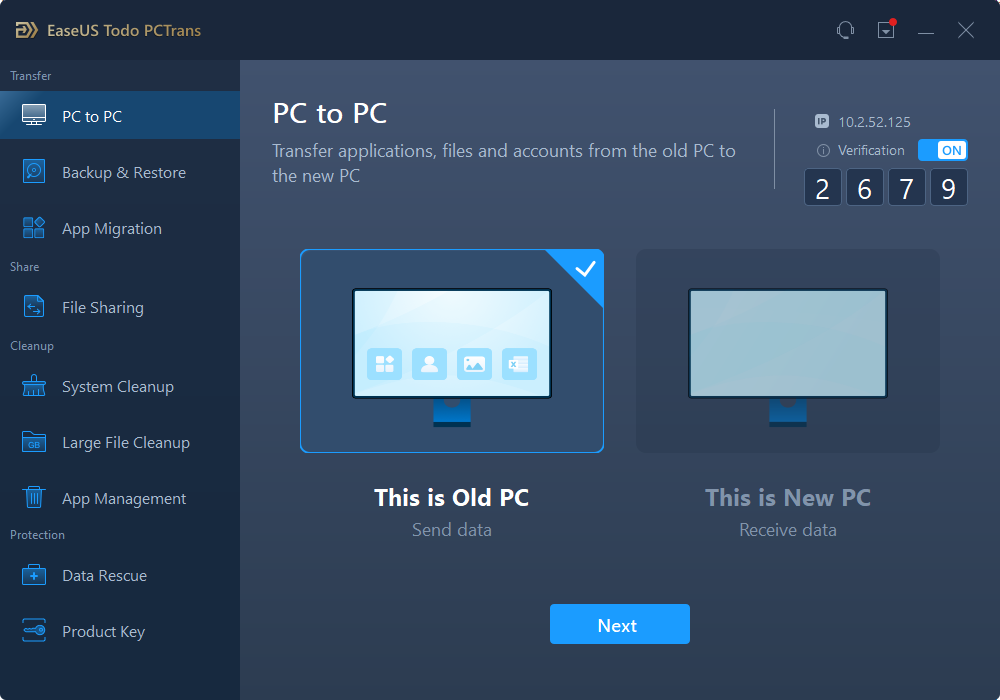 Step 2. Make sure you have chosen the right transfer direction.
"New" - Move data from old computer to current new computer.
"Old" - Move data from current old n computer to remote new computer.
Step 3. Connect two PCs via the network by entering the password or verification code of the target PC. Besides, make sure you have chosen the right transfer direction and click "Connect" to continue.
The verification code is on the right top of the "PC to PC" main screen on the target computer.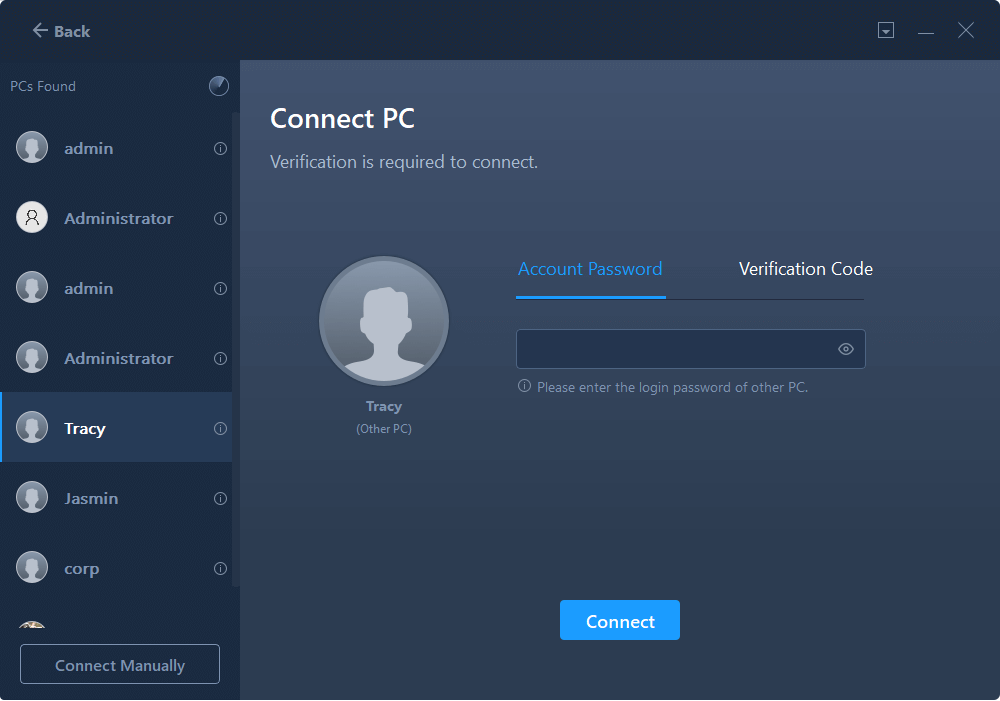 Step 4. Then, choose "Files" to select files to transfer. Select the specific files as you want. What's more, you can click the Edit icon to customize the storage path for transferred data.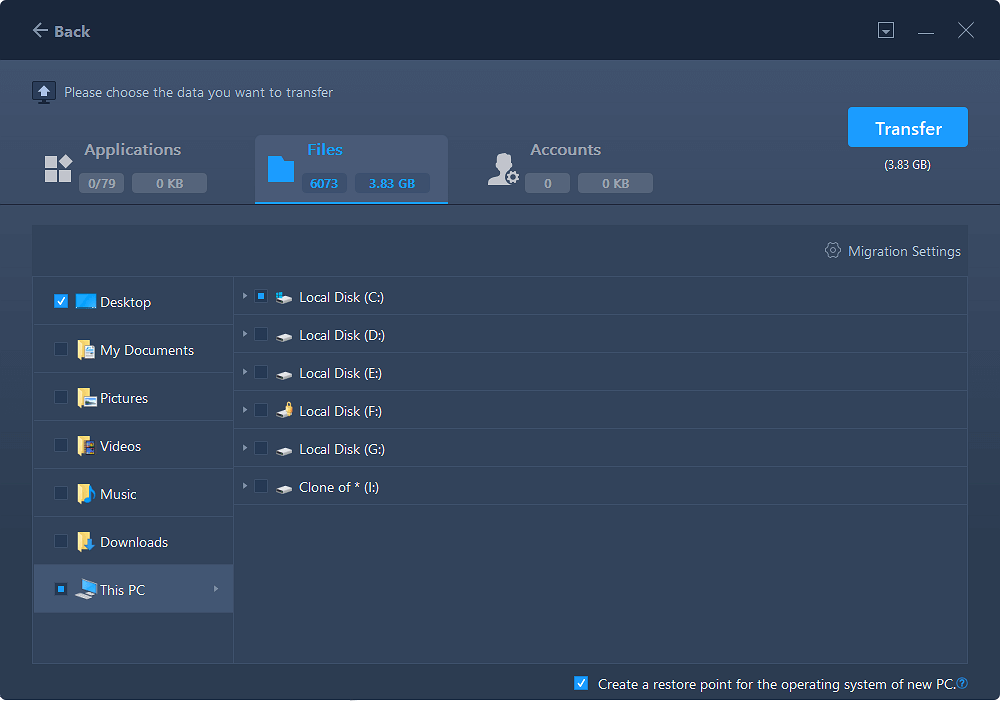 Step 5. Now, click "Transfer" to begin to transfer files from PC to PC. The size of the file determines the transfer time. Wait patiently.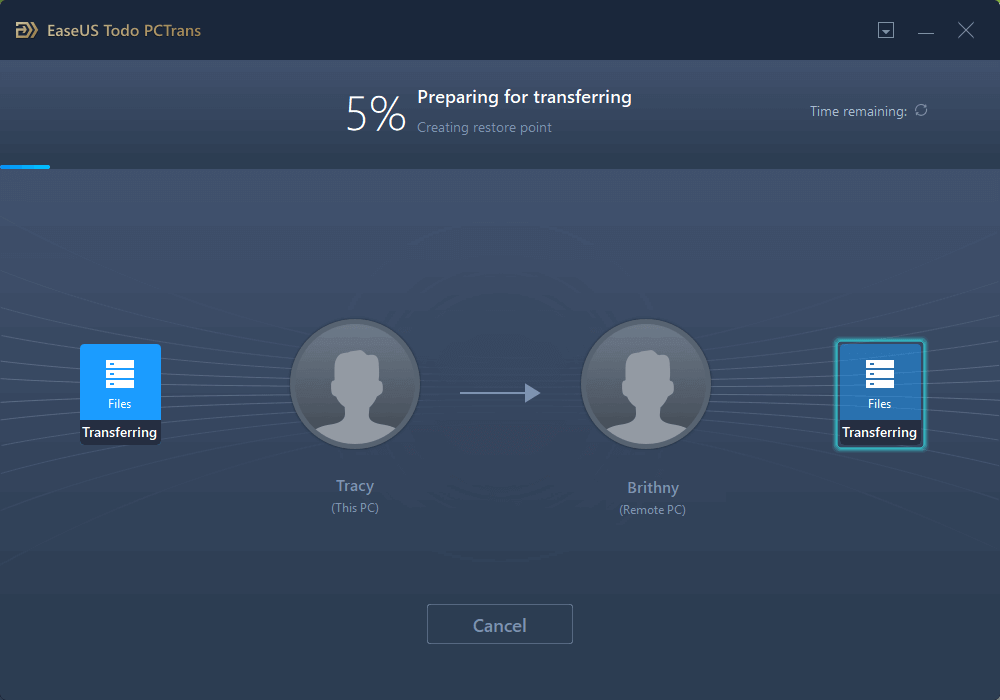 Transfer Netflix Downloads from PC to Mobile 
After decoding the Netflix downloads, if you want to transfer those from your PC to your Mobile, follow the steps below carefully and adequately. 
Step 1: First, connect your smartphone to your PC with the help of the USB cable that came with the device, or you can insert your mobile phone's microSD card into your system's card reader slot. 
Step 2: Now, wait for the notification in your taskbar telling you that new hardware has been detected. Click on the message to see the phone's storage drive. If you don't get a message for any reason, then open File Explorer and click on This PC and look for drive-in Devices with Removal Storage. 
Step 3: After identifying the storage, open the folder on your system's hard drive where you have stored the Netflix video files you want to transfer to your phone. Click on those video files and drag and drop those to your phone's storage device.
Step 4: After transferring all your needy Netflix downloads, disconnect your phone from your system or remove the SD card once you get the notification to remove the hardware in your system taskbar safely.       
Transfer Netflix to Another Device (With Downloads)
As we have already mentioned, you can't watch your Netflix downloads on a new device because they are encrypted, but EaseUS Todo PCTrans allows you to transfer those files to another device and watch them. Here you need to focus that if the videos are downloaded in the installation directory of Netflix, then users only need to transfer the application. Still, if videos are downloaded in other directories, you must select the application and check those video files. 
Here in this section, we will discuss detailed steps about how you can transfer installed programs such as Netflix from one PC to another with EaseUS Todo PCTrans. Still, before that, it's essential to know more about the advantages and features of this fantastic tool. 
When it comes to EaseUS Todo PCTrans, this is one of the most reliable file transfer tools, with quick performance and advanced features. The main advantages of this tool are you can easily and seamlessly transfer your data from one system to another without any data loss. It offers three flexible transfer modes: transfer pc to pc, transfer locally, and transfer via image files. Users will get a fast and user-friendly interface.
If we talk about the features of this tool, then you can use it for quick data migration for Windows PC. Move new programs and personal data to your new pc and recover data from dead computers without any data distortion.  
Now follow the steps to transfer your Netflix from one PC to another via the EaseUS Todo PCTrans tool. 
Step 1. Run EaseUS Todo PCTrans on both PCs
On the source PC, select "PC to PC" on the main screen of EaseUS Todo PCTrans and move on.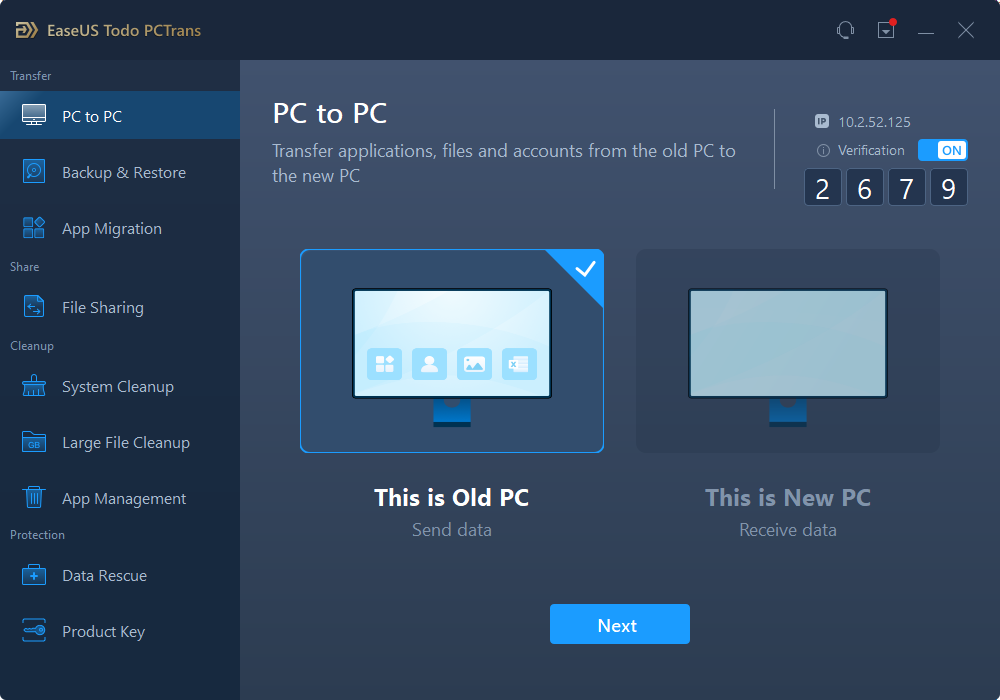 Step 2. Choose transfer direction - Old or New Computer
"New" - Transfer all data from remote old computer to current new computer.
"Old" - Transfer all data from current old device to a new computer.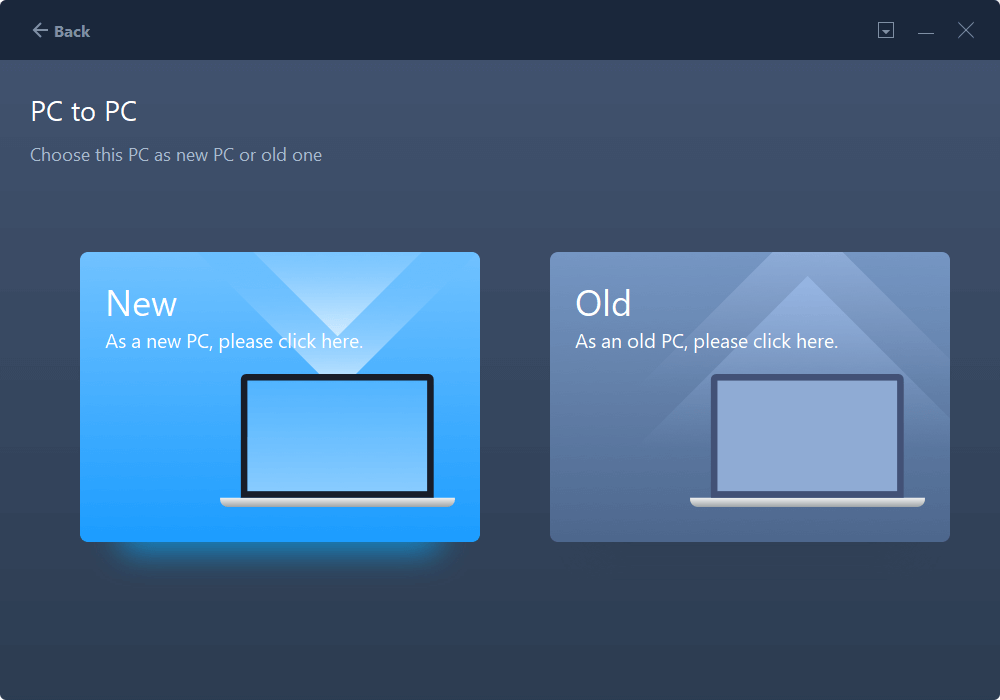 Step 3. Connect two computers
1. Select your target PC to connect via its IP address or device name and click "Connect".
2. Enter the login password of your target PC and click "OK" to confirm.
If you didn't see the target PC in the listed devices, you can also click "Add PC" to manually connect the target PC by inputting its IP address or device name.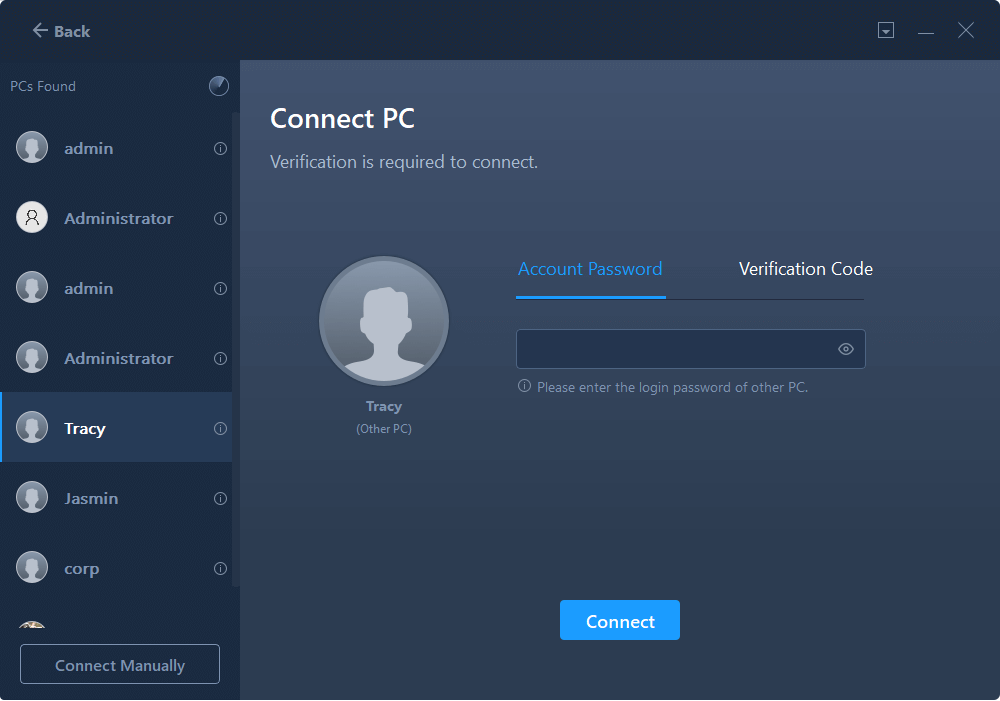 Step 4. Select apps, programs, and software and transfer to the target computer
1. You can select and choose what you want to transfer from the current computer to the target PC.
2. After selecting desired applications and programs, click "Transfer" to start the transferring process.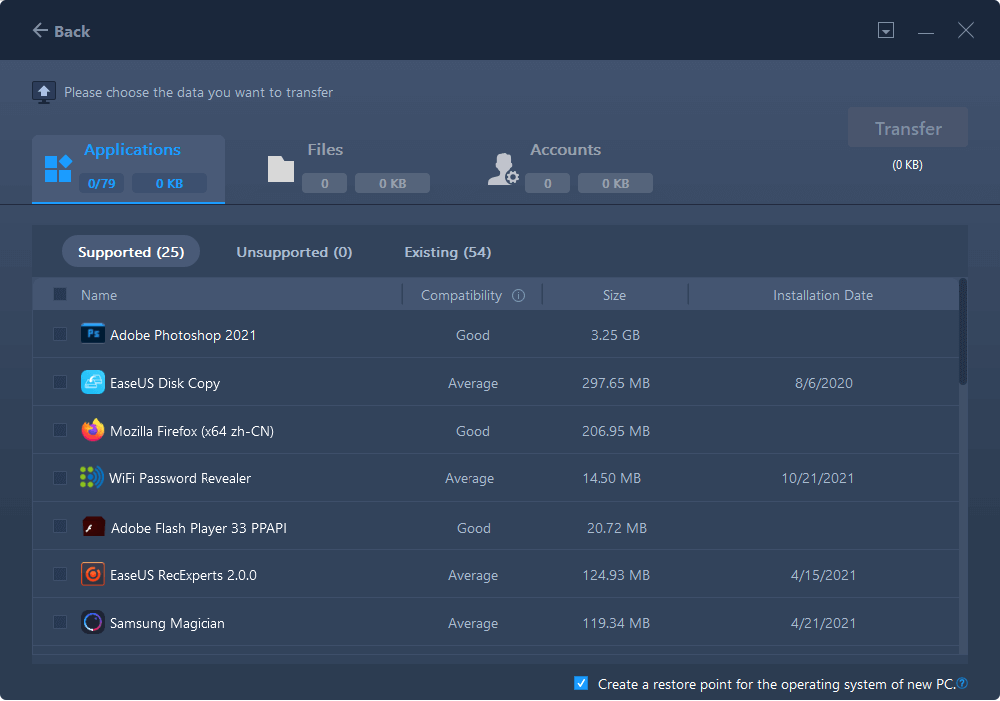 Conclusion 
Though it's a challenging task to transfer your Netflix downloads from one device to another, it's possible! If you have read the whole post, you have complete knowledge of transferring the decoded Netflix download from one device to another in different scenarios. Follow the exact steps we mentioned for different devices. Lastly, we will always recommend using the EaseUS Todo PCTrans tool to make your process easy and flexible. If you have any questions feel free to ask us under the comment section, we will love to answer those Thanks!
About the Author
Updated by Tracy King 
Tracy joined in EaseUS in 2013 and has been working with EaseUS content team for over 7 years. Being enthusiastic in computing and technology, she writes tech how-to articles and share technical solutions about Windows & Mac data recovery, file/system backup and recovery, partition management and iOS/Android data recovery.
Reviews and Awards
EaseUS Todo PCTrans Free is a useful and and reliable software solution created to serve in computer migration operations, be it from one machine to another or from an earlier version of your OS to a newer one.

 Read More

EaseUS Todo PCTrans is by the folks at EaseUS who make incredible tools that let you manage your backups and recover your dead hard disks. While it is not an official tool, EaseUS has a reputation for being very good with their software and code.

Read More

It offers the ability to move your entire user account from your old computer, meaning everything is quickly migrated. You still get to keep your Windows installation (and the relevant drivers for your new PC), but you also get all your apps, settings, preferences, images, documents and other important data.

 Read More