There can be nothing more frustrating than running low in free drive space. Isn't it? Having insufficient drive space will prevent us from installing important updates/ upgrading your OS of Windows and decrease your computer performance. Resetting can be an option, but it may delete all the essential data in your computer sometimes. So, one of the best options you can go for is to free up C Drive Space. You can free up the space before/after you receive a low free drive space notification. Or, you can do it before Windows 11 Update if you are thinking about installing it.
How Do I Free Up C Drive Space Before or For Windows 11 Update?
Cleaning out before you update for Windows 11 is a beneficial thing. A low drive space will not allow you to install all Windows 11 on your PC. By this, you will not have access to all the latest and cool features of Windows 11. So, you have to ensure that you have enough storage space to install Windows 11. You will receive a notification saying Windows find that you don't have enough storage space.
Check What Is Taking Up Space On Hard Drive?
Follow the below steps to check what's eating your drive space.
Open the settings tab through the windows icon.
Click on system options from the available one.
Now tab on the storage option from the menu present on the left side.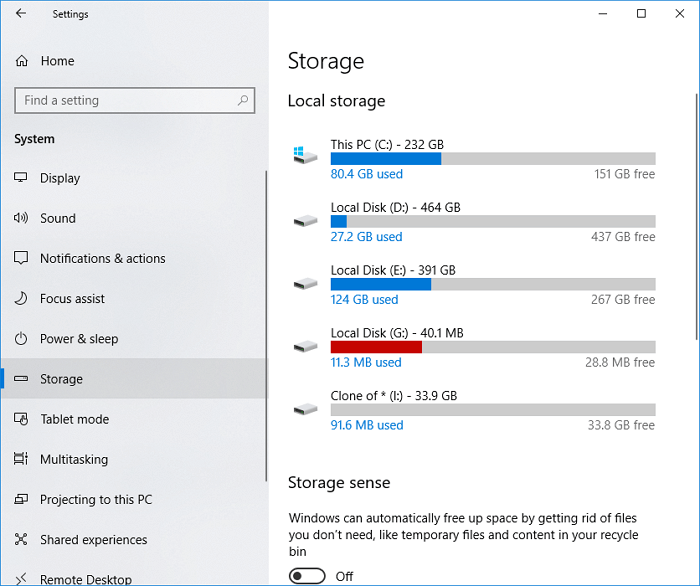 Next, under the storage section, you will be able to see what is taking up the most space in your hard drive.
Now click on the show more categories option to view all the categories taking up the space.
You can go through each file type and check the files and the storage space it is taking. If necessary, you can delete some of the temporary files that you think are unnecessary.
Now click on view storage space on other drives under the More storage settings tab.
Tab on the data option to check how the space is being utilized on a secondary drive. Here you can see all the storage usage of different files.
So, this is the way to see what is taking up your hard drive space. Now, check each category and analyze them deeply.
5 Ways to Free Up Disk Space Before or For Windows 11 Update
Clean-Up System Junk Files, Large Files, Transfer C Drive Programs with EaseUS Todo PCTrans
The first step in clearing desk space is to remove all the junk files, not necessarily used files that take ample space. Another option is to transfer some of the important or unused essential files to have more storage space. Wondering how to do it? No worries, Easeus will do it all for you. EaseUS is a software that does App Migration, System Cleanup, Large File Cleanup, App management, etc., and free up C drive space in all Windows OS. So, it helps you to clean all the junk files regularly with ease. You can also transfer the files for free using EaseUS Todo PCTrans. Through this software, you can quickly and safely transfer your files. They provide you with 3 different modes of transaction i.e, transfer via a network connection, image files, and transfer locally. It works with different windows and other applications like Adobe software, Apple applications, Zoom, Spotify, AutoCAD, Dropbox, and many more. So, it does help you a lot in many ways. It has a free version and paid version you can go for. They also give you a 30-day money-back guarantee for the professional version. So, downloading it in the first place can help you a lot.
Step 1. Open EaseUS Todo PCTrans on your computer. Click "System Cleanup" and click the "Scan" button to go on.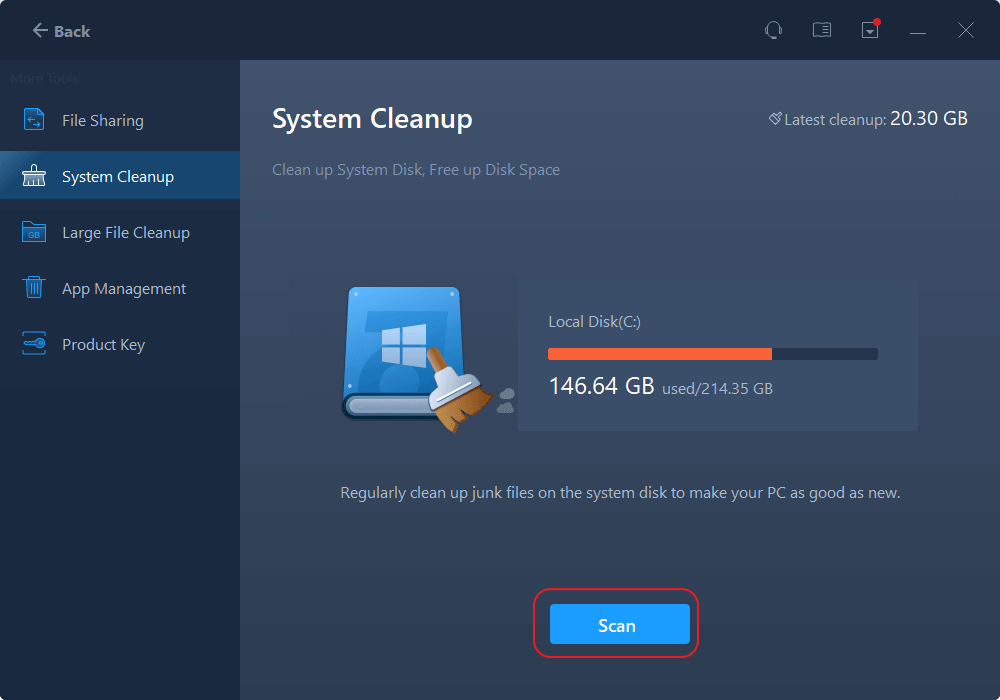 Step 2. When the scan completes, junk files will be listed. Selected the unwanted files. Be careful not to mistakenly delete files that affect the normal operation of your computer or software.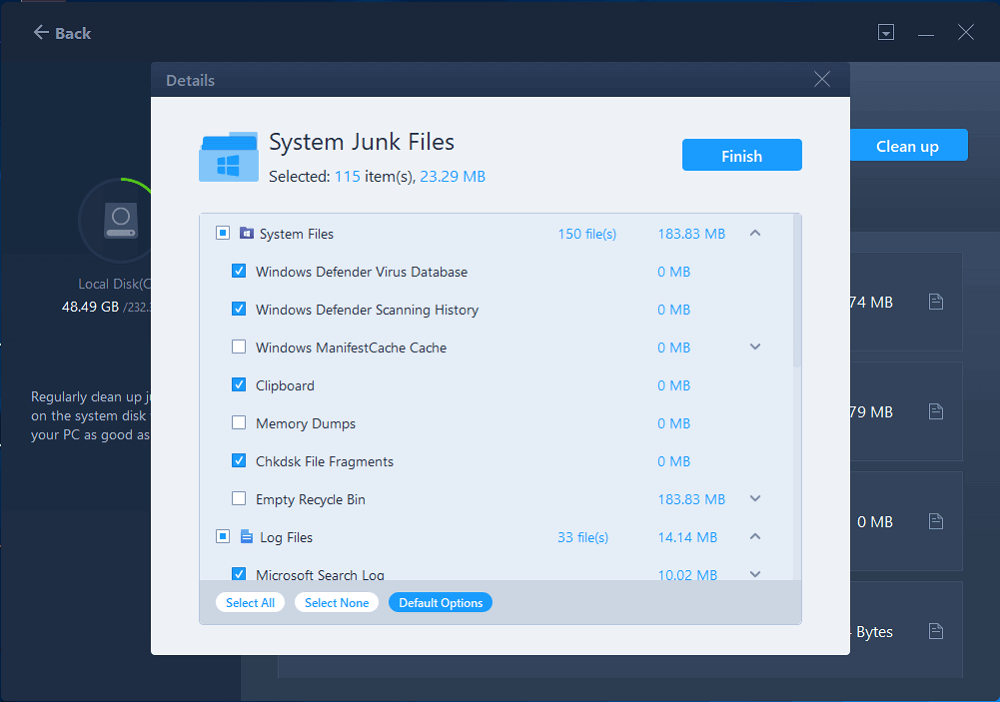 Step 3. Click the "Clean up" button and confirm the cleanup operation. You can regularly use this function to free up disk space.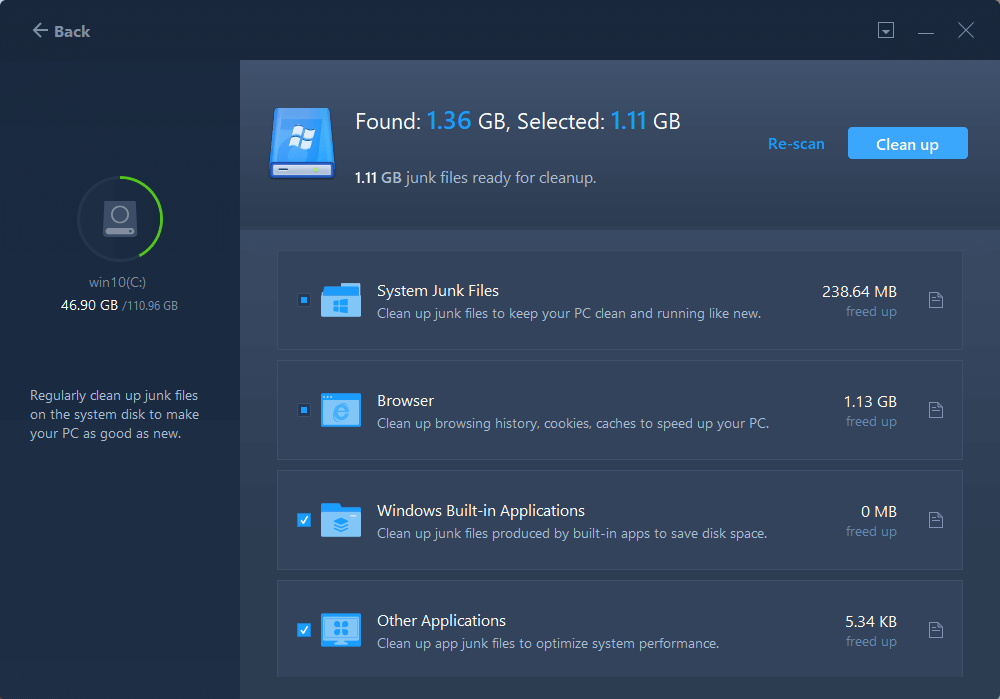 Delete Windows Old Folder
Follow the below steps to delete windows old folder
Search for the disk cleanup tab through the windows icon.
Click on the disk cleanup option from the available one.
Now a small box pops up. Then click on clean up system files.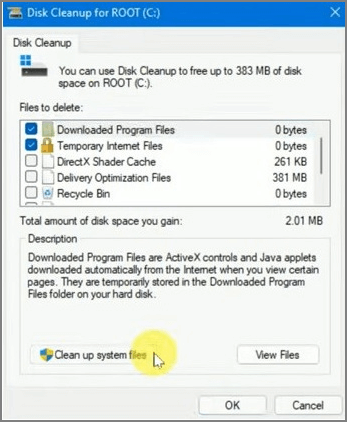 Then wait for a while until the internal processing is done on your system. You will see then another box pops up, which calculates.
Now, wait for a while until the calculation process is completed. Then another new window pops up on the screen.
Search for previous windows installations from the present menu by scrolling down through it. Once you find it, click on the square box present left to it.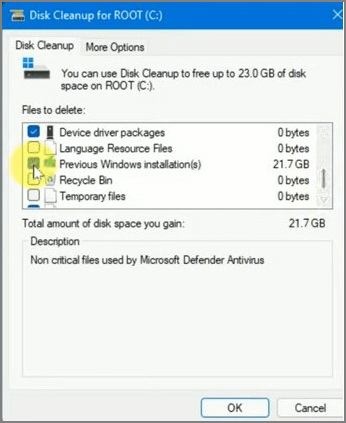 Next, tap on the OK option present at the bottom of the page.
Click on the option delete in the pop-up box.
Then another window opens up, which starts deleting the old folder. Just click on the OK option when it asks for permission to delete the old folder. Now, wait a while, and the old folder will be deleted.
You can check your C-drive, and you will see the old folder option is missing as it is deleted.
Use Windows Storage Sense
Follow the below steps to use windows storage sense.
Open the settings tab through the windows icon.
Click on system options from the available one.
Now tab on the storage option from the menu present on the left side.
Click on the Storage sense option under the storage management menu.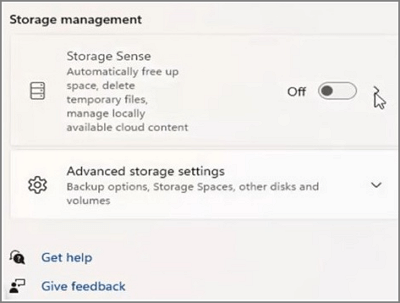 Then a new window opens up. Search for the Automatic Content User Cleanup option by scrolling down. Once you find it, turn it on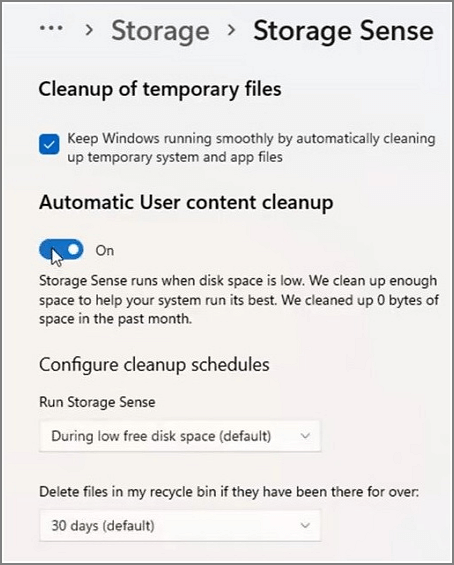 Configure the cleanup schedules as per your priority. Then click on the Run Storage Sense Now option.
Wait for a while, and then it will be finished. You get a tick mark on the side of it once it is completed.
Use Clean Up System Files Using Disk Management
To clean up system files using disk management, you can follow the same procedure that you have used to clean up the old folder. Now instead of selecting the old folder, only go through all the system files and analyze them. Then tick all the unnecessary files that you no longer use. After you have done fantastic, now delete them by clicking on clean up system files. Wait for a while, and then all the unnecessary system files will be deleted.
Remove Temporary Files or Folder
Deleting temporary files regularly can save you large storage space.
To delete temporary files, go to the storage option of the settings tab.
Now click on the temporary files option.
You will see now a menu of different categories of temporary files. Select all the types of temporary files you want to delete.
Now click on the remove files option once you select the files you want to delete.
Wait for a while, and all the temporary files will be deleted.
Tips to Avoid Low Disk Space Error in C Drive Windows 11/10
Below are some useful tips for Windows users to avoid low disk space errors in Windows 11/10.
Install big programs to a non-system drive so that you can save a large space on your drive. Also, don't forget to look at the file size before you install any file or program.
Clean up and delete useless large files in the C drive. Don't wait until you see a pop-up notification to clean up all the files. So, try to clean all the unused and unimportant files in time regularly. Also, delete all the apps or software that you no longer need or use.
Transfer or migrate C drive installed steps to a local drive. This, too, saves a large space. You can use EaseUS software to do all of this as it is easy and simple to use.
Reduce the size of the winsxs folder. Deleting WINSxS files is something we can't do as it can damage our PC. But we instead reduce the file size of these files with the help of Task Scheduler.
Make only online one-drive files as offline files generally take more storage space on your PC than online files.
Conclusion
So, this is a complete guide on how to free Up C Drive Space before/for Windows 11 Update. First, check all the different files that are eating up your storage space. Once you have analyzed all the storage space and its utility, you can start clearing up all the files at your convenience. You can easily free up all the storage space in your C drive through all the above five methods mentioned. Once you have done maximizing your storage space, now it's time to manage the storage space. You need to delete junk files and clean them up regularly. Follow all the instructions mentioned above to do it successfully. Finally, this will have better storage space management in the future.
About the Author

Roxanne is one of the main contributors to EaseUS and has created multiple posts on digital devices like PCs, Mobile phones, tablets, Mac, etc. She loves to share ideas with people of the same interest.
Reviews and Awards
EaseUS Todo PCTrans Free is a useful and and reliable software solution created to serve in computer migration operations, be it from one machine to another or from an earlier version of your OS to a newer one.

 Read More

EaseUS Todo PCTrans is by the folks at EaseUS who make incredible tools that let you manage your backups and recover your dead hard disks. While it is not an official tool, EaseUS has a reputation for being very good with their software and code.

Read More

It offers the ability to move your entire user account from your old computer, meaning everything is quickly migrated. You still get to keep your Windows installation (and the relevant drivers for your new PC), but you also get all your apps, settings, preferences, images, documents and other important data.

 Read More