Can I Change Desktop Folder Location?
| Workable Solutions | Step-by-step Troubleshooting |
| --- | --- |
| Manually Change Desktop Folder Location on Windows Server | Step 1: Create a new Desktop location...Full steps |
| Easier Option: Move Desktop Folder to Another Location | Step 1. Open EaseUS Todo PCTrans on your computer...Full steps |
Windows Server operating system is primarily for handling and creating server computers. Due to enormous data on the server, they require a large amount of storage.
Specific folders such as desktops, documents, pictures come pre-assigned with Windows Server. Their initial storage location is on your C drive. Hence, all the files inside these folders take plenty of space inside your C drive.
You run into many conventional problems with no free space when your C drive gets populated. These problems can be from computer lags to even applications crashing at runtime.
An easy and helpful approach is to change desktop folder location in Windows Server. It can help you save space on the C drive, make applications run smoother, and keep computer lags. But, if you have never changed it before, you might find it a bit difficult.
However, there is nothing to worry about because our page enlists two ways to help you shift desktop folder location. You can do it with manual as well as automatic methods. Read on to see the methods in detail in the upcoming section.
Manually Change Desktop Folder Location on Windows Server
The first method to change the Dekstop folder location on Windows Server is performing some manual steps. Using these steps, you can change the Desktop folder location to any other location of your choice.
Follow the below steps to manually change Desktop folder location on Windows Server:
Step 1: Create a new Desktop location.
Create any new folder on any drive where you wish to change your Desktop folder location.
Step 2: Open file explorer and right-click on the Desktop shortcut to select its properties.
Step 3: Move over to the Location tab in Desktop folder properties.
Step 4: Replace the new location value in the input field of the already set Desktop folder location.
You can set the location of the new folder that you created in step 1.
Step 5: Once the location is changed, click on Apply and OK button of the Window.
These steps will help you change the Desktop folder location with the new input location. A new pop-up will ask you if you wish to move all files along with the location. You can select the Yes button to transfer the files of the Desktop folder to the newly entered location.

By following the above steps, you will manually change the location for your Desktop location on Windows Server. If this method seems inconvenient to you, move to the next section, which shows a much easier option.
Easier Option: Move Desktop Folder to Another Location with EaseUS Todo PCTrans
The previous manual method to shift the Desktop folder location is time-consuming and inconvenient if you lack computer skills. The automated way is much easier to move the Desktop folder location to another location using automated software.
EaseUS Todo PCTrans Technician is an easy-to-use file transfer software. It comes with a Large File Cleanup feature that helps you move any folder to any location to save your disk space.
Using the Large File Cleanup feature, you can move your desktop folder to any other location with simple clicks. It is a software that can easily change your Desktop location in Windows Server with simple steps.
EaseUS Todo PCTrans data transfer software helps you shift other system-created folders along with the Desktop folder. These can be any Desktop, Documents, Pictures, Videos, Music, and Downloads folder.
Follow the below steps to use EaseUS Todo PCTrans software to move the Desktop folder to a new location:
Step 1. Click "Large File Cleanup" on the left panel, and click "Start" button.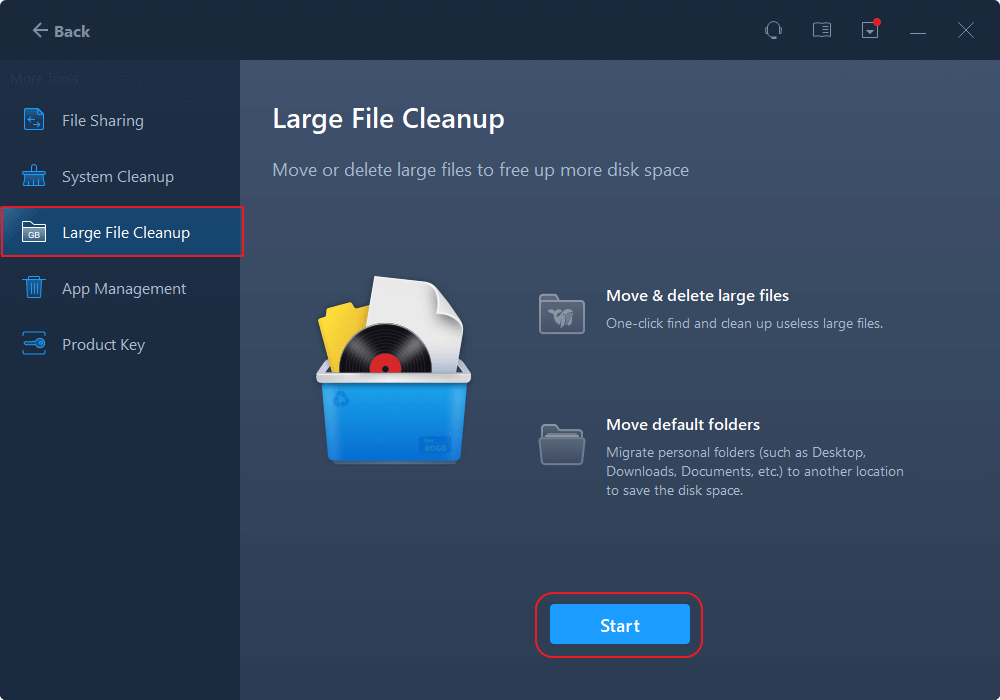 Step 2. Select "Folder" tab, check the folders you want to move. Choose target drive and click "Move" button.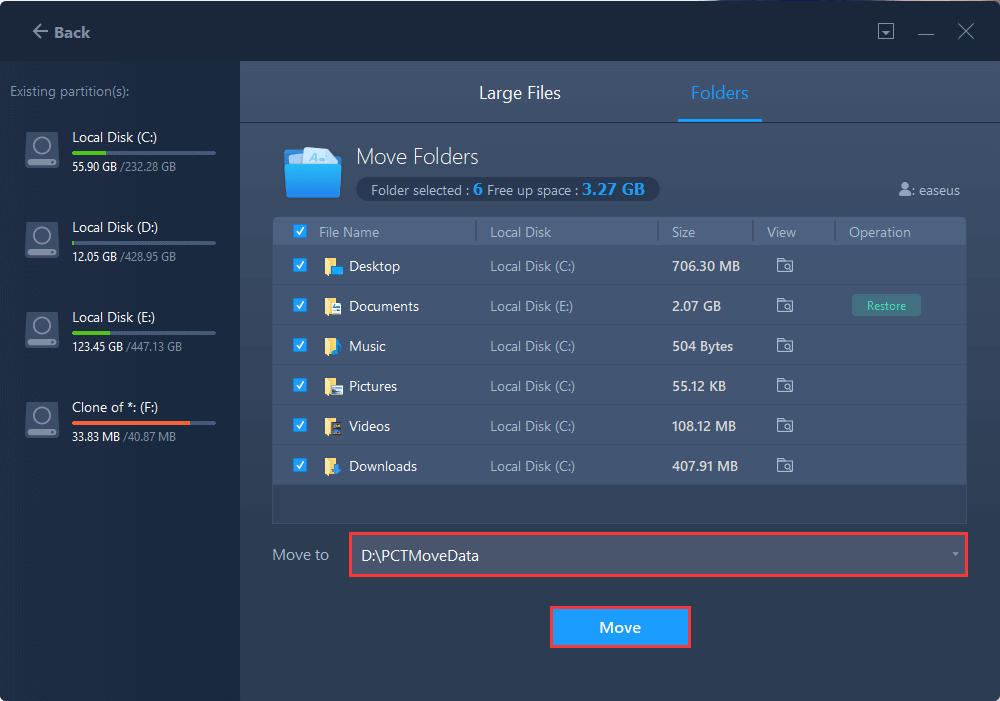 Step 3. Wait for moving process completes. Click "Finish".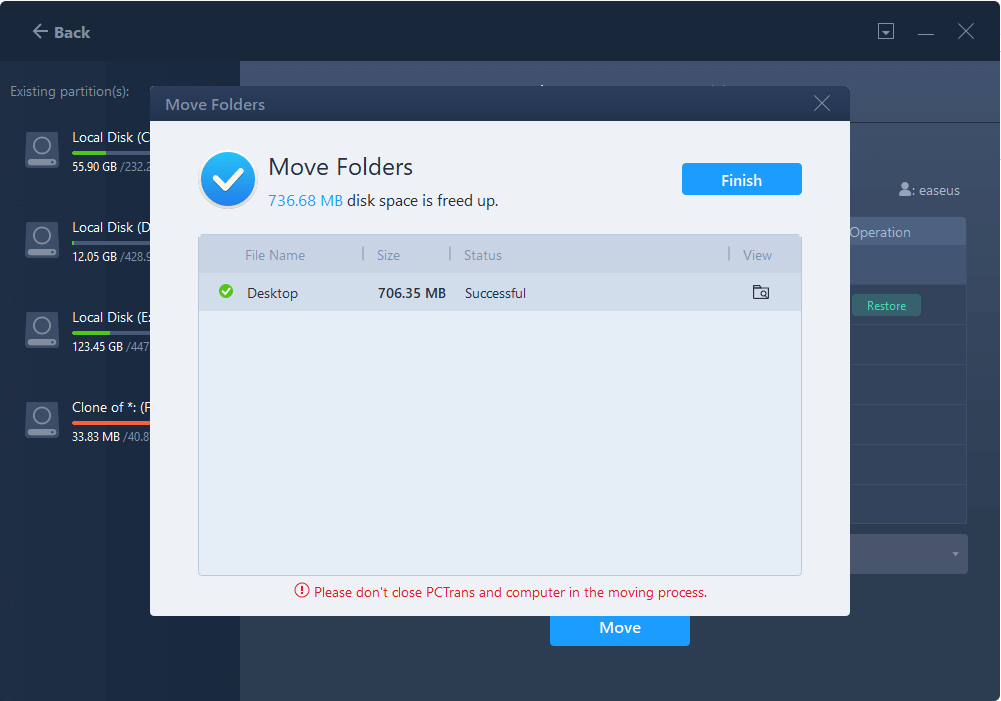 Note: You can click the "Restore" button to restore the current folder to the default location.
The steps mentioned above are much simpler and easier to implement than the manual method. In addition, you don't need much computer expertise to perform this method.
EaseUs Todo PCTrans Additional Features:
The software can do much more than just the Large File Cleanup. Below is its additional feature set:
Transfer files between PCs: You can transfer files from one PC to another without worrying about losing them. It helps you quickly shift to a new computer by moving files, applications, and settings from your old PC to the new PC.
Shift application between drives: It also helps you free up space in your C drive by migrating applications from a C drive to another drive.
Rescue data: EaseUS Todo PCTrans also helps you rescue data from any corrupt or dead computer device.
Conclusion
Windows Server computer has to deal with a large amount of data. The vast data comes due to the management and creation of Server computers, and all the data resides in your C drive.
With too much data in the C drive, eventually, it will lack free space. The lack of free space can result in system lags or applications getting crashed. Therefore, you need to have a good amount of space in your C drive.
A simple method to make free space in C drive is to change the Desktop folder location in your Windows Server. It helps to take all the Desktop stores files to another location and free up C drive space.
You can change the location of your Desktop folder by using two methods. The first method is a bit difficult for beginners. The most recommended method is EaseUS Todo PCTrans software which helps you change Desktop folder location freely and with minimum clicks.
About the Author
Updated by Tracy King 
Tracy joined in EaseUS in 2013 and has been working with EaseUS content team for over 7 years. Being enthusiastic in computing and technology, she writes tech how-to articles and share technical solutions about Windows & Mac data recovery, file/system backup and recovery, partition management and iOS/Android data recovery.
Daisy is the Senior editor of the writing team for EaseUS. She has been working in EaseUS for over ten years, starting from a technical writer to a team leader of the content group. As a professional author for over 10 years, she writes a lot to help people overcome their tech troubles.
Reviews and Awards
EaseUS Todo PCTrans Free is a useful and and reliable software solution created to serve in computer migration operations, be it from one machine to another or from an earlier version of your OS to a newer one.

 Read More

EaseUS Todo PCTrans is by the folks at EaseUS who make incredible tools that let you manage your backups and recover your dead hard disks. While it is not an official tool, EaseUS has a reputation for being very good with their software and code.

Read More

It offers the ability to move your entire user account from your old computer, meaning everything is quickly migrated. You still get to keep your Windows installation (and the relevant drivers for your new PC), but you also get all your apps, settings, preferences, images, documents and other important data.

 Read More