
About the Author
Hot Topics in 2022
How to Move Partition in Windows Server
How to Move Partition in Windows Server
There are many reasons why you might want to learn how to move partitions in a Windows server. One of them is better to drive management. But then Windows Server allows shrink volume and extend volume options. Why not just use it to shrink one drive and extend the other?
The Windows Server disk does not work like that. The shrunk drive provides an unallocated space, but you still have to know how to move the partition to the end of the disk. Otherwise, the Extend Volume option will be grayed out.
In this guide, we will learn how to move partitions in the Windows server, including how to move volume to the end of the disk.
Move Partition in Windows Server with Disk Management
We refer to the C, D, or E drives on your hard disk when we say partitions. They are separate compartments on your drive that we can further divide or merge. However, some of these different partition drives might become full and start affecting the performance of your PC.
When such occurs, there is a need to free up space or learn how to move partition in Windows server or extend the filled partition volume using unallocated space from another partition.
That is what this guide explains. The process is really simple and requires not much expertise. See the steps on how to move partition in Windows server with Disk Management:
Launch the Disk Management application
Right-click the partition drive you want to extend/move
A drop-down menu appears. Choose the Extend Volume option
Have you tried that? Did it work? Congratulations if it worked fine. However, some people might experience a problem with the Extend volume grayed out. What then should you do?
Can Not Move Partition in Server Disk Management?
There is no need to panic if you cannot access the Extend Volume option, as displayed in the screenshot below. A couple of reasons could have caused it, and that's why you need to learn the pros and cons of using Disk management to move partitions in Windows Server.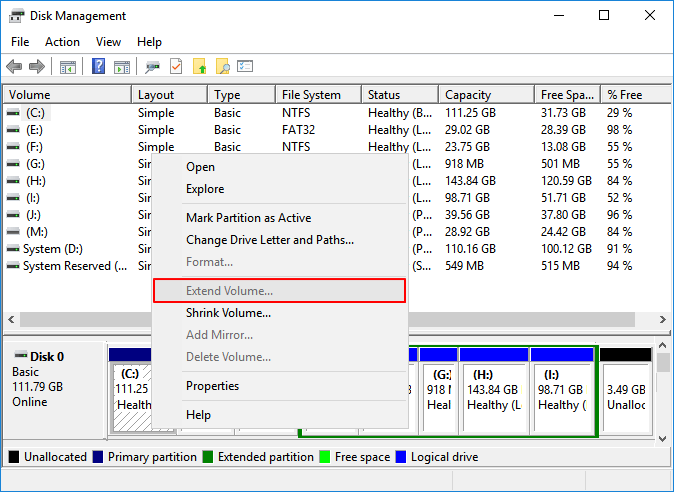 Pros of Disk Management
1. Easily initialize or set up a new drive.
2. Extend partition volume to unallocated space on the same partition drive.
3. Change the label of a new drive.
4. Shrink partition to extend another partition or create more space.
Cons of Disk Management
1. The unallocated space on the partition drive MUST not be on the adjacent right side of the drive you want to extend. Otherwise, the Extend Volume option will be inaccessible.
2. Disk Management cannot move partition in Windows Server when both the target drive and the one to be extended are in the same extended partition.
3. Disk management only supports extending and shrinking NTFS partition. Hence, you might experience issues when moving partitions involving a FAT32 disk.
4. It can only generate unallocated space on the right side when clicking Shrink Volume.
5. It does not work on older Windows OS versions than the Windows Vista. The Disk Management tool only provides the Extend Volume support on Windows 7 and above OS versions.
Therefore, the solution to the grayed-out Extend Volume option problem is to move the new partition volume D to the right while the unallocated space is moved leftwards in the Windows Server. Also, note that the extend volume option may not be available for two drives C and E, on the same extended partition. You have to delete the initial partition and recreate it when such occurs.
How to Easily Move Volume to End of Disk
Since the Disk Management tool does not have a Move Partition option, there is a need for a more advanced solution on how to move partitions in Windows servers. This solution will be a third-party software like the EaseUS Partition Master Enterprise.
Although many other applications can move disk partition/volume, this EaseUS partition management tool is safe and reliable. It easily helps to move the partition in Windows Server to the left/right. It also has other benefits such as:
Resize, split, create, hide, and even copy/delete partitions.
Partition recall protection. The EaseUS tool can safely restore partitions to the previous state in case of system interruptions/errors.
Reassign free space and extend the drive to solve low memory issues.
Supports Windows Server 2003, 2008 (R2), 2012 (R2), 2011, 2016, and 2019.
24/7 Tech Chat
Free Inquiry
What's more important is that the EaseUS Partition Master Enterprise tool does all the above with zero risks of data loss. That is why it's our ultimate pick on how to move partition in Windows Server.
Step 1: Locate the drive/partition
Select the drive/partition that want to adjust its size and right-click on it to choose "Resize/Move".
Step 2: Resize or move the partition
1.To shrink the partition, simply drag one of its ends to free up unallocated space. Once done, click "OK". 
2. To extend the partition, make sure that there is unallocated space aside (if there isn't, follow the above steps to create some). In the same way, drag your mouse into the unallocated space. Click "OK".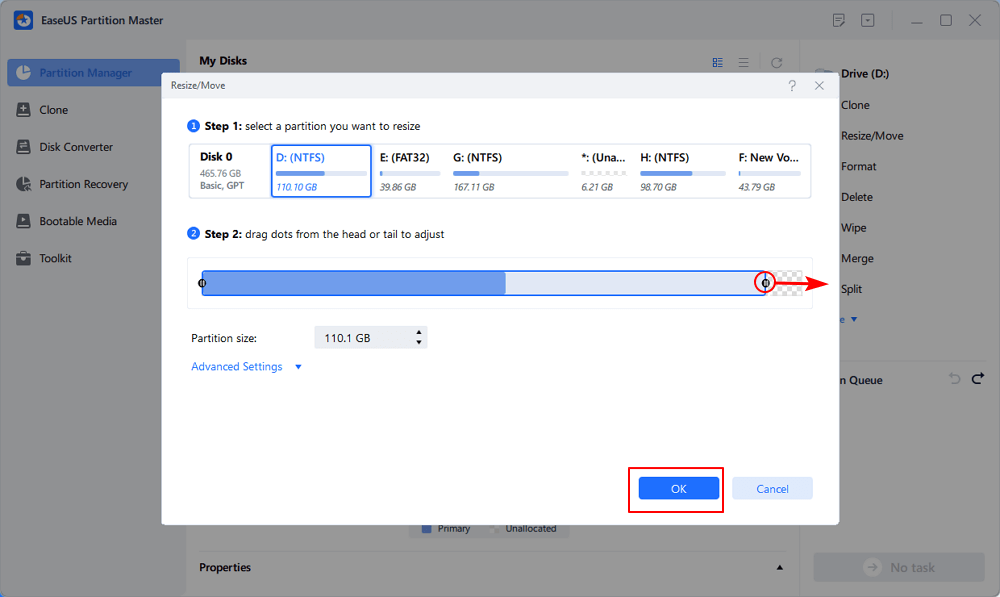 3. To move a partition position, you need to leave unallocated space next to the target partition. If no, free up some unallocated space first.
Right-click the target partition, select "Reize/Move". Then drag the whole partition left or right to adjust its position. Click "OK" to confirm. 
Step 3: Apply changes
At this step, you will see the new disk partition information & diagram.
To save changes, click the "Execute Operation" button and then "Apply".
To Sum Up
Like the EaseUS Partition Master Enterprise software, some disk management tools offer the solution on how to move partitions in Windows Server. But what makes the EaseUS Partition Master software stand out is its reliability and all-in-one disk management toolkit.
That means you enjoy other features asides from moving disk volumes/partitions. Besides, the EaseUS Partition Master interface is user-friendly and straightforward. Possibilities of data loss are eliminated, and there is a free trial option with a 30-day money guarantee to allow you to check out the server disk management tool.
So, whether you are an organization, service provider, IT admin, or consultant, you can download the EaseUS software today. It supports the Windows server 2003/2008(R2)/2012(R2)/2011/2016/2019 editions.
24/7 Tech Chat
Free Inquiry
About the Author
Daisy is the Senior editor of the writing team for EaseUS. She has been working in EaseUS for over ten years, starting from a technical writer to a team leader of the content group. As a professional author for over 10 years, she writes a lot to help people overcome their tech troubles.
Product Reviews
I love that the changes you make with EaseUS Partition Master Free aren't immediately applied to the disks. It makes it way easier to play out what will happen after you've made all the changes. I also think the overall look and feel of EaseUS Partition Master Free makes whatever you're doing with your computer's partitions easy.

 Read More

Partition Master Free can Resize, Move, Merge, Migrate, and Copy disks or partitions; convert to local, change label, defragment, check and explore partition; and much more. A premium upgrade adds free tech support and the ability to resize dynamic volumes.

 Read More

It won't hot image your drives or align them, but since it's coupled with a partition manager, it allows you do perform many tasks at once, instead of just cloning drives. You can move partitions around, resize them, defragment, and more, along with the other tools you'd expect from a cloning tool.

 Read More