How to Wipe a USB Drive and Permanently Delete Files from USB Flash Drive
How to wipe a USB drive and delete files from USB flash drive permanently? Here are the solutions. 
| Workable Solutions | Step-by-step Troubleshooting |
| --- | --- |
| How to wipe a USB drive | You can clear a USB drive to delete everyghing off a USB with a simple disk management tool, or wipe a flash drive in Command Prompt with Diskpart utility...Full steps |
| How to format a USB drive | After data wiping, you can format the USB flash drive for normal use. Format USB with EaseUS Partition Master, File Explorer, and Disk Management...Full steps |
When Need to Wipe a USB Drive
To clear a flash drive, some users are likely to delete files or format the USB drive. However, simple deletion or formatting won't delete files completely. Professional data recovery software can easily recover the formatted files. Thus, You may encounter a privacy leak.
When it's time to discard an old USB flash drive or give your USB flash drive away that is used to store sensitive files, how to the safest way is to wipe a USB drive to delete everything from the flash drive permanently. Other reasons why you need to wipe a flash drive are:
When you deleted all files from your USB drive, part of the storage was still occupied for no reason, not displaying your computer's full size.
You need to remove the virus from the USB drive.
Your USB flash drive or external hard drive isn't working quite right.
How to Wipe a USB Drive and Permanently Delete Files from USB
This part will show you how to completely wipe a USB drive, USB flash drive, USB 3.0 external hard drive in easy ways. See how to bring the full size back to your USB now.
Warning: The following processes will erase the flash drive you choose, so be sure to back up any important files first. You should also specify the correct disk very carefully, or you might accidentally clear the wrong USB drive with data loss.
1. How to Wipe a USB Drive with a Data Wiping Tool
The most secure way to wipe a USB flash drive is by applying a reliable disk management tool. EaseUS Partition Master offers full-around solutions to partition hard drives, USB drives, SD cards, external hard drives, etc. You can completely wipe out all the data on the USB drive to prevent information from being leaked or recovered.
Resize/move partitions (e.g., move space from D drive to C drive), create, format, delete, and merge partitions
Copy and clone an entire disk to another even the target partition is smaller than the source
Convert a logical partition to primary or primary partition to logical, FAT to NTFS partition, MBR disk to GPT, or GPT disk to MBR
Migrate OS to SSD to speed up Windows to upgrade hard disk and speed up Windows 11/10
Now, download this disk management software and follow the steps below to wipe a USB drive effortlessly.
Step 1. Connect the external devices to the PC. Then, right-click the external device, and choose Wipe Data.
Step 2. Set the number of times to wipe data. (You can set to 10 at most.) Then Click OK.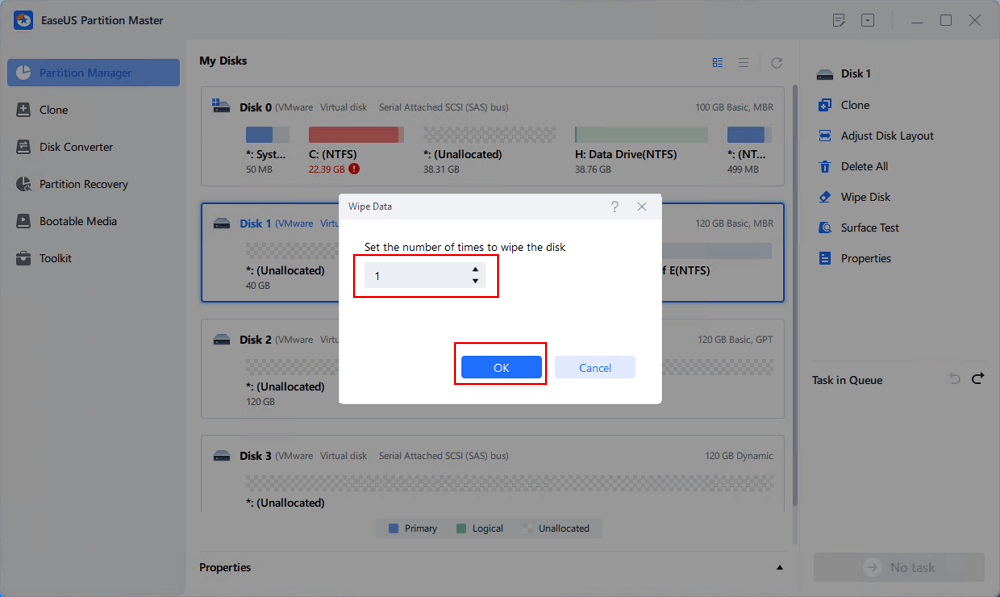 Step 3. Check the Restart message and click OK.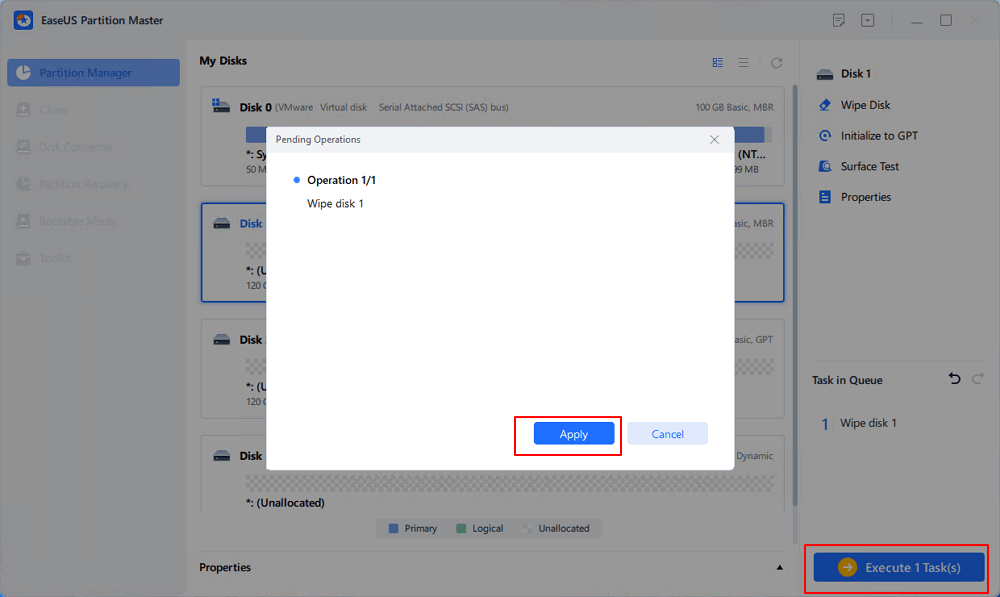 Step 4. Click Execute the operation and then click Apply.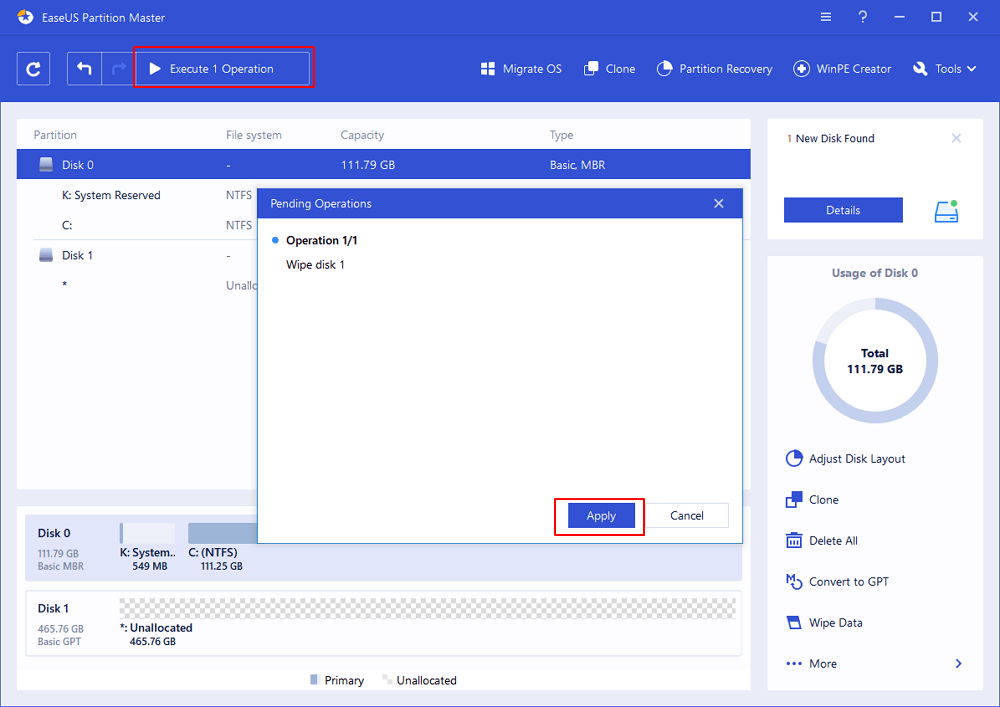 Erasing the USB drive deletes both partitions and data. After data wiping, there is only unallocated space on your USB drive. To reuse the USB flash drive, format and create a new volume again with EaseUS partition management software easily.
2. Wipe a USB Flash Drive Using Command Prompt
If you are a computer expert, you can still erase and clear a USB drive using Command Prompt. See the complete process below.
Step 1. On Windows 11/10 or 8.1, right-click the Start button, or press Windows Key + X and select "Command Prompt (Admin)". On Windows 7, open the Start menu and search for cmd. Right-click the "Command Prompt" shortcut that appears and then choose "Run as Administrator".
Step 2. Use the Diskpart command to clean a USB drive. In the CMD window, type the following commands in order and press Enter after each one:
diskpart
list disk
select disk # (# is the USB drive number)
clean or clean all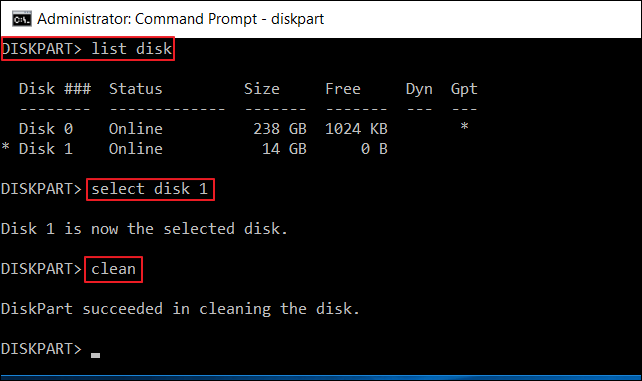 You'll see a message saying that "DiskPart succeeded in cleaning the disk" if everything works properly. Now, you will see the USB drive has no partitions. You can create new partitions in Disk Management on your Windows 11/10/8/7.
 Important

Question: Is it possible to recover the permanently deleted files?
Sure! When you start deleting files from the USB drive, make sure that you've moved or backed up essential data to another storage device. If you haven't, do it now. If you lost files permanently, utilize each method to recover Windows 11/10 permanently deleted files.
How to Format a USB Flash Drive in Windows 11/10 for Reuse
After wiping the USB flash drive, you can initialize and format it for normal usage. Formatting is a way to remove all existing files on the storage device and it is also an ideal way for you to regain the full capacity of your USB when it's not showing the right size. u
1. Format USB Drive Securely with a USB Formatter
EaseUS Partition Master has a graphical interface for easy formatting. It allows formatting a USB flash drive from Sandisk, Kingston, Panasonic, Lexar, Samsung, Sony, etc. easily in all complex cases. Follow the steps below to format your USB drive easily.
Right-click the external drive or USB you intend to format and choose "Format".
Set the Partition label, File system (NTFS/FAT32/EXT2/EXT3/EXT4), and Cluster size, then click "OK".
Click "OK" to continue.
Click the "Execute Operation" button and click "Apply" to format the hard drive partition.
2. Format a USB Drive in File Explorer
Step 1. Connect your USB to a healthy computer.
Step 2. Open This PC or My Computer, find the USB drive.
Step 3. Right-click on the USB drive and select "Format".
Step 4. Set the file system as "NTFS" or "FAT32" and click "OK".
Step 5. Then click "Start" to begin the formatting process.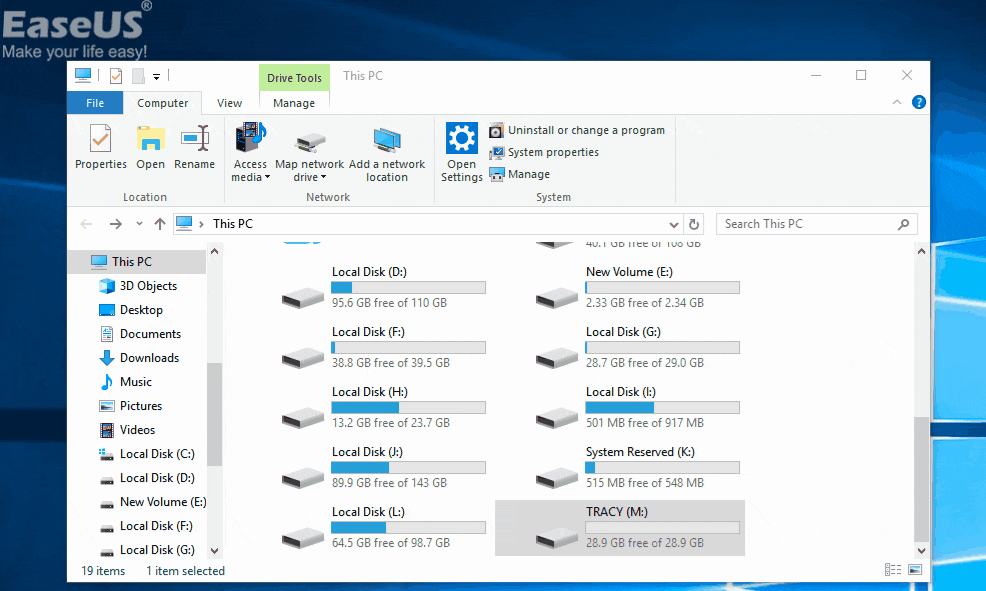 Just wait, and you can permanently remove files that have been deleted from your USB.
3. Format a USB Flash Drive in Disk Management
Step 1. Right-click on This PC and go to "Manage" > "Disk Management".
Step 2. Right-click on the USB drive, and choose "Format".
Step 3. On the format window, check the box of "Perform a quick format", and in the same way, you need to choose a file system and allocation unit size. Then, click "OK" to start formatting the USB drive.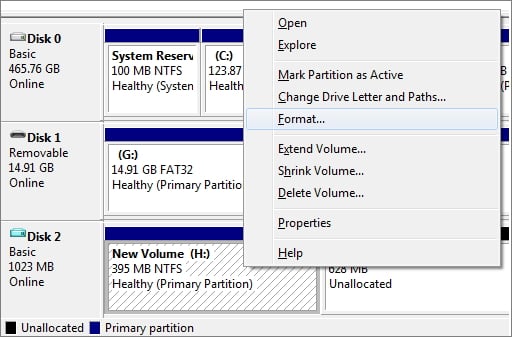 Conclusion
To completely delete everything from a USB drive that cannot be recovered, you have to wipe a USB drive. You can use EaseUS Partition Master and Command Prompt to wipe a USB flash drive or other memory cards by following the steps above. Remember, simply deleting or formatting a USB does not erase a file.
How to Wipe a USB Drive FAQs
There are some related questions on how to wipe a USB drive and completely remove files. You can read on to get extra help.
If I format a USB, will it erase data and completely delete everything?
The formatting operation is preparing a storage device like USB for initial use, creating new file systems. Formatting will delete everything off the USB drive. But it doesn't erase the data. You can use EaseUS Data Recovery Wizard to recover data from any formatted USB drive.
How to delete everything on a USB flash drive?
To thoroughly delete everything off a USB flash drive, you need to completely wipe a USB drive. You can erase USB data by using a professional data wiping tool.
1. Connect the USB drive to the PC. Launch EaseUS Partition Master, right-click the USB drive, and choose Wipe Data.
2. Set the number of times to wipe data. The more times, the cleaner the flash drive will be erased.
3. Follow the on-screen instructions to execute the USB wipe operation.  
How to wipe a USB drive on Mac?
How to delete files off a flash drive on a Mac? Follow these steps:
1. Plug the USB storage device into your Mac.
2. Go to Find > Applications > Utilities and launch Disk Utility.
3. Click to select the USB flash drive in the left panel. Click the Erase tab.
4. Add a device name and choose a format. Then, Click Erase to wipe the USB drive.
5. Close the Disk Utility window and eject the USB drive. 
Updated by Tracy King 
Tracy joined in EaseUS in 2013 and has been working with EaseUS content team for over 7 years. Being enthusiastic in computing and technology, she writes tech how-to articles and share technical solutions about Windows & Mac data recovery, file/system backup and recovery, partition management and iOS/Android data recovery.
I love that the changes you make with EaseUS Partition Master Free aren't immediately applied to the disks. It makes it way easier to play out what will happen after you've made all the changes. I also think the overall look and feel of EaseUS Partition Master Free makes whatever you're doing with your computer's partitions easy.

 Read More

Partition Master Free can Resize, Move, Merge, Migrate, and Copy disks or partitions; convert to local, change label, defragment, check and explore partition; and much more. A premium upgrade adds free tech support and the ability to resize dynamic volumes.

 Read More

It won't hot image your drives or align them, but since it's coupled with a partition manager, it allows you do perform many tasks at once, instead of just cloning drives. You can move partitions around, resize them, defragment, and more, along with the other tools you'd expect from a cloning tool.

 Read More
About EaseUS Partition Master
All-round disk & partition management software for personal and commercial use. Let it manage your storage drive: resize, format, delete, clone, convert, etc.
Video Tutorial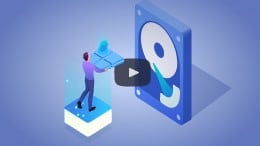 How to Partititon a Hard Drive on Windows 10/8/7
Was This Page Helpful
How Can We Help You
Find answers to common questions below.