Page Content:
1. What Kind of Data Cannot Be Recovered
2. How to Permanently Delete Files from Computer Without Recovery
3. How to Make Sure Files Are Deleted Permanently
Deleted files can often be recovered by using a professional data recovery tool, and that's a problem when you're passing your PC or PC-related tech along to someone else. Whether it's sensitive financial data, business documents, or scandalous photos that could be used to blackmail you. You probably don't want people getting their hands on your private stuff.
So most computer users want to know how to delete files permanently without recovery. This operation is effortless to implement. Follow the guide on this page to permanently delete files and protect your data, whether you're getting rid of a PC, external hard drive, or USB stick.
What Kind of Data Cannot Be Recovered
Erased data. Once the wipe operation is carried out, the files will not be recovered by any data recovery software. If the number of times to wipe the hard disk is set to 10, the data will never be recovered by any data recovery solution.
Overwritten data. After data loss, you continue to use the hard drive or storage device and write new data over the old one. Strictly speaking, it is impossible to recover overwritten files.
How to Permanently Delete Files from Computer Without Recovery
When you delete a file from your computer with the basic delete feature or using Shit+Delete keys, it isn't really erased. It continues existing on your hard drive, even after you empty it from the Recycle Bin. This allows users to recover files for some purpose. Therefore, if you sell/give your drive to somebody else, the confidential files need to be completely wiped so nothing is left on it, and the data can never ever be recovered.
Windows don't offer a built-in tool that can scan and wipe your hard drive for deleted files, but there is a wide variety of third-party software you can choose. EaseUS Partition Master provides a Wipe data feature to erase all disk data permanently in Windows 10/8/7. It can help you completely erase all of the data and partitions on your hard disk by replacing or overwriting the existing data with new data.
 Tip

The wipe disk operations cannot be undone after applying the changes.
Step 1:

Install and launch EaseUS Partition Master.

Select the HDD or SSD which you want to wipe. And right-click to choose "Wipe Data".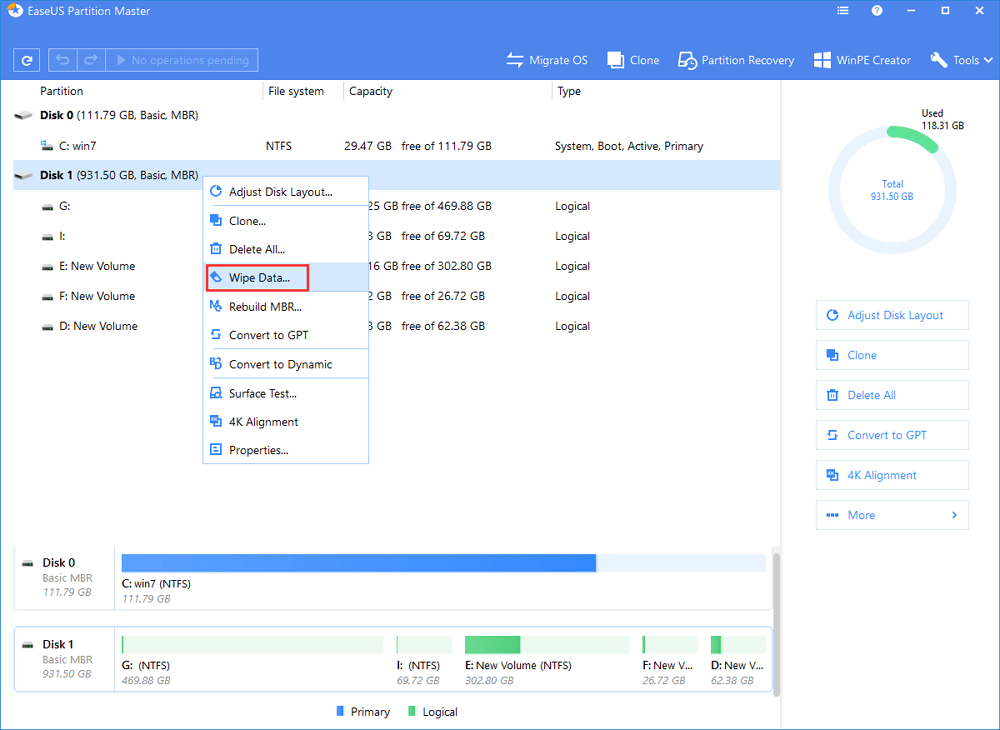 Step 2:

Set the number of times to wipe data.

You can set to 10 at most. Then Click "OK".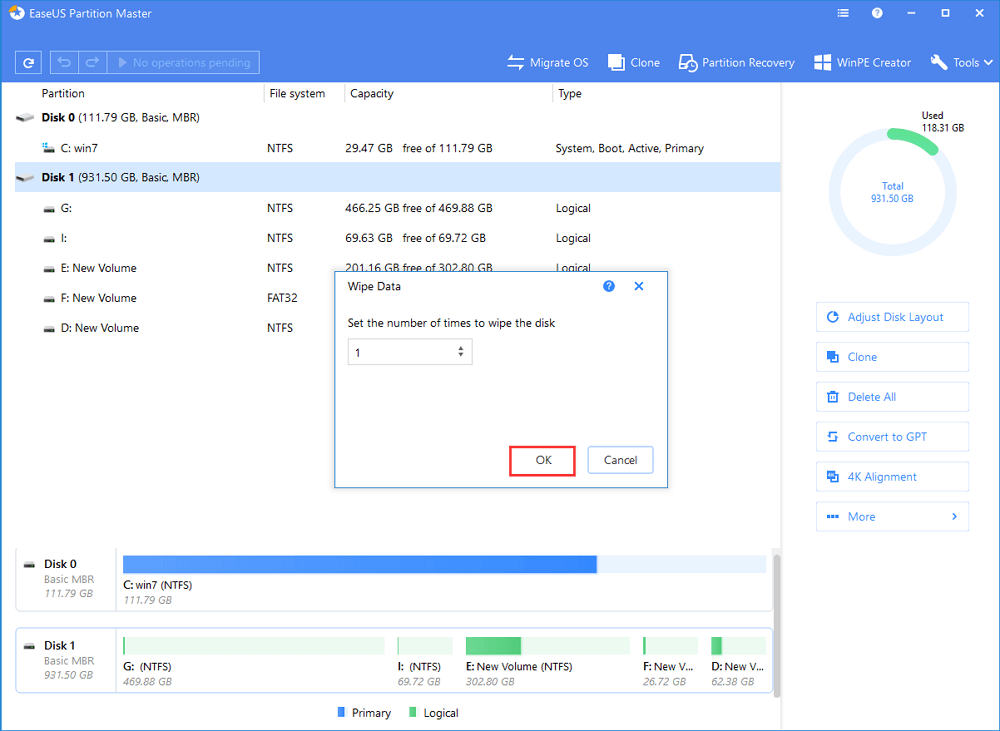 Step 3:

Check the message.

A message tells you that the computer would restart after disk erase is recommended. Then click "OK".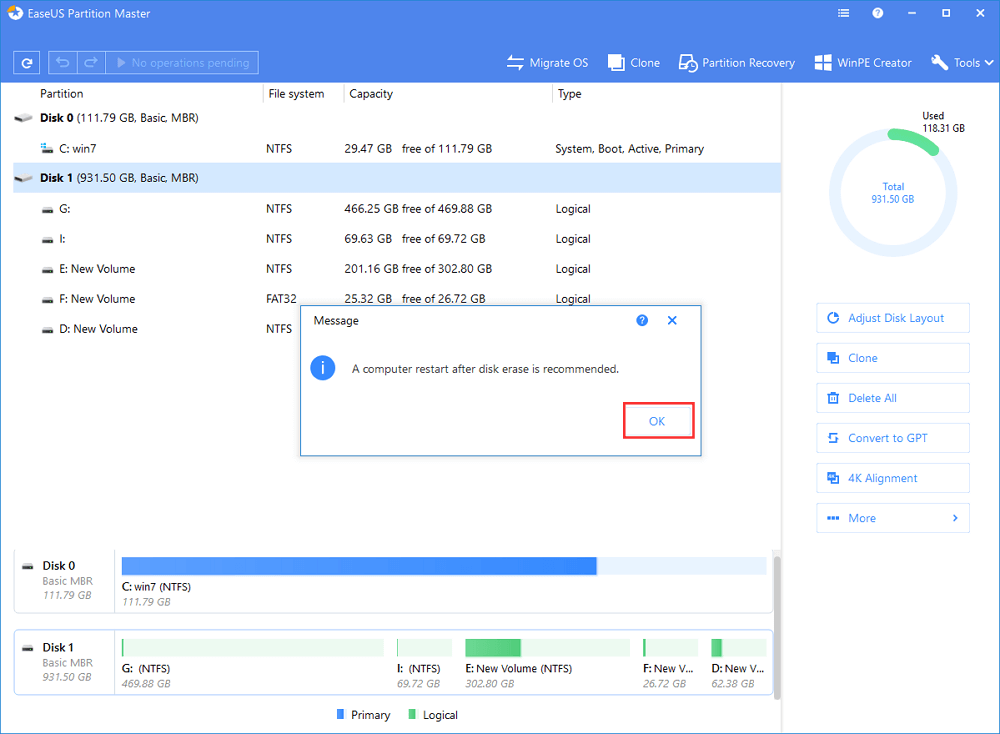 Step 4:

Click "Apply" to apply the changes.

Click "Execute the operation" and then click "Apply" to start wiping data.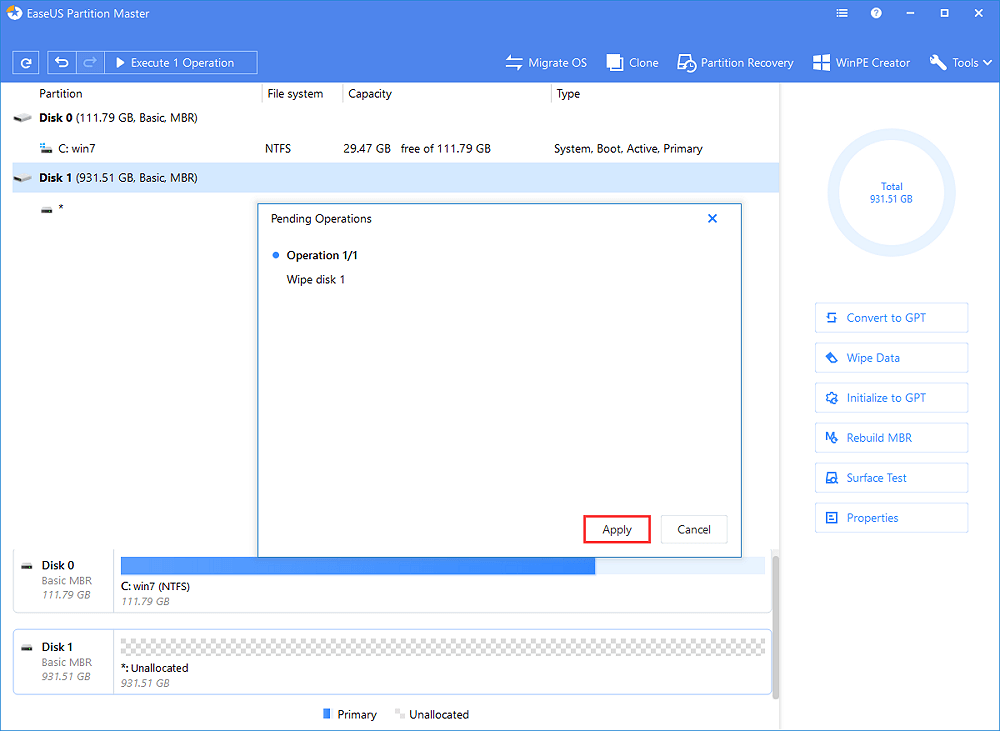 EaseUS Partition Master supports many basic and advanced hard drive management functions. For instance, resize/move partition, merge partitions, create/format/delete partition, migrate OS to SSD, MBR/GPT disk switch, convert FAT32 to NTFS, and more.
How to Make Sure Files Are Deleted Permanently
If you want to check whether the file is deleted permanently from your computer, you can test it with a technical data recovery program - EaseUS Data Recovery Wizard. It is a reliable tool that you can use to scan and restore any lost file due to careless deletion, hard drive formatting, OS crash, virus attack, partition loss.
But this software, as well as all the data recovery software on the market, can't recover overwritten, erased, or wiped files. So, by using this application, you can easily check if the file you have deleted is permanently missing.
Step 1. Select a location and start scanning.
Launch EaseUS Data Recovery Wizard, hover on the partition, external hard drive, USB, or memory card where you want to perform erased data recovery, and then click "Scan".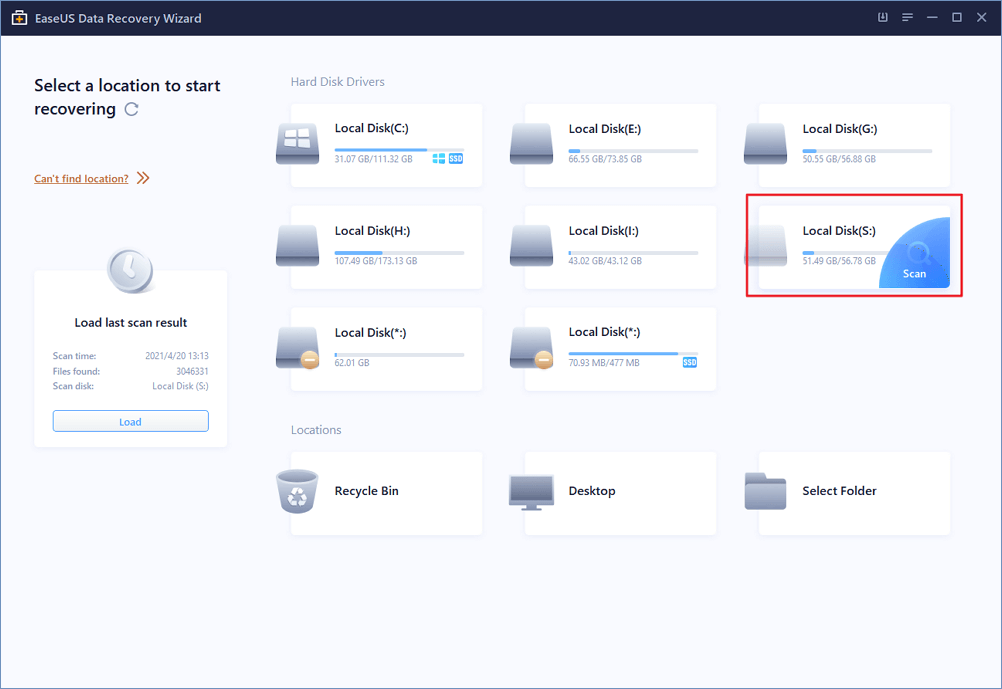 Step 2. Select the files you want to recover.
When the scanning has finished, select the deleted files you want to recover. Double-click the file to preview its content if you need to.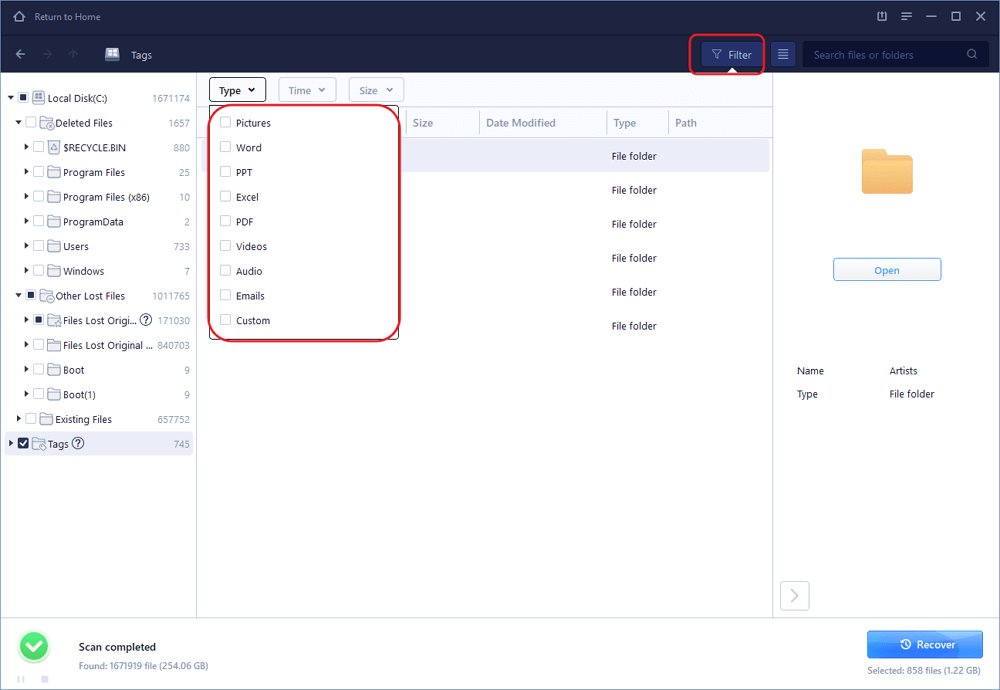 Step 3. Recover lost data.
After choosing the data, click "Recover" and choose a location on another drive to save the deleted data.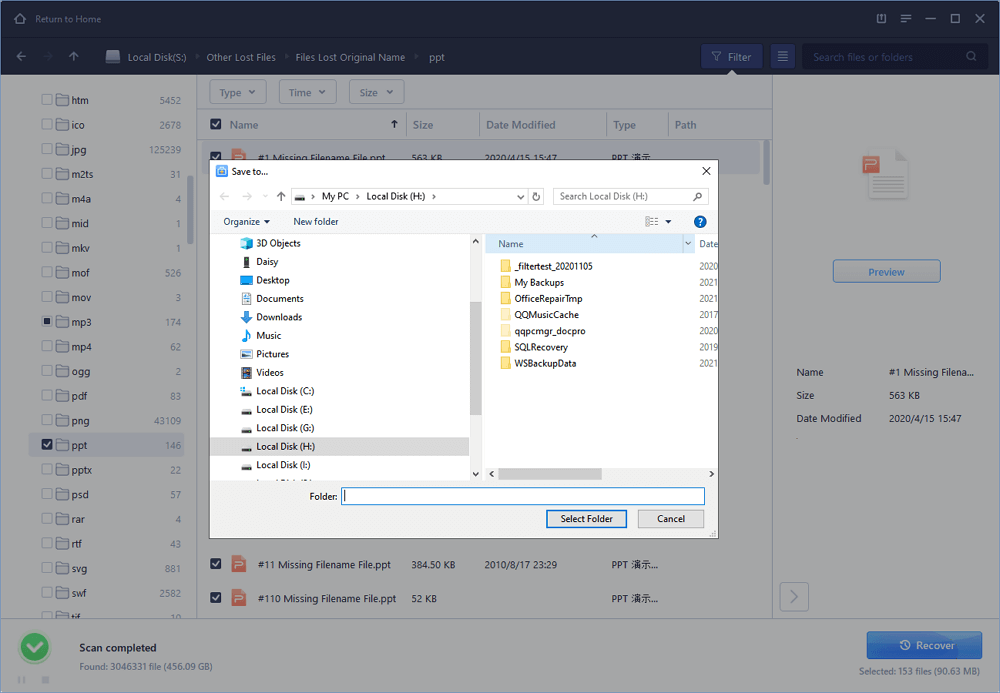 More Guides on Deleting Files Permanently
1. How do you permanently delete a file without sending it to the recycle bin?
By default, when you delete a file, it will go to the Recycle Bin on your computer. From there, you can restore the deleted files in case that you've removed something mistakenly. If you want to delete your files that bypass the Recycle Bin permanently, do it in the following way.
Right-click on the Recycle Bin and choose "Properties".
Select the drive for which you want to delete the data permanently. Check the option "Don't move files to the Recycle Bin. Remove files immediately when deleted." Then, click "Apply" and "OK" to save the settings.
If you want to revert to default, you can complete it via unchecking this feature easily.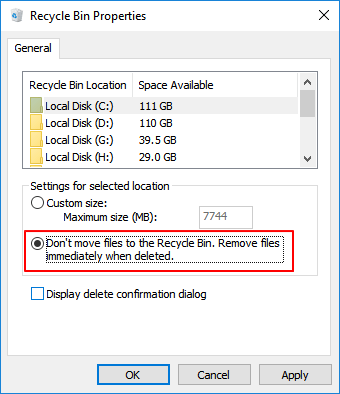 2. How to delete files permanently without recovery Android?
Same as deleting files on your computer, when you delete files on your Android phone, the files aren't gone permanently. If you want, you can use the ultimate Android data recovery software to restore lost contact, SMS, photo, video, audio, or document.
Thereby, to permanently delete photos or videos without recovery on Android phone, you can find some free and reliable Android apps, such as Secure Delete, Secure Wipe, Secure Eraser, and more.
3. How to permanently delete files shortcut?
Use Directory Structure. Go to the local directory path and find Desktop. Find the shortcut and right-click on it to remove. Or press Shift+Delete to delete files shortcut permanently.
Rename the shortcut if you see an error such as file name too long. If this doesn't work, use a wipe tool to clean.
Boot your computer in Safe Mode to delete files shortcut.
100% of people found this article helpful.
Frequently Asked Questions
Why Choose EaseUS Partition Master?

"I've used Partition Master Professional many times to create, delete, format, move, rename, and resize partitions." —PCWorld

"Partitioning tools have come a very long since the days of complicated command line utilities and EASEUS Partition Master is one of the most advanced programs available." —TECH ADVISOR

"I love that the changes you make with EaseUS Partition Master Free aren't immediately applied to the disks. It makes it way easier to play out what will happen after you've made all the changes." —Lifewire
Will the "Migrate OS" feature transfer the Windows system files only or the whole C drive?

To ensure that the migrated system will boot normally, the Migrate OS feature will transfer all the files in the system and the boot partitions. Generally, the boot partition is the C drive so the transfer will include all the files in C.
Does EaseUS Partition Master license apply to multiple computers?

The license of Partition Master Professional and Server editions can be used on 1 computer only, while that for for the Technician and Unlimited editions can be used on multiple machines.
What is the difference between EaseUS Partition Master Trial version and the Free version?

Free is for home users only, with most basic functions available such as partition resize and clone. While trial can help you understand how this product works and test what a full license can do on a business or server OS machine.
Will it cause any data loss after resizing the partition in EaseUS Partition Master?

Generally, it will not cause any data loss or boot issue by resizing a partition. However, in order to protect your data, we suggest that you backup the partition before resizing, in case of any unexpected situations such as power outages, computer hardware failures, etc. You can use EaseUS Todo Backup to backup the partition and its trial version is fully functioned for 30 days.
What should I prepare before resizing the partition?

On the partition that is going to be operated, there might be some files being occupied by other programs. To ensure a successful operation, we suggest that you close all the unnecessary software before resizing that partition. Otherwise, EaseUS Partition Master will detect the partition being locked by the other software and require a reboot to resize the partition under boot mode.
About EaseUS Partition Master
All-round disk & partition management software for personal and commercial use. Let it manage your storage drive: resize, format, delete, clone, convert, etc.