About Steam Disk Write/Read Error
Usually, when installing or updating a popular Steam game, such as Dota 2, Fallout 4, Tree of Savior and Team Fortress, you may encounter an error that suggests a Steam disk write error or perhaps disk read error. You can refer to the error details and related screenshots.
An error occurred while updating [game title]
An error occurred while installing [game title]

As you can tell, the extra information in the parenthesis behind the detailed error message is disk related. So, what disk problems would bring about such failure in daily game update and installation?
In conclusion, the disk write or read error comes, to a large extent, from some bad sectors on your hard drive, or your hard drive is failing and the disk is write protected in aspects of scratches, corruption, virus and specific permissions. Thus, to have Steam disk problems solved, you need to take prompt actions to repair the hard drive in question.
How to Fix Steam Disk Write/Read Error in Windows 10/8/7
In addition to the basic troubleshooting for Steam disk errors provided by Steam Support, including restart computer, clear download cache, reinstall Steam or move the Steam installation to other location, we come up with four advanced solutions that proved to be more potent in removing Steam disk write or read error thoroughly.
Fix 1: Verify integrity for Steam game files
Try to verify integrity for Steam games files at first if you see games keeps crashing or their models missing unknowingly.
Step 1: Reboot system and then launch Steam.
Step 2: Select "LIBRASY" tab and right click the game that sends disk errors and select "Properties".
Step 3: Click "LOCAL FILES" tab, and then you can see "VERIFY INTEGRITY OF GAME FILES…" button. Click it.
Step 4: Steam starts verifying game files, which may take a couple of minutes. Please note that some files may fail to verify, which is normal for most Stem games. That's because these files are local configuration files and they cannot be disturbed as part of this action.
Step 5: When all files are validated successfully, you can retry installing updates and see whether the disk error is removed.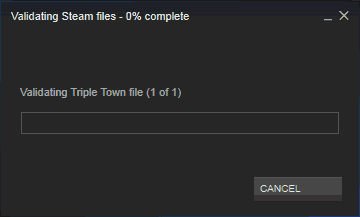 Fix 2: Remove disk write protection
When a disk is write-protected, you're prevented from modifying it, such as formatting, writing data, installing programs on it. That's the other possible reason why you receive disk errors on Steam. Simply use the diskpart command to clear write protection and remove the error.
Step 1: Open administrative "Command Prompt".
Step 2: Type these commands one by one and press Enter key after each:
diskpart
list disk
select disk # (# is the number of the hard drive with which you're getting disk error)
attributes disk clear readonly
Step 3: You may now close Command Prompt and replug the hard drive and check if the Steam disk error disappeared.
Alternative - Use write protection removal tool
If you are not professional in computing management and not familiar with command lines, don't worry. EaseUS R&D team has promoted a fresh kit for helping you resolve the write-protection issue on your hard drive, external hard drive, USB or SD card, etc., devices.
EaseUS Tools M is a practical computer fixing tool that is safe and light-weighted. It's a perfect alternative to the command line.
Use this one-click tool to solve the write-protection issues on your own:
Step 1:  DOWDLOAD and install EaseUS Tools M for free.
Step 2: Run EaseUS Tools M on your PC, choose "Write Protection" mode.
Step 3: Select the device which is now "Write-Protected" and click "Disable" to remove the protection.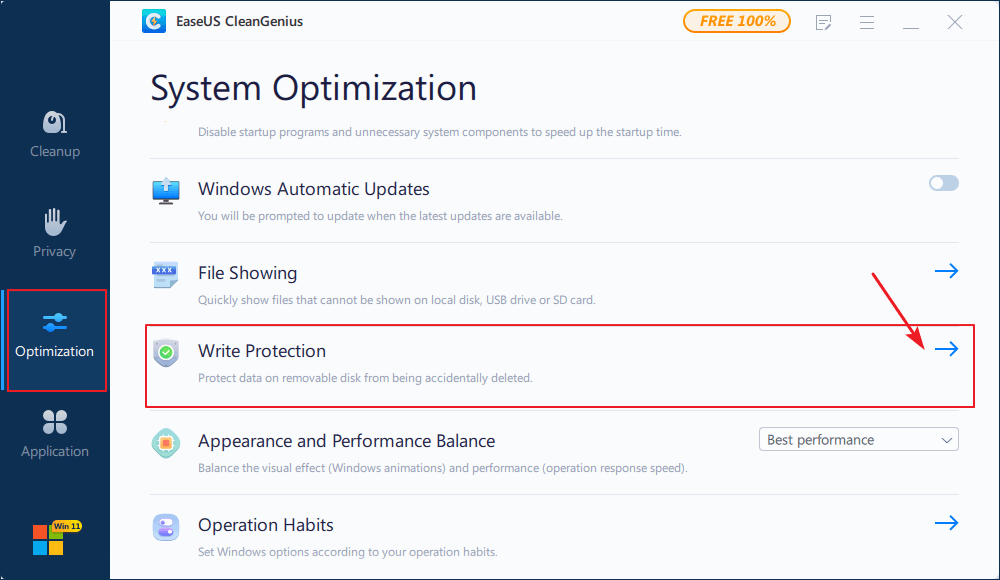 Fix 3: Check and repair bad sectors
Starting from this approach, you'll need additional help from a third-party free partition manager tool, which is EaseUS Partition Master. First of all, the check partition feature within is extremely easy-to-use in checking and repairing hard drive partition errors and bad sectors.
Step 1: Open EaseUS Partition Master on your computer. Then locate the disk, right-click the partition you want to check, and choose "Check File System".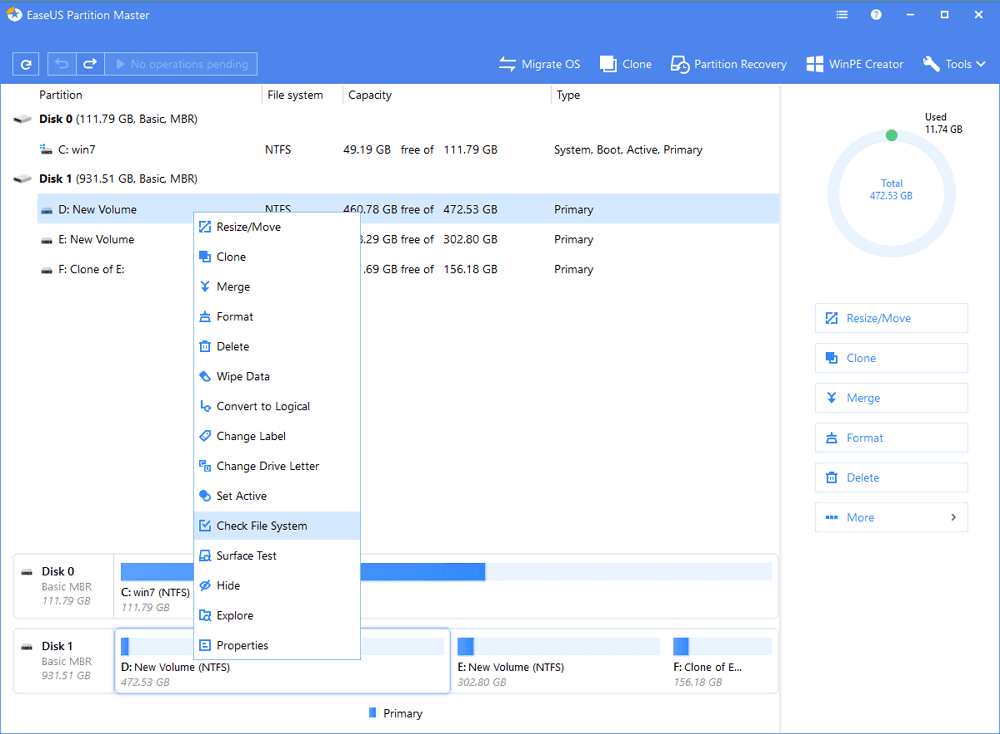 Step 2: In the Check File System window, keep the "Try to fix errors if found" option selected and click "Start".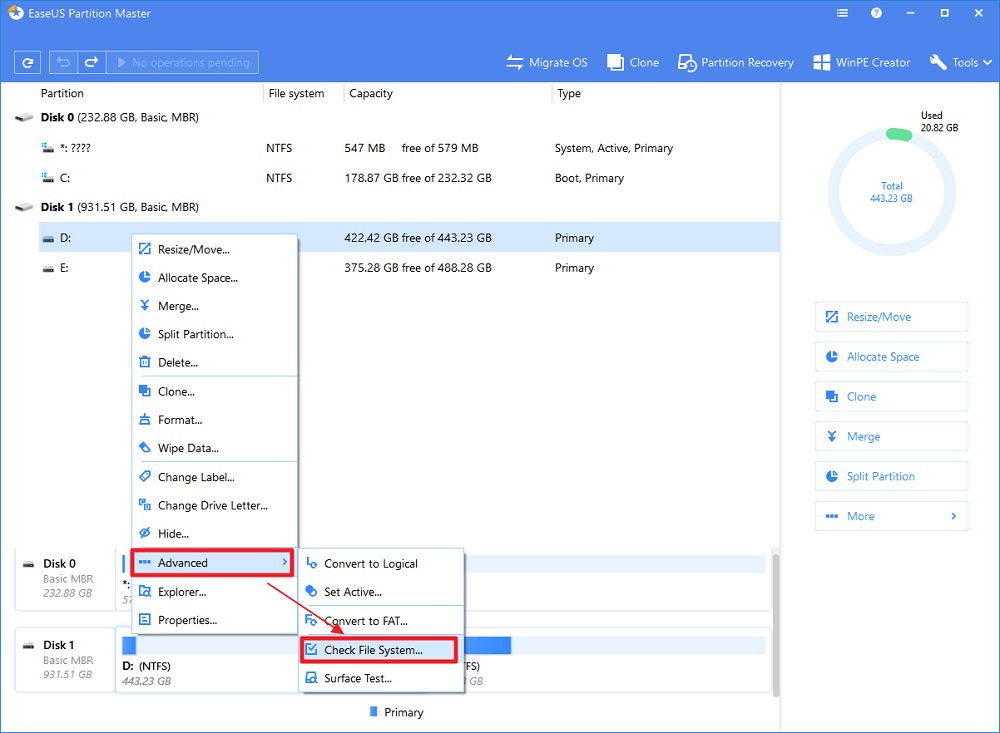 Step 3: The software will begin checking your partition file system on your disk. When it has completed, click "Finish".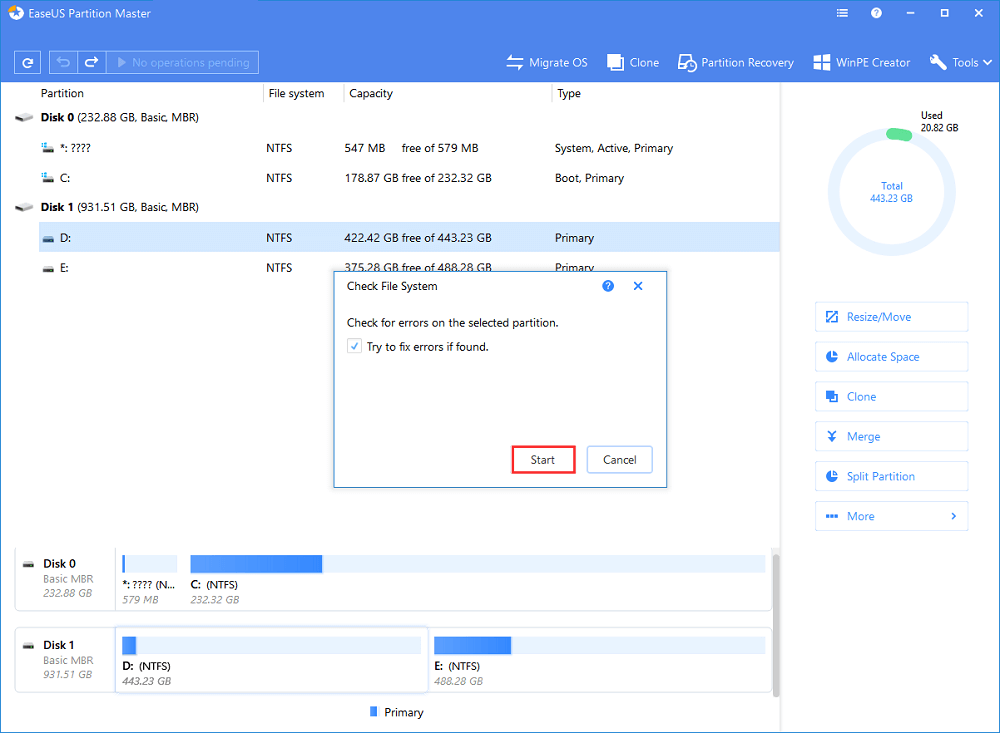 Fix 4: Replace failing hard drive
We feel bad if the hard drive has developed serious problems and it's time to upgrade the hard disk to a new one. It's a permanent solution for either disk read error or disk write error for good. To replace a failing hard drive to a new one, use EaseUS Partition Master's clone disk function.
Step 1: Select the source disk.
Open EaseUS Partition Master. Right-click the disk that you want to copy or clone. Then, select "Clone".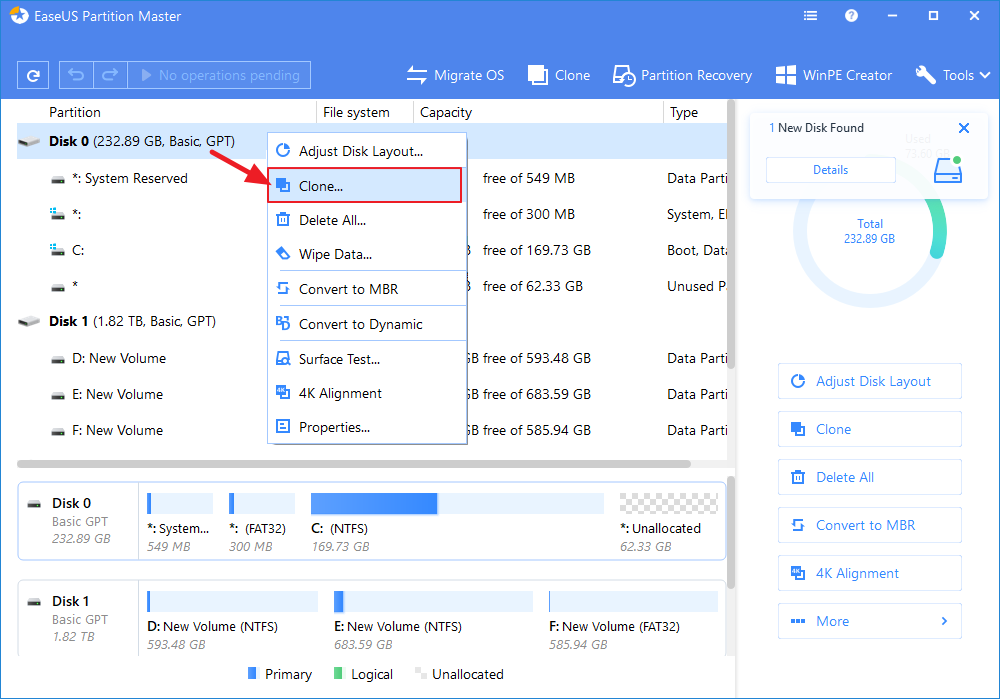 Step 2: Select the target disk.
Step 3: View the disk layout and edit the target disk partition size.
Then click "Continue" when the program warns it will wipe out all data on the target disk. (If you have valuable data on the target disk, back up it in advance.)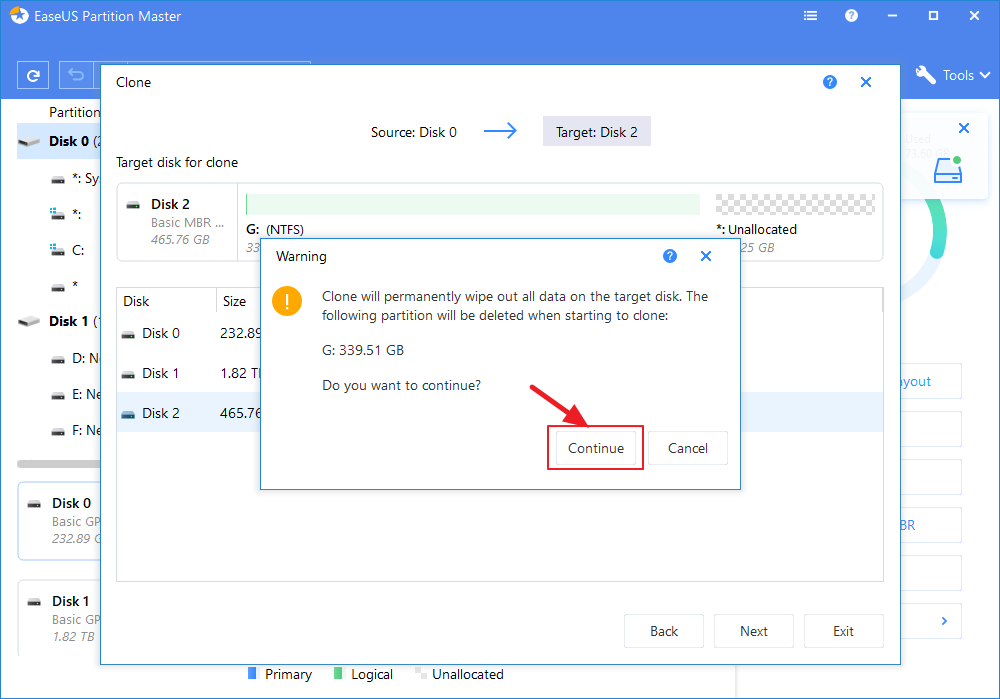 You can select "Autofit the disk", "Clone as the source" or "Edit disk layout" to customize your disk layout. (Select the last one if you want to leave more space for C drive.)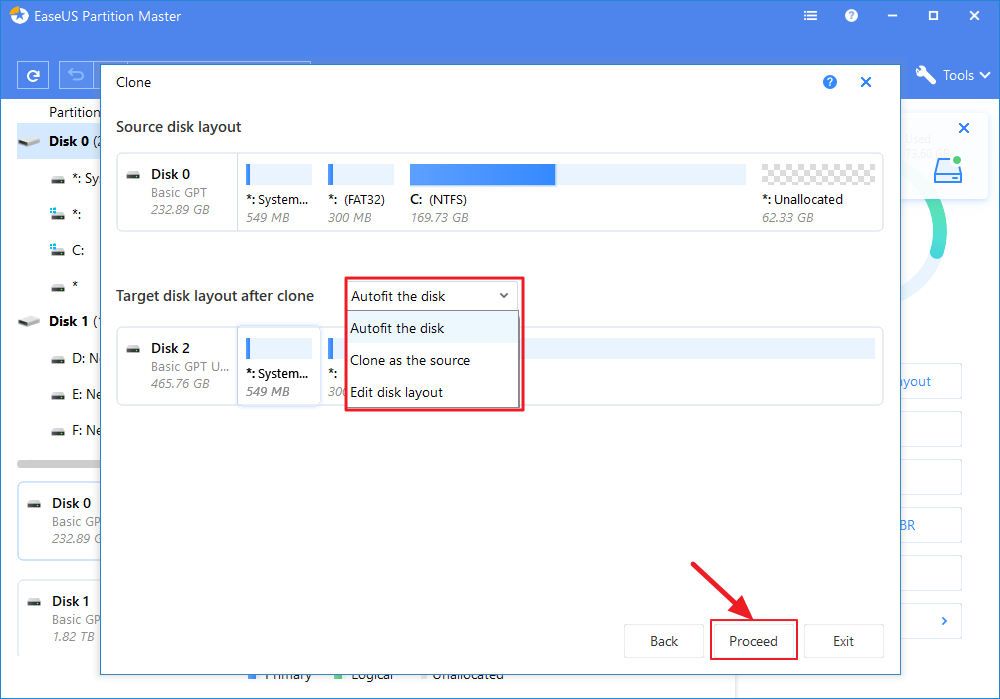 Step 4: Execute the operation.
Click the "Execute the operation" option and click "Apply" to start the disk cloning process.
100% of people found this article helpful.
Frequently Asked Questions
Why Choose EaseUS Partition Master?

"I've used Partition Master Professional many times to create, delete, format, move, rename, and resize partitions." —PCWorld

"Partitioning tools have come a very long since the days of complicated command line utilities and EASEUS Partition Master is one of the most advanced programs available." —TECH ADVISOR

"I love that the changes you make with EaseUS Partition Master Free aren't immediately applied to the disks. It makes it way easier to play out what will happen after you've made all the changes." —Lifewire
Will the "Migrate OS" feature transfer the Windows system files only or the whole C drive?

To ensure that the migrated system will boot normally, the Migrate OS feature will transfer all the files in the system and the boot partitions. Generally, the boot partition is the C drive so the transfer will include all the files in C.
Does EaseUS Partition Master license apply to multiple computers?

The license of Partition Master Professional and Server editions can be used on 1 computer only, while that for for the Technician and Unlimited editions can be used on multiple machines.
What is the difference between EaseUS Partition Master Trial version and the Free version?

Free is for home users only, with most basic functions available such as partition resize and clone. While trial can help you understand how this product works and test what a full license can do on a business or server OS machine.
Will it cause any data loss after resizing the partition in EaseUS Partition Master?

Generally, it will not cause any data loss or boot issue by resizing a partition. However, in order to protect your data, we suggest that you backup the partition before resizing, in case of any unexpected situations such as power outages, computer hardware failures, etc. You can use EaseUS Todo Backup to backup the partition and its trial version is fully functioned for 30 days.
What should I prepare before resizing the partition?

On the partition that is going to be operated, there might be some files being occupied by other programs. To ensure a successful operation, we suggest that you close all the unnecessary software before resizing that partition. Otherwise, EaseUS Partition Master will detect the partition being locked by the other software and require a reboot to resize the partition under boot mode.
About EaseUS Partition Master
All-round disk & partition management software for personal and commercial use. Let it manage your storage drive: resize, format, delete, clone, convert, etc.