Help! My SD Card Says It's Full But It's Not
"I have a brand new Sandisk SD Card. It is empty but it says full! I reconnected my SD Card to my Windows 10, the empty SD Card still says it's full. When I open the SD Card, there isn't any file or folder on the Card! How can I fix this problem?"
Two Solutions to Fix 'My SD Card says it's full but it's not' Error
According to many Windows and Mac users, it seems that an empty SD Card shows full issue has happened quite a lot. If you are having a similar problem on your SD card, you can apply solutions below for help. You may not need to try them all, just work your way down until you find the one that works for you.
Notice

Any of the solution below may cause data loss. Before you follow the two solutions below, you'd better export all of your data on the SD Card with a free file recovery software. Let the software scan your SD Card, then restore them, and save them on your computer.
Solution 1. Format Your SD Card to Fix the Empty SD Card Says Full Error
A simple choice to fix the "empty SD Card but it says full" is to format the SD Card, which helps you reclaim lost or unallocated space and restore SD card to full capacity/original size in a safe and easy way, here we recommend you EaseUS Partition Master, a powerful disk management tool that allows you to format hard drives and multiple removable storage devices. Now you can try the following guide to reformat SD card and restore SD card to full capacity with this tool in simple steps.
Step 1. Connect your SD card to your computer. Launch EaseUS partition tool, select and right-click the disk you want to format and choose "Format partition" by right-clicking the mouse.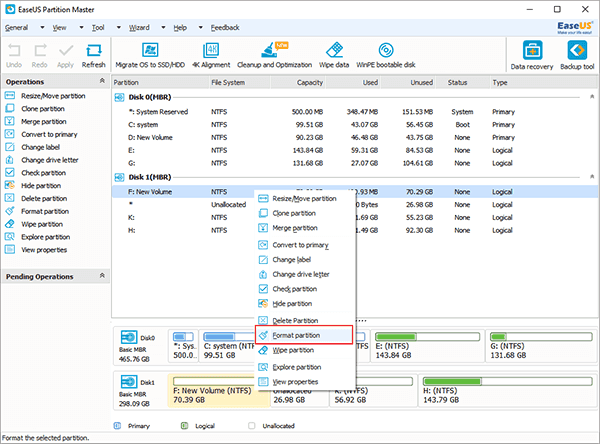 Step 2. Configure the label of the SD Card in the Partition Label box.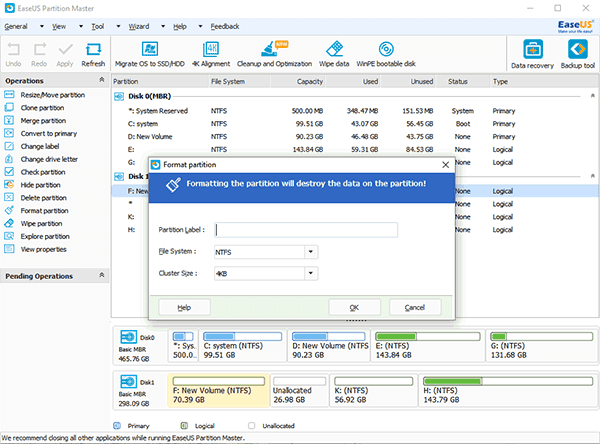 Step 3. Select the file system type to be created from the "File System" drop-down list. (FAT/FAT32, NTFS, EXT2/EXT3). If the SD Card is larger than 4GB, you can only choose FAT32, NTFS or EXT2/EXT3; and if the SD Card is smaller than 4GB, you can choose FAT, FAT32, NTFS or EXT2/EXT3.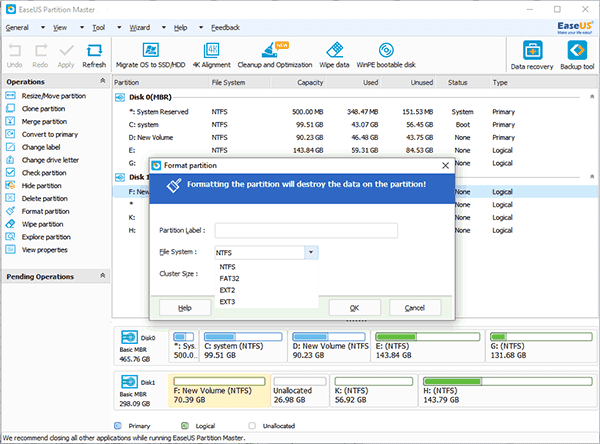 Step 4. Choose the Cluster Size (512 bytes, 1, 2, 4...64KB) from the drop-down list and click "OK" to apply the format operation.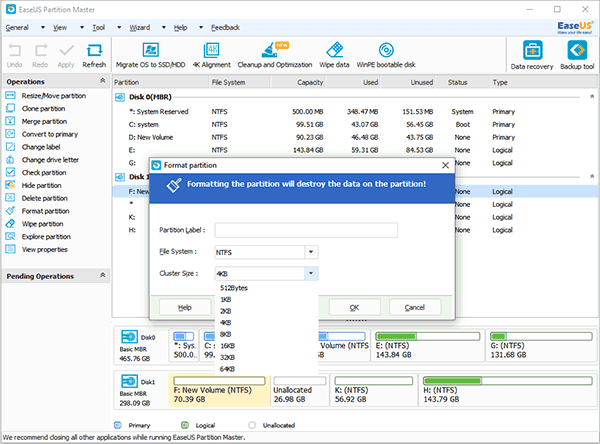 Step 5. Click "Apply".
Solution 2. Restore SD Card to Full Capacity with CMD
If format the SD Card fails to solve the "empty SD Card says full" error, just run this command to restore your SD Card to full capacity.
Connect your SD card to your PC
Right-click Start and select Command Prompt (Admin)
Sign in as administrator and type: diskpart to bring up DiskPart
Type: list disk and hit Enter
Type: select disk 1 (replace 1 with the disk number of your SD card) and hit Enter
Type: attribute disk clear readonly and hit Enter
Type: exit and hit Enter.
After this, you can use Disk Management tool in Windows 10 or other Windows PC to create a new partition on SD card so to make it available for storing data with full capacity again.