
About the Author
Hot Topics in 2022
exFAT VS NTFS: What Are the Differences Between Them
Using USB's, SD cards and various other hard disk drives has become an integral part of our lives. Not only are they a handy way of making sure your data is never lost for good, but they are also excellent for freeing up space on your computer. When you use them, you also need to format and organize data on them. For this reason, Windows allows you to use a variety of file systems without which you would basically just have a ginormous block of data and no way to differentiate where one topic ends and other begins. Two of the most popular file systems are exFAT and NTFS and both are suited for tasks and particular operating systems. They have some major differences between them so keep on reading to find out an easy-to-understand guide on exFAT vs NTFS.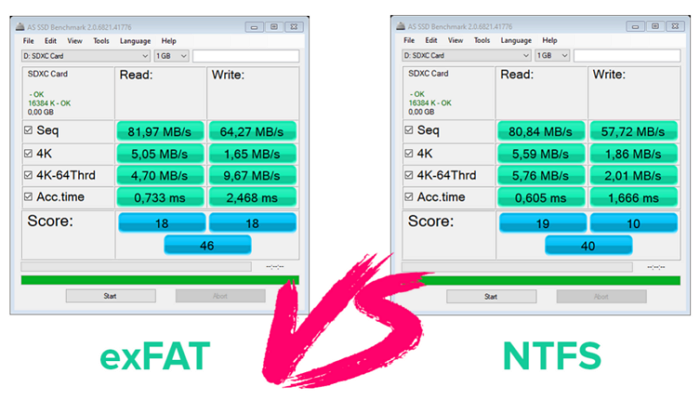 Before we begin with the differences, lets cover the basics which include what exFAT and NTFS are.
PAGE CONTENT:
What Is exFAT?
exFAT is a file system specifically made for USB's, SD cards and SSD cards. It is a more recent and updated version of previous file systems which was created especially for the current popular storage devices. It stands for "Extended File Allocation Table" and has a 32 mebibyte maximum cluster size which can store up to 2,796,202 files! This means that you can store relatively large number of files on it! It is compatible with Mac as well as Windows and Linux operating systems which makes transmission of data between them extremely easy and efficient. Additionally, some iOS and Android devices along with gaming consoles like PlayStation 4 and Xbox one also supports exFAT. You can even use this file system on Multimedia hardware, and it will work perfectly!
What Is NTFS?
NTFS is an acronym for New Technology File System that is created by Microsoft. This file system is used to store, organize, and find files easily on storage devices like hard disks, SSD, etc. It also compresses data to reduce the space taken up by it on the disk which allows you to store more information. The major platform which makes use of NTFS is Windows. It also features advanced security and permissions. This means that you can restrict access to files on hard disks when using NTFS! It has a huge file and partition size so theoretically; you will never run out of file space using it! 
exFAT VS NTFS (Advantages)
Now that you know what these file systems are, let's get into the specifics; the advantages of exFAT and NTFS. This will help you to know the differences between them and choose one which specifically meets your needs.
| exFAT | NTFS |
| --- | --- |
| You can easily restore accidentally deleted files when using this file system. | It creates shadow copies for backups and can even recover data if your computer suddenly crashes. It does this by making journals that keep track of any changes made to files, any new files added to a disk, or any files deleted from it. You can simply recover data from these journals in case of loss of data! |
| exFAT is more general and files stored using it can be accessed by everyone. | Its encryption and Access Control Lists make it more secure as you can allow only specific people to access them. |
| It supports multimedia hardware such as cameras, TVs, and radios. | By supporting disk quotas, NTFS allows you to control available storage space on a drive. As an administrator, you will be able to control the amount of information that each person can store on your disk! |
| It is compatible with Windows, Mac as well as Linux. Thus, transferring files from one operating system to the other is extremely easy. | Only Windows makes use of NTFS by default. |
It is more suited for SD cards and USB sticks with smaller storage capacities. However, it still has a pretty huge file storage capacity so you can even use it with large storage capacity devices.
exFAT VS NTFS (Disadvantages)
Naturally, just like everything, both these file systems have some flaws and limitations. The table below shows the disadvantages of both exFAT and NTFS in comparison with each other. 
| exFAT | NTFS |
| --- | --- |
| exFAT works with Mac and Windows. You can also use exFAT formatted files on Linux, but you will need to install additional software. | NTFS is not very compatible. Although it works with Windows, you won't be able to use files stored using this file system on MAC and Linux without going through the long and tiring process of converting NTFS formatted files to exFAT. |
| exFAT is a less advanced file system that cannot compress data, restrict access to files, create journals and use metadata and disk quotas. | NTFS is the most advanced file system, but it uses up a lot space; 4 percent of your drive's storage space will be used up by the file system itself. |
How to Convert NTFS to exFAT and Vice Versa
Since these two file systems are the most superior ones, you may need to format one into the other. Mentioned below is a detailed guide of how to convert NTFS to exFAT and vice versa.
Method 1. How to Format NTFS Devices to exFAT in Windows 11/10/8.1/8/7
You may want to transfer data from your Window's computer to a Mac one constantly. To avoid the hassle of constant conversion, you can simply format your NTFS device to exFAT by following the steps given below.
Before you begin this conversion, you need to take two important precautions. The first step is to back up the NTFS data as formatting the device to exFAT will delete all of it. Then, you need to connect your external device to a computer and make sure that Windows can detect it.
Step 1. Now start the process by pressing down "Win + R" keys at the same time to open Run. Write diskmgmt.msc. This will open disk management.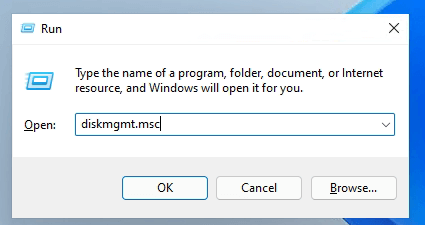 Step 2. Right click on the device that needs to be formatted (like a USB, SD card, etc) in disk management. Choose "Format".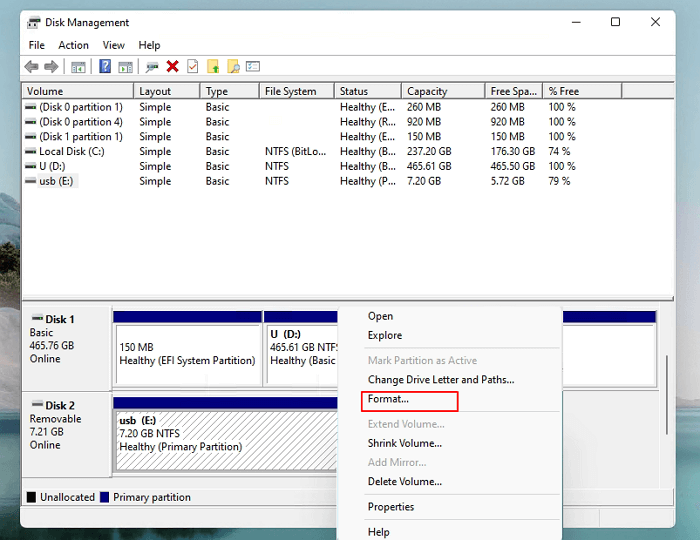 Step 3. A pop-up window named Format will open. Go to file system and open the drop-down menu. Select exFAT from it. Add in a volume label and click "Ok".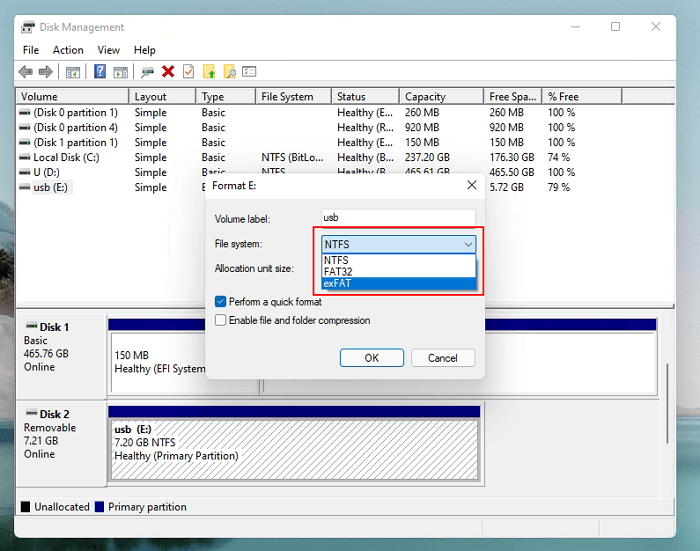 A notice will pop up telling you that all data on your device will be lost. Click "Yes" and the process will begin. This should convert your NTFS formatted device to an exFAT formatted one!
Method 2. How to Format exFAT Devices to NTFS with EaseUS Partition Master
Before talking about the method of converting file system format from exFAT to NTFS, you may be curious to know what EaseUS Partition Master is, what it does and how to covert file systems using it. This disk management tool can help you manage disks and partitions on your Windows computer. Its main features include creating, cloning, merging, deleting, converting, recovering, formatting, transferring, and resizing disk partitions. There is also a paid version of the software that allows you to recover lost partitions and migrate OS to SDD. As of yet, you can use it on Windows 7, Windows 8, Windows 10, Windows 11 and more operating systems.
Step 1. Launch EaseUS Partition Master, right-click the partition on your external hard drive/USB/SD card which you want to format and choose the "Format" option.
Step 2. Assign a new partition label, file system (NTFS/FAT32/EXT2/EXT3/EXT4/exFAT), and cluster size to the selected partition, then click "OK".
Step 3. In the Warning window, click "Yes" to continue.
Step 4. Click the "Execute 1 Task(s)" button in the top-left corner to review the changes, then click "Apply" to start formatting your external hard drive/USB/SD card.
Conclusion
To sum up exFAT vs NTFS, use exFAT when you need a more compatible file system that will work on almost all operating systems and use NTFS when you just need an advanced file system for Windows. Both are unique and exceptional and will do the job just right. 
About the Author

Roxanne is one of the main contributors to EaseUS and has created multiple posts on digital devices like PCs, Mobile phones, tablets, Mac, etc. She loves to share ideas with people of the same interest.

Brithny is a technology enthusiast, aiming to make readers' tech life easy and enjoyable. She loves exploring new technologies and writing technical how-to tips. On her spare time, she loves sharing things about her favorite singer - Taylor Swift on her Facebook or Twitter.
Product Reviews
I love that the changes you make with EaseUS Partition Master Free aren't immediately applied to the disks. It makes it way easier to play out what will happen after you've made all the changes. I also think the overall look and feel of EaseUS Partition Master Free makes whatever you're doing with your computer's partitions easy.

 Read More

Partition Master Free can Resize, Move, Merge, Migrate, and Copy disks or partitions; convert to local, change label, defragment, check and explore partition; and much more. A premium upgrade adds free tech support and the ability to resize dynamic volumes.

 Read More

It won't hot image your drives or align them, but since it's coupled with a partition manager, it allows you do perform many tasks at once, instead of just cloning drives. You can move partitions around, resize them, defragment, and more, along with the other tools you'd expect from a cloning tool.

 Read More