Can't convert exFAT to NTFS or FAT32...convert is not available
"While removing exFAT and installing NTFS on external USB disk, I got an error message saying convert is not available for exFAT drives on my Windows 7. How can I convert exFAT to NTFS without trouble?"
Having trouble to convert disk partition between two file systems due to the error "disk is not available for exFAT drives", "disk is not available for NTFS drives" or "disk is not available for Raw drives", etc. in Windows 10, 8.1, 8, 7, XP or Vista? Let's figure out why it fails and how to resolve the issue effectively.
Why is convert not available for exFAT drives?
It depends on what exFAT to NTFS/FAT32 converter software you'r using. Some third-party software does not support exFAT drives, thus when you connect correctly the exFAT drive to a Windows computer, it can neither show up nor the options of "format partition" or "convert to NTFS" grayed out, not allowing you to change the file system.
What's more, Windows disk management tool recognizes exFAT drives and formatting exFAT drive to NTFS or FAT32 file system is available. However, many people report that once the formatting process gets 100% done, Windows gives an error message saying the format did not complete successfully or Windows was unable to complete the format.
And it's hard to tell what causes the incomplete format error there, it can be a corruption detected or something else.
How to convert exFAT to NTFS/FAT32 easily?
Both the fixing methods are not for converting exFAT drive to NTFS or FAT32 without losing data, so make sure the data on the exFAT drive has been moved a safe place.
Using command prompt usually helps fix not being able to convert exFAT drive to NTFS or FAT32 effectively in Windows Disk Management. Do as follows.
Step 1. If it's a removable disk like a USB drive, plug it in USB slot on your PC.
Step 2. Open command prompt.
Step 3. Copy any one of the following commands to format exFAT drive to FAT, FAT32 or NTFS.
format Z: /fs:FAT
format Z: /fs:FAT32
format Z: /fs:NTFS
Step 4. Press Y=Yes or N=No to proceed or stop the formatting.
Or perhaps you prefer an easier way to do that format.
Step 1. Download EaseUS Partition Master. It's a powerful yet free partition manager that supports to format exFAT to your desired file system.
Step 2. Right-click on the exFAT partition and select "Format partition". Note that the exFAT partition may show up as "Other".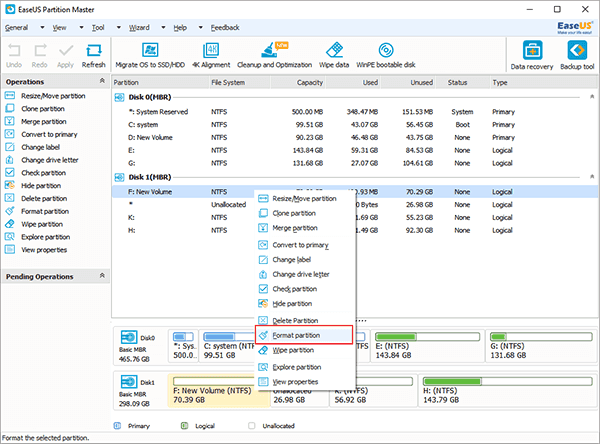 Step 3. A mini window pops up, on which you can enter a partition label, choose a file system from the drop-down list like NTFS, FAT32, EXT2 and EXT3. After making your choice, click "OK".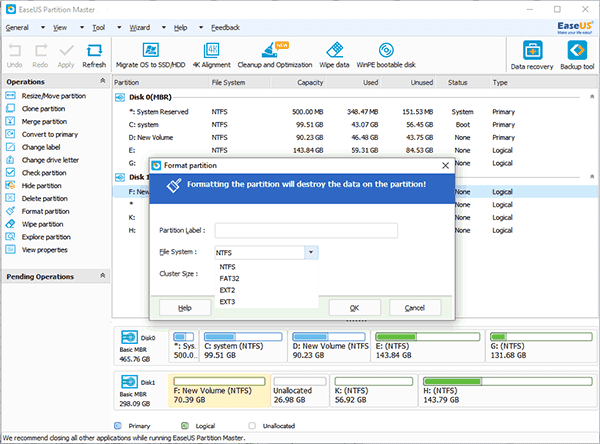 Step 4. Click "Apply" to confirm the operation of formatting exFAT drive.