Problem description
"The USB storage device cannot be used. The file system is not supported".
"This is the exact error I received when I plugged in a Toshiba USB external hard drive to the PS4 in hopes of being able to add more storage to it, which is out of storage now. What happened to the USB stick? It works fine on my computer. Please help me fix the trouble. Thanks."
Do not worry too much because it's really not a big problem. The full error message indicates an unsupported file system on the USB flash drive. To use the storage device properly on the PS4 game console, try reformatting by following the instructions behind.
Reasons and solutions for PS4 cannot use this usb storage device
What's the standard file system of USB stick for PS4? Only two file systems are supported, which are exFAT and FAT32. Now you should realize the failure that PS4 says it cannot use the USB stick you're trying to connect.
The truth is that all USB flash drives come with NTFS, which is not considered to be compatible with the PS4 system. Therefore, you must apply some proper tools to format internal drive, external hard drive, USB flash drive or SD card for PS4, for the purpose of expanding storage space, data backup and other significant usages.
How to format NTFS USB drive to FAT32?
NOTE: both formatting methods in the following would erase data on the USB drive completely, so make sure that you have transferred the data to somewhere safe.
Step 1. Delete all partitions
Download EaseUS free partition manager, which is a capable disk & partition management software that fulfils the demand of basic disk & partition management in Windows 10, 8 and 7. Now, attach your external USB hard drive to a Windows computer and wait until Windows recognizes it.
1) Launch the software and locate the USB flash drive. Right-click on the disk and select "Delete all partitions".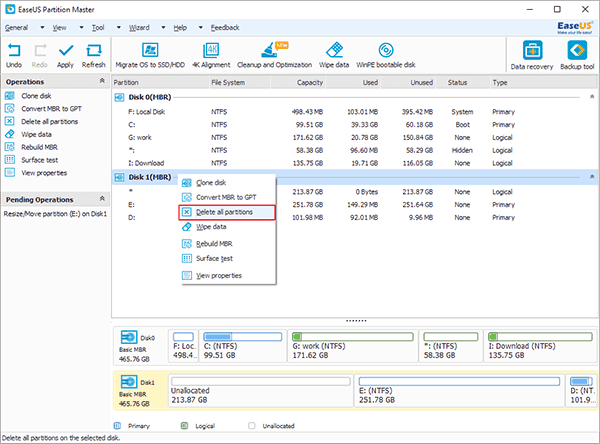 2) You'll receive a warning 'Are your sure you want to delete all partitions on disk 2?', accept it and click "OK".

Now, the USB disk becomes unallocated.
Step 2. Create FAT32 partition
1) Right-click on the unallocated space and select "Create Partition".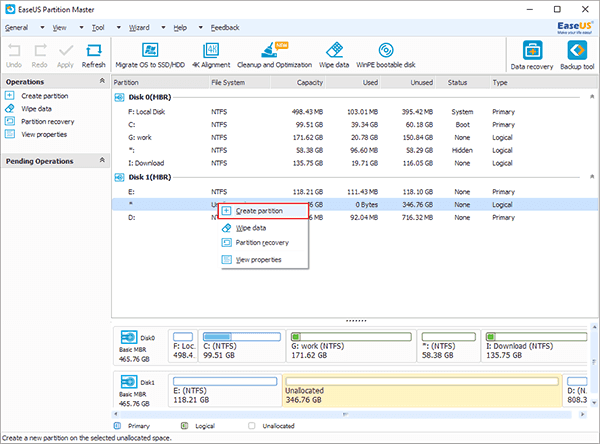 2) On the Create partition window, you're guided to add a partition label, for example, PS4 backup drive, and determine to create it as a logical or primary drive. The most important step is to choose FAT32 from the File system drop-down list. Click "OK".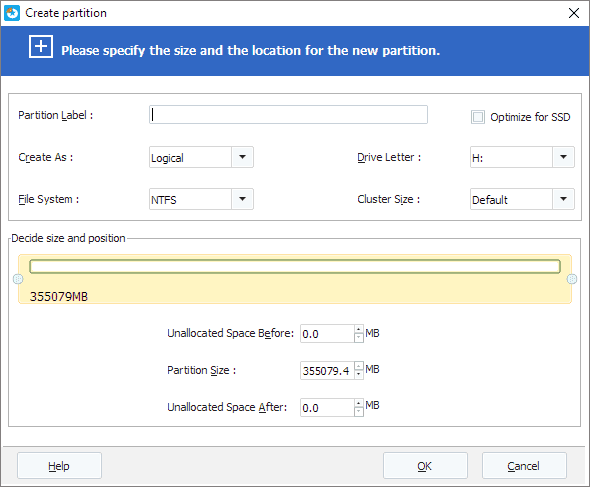 3) Now you've got a FAT32 USB flash drive for PS4. Click "Apply".
For the first attempt to format a NTFS partition, you perhaps see it clearly that EaseUS Partition Master doesn't provide the possibility to convert NTFS to exFAT.
How to Format NTFS USB drive to exFAT?
Only Windows Disk Management allows users to convert NTFS to exFAT by formatting. But the first step does not change, you have to delete all partitions by using EaseUS Partition Master Free. Afterwards follow the detailed guide to format NTFS USB drive to exFAT without any hassle.
1) There are multiple ways to open Windows Disk Management. Here, you can access it via Run, which is applicable for all Windows platforms. Press Windows key + R simultaneously to open Run, type diskmgmt.msc in the box and click OK.
2) Right-click on the USB's unallocated space and select New Simple Volume.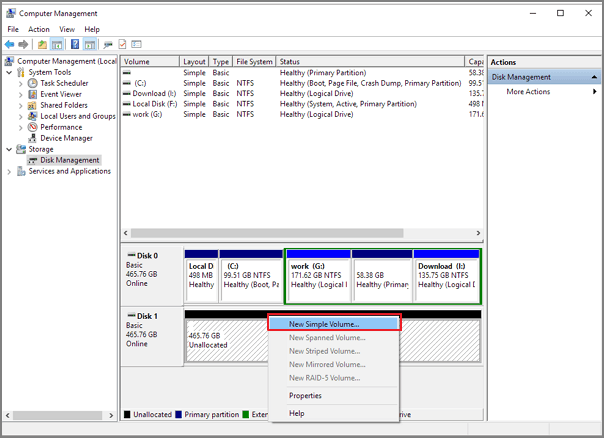 3) Follow the New Simple Volume Wizard and format the volume with the given settings, including File system (choose exFAT), Allocation unit size, volume label and check the box "perform a quick format". Click "Next".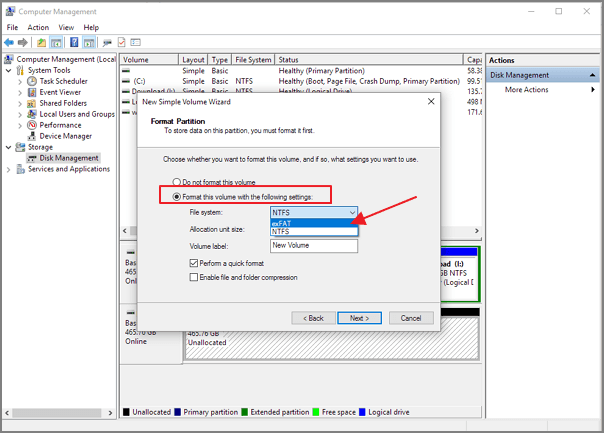 4) After completing the process, click "Finish". The NTFS USB flash drive has successfully converted to exFAT.
The suggested 2 ways would solve the problem of PS4 error 'the USB storage device cannot be used. The file system is not supported' without much effort. Do not hesitate to have a try.