
Table of Contents

About the Author

Reviews and Awards

Best Data Recovery Software
Updated by
Gemma
on Dec 06, 2022  
Quick Navigation:
| Workable Solutions | Step-by-step Troubleshooting |
| --- | --- |
| 1. Fix Black Screen of Death | |
| 2. Recover Deleted/Lost Mac Data | Install and run EaseUS Data Recovery Wizard...Full steps |
Overview of Mac Black Screen of Death
When you turn on your Mac and wait a few seconds, it doesn't start up normally as before, but suddenly shows a black screen. When this happens, your first reaction may be to think that the computer is broken. In fact, there is no need to panic, there are many ways to help you solve this problem on your own. The first thing we need to do, however, is to figure out why your Mac suddenly goes black.
Like Mac computers, Windows computers will also have this problem, but Windows will appear blue screen in most cases. Excluding simple reasons such as low battery power, the two most common causes of Mac black screen are software/hardware incompatibility and poor firmware contact.
In the next parts, we will introduce a few self-troubleshooting solutions. Don't worry if you're not a computer guru. Just follow the guidelines step by step, you can manage to fix this Mac black screen of death issue.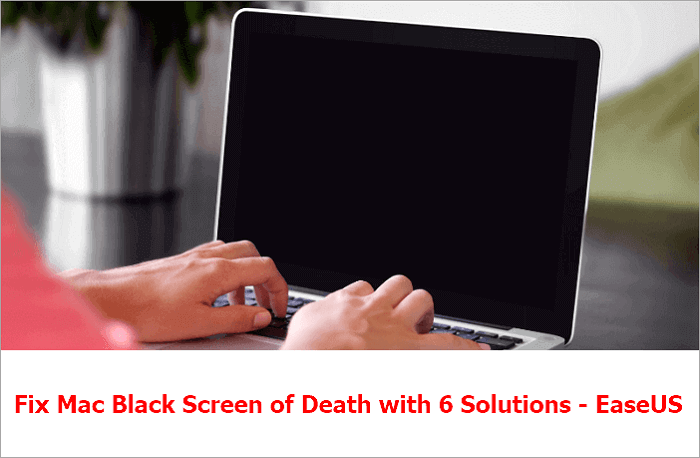 Solution 1. Disconnect All Peripherals
As unbelievable as it may sound, certain external devices can indeed cause your Mac to go black. As a kind of hardware, an external device may be incompatible with some system settings and cause the computer to fail to boot up normally. So the first thing you have to do is to rule out this possibility, disconnect all peripherals, try to start the Mac again, and see if the black screen problem persists.
Solution 2. Force Restart Your Mac
This method sounds simple, but it is actually very useful. Most electronic products can be restarted to resolve unexplained failures. Many Mac users may not shut down the computer after each use, so the computer will stay in sleep mode for a long time, and a forced restart can help wake up your Mac.
Step 1. Hold down the Mac power button for 6-10 seconds.
Step 2. When your Mac powers down, wait 10 seconds.
Step 3. Press the power button to boot it again and see if it can work properly.

ExFAT vs Mac OS Extended: Which One to Choose?
Every external storage device has a file system format. On macOS, the compatible formats include FAT, ExFAT, APFS, and Mac OS Extended. For some users, it's difficult to choose between ExFAT and Mac OS Extended because they don't know about their pros and cons.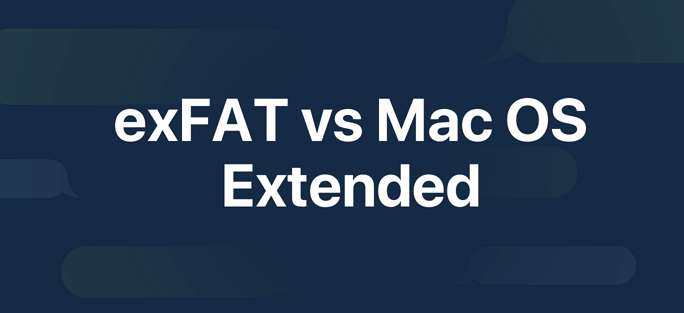 Solution 3. Reset SMC Settings
SMC means Systems Management Controller. It's for Macs to control temperature, keyboard, lights for the keyboard and display, fans, and other processes. Simply put, it's something that controls your Mac's hardware. Resetting this setting can fix Mac black screens caused by poor firmware contacts.
Step 1. Shut down the Mac and connect the Mac to power (if it is not connected). Ensure to use your MagSafe adapter.
Step 2. While the Mac is off, press the Shift + Control + Option + Power keys together at the same time and hold down for a few seconds.
Step 3. Release all keys at the same time when the Mac booting up.
Solution 4. Change the Keyboard Sequence
This method is suitable for the Mac black screen shows after booting. 
Step 1. Tap on the power button only once and wait for a dialog box to appear on the screen.
Step 2. Press the S key from the keyboard as it is the shortcut for Sleep.
Step 3. Then press and hold the power button for a few seconds to start a hard shutdown. 
Step 4. Wait for about 15-20 seconds and press the Power button to turn on the Mac.
Solution 5. Reset NVRAM/PRAM
This is what Apple Support will suggest you try when you contact for help. And it mainly works for solving the unexplained problems of your Mac. Follow the steps below to reset NVRAM/PRAM.
Step 1. Shut down your Mac, then turn it on and press and hold these four keys together: Option, Command, P, and R.
Step 2. Hold these keys for about 20 seconds, during which your Mac might appear to restart.
On Mac computers that play a startup sound, you can release the keys after the second startup sound.
On Mac computers that have the Apple T2 Security Chip, you can release the keys after the Apple logo appears and disappears for the second time.

Solution 6. Reinstall macOS
If none of the above methods work, then you can try reinstalling macOS. Under normal circumstances, reinstalling macOS will not cause data loss, but we still recommend that you make a backup before reinstalling.
To reinstall macOS, you need to first boot into recovery mode. Here are the methods for different Mac computers to enter Recovery Mode.
For Intel Macs:
Step 1. Restart your Mac.
Step 2. Press the Command and R keys at the same time until you see an Apple logo or spinning globe appear.
Step 3. Choose from the Recovery Mode utility options.
For M1 Macs:
Step 1. Turn off your Mac.
Step 2. Press and hold the Power button.
Step 3. A message stating you'll be able to access startup options soon will appear. Keep holding the button down.
Step 4. Click Options > Continue to open up Recovery.
Now you can follow the steps to reinstall your system.
Step 1. Choose Reinstall macOS (your OS version name), and click Continue.
Step 2. Follow the on-screen guide to finishing the reinstalling process.
During the installation, your Mac might restart several times. You will see a progress bar or a black screen. Please don't close your Mac during the process.
Bonus Tip: Recover Deleted/Lost Mac Data & Prevent Data Loss after Erasing Disk
As mentioned above, when there is a problem with your Mac, one solution is to reinstall macOS. In recovery mode, you can see that in addition to reinstalling macOS, there is an option called erase the disk using Disk Utility. When your Mac is badly damaged, reinstalling macOS will require you to erase the hard disk first, and performing this step will cause data loss.
In order to prevent accidental data loss and recover lost data when needed, we suggest you try data recovery software - EaseUS Data Recovery Wizard for Mac. What makes it stands out is it supports users to create a bootable disk, which enables users to enter the system and recover data when the Mac can't work properly.
Here are the detailed steps of how to create a bootable disk for your Mac. If you are interested in this software, download it from the button below and have a try.
How to Create a USB Bootable Media
Step 1. Install and run EaseUS Data Recovery Wizard for Mac on another Mac computer, and select "File > Create Bootable USB". Then, choose a USB drive to create the bootable disc.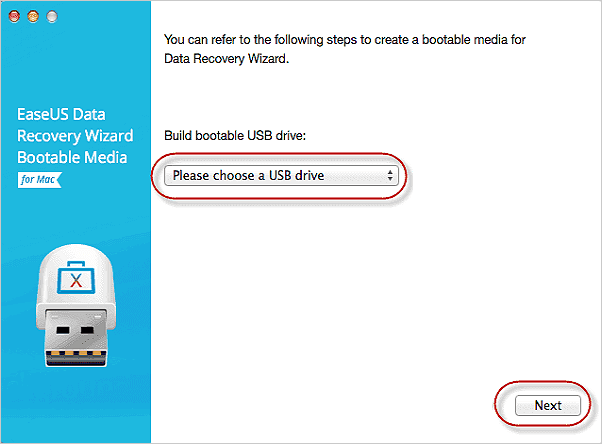  Warning

The creator will prompt to erase the drive to reallocate the space; then it can write the bootable files to this drive. Please back up all USB files before processing "Eraser".
Step 2. The program starts to create a 2GB space and save the boot files. The rest space on the USB can be still used for storage.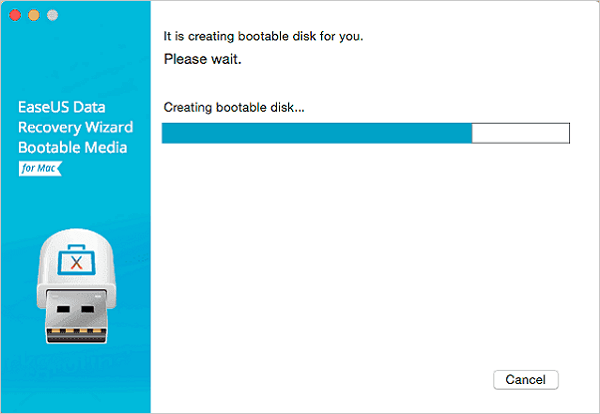 Step 3. Once it completes, please follow the guide to boot the corrupted Mac from the bootable disc and start the recovery. We suggest you restore the data to an external hard drive.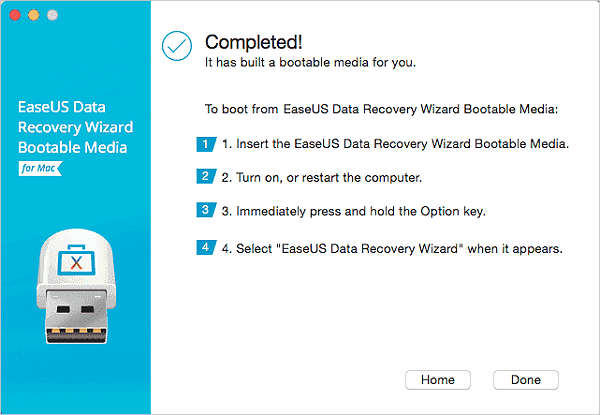 How to Recover Data from Mac Hard Disk
Step 1. Select the disk location (it can be an internal HDD/SSD or a removable storage device) where you lost data and files. Click the "Search for lost files" button.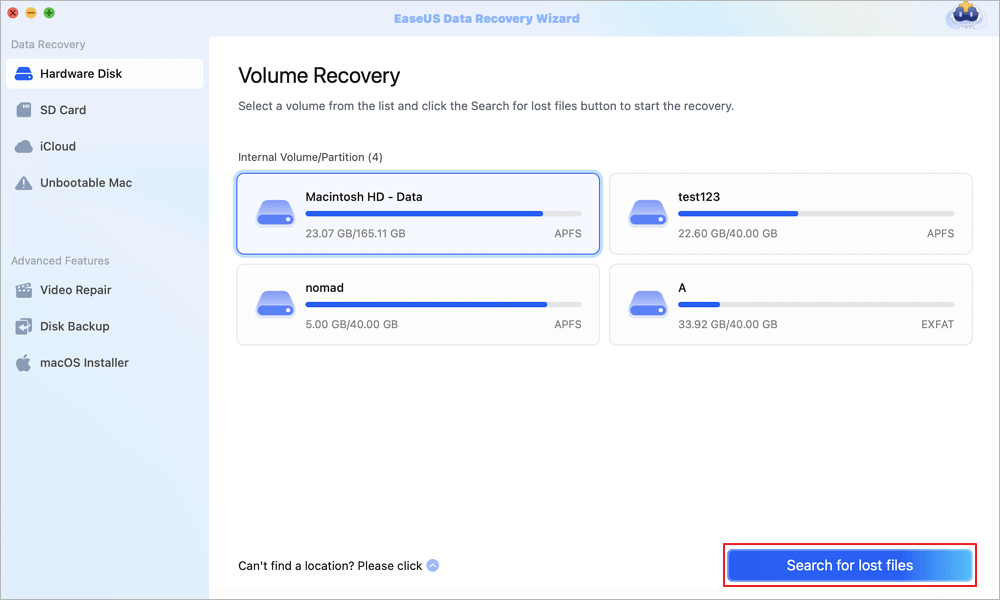 Step 2. EaseUS Data Recovery Wizard for Mac will immediately scan your selected disk volume and display the scanning results on the left pane.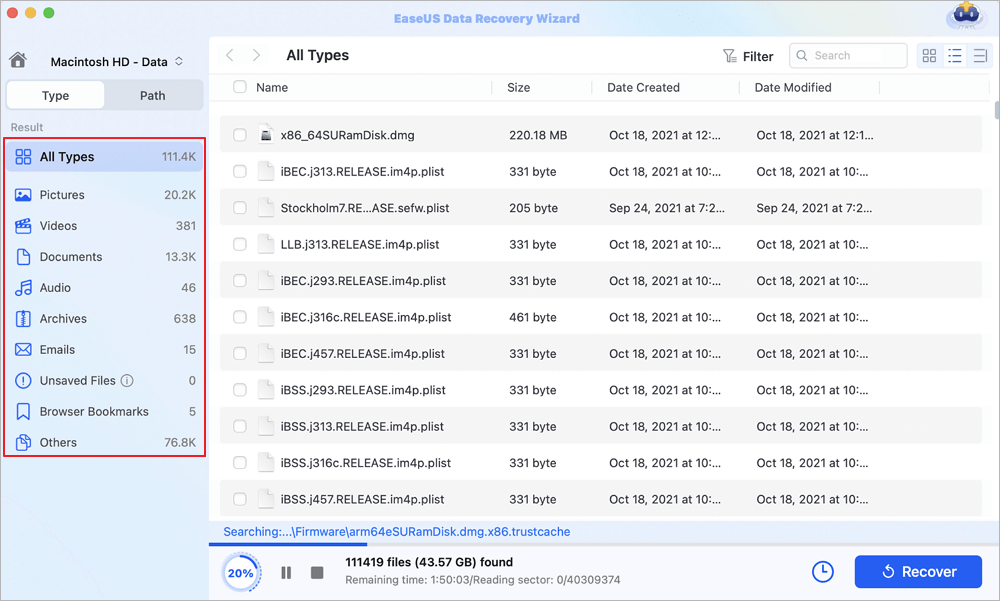 Step 3. In the scan results, select the file(s) and click the "Recover" button to restore data from Mac.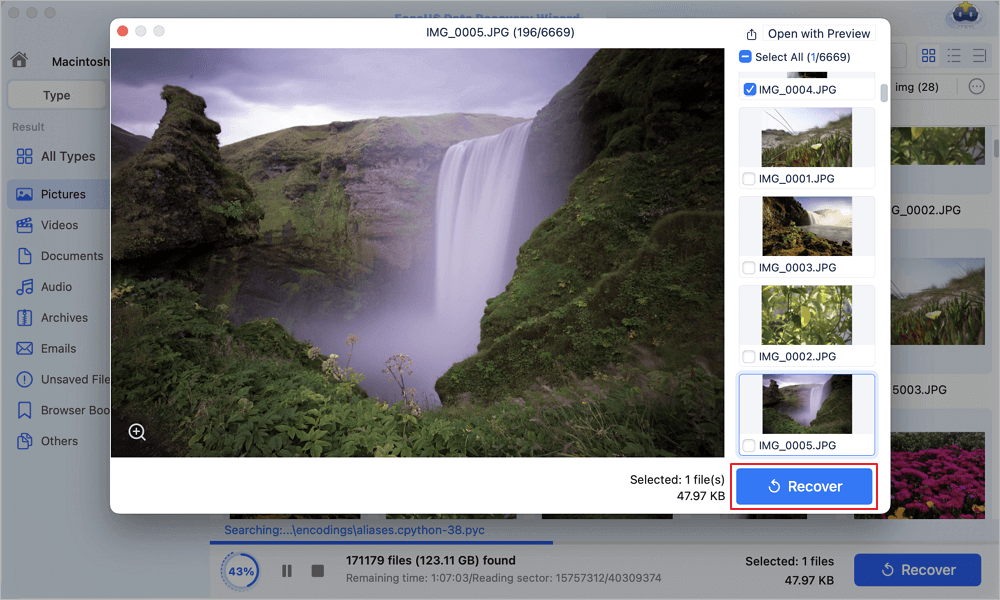 Updated by Gemma
Gemma is member of EaseUS team and has been committed to creating valuable content in fields about file recovery, partition management, and data backup etc for many years. She loves to help users solve various types of computer related issues.
EaseUS Data Recovery Wizard is a powerful system recovery software, designed to enable you to recover files you've deleted accidentally, potentially lost to malware or an entire hard drive partition.

 Read More

EaseUS Data Recovery Wizard is the best we have seen. It's far from perfect, partly because today's advanced disk technology makes data-recovery more difficult than it was with the simpler technology of the past.

 Read More

EaseUS Data Recovery Wizard Pro has a reputation as one of the best data recovery software programs on the market. It comes with a selection of advanced features, including partition recovery, formatted drive restoration, and corrupted file repair.

 Read More